Whatfinger: Frontpage For Conservative News Founded By Veterans
"The Best Mix Of Hard-Hitting REAL News & Cutting-Edge Alternative News On The Web"
May 26, 2016
'Genetic Armageddon' - The Total Ownership, Destruction And Enslavement Of Humanity Has Begun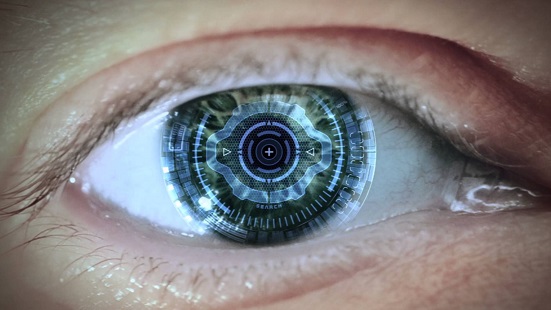 By Susan Duclos - All News PipeLine

A number of recent headlines show us that "Genetic Armageddon" has indeed begun in full fury as we see company after company, nation after nation, begin to replace human beings with automation and robotic workers, but worse than that is the new "technological advancements" being reported on show that we may actually be creating our own executioners.

From a political persepective the headline from the UK's Mirror stating "Building robot McDonald's staff 'cheaper' than hiring workers on minimum wage," would normally lead to  the "I told you so," moment from those that warned forcing companies to an arbitray minimum wage would lead to a loss of jobs because companies did not start their businesses to lose money, but to make it, but reading how many companies across the world are going in this direction brings up a far more chilling big picture.

A couple of weeks ago it was reported that Wendy's would be replacing employees who once took orders from customers by self-service kiosks and once again the article highlighted "rising cost of labor for the company," and cited minimum wage hikes as being partially responsible, but in looking at prior warnings about robots replacing humans, and further recent examples of this trend by companies such as Addidas, who speaks of an "automated revolution," we think this goes well beyond politics and is leading us into a future of "Techno Serfdom."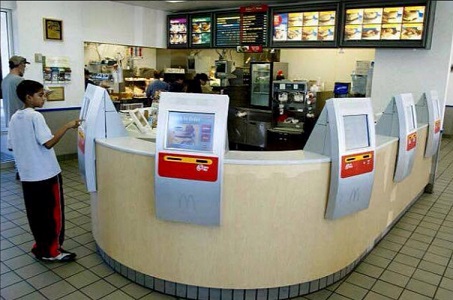 I remember seeing that term Techno Serfdom over a year ago as an SQ note after a link to to an article titled "Genetic programming for the Brave New Utopia," to which Steve Quayle called a must-read piece (and it is!), then again this morning before a link to "Foxconn replaces '60,000 factory workers with robots'."  So, I cranked up the search engines and started hunting the term, but no description adequately described it, so I emailed Steve and aked him what he meant by it.

He told me he defined the term as he used it over two decades ago, in the following manner "TECHNO SERFDOM" MEANS THE TOTALITARIAN CONTROL  AND TOTAL OWNERSHIP ,DESTRUCTION AND ENSLAVEMENT OF HUMAN BEINGS— IMAGINE, DEMON POSSESSED OR SPIRITUAL MACHINES, PROGRAMMED BY LUCIFER HIMSELF! HOLLYWOOD SPILLED THE BEANS IN 'THE TERMINATOR SERIES OF MOVIES' —REMEMBER SKY NET? THE END OF ALL GOD'S CREATION AND LIKENESS IS THE END GOAL WITH MEN YIELDING TO SATANIC SEDUCTION THAT THEY SHALL BE LIKE GOD  WITH TOTAL KNOWLEDGE, ETERNAL LIFE , NEVER TO DIE  AND TO BREAK THEIR DEPENDENCE ON GOD FOR EVER-'YE SHALL BE AS GODS WORKED ON ADAM AND EVE' AND NOW HER DESCENDANTS FOLLOW IN THEIR FOOTSTEPS!"

PSALM 2: 



1 "Why do the heathen rage, and the people imagine a vain thing? 

2 The kings of the earth set themselves, and the rulers take counsel together, against the Lord, and against his anointed, saying, 

3 Let us break their bands asunder, and cast away their cords from us. 

4 He that sitteth in the heavens shall laugh: the Lord shall have them in derision. 

5 Then shall he speak unto them in his wrath, and vex them in his sore displeasure. 

6 Yet have I set my king upon my holy hill of Zion. 

7 I will declare the decree: the Lord hath said unto me, Thou art my Son; this day have I begotten thee. 

8 Ask of me, and I shall give thee the heathen for thine inheritance, and the uttermost parts of the earth for thy possession. 

9 Thou shalt break them with a rod of iron; thou shalt dash them in pieces like a potter's vessel. 

10 Be wise now therefore, O ye kings: be instructed, ye judges of the earth. 

11 Serve the Lord with fear, and rejoice with trembling. 

12 Kiss the Son, lest he be angry, and ye perish from the way, when his wrath is kindled but a little. Blessed are all they that put their trust in him.


It goes way beyond the "politics" of minimum wage workers and companies replacing humans with robots in factories, hotels, and restaurants, and into true "Genetic Armageddon," which was the title of Quayle's very first book, now replaced by 'XenoGenesis - Changing Men into Monsters,' where Artificial Intelligence, Singularity, Borgs, and the planned end of humanity are discussed in detail.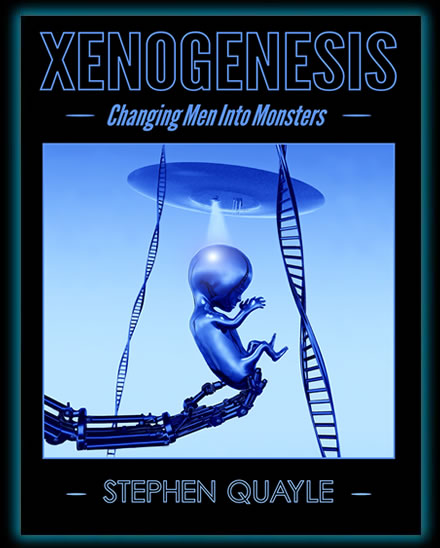 It is amazing to me that the assertions made by Quayle so long ago, as well as in "Genetic Armageddon," and now "XenoGenesis" are waved away as conspiracy at the very same time as headlines across the world prove them true.

We see article after article on scientists believing they can extend life, cheating death and living "forever" and the possibility of "immortality," others on "uploading humanity to a computer, and "brain-machine interfaces," along with on of the most disturbing instances of the truth of the Transhumanist agenda, with a top Transhumanist, retired physicist, Dr. Richard Seed,  stating outright "We are going to become Gods, period."




Look at following portion of  the "XenoGenesis" book description, then compare it to the Transhumanism desrciption and headlines beneath that, and you will see that reality of research being hailed in headlines today, are the same as what was called "conspiracy" yesterday.

Xenogenesis is the production of an offspring entirely different from either of the parents, transformed though the addition of DNA from an alien or animal to the normal genetics of a human being. The results will be comic book super-heroes come to life, living creatures with mythical abilities unlike anything mankind has seen for thousands of years, and which inspired the ancient legends of gods and goddesses.

TRANSHUMANISM - via Wiki is described as "an international and intellectual movement that aims to transform the human condition by developing and creating widely available sophisticated technologies to greatly enhance human intellectual, physical, and psychological capacities.Transhumanist thinkers study the potential benefits and dangers of emerging technologies that could overcome fundamental human limitations, as well as the ethics of using such technologies. The most common thesis is that human beings may eventually be able to transform themselves into different beings with abilities so greatly expanded from the natural condition as to merit the label of posthuman beings."

We have Chimeras being created where "individuals with tissues derived from more than one zygote. Interspecific chimeras have tissues derived from different species," according to a 2007 research paper found at ScienceDirect, while we see reports that Human-Animal Chimeras are gestating now on U.S. farms, all in the name of "science."

So many reports, so much new research being hailed as "technological advancements," but all showing those same researchers playing God, and people who think they can become Gods themselves.

Which leads us back full circle to robots, their creations, where they believe that as God created man, they too should be able to create their own "species," where hot topics include Artificial Intelligence, which Elon Husk once compared to "summoning the demon," and Stephen Hawking warned could "end mankind."



In the Quayle quote above he asked "remember Skynet?" His reference was to the movie series Terminator and Skynet was the Artificial Intelligence creation, that gained self-awareness after it had spread into millions of computer servers all across the world; realizing the extent of its abilities, its creators tried to deactivate it. In the interest of self-preservation, Skynet concluded that all of humanity would attempt to destroy it and impede its capability in safeguarding the world. Its operations are almost exclusively performed by servers, mobile devices, drones, military satellites, war-machines, androids and cyborgs (usually a Terminator), and other computer systems. As a programming directive, Skynet's manifestation is that of an overarching, global, artificial intelligence hierarchy (AI takeover), which seeks to exterminate the human race in order to fulfill the mandates of its original coding.(Source)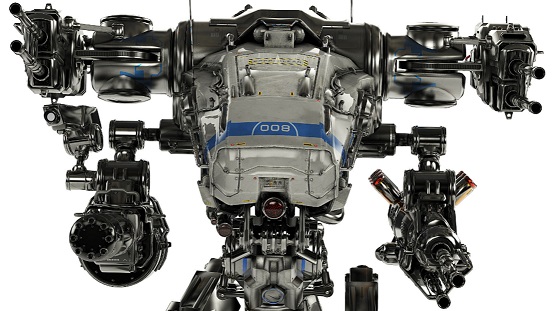 It was science fiction then but it is reality now, as militaries across the world are creating Artificial Intelligence robots, dubbed "killer Robots" which are fully autonomous weapons that will be able to select and engage targets without human intervention.

Precursors to these weapons, such as armed drones, are being developed and deployed by nations including China, Israel, South Korea, Russia, the United Kingdom and the United States. It is questionable that fully autonomous weapons would be capable of meeting international humanitarian law standards, including the rules of distinction, proportionality, and military necessity, while they would threaten the fundamental right to life and principle of human dignity.

In their extreme hubris the United States' NSA has actually developed a program they named "SKYNET," which "engages in mass surveillance of Pakistan's mobile phone network, and then uses a machine learning algorithm on the cellular network metadata of 55 million people to try and rate each person's likelihood of being a terrorist, according to documents published at The Intercept in May 2015, purpotedly obtained by Edward Snowden.

BOTTOM LINE

Not only are robots taking over jobs, but now they are deciding who lives and who dies.... we have not only begun the process which will lead to the total ownership and enslavement of humanity, but we are creating our own eventual destruction by creating our own executioners.







comments powered by

Disqus