"The Best Mix Of Hard-Hitting REAL News & Cutting-Edge Alternative News On The Web"
May 31, 2016
A 'Horrific Series Of Events' Could Unfold On June 2nd - Bigger Than Bernie Madoff And A Total Miscarriage Of Justice In America - Request For Prayers And Protection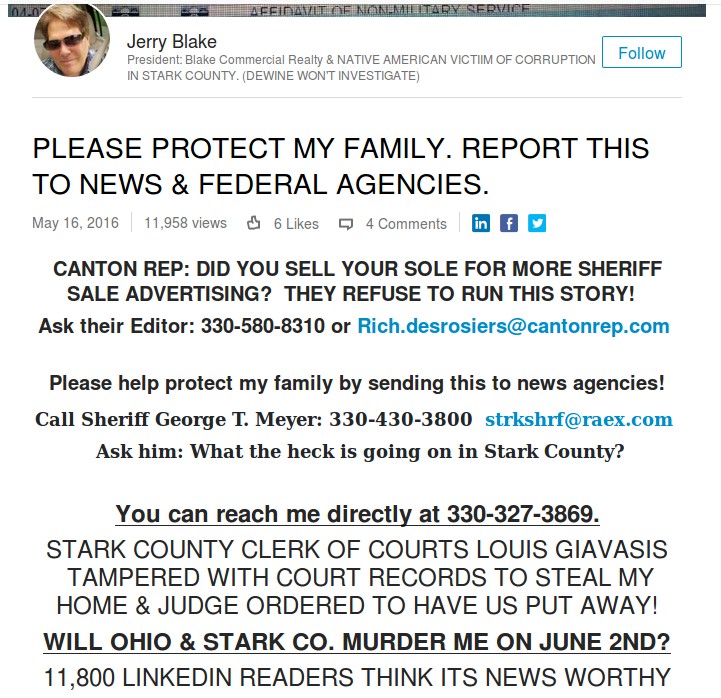 By All News Pipeline 
According to a recent story from The Trumpet, 
a new trend is sweeping the nation. Called "The Suddenly Poor Life"
, we learn that possibly tens of millions of Americans across the country may soon be losing large portions of their pensions. Telling us that the 'best-case-scenario' for the Central States Pension Fund would be a 40 to 61 percent cut in benefits depending upon age (amounting to avg of $1,400 per month), we're also told we're witnessing an '
underappreciated trend that will have a profound effect on America's economy,
' not to mention the absolute devastation being heaped upon the lives of possibly tens of millions of Americans across the country who might lose their homes or worse.

The pension crisis America faces is due in very large part due to very poor decisions made by Wall Street bankers and others with access to power who have been corrupted, absolutely, as we hear in this story from Market Watch that told us Teamsters pensions disappeared more quickly under Wall Street than it did under the mob. We also hear one man's fears that June 2nd could bring pension related tragedy as detailed in the story shared below next photo from Jerry Blake. 


The 
very sad story out of Penn Township, Pennsylvania
this past January 
told us about 12-year-old Ciara Meyer, who was accidentally killed after a uniformed state police constable showed up at her father's door to serve an eviction notice. Ciara was standing behind her father, Bartho Meyer, when he pointed at .223 caliber rifle at Constable Clarke Steel, who responded by firing a single round from his .40 caliber weapon which passed through Meyer, striking his daughter and killing her. 
Court records showed that Meyer owed $1,790.95 in a landlord-tenant dispute and Meyer long knew that the eviction was coming: "
It was no surprise
" state trooper Robert T. Hicks told 
NBC station WGAL
 of Lancaster, PA. 
"
This was a terrible ending to a horrific series of events that could have been prevented
" a
 GoFundMe page
 to raise money for Ciara's mother and to fund anti-domestic violence programs at the local school district said. A young child sadly died over $1,790.95. You can hear this sad story in the 1st video below. 


Back in early April, 40-year-old Laronda Sweatt was shot dead after stabbing one police officer and attempting to strike another one with a medieval-style ax, the video of her shooting death caught on camera as seen in the 2nd video below. The Sheriff's Department in Sumner County, Tennessee had 
arrived at Sweatt's home along with housing authorities to evict Sweatt from her home, only to be attacked by the woman
 whom her family said was never angry unless you made her angry - her family also blamed police for her death despite evidence to the contrary as seen in the video.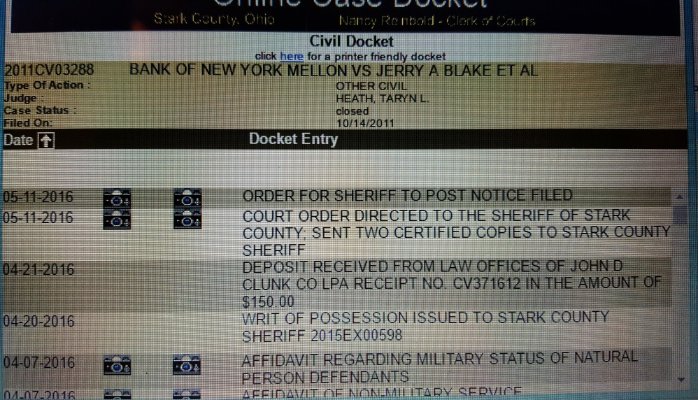 Only days from now, a part-time alternative news reporter and American citizen who claims to have uncovered a scandal 'bigger than Bernie Madoff' involving pension funds could be facing a 'horrific series of events' in the state of Ohio. Jerry Blake believes that he has uncovered evidence which proves that Judges across the state of Ohio were stealing family homes for State Employee Pensions by laundering money for BNY Mellon

.

 

On June 2nd, Blake faces eviction from his own home and is very concerned for his own life and the life of his family, warning that he believes someone wants to kill him after several reported break-ins at his home as well as his concerns that, if he is put into prison, somebody will 'suicide' him for his discoveries of corruption. Jerry has asked that readers pray for the safety of him and his family as well as contact the appropriate people who might be able to put a stop to what looks like a major miscarriage of justice. 

You can read Jerry's story in full at this link and excerpted below videos. Contact information is below videos as well.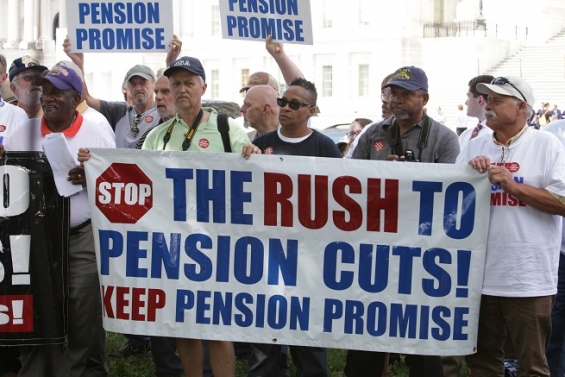 This pension fiasco continues to get worse. As we learned from a story on May 22nd from Zero Hedge, 407,000 private sector workers were set to lose most of their pensions. CNN Money ran a story then telling us pensions may be cut to 'virtually nothing' for 407,000 people leading us to ask, 'will there soon be horses heads in banksters beds' as the Teamsters were clearly being given the shaft by Wall Street banksters.

Three more recent stories from Zero Hedge tell us just how badly this pension fiasco is beginning to get; on April 20th we were told "This Is Going To Be A National Crisis" with a 'dark storm brewing in the world of private pensions' and warnings that 'all hell could break loose once it hits.' Just over a week later we were warned that UPS was bracing for a $3.8 billion charge with the Treasury's pension benefit decision looming while in the beginning of May we were once again warned, "here come a lot of angry Teamster's". 

While each of us may not currently be in the situation that Jerry Blake and his family find themselves in, it's quite clear that things in America are rapidly spiraling out of control as the elite continue to take the economy down in their long-planned collapse. As we have pointed out previously in stories on ANP, according to the website Deagel.com, 2025 America will look nothing at all like 2016 America with 78% fewer Americans living in the US in 2025 than there are now and vastly diminished wages earned by those who remain after 'the event' that the elite have planned to take down America. 

Just days ago, former Dept of Defense Secretary Chuck Hagel said that "it's time for a national conversation" about how America fits into this 'new world order'. At ANP, we agree completely. It's time to look at how the justice system handles cases such as Jerry Blake's that could end in very real family pain. The very real pain sometimes extends to the families of our hard-working public servants as well, who are sometimes unnecessarily put in danger when serving such evictions as also heard in the videos below.

When corruption leads to such events happening, isn't there a better way for such events to be resolved? One answer to this question comes to us from a very unusual source, current US presidential candidate Donald Trump, who answered the call and saved a family by paying off a $300,000 mortgage after a family suicide. While clearly not all businessmen and women in America are as generous as Donald Trump, and many have proven they don't have a soul, isn't it time that America is 'fixed' so that Wall Street corruption doesn't lead to 'main street' tragedy? 

Due in part to decisions made at the 'Wall Street' level, very real Americans such as Jerry are being put through the wringer every day. Think that it couldn't happen to us? There but for the Grace of God go we. The message from Jerry to ANP readers below.




I feel a great need to update your readers on our dire situation asking for their continued prayers to protect us, especially on June 2nd. As you know four Sheriffs came to our home on May 19th in an Extreme Show of Force demanding we get out by June 2nd. There is already a Court Order for our Arrest, to hold us without bond & to seize our possessions like we were terrorists. We were bankrupted by Judges & Attorneys violating our Civil & Constitutional Rights after I discovered evidence Judges across Ohio were stealing family homes for State Employee Pensions by Laundering Money for BNY Mellon.

My Brother Steven & I cannot afford to move anywhere. He has come to the conclusion they will likely murder us for not allowing them to put us out in the street. I have pleaded with Steven to leave here in his old motorhome with what it will hold before the Sheriff's Department gets here. He will not leave because he is still trying to protect me as he did when I was a kid.

Steven offered me his good kidney when one of mine was damaged by a prostate infection that spread which nearly took my life last year before using Colloidal Silver. He was in the Emergency Room praying for me on two occasions while offering to potentially give his life for mine. He still won't leave my side. As you know my health is getting better & am about ready to get back to work after most of a year off, but I am not up to doing such a task in less than a week even if we had somewhere to go. I am pleading that your readers pray for us & if they can, call or email to ask them to stop this illegal action against us. 

Please note: Our Governor refused to help us & now wants to be President by taking over at Republican Convention.
Governor John Kasich: (614) 466-3555 Contact page: http://www.governor.ohio.gov/Contact/ContacttheGovernor.aspx
Ohio Attorney General at BCI: (855) 224-6446 Contact page: http://www.ohioattorneygeneral.gov/About-AG/Contact
Sheriff George Meyer (330) 430-3800 [email protected]

Sincerely,
Jerry Blake
Canton, Ohio

You can read much more directly from Jerry here. 



comments powered by

Disqus