"The Best Mix Of Hard-Hitting REAL News & Cutting-Edge Alternative News On The Web"
October 12, 2015
Judge Jeanine Goes One-On-One With Donald Trump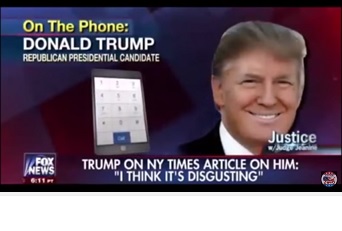 By Susan Duclos - All News PipeLine

Love him or hate him, Donald Trump leads the pack of GOP presidential aspirants despite the MSM declaring his candidacy dead in the water since almost the moment he announced his candidacy.

The latest poll from CBS News has Trump in first place with 27 percent and Ben Carson in second place with 21 percent... no other candidate even hits double digits.

In the short interview below, Judge Jeanine Pirro goes one-on-one with Trump to discuss a variety of topics including the latest headline misrepresentation from the New York Times of "From Donald Trump, Hints of  a Campaign Exit Strategy," to which Trump calls "disgusting."

According to the NYT, Trump "spoke about what would prompt him to quit a race in which he is currently leading in the polls"..... as if he brought it up himself, then quoted his response of "I'm not a masochist, if I were doing poorly, if I saw myself going down, if you would stop calling me because you no longer have any interest in Trump because 'he has no chance' I'd go back to my business."

From that the NYT determines, as shown in the headline, that Trump is hinting of a campaign exit.

Rush Limbaugh nails it right on the head by stating "The Drive-By Media's got it in its head that it's over, Trump's finished, and he's gonna drop out at some point. Even though he's still leading in every poll, they've assumed a position here that there is an inevitability to Trump dropping out. It's just gonna happen. They thought it would happen by now. They've tried to make it happen by now and before today, but it hasn't....."

Other topics Judge Jeanine and Trump discuss is the GOP House Speaker position, Ben Carson, who Trump calls a "really nice guy,"  Bergdahl, who Trump thinks should have been executed, the DNC  debates and Hillary Clinton where Trump states the Democrats continue protecting her despite the email scandal which would have driven anyone else out by now, Bernie Sanders and more.

Watch below.








comments powered by

Disqus