"The Best Mix Of Hard-Hitting REAL News & Cutting-Edge Alternative News On The Web"
May 30, 2016
This Utterly Unique Box Was Set Up To Commemorate Those Who Made The Ultimate Sacrifice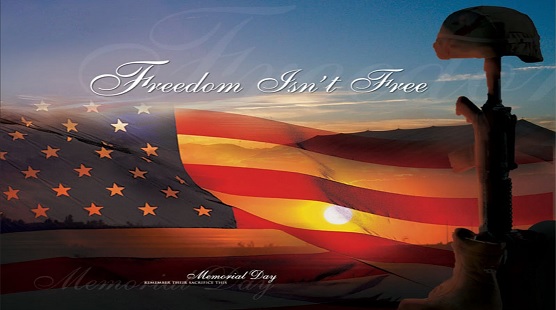 By Susan Duclos - All News PipeLine

Yesterday Stefan Stanford reported on Memorials for our nation's veterans were being vandalized and destroyed, and today we see news of more senseless destruction as Cedar Falls Freedom Rock was vanadalized and a man reportedly drove through a Kentucky Memorial cross display while Virginia's National Park Service says a portion of the Petersburg National Battlefield has been declared a crime scene after looting, and a 91 year-old WWII veteran was beaten with an oxygen tank.

Horrible people doing horrible things on a weekend where much of the country is honoring those that died in active military service, those that laid their lives on the line for America, whether the wars they fought were just or unjust, these men and women paid the ultimate price for the decisions of the nation's leaders and they deserve to be honored.

There are bright spots in the midst of all the darkness, such as a "rise in patriotism" sparking a massive rise in American flag sales, and companies providing free Memorial Day offers and discounts, such as JC Penny, Hooters, Red Robin, Outback, Shoney's, Sears and others.

Which brings me to the headlined topic, where we see that a Chic-fil-A in Pennsylvania has done a couple of extraordinary things that has active and former military members along with their families offering their thanks in the comment section of their Facebook page.

First they set up a box, filled with little toy soldiers, encouraging patrons to "Please take a soldier home and place it somewhere that will remind you to pray for those that serve our country."

Their Facebook post states "With summer weather rolling around, it's easy to lose focus of the true meaning of the Memorial Day Holiday - to commemorate those who have paid the ultimate sacrifice in defense of our freedoms. We invite you to take a soldier from our lobby as a reminder to take time to pray for those who made the ultimate sacrifice. Please take time also to pray for all of those who are actively serving and retired."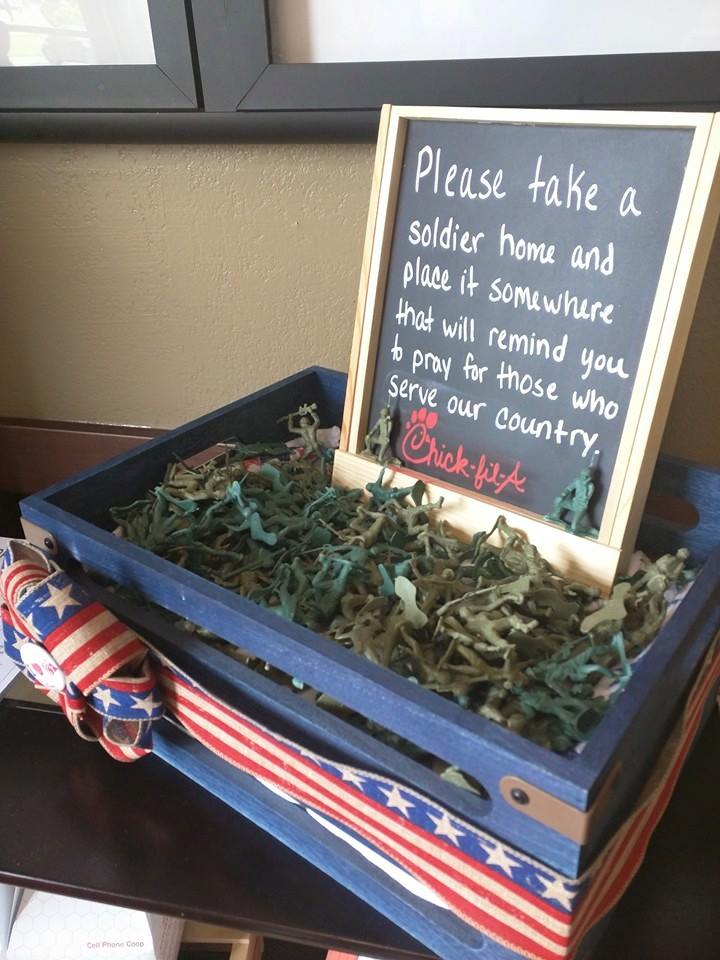 The next day they posted another picture with an update, which read  "So happy to see lots of prayers going out to our men and women in the military since our soldiers went out yesterday! Keep them coming."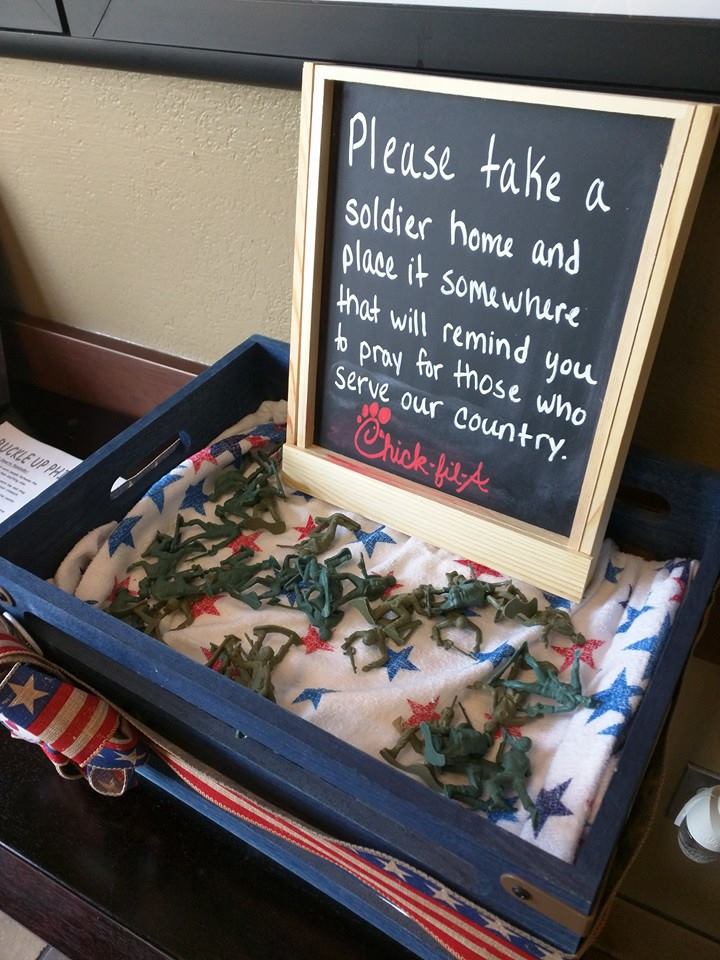 They didn't stop there though as we see on May 28, 2016, they also set up "America's White Table." Their FB post explains "We use a small table to show one soldier's lonely battle against many. We cover it with a White Cloth to honor a soldier's pure heart when he answers his country's call to duty. We place a Lemon Slice and Grains of Salt on a plate to show a captive soldier's bitter fate and the tears of families waiting for loved ones to return. We push an Empty Chair to the table for the missing soldiers who are not here. We lay a black napkin for the sorrow of captivity, and turn over a glass for the meal that won't be eaten. We place a white candle for peace and finally, a red rose in a vase tied with a red ribbon for the hope that all our missing will return someday."

"You are not forgotten so long as there is one left in whom your memory remains"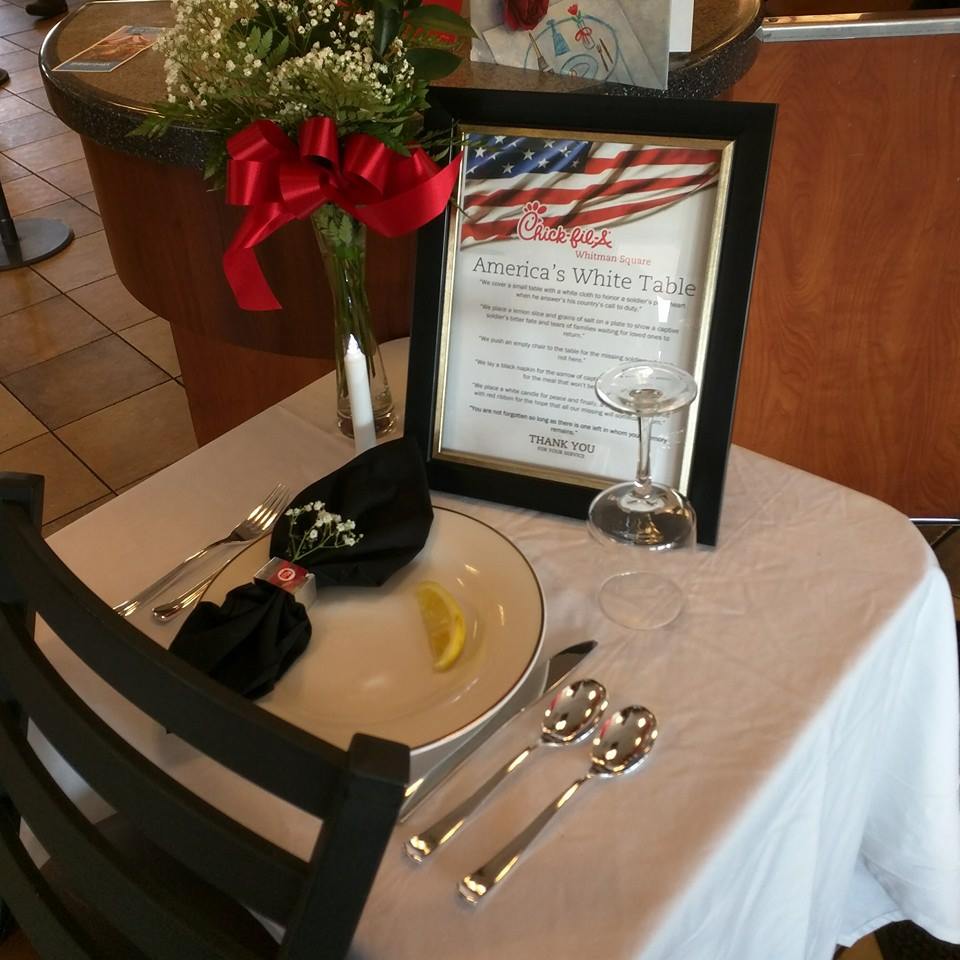 H/T Dean James - America's Freedom Fighters.

This video was put into the comment section yesterday and I hope everyone watches it as we honor those serving, those that paid the ultimate price, and out nation's veterans this Memorial Day.

We at ANP hope everyone has a wonderful Memorial Day and remember to say a prayer for those that died in combat, our men and women serving now, and our veterans.









comments powered by

Disqus