Whatfinger: Frontpage For Conservative News Founded By Veterans

"The Best Mix Of Hard-Hitting REAL News & Cutting-Edge Alternative News On The Web"
This Extensive List Of Bill And Hillary Clinton Connected And Democrat-Tied Sex Scandals And Sex Traffickers Including Mysterious Deaths Are The Smoking Gun
- Where There Is Smoke, There Is Fire



By Susan Duclos - All News PipeLine

While we here at ANP still maintain that just because someone "associated" with another person that does not make them culpable in any crimes committed by said associate because "guilt by association" is not a legal thing, but when specific individuals associate with a long list of deviants, sexual predators and alleged child traffickers, it is fair to at least question those associations collectively.


Democrats have a long list of "associates" that have been accused and/or convicted of sexual crimes, some involving minors, which include  disgraced Hollywood mogul Harvey Weinstein, major Democrat donor Ed Buck, former congressman Anthony Weiner, actor Kevin Spacey, and we'll also take a look at the Clintons long association with recently arrested Jeffrey Epstein.


(If you appreciate stories like this, please consider donating to ANP to help keep us in this battle for the future of America.)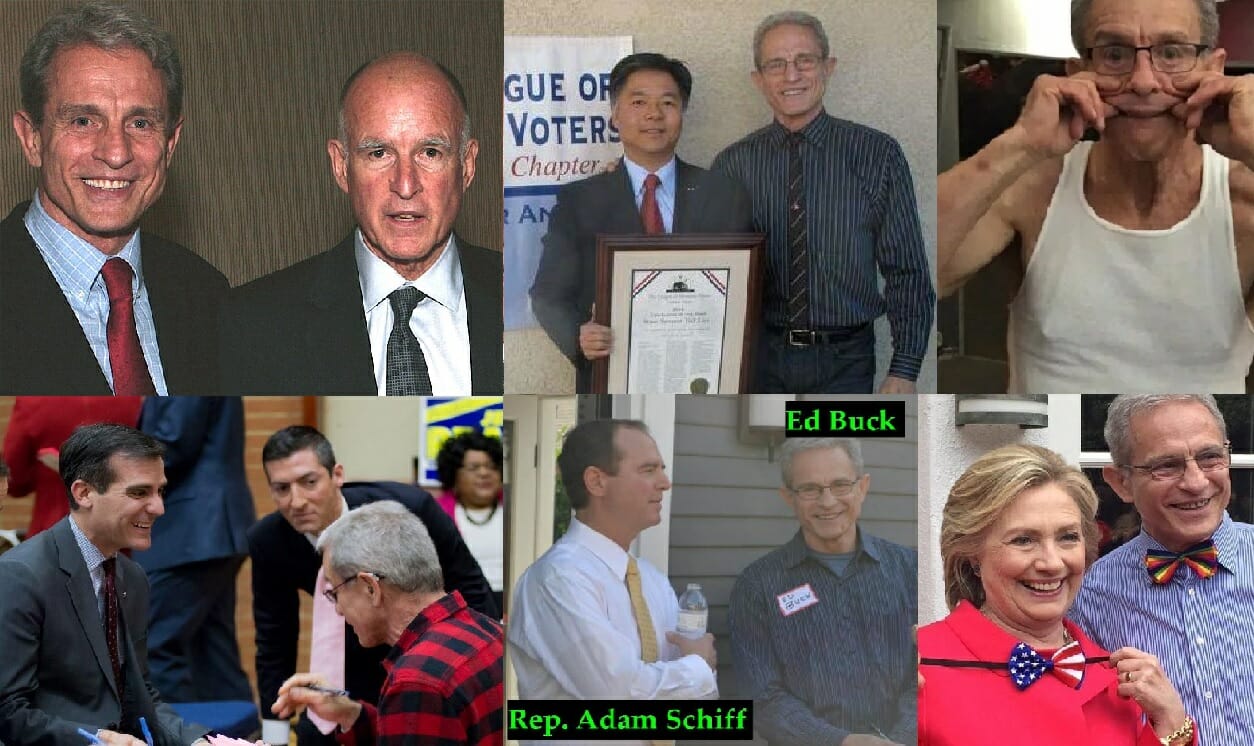 (Democrat donor Ed Buck with: Governor Jerry Brown, Rep. Ted Lieu, In a T-shirt, Los Angeles Mayor Eric Garcetti, Rep. Adam Schiff, and Hillary Clinton.)



DEM MEGADONOR ED BUCK ACCUSED OF TRAFFICKING AND REVENGE PORN AFTER 2 DIE IN HIS HOME

Democrat megadonor Ed Buck has had two gay black men that have died of a drug overdose inside of his home over the course of the last two years, as can be seen above, Buck regularly hobnobbed with Democrat politicians as well as generously donating to multiple Democrat politicians, including Hillary Clinton multiple times, as well as donating to a multitude of liberal causes.

January 2019, via Fox News, after the death of the second man in Buck's home:


But, critics are questioning whether Buck's race — both men found dead were black — or if his wealth or political ties to the Democratic Party influenced an initial investigation of the 64-year-old who has donated tens of thousands of dollars to a slew of liberal causes and candidates over the years, including Hillary Clinton, Barack Obama, and a who's who of top California politicians.

"He definitely has not been cooperative, as his attorney says. He refused to answer any questions when I tried speaking with him," Los Angeles County Sheriff's Department Homicide Investigator Quilmes Rodriguez told Fox News via email Wednesday night.

Officials said the investigation of the second death will include a review of Gemmel Moore's death in 2017. After a slow-moving investigation that went on for months, Buck was not charged.

While the district attorney declined to file criminal charges against Buck, the mother of one of the victims, 26-year-old Gemmel Moore who was found dead of a drug overdose in Buck's home in 2017, has filed an amended civil suit against Buck which accuses him of human trafficking and engaging in revenge porn, according to a CBS News report.


"Information we received from other victims of Ed Buck that Ed Buck loves to take pictures of these young men, loves to take videos of them in their inebriated state," Cannick said.

The amended complaint alleges that Buck "regularly solicits sex from black men in exchange for temporary housing and/or monetary compensation."

"Gemmel Moore at the time was 26 years old and Ed Buck flew him here from Texas," Cannick said. "And within 24 hours, he died of a crystal meth overdose."

The civil suit comes after another of Buck's hired "boy toys" publicly released descriptions and pictures of Buck's deviant fetishes, which included "making his sexual partner take Viagra, injecting drugs into his penis and injecting him with meth while he slept." Buck was also said to have commonly referred to the man as  'my n****r buddy', 'my straight n****r buddy', 'and 'black boy.'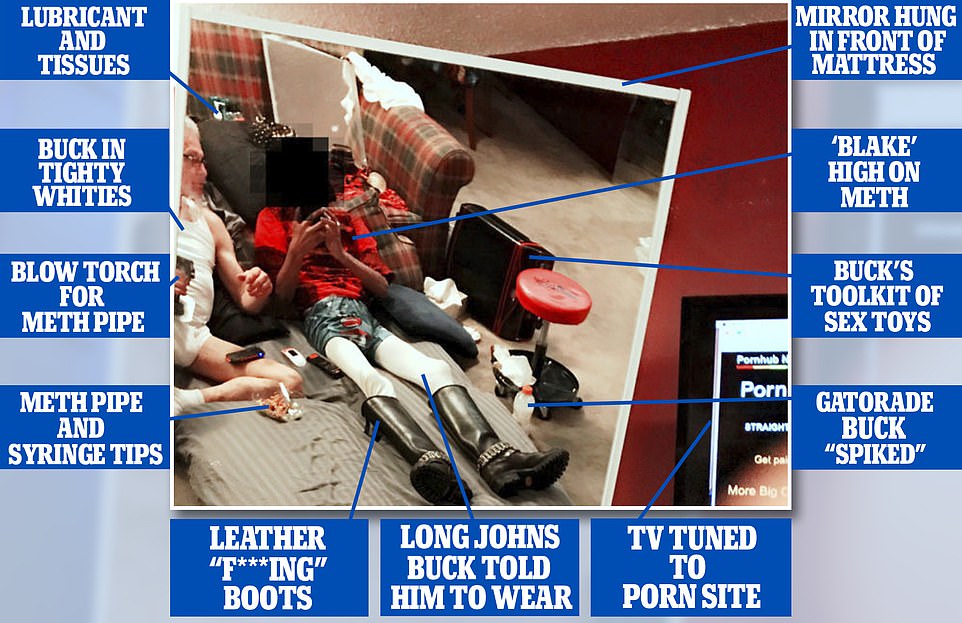 JEFFREY EPSTEIN AND THE CLINTONS

After the recent arrest of convicted pedophile Jeffrey Epstein on charges of sex trafficking and sex trafficking conspiracy, former president Bill Clinton issued a statement that even the New York Times is questioning, claiming that "In 2002 and 2003, President Clinton took a total of four trips on Jeffrey Epstein's airplane: one to Europe, one to Asia, and two to Africa, which included stops in connection with the work of the Clinton Foundation. Staff, supporters of the foundation, and his Secret Service detail traveled on every leg of every trip. He had one meeting with Epstein in his Harlem office in 2002, and around the same time made one brief visit to Epstein's New York apartment with a staff member and his security detail. He's not spoken to Epstein in well over a decade, and he has never been to Little St. James Island, Epstein's ranch in New Mexico, or his residence in Florida."

Full statement below: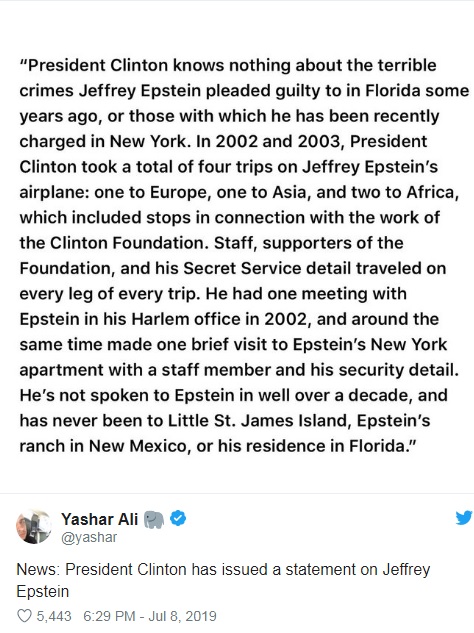 The reference to Little St. James Island is an island Epstein owns that has been dubbed "Orgy Island," and eye witness accounts contradict the assertion that Bill Clinton never visited the island, as one of the underage "sex slaves" on the island claims she had seen Clinton there, but stated she never witnessed Clinton having sexual relations.

Also note how they specify the 2002 and 2003 dates, in order to imply his traveling with Epstein was infrequent, but flight longs covering a far greater range of dates, show Clinton had traveled on Epstein's aircraft nicknamed "Lolita Express" far more than had been previously reported.


In 2015, Gawker released the flight logbooks for Epstein's Gulfstream and the Lolita Express 727. Bill Clinton is among the prominent people listed in the flight logs, having took several trips on the Lolita Express with a softcore porn actress listed under "massages" in Epstein's address book, also published by Gawker. Clinton shared eleven flights aboard the Lolita Express with Maxwell and Epstein's former assistant Sarah Kellen, who has been accused in court filings of recruiting young girls, acting as a pimp on Epstein's behalf. On multiple flights, additional women, listed in the flight logs by their first name or the simple descriptor "female," joined Clinton aboard Epstein's plane.

Fox News later reported that flight logs placed Bill Clinton on Epstein's plane a total of 26 times.


Related: Epstein Business Partner Clinton Foundation Received Money For Epstein "Services"


According to a more recent report, the Epstein/Clinton association goes back to at least 1995 when "then-President Clinton attended a "three-hour dinner" at the time with a "very select group of people" at the Palm Beach home of business magnate Ron Perelman. The diverse group included Epstein -- as well as singer Jimmy Buffet, actor Don Johnson, then-co-chairman of the Democratic National Committee Don Fowler and others."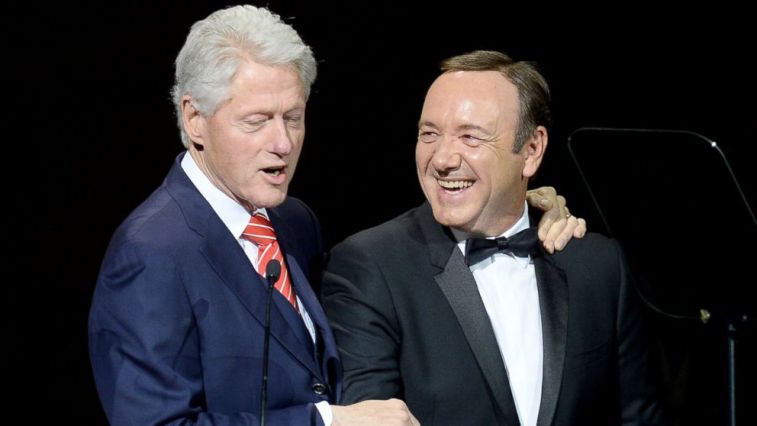 (Bill Clinton and actor Kevin Spacey)


In January 2015, The Smoking Gun reported that Epstein's phone book contained email addresses and 21 different phone numbers for Bill Clinton.

Immediately after Epstein's arrest, his Wikipedia page had been edited to remove his ties to Democrats, including Bill Clinton and Kevin Spacey, (Note- Spacey is in the midst of his own sexual abuse scandal) both of which traveled together on Epstein's 'Lolita Express' at least once. According to PJ Media, those edits aren't necessarily reflective of anything more than the fact that almost anyone can edit a Wiki page unless it is locked, so anyone could have done it, but it is interesting that someone felt the need to rush to Wikipedia to disassociate Democrats with Epstein.

ANP Related: How Many 'Elite' Pedophiles Are Freaking Out After The Jeffrey Epstein Arrest? 'Quite A Few Important People, Powerful People Sweating It Out Right Now'





DISGRACED HOLLYWOOD MOGUL HARVEY WEINSTEIN & THE CLINTONS

Clinton pal Harvey Weinstein was frequently seen with the Clinton's and was considered a "good friend" of the two, as well as rubbing elbows with a number of other Democrat politicians, considered one of the "most prolific donors" to the Democrat party.

As many already know Harvey Weinstein was outed as having allegedly raped and sexually assaulted a number of Hollywood celebrities over the course of decades, when they were up and coming actresses.  Despite the number of women that came forward, his arrest and trial, which is set for September 9, 2019, stems from him being accused of forcibly performing oral sex on production assistant Mimi Haleyi in 2006 and raping a longtime lover in a Manhattan hotel in 2013. (Source)

Despite being categorized as such good friends with Weinstein, both Hillary Clinton and Bill Clinton have attempted to disassociate themselves from that friendship, both claiming the were not aware of his history.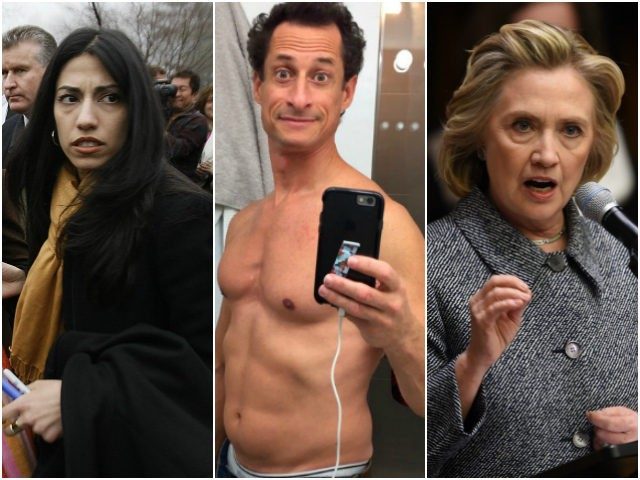 FORMER CONGRESSMAN ANTHONY WEINER & HILLARY CLINTON

Former congressman Anthony Weiner, forced to leave congress after a series of images were made public that he had sent to multiple women of his.....errrr.... weiner, sometimes just a bulge in his underwear, described by Pittsburgh Post Gazette as "a photo of an erection barely covered by a man's underwear."

Weiner was later convicted of "sexting," with a 15 year old girl, but that is where the the connection between the Clintons and Weiner took a turn.

Before the investigation and his arrest, Weinders only real connection with Hillary Clinton was his being the husband of Huma Abedin, Hillary Clinton's Deputy Chief of Staff when she was secretary of state, and Vice Chair of Hillary's 2016 Campaign for President, but what investigators found on his laptop brought about a number of questions that have never been answered.

Investigators found 340,000 emails on Anthony Weiner's laptop, with a significant amount of them being between Hillary Clinton and Huma Abedin. According to notes taken by FBI Randy Coleman from the Counterintelligence Division on October 4, 2016, they stated "Initial analysis of laptop – thousands emails, Hillary Clinton & Foundation, crime against children." (Found on page 294 of the DOJ Inspector General Report)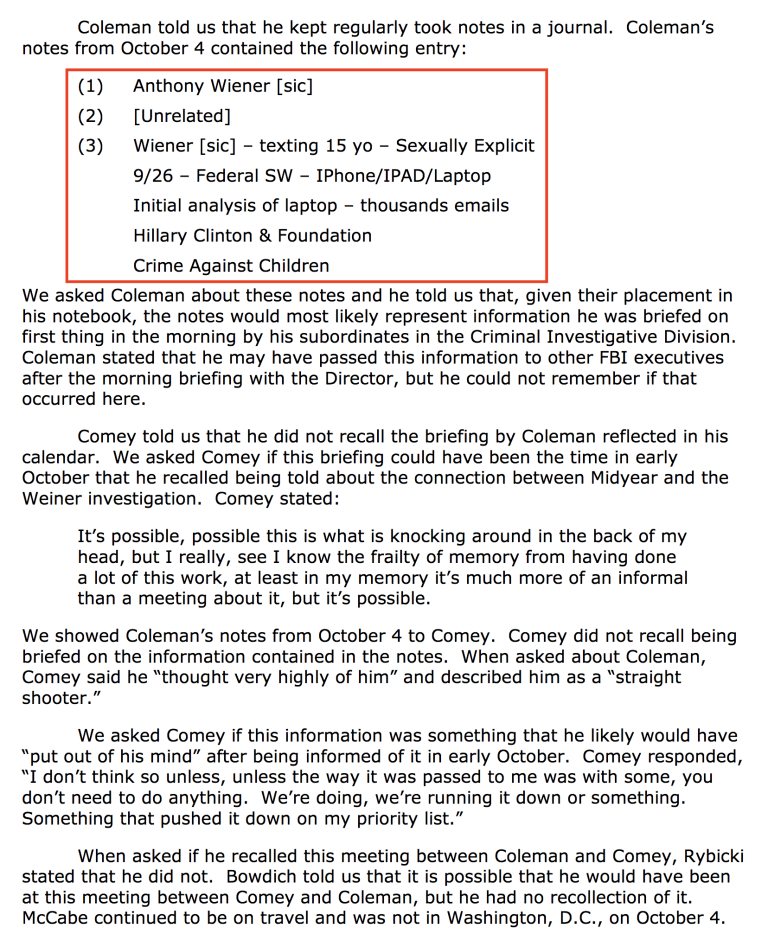 It was widely reported that classified material were part of those State Department emails found on Weiner's laptop.


STATE DEPARTMENT COVERUP WHILE CLINTON WAS SECRETARY OF STATE

We'll end with the reports that while Hillary Clinton was Secretary of State, there was a massive coverup regarding "findings that members of then-Secretary Hillary Clinton's security detail and the Belgian ambassador solicited prostitutes, and minor children."

Among the findings were the following, via New York Post:


* A DS agent was called off a case against US Ambassador to Belgium Howard Gutman over claims that he solicited prostitutes, including minors.

"The agent began his investigation and had determined that the ambassador routinely ditched his protective security detail in order to solicit sexual favors from both prostitutes and minor children," says the memo.

"The ambassador's protective detail and the embassy's surveillance detection team . . . were well aware of the behavior."

Undersecretary of State for Management Patrick Kennedy ordered the investigation ceased, and the ambassador remains in place, according to the memo.

Then comes the kicker: "Gutman was a big Democratic donor before taking the post, having raised $500,000 for President Obama's 2008 campaign and helping finance his inaugural."


BOTTOM LINE

Democrats constantly continue to be connected and associated with some of the worse deviants, sexual predators and pedophiles, from donors to friends, to political alliances, and no two members of the Democrat party have as many "associations" as Bill and Hillary Clinton. (See more connections at the Must Read: Are Bill & Hillary Clinton Involved with Child Trafficking?)

While "association" isn't culpability, one does have to wonder how the Democrats and the Clintons specifically, continue to gravitate towards these types of people, as well as ask, how much did they know, when did they know it and finally, were they participants?






EMERGENCY FUNDRAISER: Despite generous donations, the still dwindling advertising revenue over the course of the last two years has forced us to completely deplete all our savings just to survive and continue to keep All News PipeLine online.

So ANP is accepting emergency donations throughout July. 

PLEASE HELP KEEP ANP ALIVE BY DONATING USING ONE OF THE FOLLOWING METHODS.

One time donations or monthly, via Paypal or Credit Card:



Or  https://www.paypal.me/AllNewsPipeLine
Donate monthly from $1 up by becoming an ANP Patron.



Donate Via Snail Mail

Checks or money orders made payable to Stefan Stanford or Susan Duclos can be sent to:



P.O. Box 575

McHenry, MD. 21541







comments powered by

Disqus