Whatfinger: Frontpage For Conservative News Founded By Veterans

"The Best Mix Of Hard-Hitting REAL News & Cutting-Edge Alternative News On The Web"
November 29, 2018
Freakish November Weather Is Just A Taste Of Things To Come: Solar Minimum Wreaking Havoc As Winter Misery Index Spikes 


By Stefan Stanford - All News Pipeline - Live Free Or Die
In this new story by Michael Snyder over at End of the American Dream that Steve Quayle had linked to on his website  this morning, Snyder reports what may be one of America's coldest and snowiest November's ever may only be getting worse.

While the left continues to scream 'global warming' and attacking President Trump for backing out of the Paris Climate change agreement, in the only video at the bottom of this story, Rick Wiles and TruNews feature Professor Valentina Zkarkova, whose latest weather models have been updated to show our planet may now be entering a cold snap lasting not only decades, but centuries.

And while we won't go out on a limb and claim a 350-year ice age is coming to our planet as we read in this TruNews story and hear in the video from Professor Zkarkova, as Ice Age Now had reported back on November 12th in a story which the Drudge Report had linked to, according to NASA scientist Martin Mlynczak, we could be witnessing record cold weather in a matter of months due to a lack of sun spots.

"If current trends continue, it could soon set a Space Age record for cold," said Mlynczak. "We're not there quite yet, but it could happen in a matter of months." And in the same story they report that according to Dr. Tony Philips back on September 27th, "The sun is entering one of the deepest Solar Minima of the Space Age". 

And as we see in the map on the top of this story taken from this November 27th story at the Weather Channel, approaching the end of November, it's been one of the most miserable starts to winter on record with the 'misery index' at 'extreme' or 'severe' for huge chunks of the country. From that story.

It's already one of the coldest and snowiest starts to the winter season in parts of the Northeast, Midwest and Plains, and we haven't finished November yet.

According to the Accumulated Winter Season Severity Index (AWSSI) from the Midwest Regional Climate Center, 74 cities from New England to the Plains and Rockies have seen an extreme season-to-date of cold and snow as of Nov. 27.

This index takes into account the "intensity and persistence of cold weather, the frequency and amount of snow and the amount and persistence of snow on the ground," the Midwest Regional Climate Center says. Wind and mixed precipitation, such as freezing rain, are not a part of the index.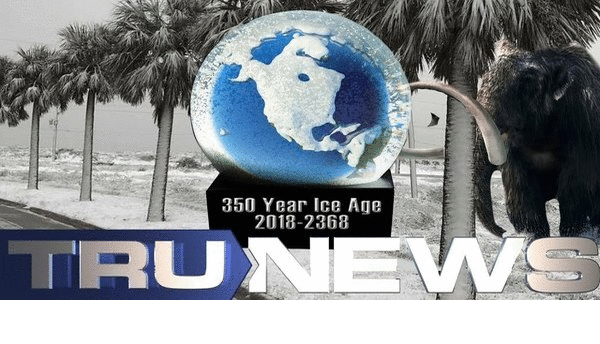 As Snyder reports in his new story, America's freakish weather in November is just a taste of things to come with winter not even officially kicking off for 3 more weeks and already city after city hitting record cold temperatures for the month. Combined with even more cities that have hit record precipitation rates for the month of November leads us to ask, are weather modification programs going on? From Snyder's story:  

Nov. 1-26 was the third-coldest on record in Kansas City, Missouri; third-coldest in Little Rock, Arkansas; seventh-coldest in St. Louis; seventh-coldest in Oklahoma City; ninth-coldest in Des Moines, Iowa; and tied for the ninth-coldest in Dallas/Fort Worth, according to data from NOAA's Regional Climate Centers. It has also been a top-10-coldest November in parts of upstate New York and New England.

Nov. 1-26 was the second-coldest on record in Bangor, Maine; third-coldest in Syracuse, New York; fourth-coldest in Binghamton, New York; fifth-coldest in Portland, Maine; fifth-coldest in Concord, New Hampshire; seventh-coldest in Worcester, Massachusetts; eighth-coldest in Buffalo, New York; and tied for the eighth-coldest in Hartford, Connecticut.

And we have witnessed an extraordinary amount of precipitation this month as well. In fact, this has been the wettest November ever recorded for major cities all along the east coast…

Through Nov. 26, the month ranked as the wettest November on record in Washington D.C.; Baltimore; Philadelphia; Atlantic City, New Jersey; Hartford, Connecticut; Providence, Rhode Island; and Concord, New Hampshire, according to data from NOAA's Regional Climate Centers.

And while Snyder asks what's going on with all of this crazy weather and avoids the topic of weather modification while pointing to the previously mentioned NASA scientists warning of an approaching mini-ice age, he concludes his story by reminding us how often throughout history such periods of cooling upon our planet Earth have caused great disruptions to the global food supply, which even now scientists are warning is becoming increasingly vulnerable.  

A new report penned by 130 national academies warns that the food supply is becoming increasingly vulnerable to extreme weather by driving the conditions that will make such events even worse in the future.

At the same time, humanity continues to fall short of nutrition targets around the world, with the number of undernourished people steadily on the rise.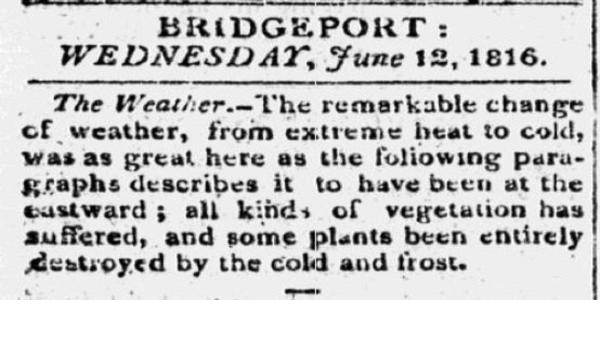 Then warning us that during the last 'mini-ice age', food production all across the planet dropped dramatically and famine broke out all across the planet, we don't need to look all the way back to the last mini ice age during the 16th or 17th century to see the utter catastrophe that can be caused to a the global food supply by an extended cold spell.

Instead we can look back to just over 200 years ago to the year 1816 which will forever be known as the 'year without a summer' to see what happens when the Earth cools drastically. And while the freezing cold temperatures across the planet Earth that year were believed to be caused by the volcanic eruption of Mount Tambora in Indonesia in April 1815, half a world away from America, that eruption "spewed millions of tons of dust, ash and sulfur dioxide into the atmosphere, temporarily changing the world's climate and dropping global temperatures by as much as 3 degrees." From USA Today: 

Snow in June, freezing temperatures in July, a killer frost in August: "The most gloomy and extraordinary weather ever seen," according to one Vermont farmer.

Two centuries ago, 1816 became the year without a summer for millions of people in parts of North America and Europe, leading to failed crops and near-famine conditions.

In addition to food shortages, the natural climate change caused disease outbreaks, widespread migration of people looking for a better home and religious revivals as people tried to make sense of it all.

And it could happen again. Big volcanoes can erupt at anytime and with little warning, potentially changing the climate and giving a temporary reprieve to man-made global warming.

So with cold weather chilling much of America, we'll open up the comment section below to winter weather prepping tips that anybody might like to share with nothing like a hot fire burning to keep us warm this time of year. 






ANP Needs Your Help. With digital media revenue spiraling downward, especially hitting those in Independent Media, it has become apparent that traditional advertising simply isn't going to fully cover the costs and expenses for many smaller independent websites.

Any extra readers may be able to spare for donations is greatly appreciated.

One time donations or monthly, via Paypal or Credit Card:



Or https://www.paypal.me/AllNewsPipeLine
Donate monthly from $1 up by becoming an ANP Patron.





comments powered by

Disqus