Whatfinger: Frontpage For Conservative News Founded By Veterans
"The Best Mix Of Hard-Hitting REAL News & Cutting-Edge Alternative News On The Web"
July 27, 2015
The Day Your Credit And Debit Cards Die Before Your Eyes And All You Have Left Is What You Have On You!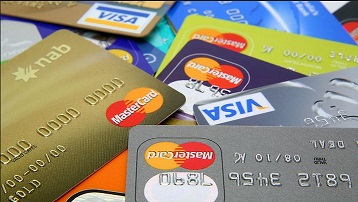 By Susan Duclos - All News PipeLine

An article by My Budget 360 was emailed to me yesterday where we see in the headline one of the most chilling and eye-opening facts on an issue that is once again reaching a flashpoint.

"Since 1980 household income up 300% while credit card debt up 1,760%."

CONSUMER RELIANCE ON CREDIT

According to the article "Credit card debt outstanding is now back up to $900 billion, a number last seen during the Great Recession before the great deleveraging.  Americans have used debt as a means to cover up the reality that the middle class is disappearing."

According to an article from Mainstreet.com in September 2014, one in five Americans (20%) were unable to make ends meet without the help of a credit card, while another 22% said they would have to alter their lifestyle if they only used cash. Furthermore, the findings show that only "27% would be able to keep up their current lifestyle if asked to use cash only, while 32% said they would make some changes but don't see any major hurdles stemming from the switch."

That isn't the only factor though, as another report from The Atlantic in April 2015 shows that people using credit cards are will to spend twice as much for an item than if they were using cash.

Prelec and Simester's findings downplayed the importance of logos, but further solidified the theory that credit cards extract more money from people than cash in identical circumstances. The two researchers found that their Boston-based experimental subjects were willing to pay strikingly different amounts of money on tickets to a Celtics game, depending on their method of payment. Those paying with cash found roughly $30 to be a reasonable price, while those paying with credit on average were satisfied with $60.....

There is no doubt that Americans have an unhealthy reliance on credit cards once again and that reliance is growing with the number of people that cannot make ends meet without the use of their credit cards, which puts them farther into debt.

WHEN YOUR CREDIT AND DEBIT CARDS DIE BEFORE YOUR EYES

We have been warned by investors, trends forecasters and financial gurus that another recession is coming, one that will make the 2008 recession seem like a walk in the park in comparison, compunded by the fact that the US Dollar is has hit the average amount of years historically that any currency holds the word reserve status.

Via an ANP article from July 5, 2015:

Countries that have held the world reserve currency status ranged from 80 years to 110 years. Portugal (1450 - 1530)  80 years - Spain (1530 - 1640) 110 years - Netherlands (1640 -1720) 80 years - France (1720 - 1815) 95 years and - Britain (1815 - 1920) 105 years.... for an average of 94 years that any country maintains the world reserve currency.

The U.S. has held that status since 1920 until present day, 2015..... 95 years. 

So we are not only looking the next recession in the eye we are also about to lose the ability to continue printing money to manipulate the economy, meaning America's massive debt load will come due.

Say goodbye to credit cards, say goodbye to your debit cards but most importantly remember that the money you have in the bank DOES NOT BELONG TO YOU..... you are simply a "creditor" and standing last in line to the other creditors of the large banks.

BANKS WILL CONFISCATE YOUR MONEY

Public banking expert Ellen Brown clearly explained exactly what will happen when everything comes crashing down, in an interview with Greg Hunter of USA Watchdog back in December 2014, where she explains that new rules were passed at the G-20 meeting in Australia which will allow banks to take money from depositors and pensioners globally.

When a financial crash does happen, you can forget about getting immediate access to your money.  Brown says, "The banks will say, well, we don't have it.

Just look at Greece right now to see exactly what is coming to America. Banks closed, limits placed on depositors on how much of their own money they can withdraw in a day or week and plans to raid depositors money to pay off governmental debt.

In regards to confiscating money here in America I have heard many claim "it can't happen here," yet the new rules Brown talks about with Hunter provide the legal mechinism to do exactly that.

Ask yourself why would they put in place the legal ability to do something unless they plan to do it???

ALL YOU WILL HAVE LEFT IS WHAT IS ON YOU!

When it hits the fan and you cannot access your bank account and you cannot "charge" what you need to survive, all you will have left is what is on you, what you are physically holding.

The cash in your pocket, precious metals, the food and supplies in your home.

In an article from WeathDaily in February 2015, they discuss Americans use of credit cards as well as the national debt, specifiying at the end of the article under the "Don't Be Tricked" bullet point, the following points:

"You have options besides keeping your money in the bank and earning next to nothing. It is important to diversify your assets, at least to a certain extent, to protect your wealth.

This includes buying gold-related investments that will serve as protection against a depreciating currency. While households will manage their debt, the government will not do so well."

We have seen financial experts recommend physical assets before, so after reading that last recommendation I reached out to Steve Quayle at Renaissance Precious Metals to explain from a precious metals dealers viewpoint why it is so critical in preparing for a future without access to bank deposits or use of credit cards, to have physical assets like gold and silver.

His response is below:

"THE BIGGEST DISCONNECT IN PRECIOUS METALS OWNERSHIP, IS THE FACT THAT IN A CRASHED DOLLAR ECONOMY AND BANK OR CREDIT CARD LOCKDOWN, PEOPLE WILL HAVE TO BARTER WITH SOMETHING THAT HAS INTRINSIC VALUE AND IS RECOGNIZED WORLD WIDE. THE PAPER ASSAULT ON THE PRECIOUS METALS IS DESIGNED BY THE MANIPULATORS, TO SCARE THE AVERAGE CITIZEN INTO A PANIC MODE TO SELL THEIR PRECIOUS METALS ON THE CHEAP TO THEM, BEFORE THEY RUN THE PRICES UP. SILVER PREMIUMS ARE RISING DAILY ALONG WITH HORRIBLE AVAILABILITY!  FIGURE AT LEAST $5.00 OVER SPOT,WHICH PUTS THE REAL WORLD PRICE OF SILVER AT $20-22.00 PER OZ"

BOTTOM LINE

Look around your home, check your wallet and ask yourself if today, right now, you could not access your bank account or use any credit cards, do you have what you need to survive?

Then act accordingly to prepare because when it all crashes it will happen fast.

In the video below Gregory Mannarino explains how the paper gold/silver market was faked. Mannarino breaks it down in an article at his Seeking Alpha blog titled "How Overt Manipulation Of The Paper Gold & Silver Market Is Done."








comments powered by

Disqus