Whatfinger: Frontpage For Conservative News Founded By Veterans
"The Best Mix Of Hard-Hitting REAL News & Cutting-Edge Alternative News On The Web"
January 24, 2019
†The Globalists 'Golden Child' Is Also A Radical Islam Apologist Only Two Steps Away From The Presidency: Watch Out For A Deep State Coup Attempt To Install 'President Pelosi'††
- And Don't Forget, Pelosi Also 'Drank The Reverend Jim Jones Kool-Aid'!††
By Stefan Stanford - All News Pipeline - Live Free Or Die
Back on January 4th, Baltimore Magazine published this story titled "The Gavel Goes Back To Nancy D'Alesandro Pelosi Of Little Italy" with the return of the daughter of former Baltimore mayor Thomas D'Alesandro becoming the first House Speaker to actually regain the position after she had lost it in 6 decades.

For those who may not be aware, Pelosi actually grew up in Baltimore's 'Little Italy' and while the Baltimore Magazine story neglected to weigh-in upon her father's checkered past, this January 21st story over at the website 'State of the Nation' fills in the blanks very nicely for us.

As State of the Nation reported then, Pelosi's father, also a former US Congressional Rep from Maryland, was a constant companion of the notorious mobster Benjamin Magliano of the Baltimore Crew†which operated in 'Little Italy' from the 1920's to the 1990's and was a faction of the Gambino crime family,†with even former President John F. Kennedy concerned about Pelosi's father's relationship with organized crime according to this February 9th of 2018 story over at The Federalist Papers.†

And while millions of Americans look at Pelosi as an increasingly senile old bat who should get out of politics all-together as every time she opens her mouth, she embarrasses herself and America, this January 20th story also at State of the Nation reports Nancy is also the globalists 'golden child', completely owned by the 'new world order' with ties to not only the mafia but the old banking families and 'black nobility'. From the State of the Nation story.:†

California Representative Nancy Pelosi was recently reinstalled as House Speaker by her Deep State masters to eventually become the first female president of the United States. She has been groomed from the beginning of her political career to be the quintessential court jester of American politics.

Everyone knows the jester just like they know the town fool. They will do or say just about anything, no matter how foolish, as a means of getting everyone to underestimate them.

KEY POINT: Thatís not to say that Nancy Pelosi wasnít purposefully selected for this pivotal role because of her old age, increasing mental deficits and temperamental nature. These specific characteristics are then taken advantage of by her Deep State handlers to advance the New World Order agenda to undermine the American Republic. In other words, Pelosi is a super-medicated globalist whose prescription drugs literally keep her on the NWO reservation.

And as we hear in the must-listen only video at the bottom of this story, with Pelosi now only behind POTUS Trump and VP Mike Pence in the presidential pecking order, a coup attempt to install Pelosi as President may very well be underway with our videographer giving us evidence that such a plot may have very well been recently prevented.††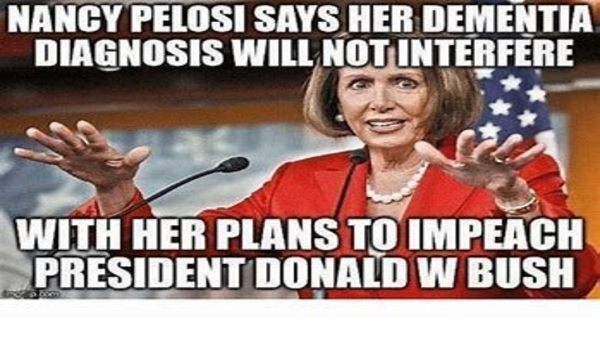 In that excellent video already viewed over 120,000 times, videographer 'Headlines With A Voice' breaks down for us a series of recent events that have taken place in Washington DC over the past several weeks that stretch back to December of 2018. She shares with us a comprehensive timeline which suggests an assassination attempt upon President Trump and VP Mike Pence was coming from the deep state as Ms. Smallback also reported in this January 21st story over at News With Views.†

Tying together reports of Georgia man Hasher Jallal Teheb and his plot to attack the White House using a rocket launcher, (an attack that was thankfully stopped by the FBI who had known about his plans to do damage to federal buildings for nearly a year), with the story of Pelosi and other Democratic members of Congress attempting to rush out of the country several days ago, a trip that President Trump put a stop to, our videographer reminds us that when John F. Kennedy was assassinated back in 1963, members of his own Cabinet and several political opponents had also skipped out of town.†

Our videographer also brings up for us in this timeline the constant back and forth between Pelosi and President Trump on the State of the Union speech that apparently is 'off' once again while also pointing out for us this bizarre recent tweet from former Barack Obama and DNC flunky Donna Brazille who tweeted on January 18th:†



#MadamSpeaker today




#PresidentPelosi shortly thereafter




#MLKWeekend is underway




Keep Hope Alive!



Why would Brazille be tweeting 'President Pelosi shortly thereafter' with Pelosi still behind VP Mike Pence even if the globalists are successful at impeaching President Trump? As one person on twitter replied to her, "Wow. @SecretService this is a call to violence I think." That comment wasn't the only one suggesting that Brazille's tweet almost sounded like an assassination threat with one person replying "Sounds like a threat against our President and Vice-President. Secret Service take this woman into custody!" while another hinted at a #PelosiBodyCount: "I curious to how many #bodycount Pelosi has. Mafia daughter that she is, with her age, could be quite long. Thought to ponder." (Sic)

As this State of the Nation story reports, a young Pelosi was rubbing shoulders with murderers and mob hoodlums which make this January 3rd story by Susan Duclos much easier to understand.†As Susan reported then, Nancy's daughter Alexandra had recently gone on CNN and stated her mother would "cut your head off and you won't even know you're bleeding" in response to a question about Pelosi's dealings with President Trump. And with her remarks reminding us of the absolutely horrific 'artwork' of Kathy Griffin holding President Trump's bleeding head, the remarks made by Alexandra to CNN's laughing talking heads makes perfect sense in light of everything else we're witnessing today.†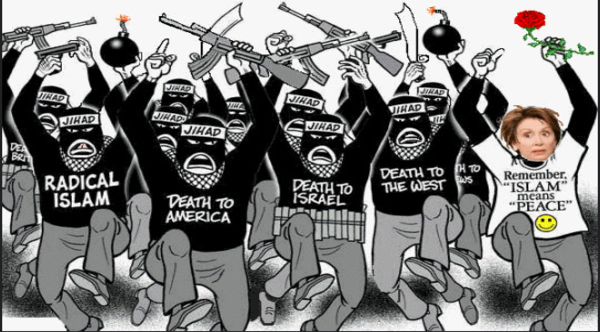 As Susan had also pointed out in her January 3rd story, Pelosi has long been an apologist for Islam, bowing to Islam while wearing a hijab during a trip to Syria back in 2007 while pandering to two new Muslim congresswoman, actually changing Congressional rules to allow the wearing of hijab's in Congress, rules that had been in place dating back to 1837 which banned hats on the house floor during legislative session. Can anyone imagine the insanity that would take place in the House should a couple Republican Congressmen decide to sport their brand new MAGA hats on the same House floor?!!!

As Fox News had reported back on February 1st of 2017, during a protest against President Trump, Pelosi was actually caught on hot mic imploring a fellow Democratic politician to tell the crowd that he's a Muslim, proving she'll happily play the 'Muslim card' in an attempt to gain political points. And while 'Jihadi Nancy' screams "Islam means peace", who really believes that radical Islam would give Nancy and the Democrats 'gay agenda' the same respect?†

And as we see in†this November 1st of 2012 story over at The Investigative Project On Terrorism, Pelosi had back then hosted a Democratic party fundraiser with leaders of Hamas and the Muslim Brotherhood with direct ties to Syria. Should we be alarmed that the person described by the Investigative Project on Terrorism in the section below is only 2 steps removed from the US presidency?†



The Investigative Project on Terrorism has learned that House Minority Leader Nancy Pelosi headlined a Democratic Party fundraiser with leaders of Hamas and Muslim Brotherhood front groups in May of this year. (ANP: 2012)





In attendance were about 20 members of a Syrian dissident group and 10 officials representing Muslim Brotherhood and Hamas front groups. Council on American Islamic Relations (CAIR) Executive Director Nihad Awad was perhaps the most prominent attendee and played a key role in organizing the event. CAIR, an unindicted co-conspirator in the 2007-2008 Holy Land Foundation Hamas money-laundering trials, was described in FBI testimony as having been created by Hamas. In a 2007 federal court filing, prosecutors described CAIR as conspiring with other branches of the Muslim Brotherhood to support terrorists.



Also in attendance was Jamal Barzinji, a founding father of the Muslim Brotherhood in America and co-founder of the Muslim Students Association (MSA), an incubator for Islamic radicalism in North America. MSA was the forerunner of Islamic Circle of North America (ICNA), Islamic Society of North America (ISNA) and the International Institute of Islamic Thought (IIIT).

Barzinji was named in a federal affidavit as being closely associated with Palestinian Islamic Jihad and Hamas. His name appears in a global phone book of Muslim Brotherhood members recovered by Italian and Swiss authorities in Nov. 2001 from the home of Al-Taqwa Bank of Lugano founder Youssef Nada, one of the leaders of the international Muslim Brotherhood.



During the fundraiser, Pelosi sat at the same table with Awad and Barzinji

.

Speaking to the attendees in her 10-minute address, she said the Democratic Party should become the natural home of Muslim-Americans, because Republicans fan the flames of "Islamophobia." She focused exclusively on Islamophobia, a term devised by radical Islamists and their apologists to silence critics, while avoiding any mention of terrorism carried out by Islamists in the United States.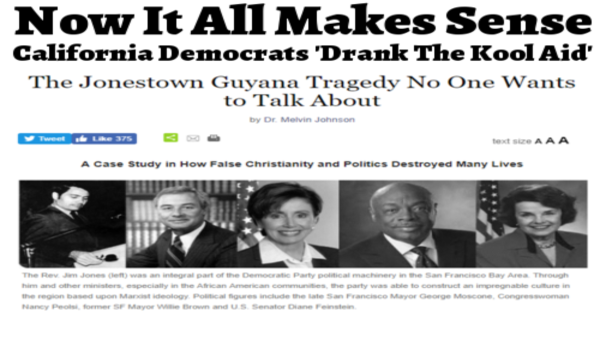 And any discussion of what a 'President Nancy Pelosi' might be like for America would not be complete without taking a look back at Nancy in San Francisco back in the 1970's and the California politicians enraptured by the Reverend Jim Jones.†

As William B. Stoecker had reported on ANP back on October 10th of last year, Nancy was part of a huge faction of liberal California politicians who had developed deep ties to Reverend Jones of 'Jonestown massacre' fame and as anyone who was paying attention back in 1978 remembers, that didn't end well. From this October 15th of 2018 story over at The Examiner.:†

Do you remember that time the entire Democratic Party in California behaved like cultists, enraptured by Peoples Temple leader Jim Jones?

If you lived through the bizarre suicides of 918 people in Guyana on Nov. 18, 1978, itís hard not to remember where you were when you heard the news. It would be like forgetting about the Challenger explosion or Sept. 11.

But collective amnesia over just who aided and abetted Jim Jones is much easier to explain. The same influence used on Jonesís behalf during his life helped after his death to erase the causes and candidates he supported.

As that story then pointed out, Senator Dianne Feinstein had joined future California governor Jerry Brown and Hollywood actress Jane Fonda along with Pelosi in gushing over Jones, until nearly 1,000 people died under his watch and those same California politicians began trying to cover up their ties to him, ties that will never be erased from history.††

As Stoecker pointed out, the same California Democrats who metaphorically had 'drank Jones Kool-Aid' are now leading the Democratic party here in America, with Pelosi and Feinstein 'leading the pack' despite their ties to Jones in the 1970's. And now 'Jihadi Nancy' is only two steps away from the presidency that Donna Brazille thinks she'll somehow become.†

Yet as our videographer points out in this video, for Nancy to become President, both President Donald Trump and VP Mike Pence will have to somehow be taken down at the same time. Does the 'deep state' have an 'event' in the works to do just that as our videographer is concerned about? Please join us in praying for the safety of President Donald Trump, VP Mike Pence and their families in the days ahead as the deep state and globalists grow more and more desperate.†

And while we surely don't have a crystal ball to view what will happen in the future, as our videographer points out in this video, far too many bizarre coincidences have unfolded over the past several weeks to discount them all as just 'coincidence'. And attempting to decipher what exactly goes through the globalists minds is like trying to figure out the 'minds of madmen'.






ANP Needs Your Help. With digital media revenue spiraling downward, especially hitting those in Independent Media, it has become apparent that traditional advertising simply isn't going to fully cover the costs and expenses for many smaller independent websites.

Any extra readers may be able to spare for donations is greatly appreciated.

One time donations or monthly, via Paypal or Credit Card:



Or https://www.paypal.me/AllNewsPipeLine
Donate monthly from $1 up by becoming an ANP Patron.





comments powered by

Disqus