Whatfinger: Frontpage For Conservative News Founded By Veterans

"The Best Mix Of Hard-Hitting REAL News & Cutting-Edge Alternative News On The Web"
Religious Bigotry Beta Tested By Radical Liberals Called Out By Fellow Democrat, Causes Internal War As Media Jumps In To Attack Hawaii Rep. Tulsi Gabbard



- This Is All About Their Plan Of Attack On President Trump's Possible Third Supreme Court Nominee


By Susan Duclos - All News PipeLine

After the the chaotic circus surrounding the confirmation of Justice Brett Kavanaugh to the Supreme Court, Democrats were quite aware of the possibility the oldest member of the high Court, Ruth Bader Ginsburg, might end up retiring before President Trump's presidential term ended,  which would provide him the opportunity to nominate a Supreme Court Justice, which would make his third.

After failing to prevent Kavanaugh from being confirmed, despite their best efforts to destroy the man, his honor and his career with last minutes accusations of sexual misconduct stemming from over 30 years ago, none of which were corroborated, Democrat politicians decided on a method to attack and destroy Trump's potential third nominee, if President Trump nominated a woman to replace Ginsburg.

In conservative political circles it is widely believed that if Ginsburg retires or passes away, President Trump will nominate a female Judge to replace her from his widely publicized short list of candidates. One name has risen above others in conversation, Amy Coney Barrett.

Barrett was confirmed to the Seventh Circuit in November 2017 with a vote of 55-43 and three Democrats joining Republicans in confirming her. Barrett is a mother of seven children, five biological and two adopted. She is also a devout Roman Catholic. (See her full profile at Scotus Blog)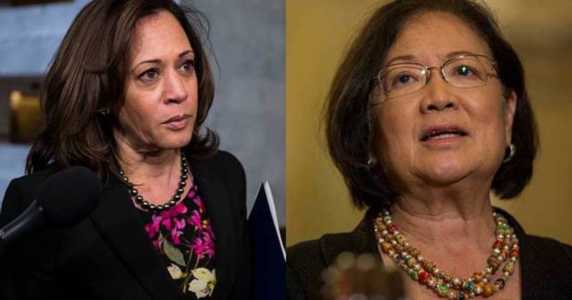 (Kamala Harris, Mazie Hirono Accused Of Religious Bigotry By Fellow Dem)



DEMOCRATS PANIC AFTER GINSBURG FALLS ILL

Following Ginsburg's fall and fracturing of three ribs, doctors found evidence of malignant lung cancer and in December surgically removed two nodes from her lung, which threw Democrats into a panic over the "possibility" that the 85 year old Justice may have to step down, or even pass away.

Democrat Senators immediately started laying the groundwork for the possible obstruction of a Barrett Supreme Court nomination, using the confirmation of Brian Buescher, President Trump's nominee for the U.S. District Court in Nebraska, as a test run.

Senators Kamala Harris, (D-CA), and Mazie Hirono, (D-HI), in a blatant display of religious bigotry, started attacking Buescher for his membership in a highly respected Catholic charitable organization, the Knights of Columbus.


Both lawmakers posed a series of written questions demanding to know if he would end his membership in the Knights of Columbus should he be confirmed.

"The Knights of Columbus has taken a number of extreme positions," Hirono wrote in the questionnaire. "For example, it was reportedly one of the top contributors to California's Proposition 8 campaign to ban same-sex marriage."

Harris referred to the group as an "all-male society" and took issue with their positions on abortion and other culture war issues.

"Were you aware that the Knights of Columbus opposed a woman's right to choose when you joined the organization?" Harris queried.


Conservatives called out the religious bigotry and the Senators' attacks on Buescher, but conservatives were not the only ones that publicly criticized that type of inappropriate  questioning. Representative Tulsi Gabbard of Hawaii, a Democrat, wrote an op-ed for The Hill, titled "Elected leaders who weaponize religion are playing a dangerous game."


While I oppose the nomination of Brian Buescher to the U.S. District Court in Nebraska, I stand strongly against those who are fomenting religious bigotry, citing as disqualifiers Buescher's Catholicism and his affiliation with the Knights of Columbus. If Buescher is "unqualified" because of his Catholicism and affiliation with the Knights of Columbus, then President John F. Kennedy, and the 'liberal lion of the Senate' Ted Kennedy would have been "unqualified" for the same reasons.

Article 6 of the U.S. Constitution clearly states that there "shall be no religious test" for any seeking to serve in public office.

That op-ed was published on January 8, 2019, and Democrats were not at all happy that one of their own, a Democrat who is planning to run for President in 2020, would call them out publicly for their persecution of Buescher over his religious affiliation.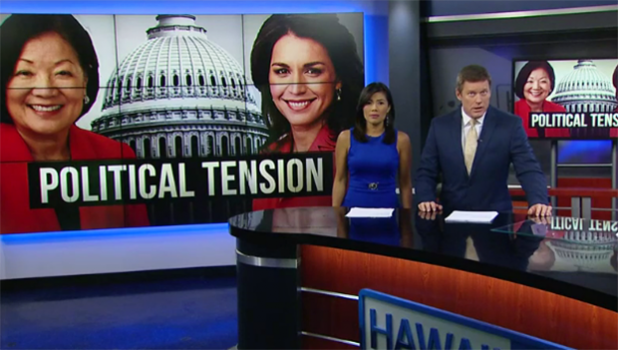 THEY EAT THEIR OWN - LIBERALS GO AFTER GABBARD

Retaliation by liberals was swift for Gabbard's opposition to the religious bigotry game plan to derail President Trump's judicial nominations.

By January 13, 2019, the propaganda arm of the Democrat party, CNN, jumped into the fray with a nasty hit piece against Gabbard, titled "Tulsi Gabbard once touted working for anti-gay group that backed conversion therapy."


Gabbard's father ran The Alliance for Traditional Marriage, a political action committee aimed at opposing pro-gay lawmakers and legislation that organized and spent more than $100,000 to pass an amendment in 1998 that gave the Hawaii state legislature power to "reserve marriage to opposite-sex couples." The amendment to the state's constitution passed.

Gabbard was 17 at the time of the vote and cited working with her father and the organization during her run for the state legislature in Hawaii four years later when she was age 21. Gabbard would win her race, becoming the youngest woman elected to the Hawaii state legislature.

Gabbard's father Mike was a prominent anti-gay activist in Hawaii. He was also the director of Stop Promoting Homosexuality and also served on the steering committees of the National Campaign to Protect Marriage and the Hawaii-based coalition, Save Traditional Marriage. He also once hosted an anti-gay radio show, Let's Talk Straight Hawaii.

The Alliance for Traditional Marriage called homosexuality "unhealthy, abnormal behavior that should not be promoted or accepted in society."

Then CNN's resident attack dog, Andrew Kaczynski, the same man that engulfed the network in the #CNNBlackmail scandal after threatening to dox (reveal personal information) a random internet user because he created a meme that President Trump shared on Twitter,  went to the Wayback Machine to "uncover" that the organization had once supported gay conversion therapy.

Kaczynski's attacked against Gabbard on behalf of Democrats didn't stop at just writing the hit piece against Gabbard, as he is seen arguing on Twitter when it was pointed out that both Hillary Clinton and Barack Obama "all went through similar shifts in views." That user then highlighted a Politico article titled "Obama Is Still Misleading Us on Same-Sex Marriage."

Kaczynski responded with "Obama/Clinton might have not supported gay marriage but they didn't make comments showing animus toward gay people like Gabbard. Her dad, who she worked for, was Hawaiian Tony Perkins & pushed policies like conversion therapy that cause harm to children." Then immediately continued "That's pretty big difference between say Democratic positions on gay rights in the 1990s and 2000s and say Focus on the Family, Tony Perkins, and ex-gay ministries."

The point here is liberals, and yes that includes the establishment media, are outraged that Gabbard is criticizing their religious bigotry being used to obstruct judicial nominations, and they are determined to destroy her for speaking the truth.

BOTTOM LINE

With the possibility that Ruth Ginsburg may have to be replaced, radical liberal Democrats know they cannot use the same ploy against Amy Coney Barrett as they did with Brett Kavanaugh, and they cannot attack her for having seven children, so they coordinated another attack plan.... go after her religion and they used Brian Buescher as their beta test.

The fact that Tulsi Gabbard called them out has made her the enemy in their eyes and now they are trying to destroy her for daring to highlight their religious bigotry.

Frankly it is no surprise that radical liberals would attack the religious beliefs of a nominee, after all Democrats are the party that removed "God" from their mission statement in 2012.

This is all about Ginsburg and the Democrats panic that President Trump is likely to get a chance to nominate a third Supreme Court Justice.






ANP NEEDS YOUR HELP. With digital media revenue spiraling downward, especially hitting those in Independent Media, it has become apparent that traditional advertising simply isn't going to fully cover the costs and expenses for many smaller independent websites.

Any extra readers may be able to spare for donations is greatly appreciated.

One time donations or monthly, via Paypal or Credit Card:



Or  https://www.paypal.me/AllNewsPipeLine
Donate monthly from $1 up by becoming an ANP Patron.





comments powered by

Disqus