Whatfinger: Frontpage For Conservative News Founded By Veterans
"The Best Mix Of Hard-Hitting REAL News & Cutting-Edge Alternative News On The Web"
January 4, 2018
MSN Warns Huge Number Of People Are Now Preparing For Doomsday And TEOTWAWKI But These Statistics Also Show Some Alarming Numbers
- Nearly 35% Of Americans Are Totally Unprepared For Forthcoming Catastrophe
By Stefan Stanford - All News Pipeline - Live Free Or Die
In this January 2nd story over at MSN they report that according to a new survey released by Finder.com, 65.5% of Americans have been stockpiling materials, food and water to survive a natural or political disaster recently, blaming the massive uptick in prepper spending upon the ongoing tensions between the US and North Korea and the disastrous hurricanes that hit America in 2017 while many were totally unprepared. 
With these numbers coming soon after a massive increase in the number of orders for bomb shelters according to one Texas company, Rising S Co from just south of Dallas, which claims to have experienced a 700% increase in the number of bomb shelter orders, we'll take a look in this story at some interesting information to come out of the survey as well as some alarming numbers, a huge portion of the American people are totally unprepared for almost any SHTF scenario. 

While a larger percentage of baby boomers and 'generation X'ers' considered themselves 'always prepared' than other age groups, one interesting stat garnered from their survey showed that more millenials had purchased survival supplies within the last 12 months than the other groups, proving that SOME millenials have suddenly 'awoken' within the past year.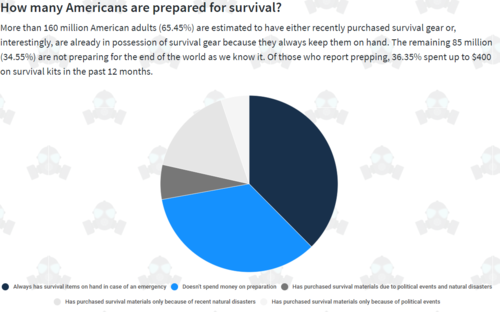 According to the survey from Finder.com, more than 160 million American adults (65.45%) are estimated to have either recently purchased survival gear or, interestingly,

are already in possession of survival gear because they always keep them on hand

. The remaining 85 million (34.55%) are not preparing for the end of the world as we know it. Of those who report prepping, 36.35% spent up to $400 on survival kits in the past 12 months.

While it is great to see such a huge percentage of American adults preparing for TEOTWAWKI, the fact that 85 million adults HAVE NOT prepared is alarming. Do nearly 35% of Americans think that the government is going to save them? That 35% who don't prepare at all are seen in light blue in the graphic above and represent the portion of Americans who'll likely be stealing from preppers to keep their own families alive once SHTF.

As we see in the next graphic below taken from their story, it's largely millenials and those from generation X who have been preparing recently while only 17% of baby boomers have recently made any survival purchases. While the stats below could reflect the fact that millenials are preparing more since President Trump got into office, these numbers also likely reflect the fact that more baby boomers had already prepared for disaster in previous years.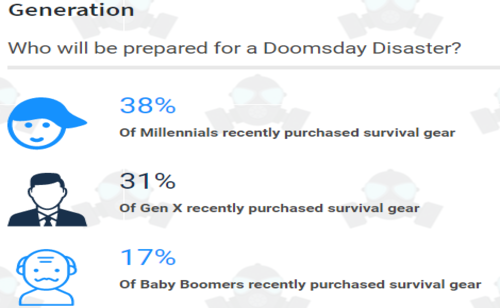 As we reported on ANP back on October 1st of 2017, President Trump's new head of FEMA Brock Long "had urged Americans to develop a true culture of preparedness but no one was listening" as the Organic Prepper had also reported back in September of 2017. And while rumblings of war coming out of North Korea should turn anyone paying attention into a 'prepper', that 35% who still doesn't prepare will become burdens upon those who do once SHTF.  

Unfortunately, as we see in the next set of statistics below, while the baby boomer generation leads the way in always having survival items on hand in case of an emergency, baby boomers also lead the way in being unprepared with over 41% of baby boomers not preparing at all. And while natural disasters are the biggest reason that people prepare all across the board, 'political events' are the reason that nearly 10% of millenials are preparing.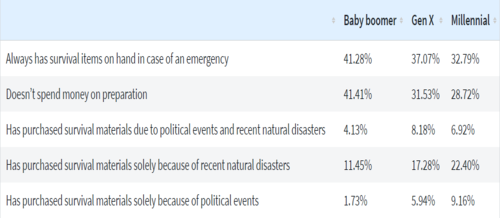 With brutal cold bearing down on nearly 90% of America as we enter a winter season with wind chills here at ANP of 30 degrees below zero or lower, we highly recommend this new story from the Organic Prepper that Steve Quayle linked to on his website this morning which offers some excellent cold weather survival advice.

In the 1st video below from Alaska Granny she shares with us her prepping goals for 2018 and as she points out, no matter how prepared we are, we can always prepare some more. She shares with us these words of advice from her video.



Make prepping goals and do things a little at a time. Store water, buy bottled water, get containers to fill yourself. Store water in containers that fit the space you have available. Store food, foods your family will eat, and fill your pantry. Next stockpile dehydrated foods, foods with a long shelf life and last for years. Get a first aid kit, and stock up on toiletries and cleaners you use regularly. Make a Bug Out Bag and an emergency document file. Make a checklist of items you have, and items you still need so you have a way to be sure you covered all your bases. Set preparedness goals, and track your progress. Do something every day, even if it is learning a new skill.



The 2nd video below from Canadian Prepper takes a look at the '1 to 100 rule of grid down preparedness' within which he shares with us why time is absolutely of the essence in a grid down scenario. Warning us that the time it takes to do nearly everything that we do in the world today will increase vastly in such an TEOTWAWKI scenario, the final video below from Sgt Report is quite appropriately titled "The Calm Before The Storm". 












comments powered by

Disqus