Whatfinger: Frontpage For Conservative News Founded By Veterans

"The Best Mix Of Hard-Hitting REAL News & Cutting-Edge Alternative News On The Web"
August 4, 2015
TRUMP Dominates All GOP Polls Ahead on August 6, 2015 Republican Primary Debate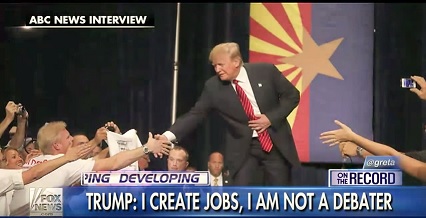 By Susan Duclos - All News PipeLine

With the first Republican primary debate to be held on August 6, 2015, with great interest by many to see Donald Trump in his first political debate alongside of career politicians, a snapshot from Real Clear Politics taken on August 4, 2015, shown below, shows Trump dominating all GOP polling.

(Full GOP debate schedule shown at the bottom of the article)





Trump at 23.2 percent has an average of a 10.4 percent lead against Jeb Bush who comes in second with just 12.8 percent and Scott Walker takes third place with an average of 10.6 percent. All other candidates hold a sigle digit rating as seen above.

Interestingly, if you remove the NBC/WSJ poll which was conducted at the end of July with no polling done for August at all yet, Trumps average increases to an 11.8 percent lead.





Individual poll links below:

FOX News 

Bloomberg 

CBS News 

Monmouth

NBC/WSJ 

Even more shocking than the numbers is the graph shown below where we see the dramatic rise of Trump from the time of his announcement until the present day.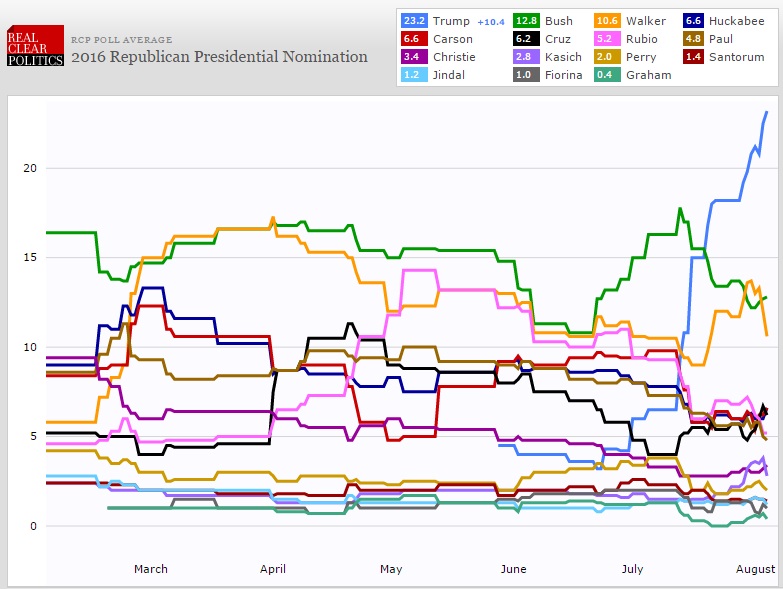 GOP DEBATE SCHEDULE BELOW, Via Election Central:

August 6, 2015
Fox News Republican Debate
9pm ET - Top 10 Candidates (2 hours)
5pm ET - Candidates outside top 10 (1 hour)
Aired On: Fox News Channel
Location: Quicken Loans Arena in Cleveland, OH
Sponsors: Fox News, facebook
Moderators: Bret Baier, Megyn Kelly and Chris Wallace
Rules: Top 10 candidates in an average of 5 national polls



September 16, 2015
CNN/Salem Republican Debate
Aired On: CNN and Salem Radio (Press Release)
Location: Reagan Library in Simi Valley, CA 
Sponsors: Reagan Library Foundation, CNN, Salem Media Group
Moderators: Jake Tapper, Hugh Hewitt,
Rules: Split field into Segment B (top 10 candidates) and Segment A (remaining candidates getting at least 1% in polls) (Details)



October 28, 2015
CNBC Republican Debate 
Aired On: CNBC
Location: University of Colorado in Boulder (Press Release)
Sponsors: CNBC (Press Release)



November, 2015*
Fox Business/WSJ Republican Debate
Aired On: Fox Business Network
Location: Wisconsin
Sponsors: Fox Business Network, Wall Street Journal



December 15, 2015
CNN/Salem Republican Debate
Aired On: CNN
Location: Las Vegas, Nevada
Sponsors: CNN, Salem Media Group



January, 2016*
Fox News Republican Debate
Aired On: Fox News Channel
Location: Iowa
Sponsors: Fox News



February 6, 2016
ABC/IJReview Republican Debate
Aired On: ABC
Location: St. Anselm College in Manchester, New Hampshire
Sponsors: ABC News, IJReview.com (Press Release)



February 13, 2016
CBS News Republican Debate
Aired On: CBS
Location: South Carolina
Sponsors: CBS News



February 26, 2016
NBC/Telemundo Republican Debate
Aired On: NBC and Telemundo
Location: Texas
Sponsors: NBC/Telemundo, National Review



March, 2016*
Fox News Republican Debate
Aired On: Fox News Channel
Location: TBD
Sponsors: Fox News



March 10, 2016
CNN/Salem Republican Debate
Aired On: CNN
Location: Florida
Sponsors: CNN, Salem Media Group







comments powered by

Disqus