Whatfinger: Frontpage For Conservative News Founded By Veterans

"The Best Mix Of Hard-Hitting REAL News & Cutting-Edge Alternative News On The Web"
July 7, 2017
Ghastly New Videos Show Stunning Descent Into Chaos And Anarchy As Bloodshed And Violence Explode In Venezuela
- Dark Warnings Of Civil War Ahead Come From President Nicolas Maduro
By Stefan Stanford - All News Pipeline - Live Free Or Die
The late June story over at the Washington Post warned us why Venezuela may be rushing headfirst into a civil war after a surreal and movie-like scene had unfolded for Venezuelans and the world to see: A police helicopter circling the capital of Venezuela carrying a banner that read 'Libertad', or 'freedom'. 
While govt officials of Venezuela confirmed that the chopper dropped several grenades on the Supreme Court building in the city of Caracas, leading President Nicolas Maduro to claim a coup was being attempted, he darkly warned of more violence ahead. As we see in the ghastly new videos at the bottom of this story, his warnings of more violence have exploded across the starving nation with one confrontation after another and bloodshed everywhere. From Maduro.:   
"If Venezuela was plunged into chaos and violence and the Bolivarian Revolution destroyed, we would go to combat. We would never give up, and what couldn't be done with votes, we would do with weapons. We would liberate the fatherland with weapons."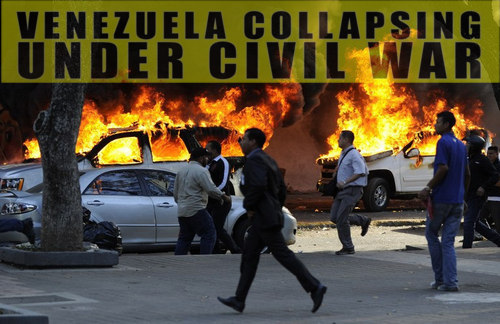 Only days after Maduros warning, dozens of pro-government activists stormed the National Assembly of Venezuela, carrying sticks, and injured at least 5 opposition politicians. Getting as far as the corridors of Venezuela's Congressional building, it's easy to see that the opening salvo's of civil war are being played out before our eyes.
The opposition-controlled legislature was holding a special session to mark independence day when the government supporters burst in.
Two politicians were seriously injured and bleeding heavily from head wounds.
"Protests by government supporters have become the norm every time the opposition-controlled assembly is in session, but we have never seen this kind of violence before," he said.
Tension is high in Venezuela after three months of anti-government protests in which 91 people were killed in clashes with police.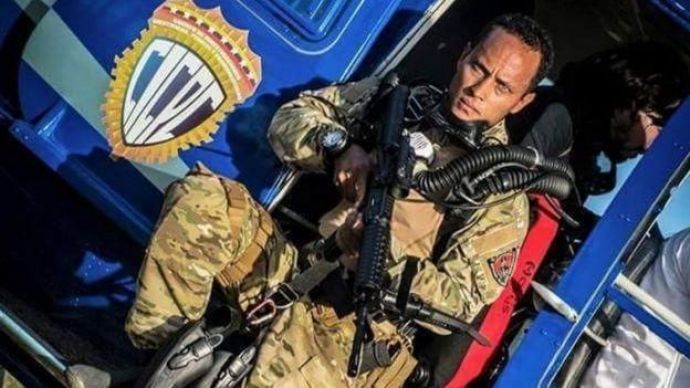 While Maduro still has the backing of the military high command, what analysts claim is a key factor in helping him stay in power, at least 123 soldiers of Venezuela have been detained since the protests began with the bizarre and surreal police 'helicopter attack' upon the Supreme Court becoming a galvanizing force for the starving masses.
As we read in this new story over at Breitbart, helicopter pilot Oscar Perez (seen in photo above) has become a national hero to millions of Venezuelans, though dictator Maduro has called him a terrorist, and he recently released a video in which he vowed to continue fighting for his country's 'liberation'.



"Once again, we are in Caracas, ready and willing to continue our struggle for the liberation of our country," Oscar Pérez said in a video uploaded to YouTube, filmed in front of a Venezuelan flag. "We are fully sure of what we are doing and if we must give up our lives, we will hand them over to the people. If this constituent assembly takes place, there will be no Venezuela."





Pérez's statement comes ten days after he flew a stolen police helicopter close to the country's supreme court building, with another passenger firing several times at the building and dropping multiple grenades before flying out of the area. He also attached a flag that read "350 Freedom," a reference to the Article 350 of the Venezuelan constitution that says Venezuelans reserve the right to "not recognize any regime, legislation, or authority that contradicts their values, principles, and democratic guarantees or disregards human rights."





Following the incident, Pérez posted a video on Instagram condemning the "corrupt government," accompanied by three armed militants.





"We have two choices: be judged tomorrow by our conscience and the people or begin today to free ourselves from this corrupt government," he said.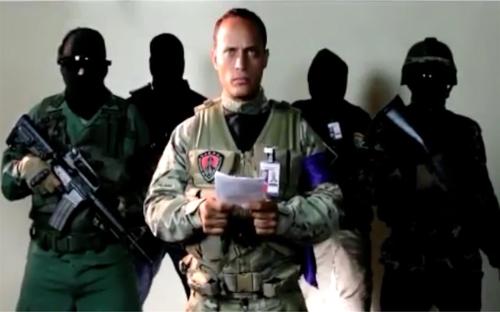 Prior to his 'attack' upon the Supreme Court building, Perez posted a picture online of a painting done by US artist Jon McNaughton showing Jesus Christ surrounded by dozens of soldiers from different eras and ages; the title of the painting: 'Peace is Coming'. McNaughton is the artist who painted the viral photo of Obama playing the fiddle while America burned. From his website on the amazing photograph seen below that Perez posted in Venezuela. 



The scene is set against the darkened skies of a smoky battlefield as the glorified Christ moves through the midst of soldiers from all the different eras of time. As if they had stepped from the battle moments before, bloodstained and exhausted, they bow in submission, overwhelmed by emotion before the King of Kings.





On Christ's sash, the words of Isaiah are written in ancient Hebrew, "They shall beat their swords into plowshares ... neither shall they learn war any more" (Isaiah 2:4).





Can anyone truly comprehend the sacrifices our young men and women make who serve in the military? To all those who have served or are serving their country on the battlefield, to their families, and to those who prayerfully await the return of their loved ones, I humbly dedicate this painting. May we remember them in our prayers and know that peace is coming.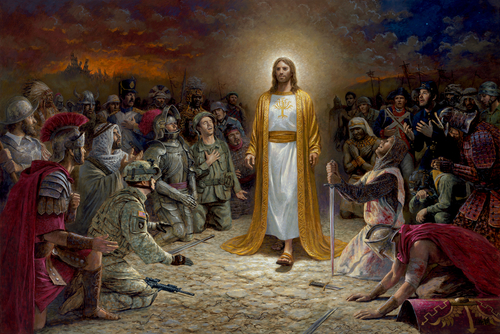 In the first 4 videos below we see footage directly from the front lines of Venezuela including the recent storming of the National Assembly in Venezuela and numerous major skirmishes between the different sides. In the final video below, our videographer breaks down what's now happening there, the utter collapse of Venezuela, as panic ensues.

With Maduro's goon squad dressed in red storming and attacking Maduro's opposition within the Congress of Venezuela, quite literally beating up and bloodying lawmakers, experts warn its just a matter of time now until full-scale civil war breaks out or Maduro's crackdown upon the opposition takes another turn towards the totalitarian. 

As we see in these videos, we are watching history played out before our very eyes.  














comments powered by

Disqus