Whatfinger: Frontpage For Conservative News Founded By Veterans

"The Best Mix Of Hard-Hitting REAL News & Cutting-Edge Alternative News On The Web"
What The Hypocritical Media Is Hiding From Americans: Outraged Over Border Crisis But Ignoring The Trafficking, Rape And Murder Of American Children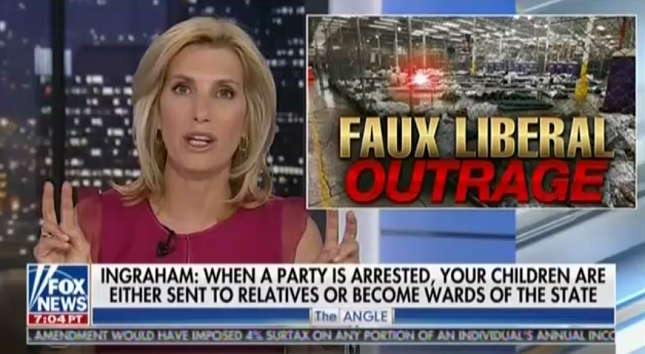 By Susan Duclos - All News PipeLine

While the media, liberals and Democrats, are all using images and audio of illegal alien children being cared for by the U.S. government, to pull on the heartstrings of Americans, using them as political pawns by claiming that the Trump administration is "ripping" children from the arms of their loving parents, what they are not telling Americans is that the vast majority of those alien minors, 10,000 out of 12,000, were sent across the border alone, or with traffickers and smugglers.

Homeland Security Secretary Kirstjen Nielsen joined the White House press briefing on Monday and provided some shocking and disturbing statistics that has largely been ignored by the liberal media, but which highlights the misleading nature of the coverage on the border crisis to date.

Some of those statistics include the fact that there has been a 325 percent increase in unaccompanied alien minors; a 435 percent increase in 'family units' attempting to cross the border illegally, and; Over the last five months alone, a 314 percent increase of adults and children arriving that are "fraudulently" claiming to be family units. In other words, traffickers and smugglers attempting to enter the country illegally using children who are not their own.

Here are two quotes via Newsmax, from Nielsen's opening statement and the brief question and answer period with reporters, who never addressed any of the statistics she provided, instead pushing the talking points, which have already been debunked about children held in "cages."


"So I want to be clear on a couple of other things," Nielsen said. "The vast majority, vast, vast majority of children who are in the care of H.H.S. right now — 10,000 of the 12,000 — were sent here alone by their parents. That is when they were separated. So somehow we've conflated everything.

"But there is two separate issues. 10,000 of those currently in custody were sent by their parents with strangers to undertake a completely dangerous and deadly travel alone. We now care for them. We have high standards. We give them meals, we give them education, we give them medical care. There is videos, there is TVs, I visited the detention centers myself — that would be my answer to that question."

Even Dara Lind, the immigration reporter from the far-left liberal website Vox,  confirmed "most of those 11K were not forcibly separated; they are legit unaccompanied minors (generally teens) who came to the US without their parents/guardians."

Another point Nielsen highlights during her time at the podium, is the "stories" the media refuses to tell, the number of alien minors being cared for by the U.S. government that were taken from the human traffickers and smugglers, who previously were allowed right on in, with the children and the vast majority are "at large." The number of drug smugglers, traffickers and MS-13 members that have been captured at the border, some with children not their own. As she diplomatically points out, this is the balance that is being left out of the reporting to date.

Watch her entire statement and Q&A session before we delve into other topics and news the media is not addressing for Americans.


THE LIBERAL MEDIA'S HYPOCRITICAL AGENDA

As Steve Quayle points out in an SQ Alert about this ongoing controversy, the media aka "false sympathy evokers," are fast and furiously highlighting the plight of alien minors, while at the same time having consistently ignored the "trafficking and rape, and ritual murder of American kids."


GIVEN ALL THE CHILD TRAFFICKING AND CHILD MURDER THROUGH RITUAL ABUSE IN THE U.S., SHOULD CAUSE EVERYONE TO SIT UP AND TAKE NOTICE-THE MASSIVE AVOIDANCE OF PEDOPHILES AND THEIR PRACTITIONERS, BY THE MSM, ALSO RAISES A HUGE RED FLAG, ESPECIALLY NOW THAT THEY HAVE BECOME SUCH "FALSE SYMPATHY EVOKERS" OF THE PLIGHT OF THE IMMIGRANT CHILDREN,YET HAVING SAID NOTHING ABOUT THE CHILD TRAFFICKING AND RAPE, AND RITUAL MURDER OF AMERICAN KIDS! THE WHOLE ISSUE OF CHILD TRAFFICKING OF ALL KIDS IN THE U.S. NEEDS TO BE STOPPED PERIOD.!

Steve is 100 percent spot-on here, as we look to the lack of coverage to the June 12, 2018 announcement by the DOJ of a three month operation called "Broken Heart," which netted the arrest of 2,300 suspected online child sex offenders. According to that press release "The task forces identified 195 offenders who either produced child pornography or committed child sexual abuse, and 383 children who suffered recent, ongoing, or historical sexual abuse or production of child pornography."

"The operation targeted suspects who: (1) produce, distribute, receive and possess child pornography; (2) engage in online enticement of children for sexual purposes; (3) engage in the sex trafficking of children; and (4) travel across state lines or to foreign countries and sexually abuse children."

Dozens upon dozens of these types of stories by local media outlets have gone largely ignored or downplayed by the liberal Mockingbird Media, who instead are focused solely on illegal immigrants and aliens minors, the vast majority of which were sent over the border either alone or with human traffickers.

Some Key Facts, via National Center for Missing & Exploited Children: According to the FBI, in 2017 there were 464,324 NCIC entries for missing children. Similarly, in 2016, the total number of missing children entries into NCIC was 465,676. - Of the nearly 25,000 runaways reported to NCMEC in 2017, one in seven were likely victims of child sex trafficking. Of those, 88 percent were in the care of social services when they went missing.

Think about that for a second. The media is pushing wall-to-wall coverage on alien minors in shelters across America, where 10,000 of the 12,000 were unaccompanied by any family member or custodian, with the other 2,000 being provided a roof over their head, food, clothing, counseling, medical services and education, after being removed from illegal immigrants attempting to enter the country illegally, by not going to a legal point of entry, where they would be kept together as family units....... but almost no coverage at all to the missing  American children being trafficked and sold into sexual slavery to pedophiles.

Their selective outrage is nothing short of hypocritical.

Steve also addresses the concern for children separated from their mothers and offers an excellent suggestion, of "advocacy groups," unrelated to child protective services, to represent the interests of minors under 16 years old. 

The alert also highlights another area that the media misleads, and that is the conflation of lumping together those against "illegal" immigration practices by claiming anyone against illegal immigration is anti-immigrant.

"For the record I favor legal immigration and not the folly of unlimited illegal immigration - Look what has become of Germany, France, England and Scandinavia, that have adopted the policies of those countries that have adopted unlimited immigration. Steve."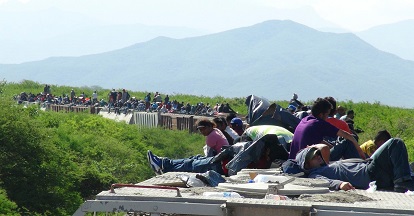 (Asylum seekers ride La Bestia (The Beast): Image June 18, 2014)


OTHER FACTS THE MEDIA IS HIDING FROM AMERICANS

The Daily Caller has a must-read piece out providing context and other statistics the liberal media and Democratic politicians conveniently ignores in favor of using alien minors as political pawns in the lead up to the November mid-terms.

Some key points below, but the entire piece is highly recommended: 

• The path from Central America to the U.S. is a perilous trek over 1,000 miles that no person should want to see a child subjected to, much less infants and toddlers. It involves dangerous hopping to and from freight trains the immigrants call "la bestia" (the beast) for its propensity to take lives and limbs. Rapists, thieves, murderers and corrupt police patrol the route.

• A University of Houston study found that most of those travelling along the path are raped, beaten and robbed — often multiple times, according to the Los Angeles Times. The horrific experience that awaits those who undertake this journey is detailed vividly by Sonia Lazario, who was awarded the Pulitzer Prize for her reporting.

• The Obama administration saw families illegally crossing the border shoot up from 15,056 in 2013 to 68,684 in 2014 — an increase of 356 percent.

In response, the Obama administration detained families as a deterrent. The move appears to have worked as the numbers dipped in 2015 to 40,053 — still noticeably higher than historic levels. The 9th Circuit's ruling in 2016 meant the government would now have to separate families if it held parents who crossed the border illegally. The Obama administration's response was instead to release families with children. The policy resulted in virtual open borders for illegal immigrants with children.

As to the portion emphasized in bold print above, Nielsen had another shocking fact the media ignores. The majority of those the Obama administration released since 2013, where they were caught, released into the U.S. supposedly slated to appear before the court at a later date, are still "at large." They never appeared, they simply disappeared into America and are still in the U.S. illegally.

Related: The 5 Worst Illegal Immigration Arguments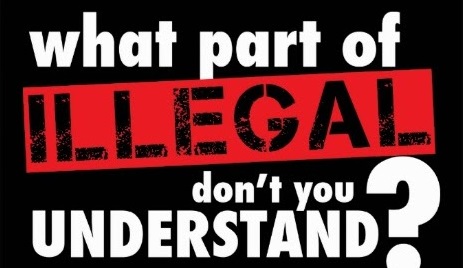 DEMOCRATS ULTIMATE GOAL: 'PERPETUAL DEMOCRATIC -SOCIALIST DYNASTY'

As Nielsen stated at the presser, she has appeared before congress seven times already, the president has met with congressional leadership and has hammered Democrats on working with Republicans to close the loop-holes in the laws in order to enforce the laws and keep family units together, but Democrats do not want a "fix."

As was pointed out to me earlier via an email conversation with Quayle, in regards to an outstanding Pat Buchanan article titled "Trump and the Invasion of the West," what Democrats want is unlimited illegal immigration, and completely open borders in order to create a "perpetual Democratic, socialist dynasty" in America. That is their ultimate goal.

In Buchanan's piece he states "Reflecting its frustration, the White House press office declared:

'We can't deport them, we can't separate them, we can't detain them, we can't prosecute them. What (the Democrats) want is a radical open-border policy that lets everyone out into the interior of this country with virtually no documentation whatsoever.'

Where many Americans see illegal intruders, Democrats see future voters."

BINGO. According to Pew Research in 2008, 67 percent of Latino voters backed Barack Obama. In 2012, that number rose to 71 percent. In 2016, 66 percent backed Hillary Clinton.

Make no mistake, there is absolutely no benefit for Democrats in working with Republicans to fix the three specific areas of law that Nielsen highlighted in her opening statement at Monday's press conference, which would close the loopholes being used by human traffickers and smugglers that are using children to bypass our laws to obtain illegal entry into the United States.

Democratic politicians do not want to fix the laws, because once those loopholes are closed they cannot push the images and audio of children in shelters from the result of prosecuting criminals attempting to cross the border illegally, and blame the Trump administration for enforcing the laws they, themselves created.

President Trump agrees as he stated on Tuesday "Democrats are the problem. They don't care about crime and want illegal immigrants, no matter how bad they may be, to pour into and infest our Country, like MS-13. They can't win on their terrible policies, so they view them as potential voters!"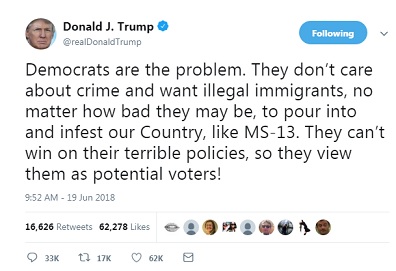 BOTTOM LINE

The hypocritical media is providing wall-to-wall coverage regarding alien minors, yet they ignore American children being trafficked, raped, and murdered right here in America, while Democratic politicians use these children as political pawns, screaming and howling over the Trump administration enforcing the laws of the nation, while refusing to work with Republicans to close the loopholes and change the laws, which is the responsibility and job of Congress.

We must secure the border so the only point of entries are the legal portals, then this becomes a non-issue.

Build The Wall. Stop Chain Migration. Close The Loopholes.





NOTE TO READERS
: 
ANP Needs Your Help

. With digital media revenue spiraling downward, especially hitting those in Independent Media, it has become apparent that traditional advertising simply isn't going to fully cover the costs and expenses for many smaller independent websites. 


Any extra readers may be able to spare for donations is greatly appreciated.
One time donations or monthly, via Paypal or Credit Card:

Or  https://www.paypal.me/AllNewsPipeLine
Donate monthly from $1 up by becoming an ANP Patron.




comments powered by

Disqus