"The Best Mix Of Hard-Hitting REAL News & Cutting-Edge Alternative News On The Web"
October 28, 2017
Antifa Invades TN: 'Crack Some Nazi Skulls' To Protest The 'White Lives Matter' Rallies - Showdown Set For October 28, 2017

By Susan Duclos - All News PipeLine

While most recent Antifa reports have covered the planned nationwide Antifa protests scheduled for November 4, 2017, what we have not seen much coverage about is that on Saturday, October 28, 2017, Antifa has been organizing to to show up en masse in two different cities in Tennessee,  to protest a set of "White Lives Matter" rallies, with the stated goal as shown in the image below, via TN local news, to "Crack some Nazi skulls."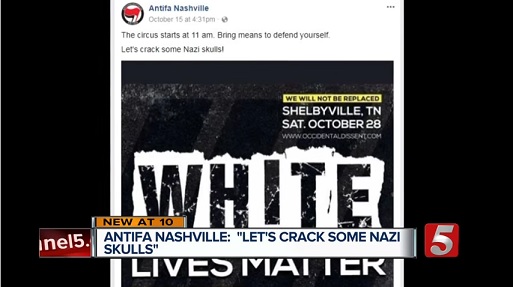 WHITE LIVES MATTER EVENTS -  SHELBYVILLE & MURFREESBORO

According to the White Lives Matter events page at Occidental Dissent, The Nationalist Front will be hosting two demonstrations in Middle Tennessee on Saturday, October 28th. The first is scheduled to start in Shelbyville, TN at 10:00 am, slated to continue until 1:00 pm before traveling a short distance to Murfreesboro to start that rally at 1:30 pm, scheduled to last until 4:00 pm. 


Description: The purpose of the White Lives Matter rallies will be to protest the ongoing problem of refugee resettlement in Middle Tennessee and to draw attention to the recent Emanuel Samson church shooting in Antioch and the way this explosive story has been buried by the national media. The tragic events in Antioch, which was retaliation for the Dylann Roof shooting in Charleston, illustrated that the national media only cares about pushing its false narrative of White racism and black victimhood.

We also want to express our anger at the Trump administration which recently took Sudan off the travel ban list the day of the Antioch church shooting. It also followed up by announcing an "America First Refugee Program" which means dumping 45,000 refugees a year in places like Middle Tennessee while not saying a word when a Sudanese refugee who failed to assimilate goes on a rampage. The Trump administration has also failed to build the border wall and is working with Nancy Pelosi and Chuck Schumer to pass a new version of the DREAM Act amnesty. Finally, we want to discuss the state of our movement and how we will move forward from here.

Objectives: Draw national attention to the Emanuel Samson church shooting. Foster greater unity and cohesion within our own movement. Turn the page on Charlottesville.

Bring: We do not expect the White Lives Matter rallies in Shelbyville or Murfreesboro to become another Charlottesville. That's not in our interest. It certainly isn't in the interest of Shelbyville or Murfreesboro. We desire to hold two peaceful demonstrations. The Nationalist Front chose to hold this event in Middle Tennessee in order to AVOID any type of clash with violent Antifa protesters. We expect them to be restrained and separated as they were in Pikeville, KY.

Do Not Bring: Shelbyville and Murfreesboro have provided clarification of which items you are not allowed to bring to the #WhiteLivesMatter demonstrations. These include masks, firearms, knives or any type of weapon as well as flag poles, sticks and clubs. Read through the list carefully and be prepared to be searched at designated entry points.

MultipleAntifa groups have organized to counter-protest as well, while law enforcement in Tennessee are preparing to try to keep the peace, praying events do not get out of control.

ANTIFA NASHVILLE: 'LET'S CRACK SOME NAZI SKULLS'

According to the local news report shown below, Antifa groups could "escalate rallies," as they highlight that Antifa Nashville posted the White Lives Matter rally flier on their groups page on October 15, 2017, with the message "The circus starts at 11  am. Bring means to defend yourself," followed by "Let's crack some Nazi skulls."



Other Antifa activists over at Its Going Down" have put out a call to action for both events, stating "We anticipate a large crowd on their side, and we need your help to outnumber them," calling their counter-protest the "#DefendMidTN."

Other event pages have been set up to counter protest the White Lives Matter rally, such as the TN Anti-racist network which is organizing the "Counter Protest Hate Groups in Murfreesboro 10/28 Stop the Hate!," and the Knoxville Species Mural Project lists its event as "Stop the nazi and kkk supremacene Oct 28th in Shelbyville!"

There are also multiple other groups intending to join both the originating rally and the counter-protesters.

LAW ENFORCEMENT PREPARES FOR A SHOWDOWN

Law enforcement from both Shelbyville and Murfreesboro have issued statements in regards to their preparations.

Shelbyville Police Department has put out a statement and a list of prohibited items in an attempt to prevent the chaos and violence generally associated with events that Antifa groups show up at, and they posted those items on their Facebook page, shown below, which includes masks, gas masks or any type of face covering. That is important because the few events where police have enforced that specific weapons and mask ban, resulted in few arrests, less destruction and violence.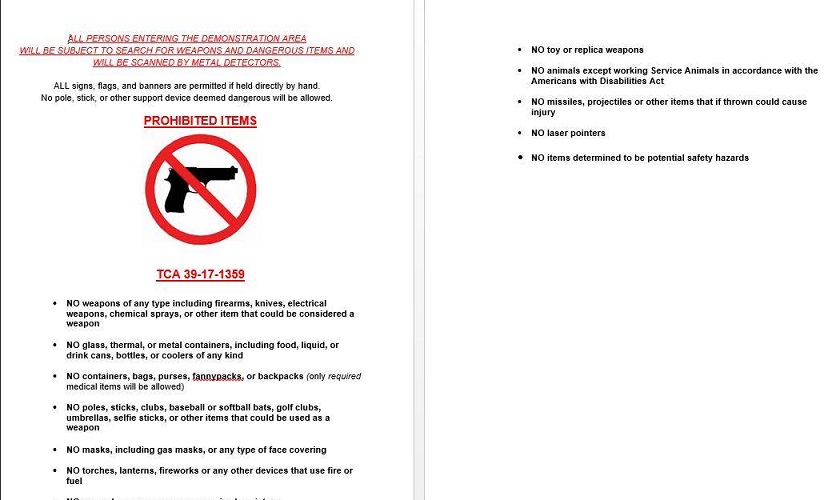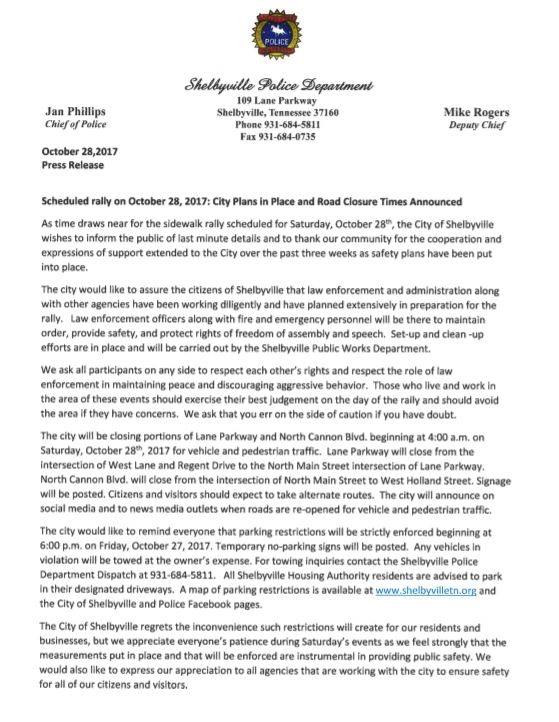 Murfreesboro officials have also issed a large banned items list which includes, Aerosol cans, spray cans and pressurized canisters; Air horns and similar noise-making devices; Alcohol; Ammunition; Axes, ax handles and hatchets; Balloons; Baseball and softball bats; Batons and clubs; Bicycles; Bicycle locks, including U-Lock bike locks; Biological agents or biohazards; Blades and bladed items, including knives, daggers, swords and razor blades; Bolts; Bows and arrows; Bricks; Coolers; Drones and other unmanned aircraft systems; Eggs; Explosives; Firearms, including licensed concealed or open-carry firearms; Fireworks; Gasoline, kerosene or any other flammable liquid; Glass bottles; Glass, thermal or metal containers; Hazardous chemical agents (including bio toxins, blister agents/vesicants, blood agents, caustics/acids, pulmonary agents, incapacitating agents, nerve agents, riot control agents/tear gas, organic solvents, metallic or other poisons; Heavy gauge chains; Ice picks; Laser pointers; Lengths of lumber or wood; Liquids, including water; Metal beverage or food cans or containers; Metal or PVC pipes; Metal nuts; Packages that are sealed/unopened or whose contents cannot be readily determined by law enforcement; Pepper spray, mace and similar substances; Poles; Rocks; Rolled coins; Selfie sticks; Shields; Signs not constructed solely of foam core, cardboard or paper; Skateboards; Spears; Sticks and staffs; Tasers and stun guns; Tent/canopy poles or stakes; Torches, lanterns or any other devices that use fire or fuel; Toy or replica weapons; Tripods for cameras or video cameras; Umbrellas; Wagons/carts; Wooden dowels; Helmets; Bullet-proof vests and other protective vests/body armor; Masks of any kind (including gas masks and costume masks); Tents or canopies.

BOTTOM LINE

Law enforcement have set up barriers in an attempt to keep both sides separated, banning items they believe would contribute to these events becoming violent, and many businesses have decided to simply close for the day as shown below as a man takes a walk through downtown, highlighting the signs in the windows announcing the days closures.

There are plenty of groups counter-protesting the White Lives Matter rally that have made it clear they want no violence and no destruction, but with Antifa Nashville specifically calling for "cracking skulls," and other Antifa groups known for thinking violence is justified against abhorrent speech, each event where both sides are present, has the potential to end in disaster.

Let us hope that law enforcement keeps both sides away from each other and that they do enforce their banned list.







Help Keep Independent Media Alive, Become A Patron for All News PipeLine at https://www.patreon.com/AllNewsPipeLine






comments powered by

Disqus