Please Visit Whatfinger News - Conservative Frontpage founded by veterans.
"The Best Mix Of Hard-Hitting REAL News & Cutting-Edge Alternative News On The Web"
'Blood Splattered On The Sidewalks': Antifa Terrorists Strike Again - Police Captain Punched, Journalist Assaulted As Thugs Attack Events In Two Different Cities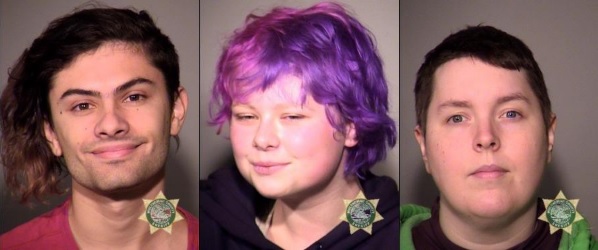 (Antifa Arrested Portland - Ruben Delahuerga, Hannah McClintock, Elizabeth Cheek ) 



By Susan Duclos - All News PipeLine

Two rallies, one in Portland, another in Philadelphia, both attacked by Antifa thugs on Saturday. The mugshots above and below, are six Antifa counter-protesters that were arrested, and are from the Portland Police Bureau.

ANTIFA ATTACKS IN PORTLAND.......AGAIN

We will start with Portland, dubbed by some as the "Antifa Capitol of America," where it has become almost commonplace to see videos and images of Antifa taking over the streets, blocking traffic, violently confronting rally-goers and residents alike, while the police are ordered to stand down until events spiral out of control.

The difference this time was the event they decided to counter-protest, wasn't supposed to be political in nature at all.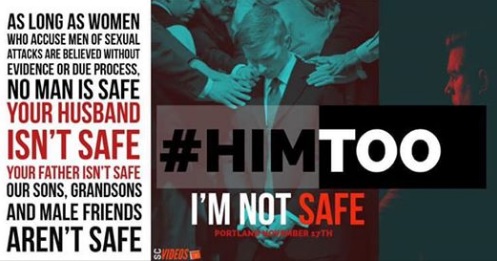 The #HimToo event was organized by a female Portland resident, Haley Adams, who described the rally on her Facebook event page, prefacing it with the statement "Men too can be abused, Men too can be lied about, Men too have the right to a fair trial."


#HimToo has nothing to do with Politics but to stand up for MenToo. The left is making this political but it isn't. Men & their families are starting to become very nervous about today's blame projecting & it's time to stand up for them together as we do women. Giving them a day to speak about how they feel, what they have gone through & believe it or not they are excited that we are not forgetting them. Instead of putting one or the other on a pedestal men and women should be working together, maybe this is a start.

We will be having a huge event in Portland Oregon on November 17th. Message us if you have any questions. Everyone is welcomed to join.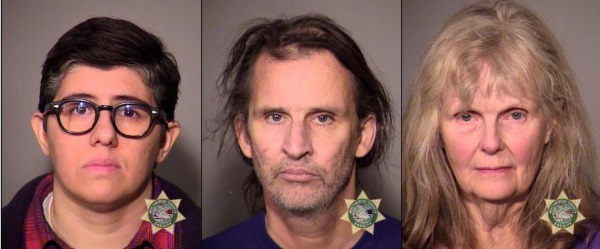 (Antifa Arrested Portland - Brittany Frost, Gary Fresquez, Betsy Toll)


Liberal groups including the Democratic Socialists of America and Portland's Rose City Antifa decided they were going to counter-protest, and reportedly became violent. This was documented on the scene by journalist, photographer, and Quillette editor Andy Ngo, who assaulted as well. 

His tweeted accounts of the event show just how dangerous it has become to attempt to document the terror activities of Antifa, as he started out his series of tweets with videos, stating "I was assaulted by a mob of masked individuals in black. They also targeted my equipment. They called me a fascist & Islamophobe. They said my parents & grandparents would be ashamed of me. It feels surreal to be treated this way by people who don't even know me."

His next statement came nearly 3 1/2 hours later, saying "I'm home now. I feel a bit rattled by the experience. I've had things thrown at me before but today I was surrounded, cursed, & pushed by antifa. @PortlandPolice stood by."

Below are his individual tweets, without the short video clips, because Ngo ended up uploading all the footage to YouTube in one video, which will be shown after his horrifying description of events.

• As soon as I entered Chapman Square in downtown Portland at approximately 1:40 pm, I was accosted & pushed around by masked agitators.

• "Your parents would be embarrassed by you--and your grandparents--who have been oppressed by white men throughout history. You should be ashamed of yourself."

• "This city f—king hates you." "Look at how pathetic you are." "That's an expensive camera equipment you got there." "He's a loser with no friends." "He's an Islamophobe." "Nobody in this city likes you." "You have no friends." "Thank God you got all these cops around, huh?"

• A large group of #antifa protesters encircled me. After I am pushed away, a masked woman sprays my camera equipment & myself w/wet silly string. They then play music & laugh. I want to file a harassment report with @PortlandPolice but the assailant's identity is unknown.

• Police eventually rushed in to push protesters back to get them further away from the #HimToo rally (in the adjacent plaza). They shouted in response: "Cops and Klan work hand-in-hand." #Antifa

• NUDITY. Person with #Antifa group exposes himself to police.

• Some #Antifa activists were dressed as ... giant sunflowers?

• #Antifa mob started kicking and punching people who were walking away. I don't know where the police were at this point.

• I have uploaded my full footage from yesterday's #antifa clash in downtown Portland on YouTube. The video includes additional content, like my interaction with Portland Police. https://www.youtube.com/watch?v=VlBv9rFVuGI

The video he posted online is shown below (LANGUAGE WARNING) 



The Portland police were posting updates on their Twitter account throughout the demonstration, such as "Glass bottles are being thrown," and "Bottles and flares are being thrown at 3rd and Clay," and "PPB Sound Truck: Officers have observed demonstrators in possession of weapons. If demonstrators use weapons you are subject to citation,  arrest and potentially use of force."

According to the Portland police report on the arrests, "there were multiple assaults reported, as well as projectiles thrown at demonstrators and officers. Officers observed sticks, glass bottles, lit road flares, bottles filled with a substance believed to be urine, and gopher gas used as projectiles."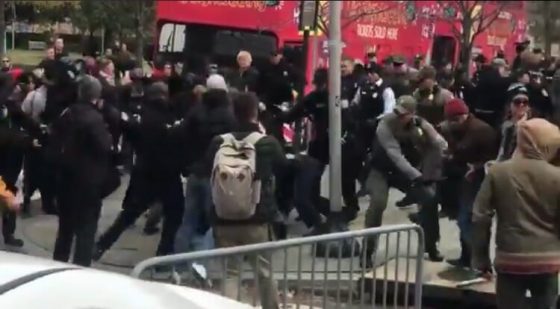 ANTIFA ATTACKS IN PHILLY

The same day that Antifa again terrorized rally-goers and residents of Portland, a "We The People" rally was held in Philadelphia, PA, and right on cue "violent communist Antifa thugs swarmed the rally."


Conservative groups had planned the rally in support of ICE and police officers. Hundreds of black-clad, masked Antifa radicals descended upon them near the Independence Visitor Center on 5th and 6th Streets. There were approximately 80 conservatives in the mix and they were vastly outnumbered. The media is calling the Antifa goons counterprotesters. That's not what they are. They are vicious communists who intend to beat conservatives into cowering and staying silent.

The police commissioner stated that only four were arrested. One of them punched a police captain if you can believe it (and I do). One injured person was put in a van for their safety as well. After violence broke out the crowd soon dispersed.

Four were arrested after violence broke out, and as stated above, the MSM, is using their own form of "dog whistles" to justify Antifa's violence, as Washington Post describes the event in the following manner:


The event was promoted online by conservative group Sports Beer and Politics. The rally called for "all Patriots, Militia, 3%, Constitution-loving Americans" to attend, though it also was expected to attract neo-Nazis and similar groups as such rallies have in the past.

See what Wapo does there? They attempt to associate "neo-Nazis and similar groups," with any event that was advertised as "pro good cop, pro ICE, pro law and order, pro life, pro American value, pro gun and anti illegal immigration," which is how the event was described on the We the People Rally Facebook event page.

One quote in the Wapo report does stand out though, which pretty much says it all. Mr. Bill Helder, 55, of Washington's Crossing, Pa., stated "They're calling us Nazis. But I ask you: Which side looks more like a Nuremberg rally?" Then he continued on to say "All I heard over here was, 'God bless the Constitution. Let's get along.' And the other side wants to tear our heads off."

Terresa Monroe-Hamilton over at NoisyRoom.net gives us our headline quote before ripping the media for what they didn't report, which is that a police captain was assaulted by an Antifa member and had to be transported to the hospital.


This could easily have broken into a major clash and with the Antifa terrorists outnumbering the conservatives the way they did, it would have ended very badly. There was blood splattered on the sidewalks as the two groups were separated. The Washington Post is reporting only 30 conservatives were there versus 300 Antifa goons. Take that for what it's worth – WaPo has a credibility problem, to say the least.

WaPo also claimed that the Antifa soldiers were arrested for disorderly conduct and failure to disperse. They played that down immensely. Two others, a 26-year-old man and a 35-year-old man, were arrested for failing to disperse. A 31-year-old woman was arrested for disorderly conduct, police said. As for the police captain getting punched, WaPo said it was a 'person'. Way to whitewash a story, fellas. A police captain was attacked during one of the scuffles and taken to Hahnemaan University Hospital, according to law enforcement officials. A 23-year-old man was arrested for that assault. NBC didn't even mention that communist Antifa made up the bulk of the counterprotesters.

And of course they tried to paint the police as badly as possible: "The protesters were separated from the "We the People Rally" by a four-lane street, lines of Jersey barriers and hundreds of Philadelphia police officers, many with plastic handcuffs dangling from their uniforms." The 'handcuff' part of that descriptor seems to be added merely to make the officers look like over-anxious thugs. That's just dishonest and worthy of Pravda.

Below is some footage from the chaos in Philly. It begins with the police arresting an Antifa member, and they provides clips of earlier events, with some statements from those attending the original We The People rally. Once again a LANGUAGE WARNING, since these Antifa goons seem incapable of screeching without dropping the F-bomb all over the place.





ANP NEEDS YOUR HELP. With digital media revenue spiraling downward, especially hitting those in Independent Media, it has become apparent that traditional advertising simply isn't going to fully cover the costs and expenses for many smaller independent websites.

Any extra readers may be able to spare for donations is greatly appreciated.

One time donations or monthly, via Paypal or Credit Card:



Or  https://www.paypal.me/AllNewsPipeLine
Donate monthly from $1 up by becoming an ANP Patron.





comments powered by

Disqus