"The Best Mix Of Hard-Hitting REAL News & Cutting-Edge Alternative News On The Web"
December 2, 2016
Audio: Bitter Clinton Aides Melt Down At Harvard Forum, Turn Discussion Into The 'Jerry Springer Show'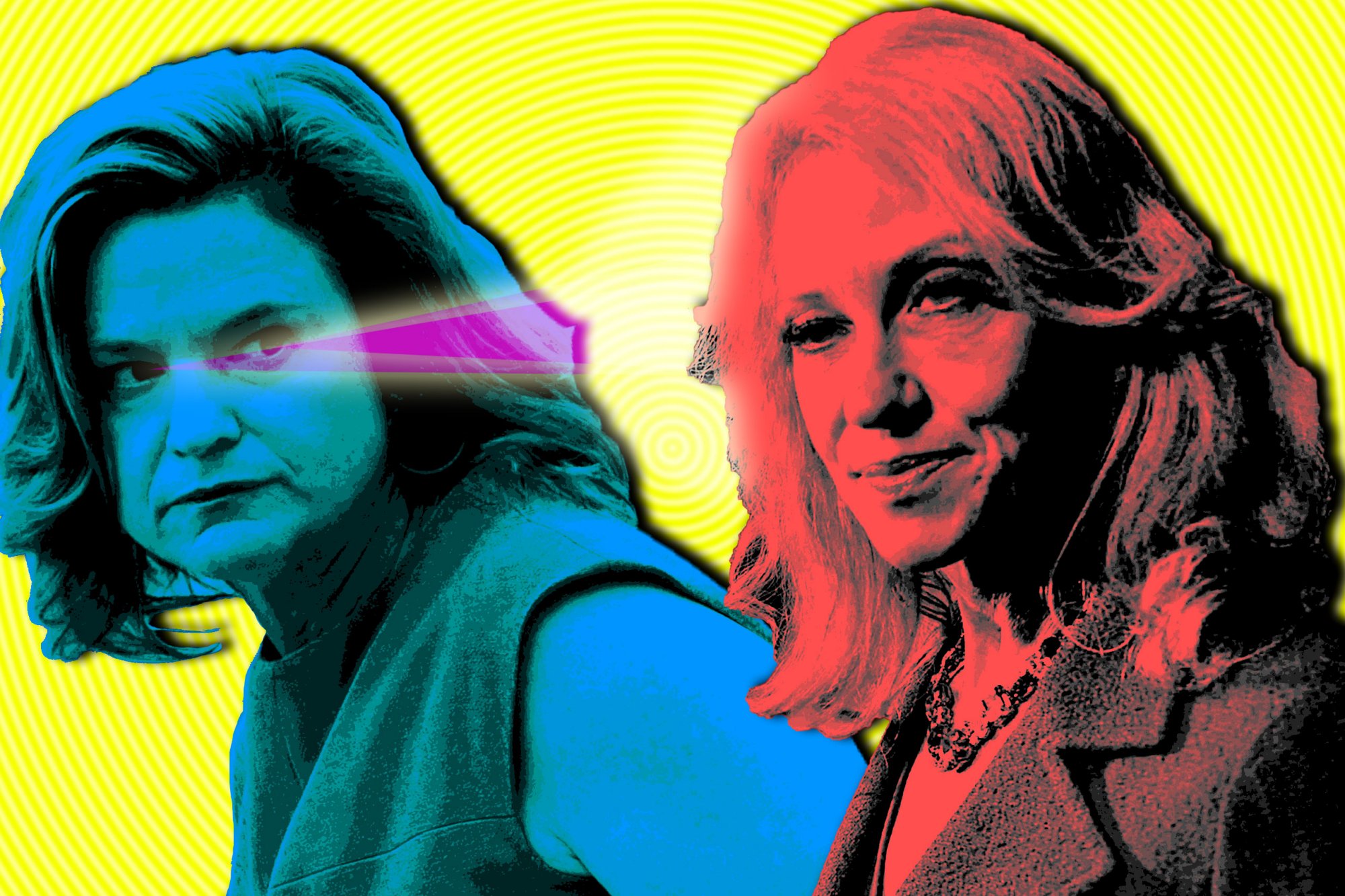 Palmieri, Clinton Communications Dir. - Conway, Trump Campaign Manager, Face Off At Harvard)

By Susan Duclos - All News PipeLine

"Guys, I can tell you're angry, but wow. Hashtag he's your president. How's that? Will you ever accept the election results? Will you tell your protesters that he's their president, too?" - Trump Campaign Manager, Kellyanne Conway to Clinton aides, on December 1, 2016 at the Harvard Institute of Politics, Campaign for President: The Managers Look.

Every four years the Harvard Institute of Politics holds a conference called the 'Campaign for President: The Managers Look,' where campaign members from both presidential candidates sit across from each other, discussing the campaign season and election, in what has generally been a very candid but civil forum.

This year.... not so much.



The conference was held on November 30 and December 1, 2016, and by all accounts, devolved into a "shouting match" on Thursday as Clinton aides, much like Clinton supporters across the country, are still unable to deal with their loss and are apparently still going through the "five stages of Trump Grief Syndrome" as The Resurgent reports.

NPR reports  "Bitterness Overwhelms As Trump And Clinton Campaign Staffers Face Off At Harvard," where the first paragraph states "There were moments when watching the Trump and Clinton campaigns discuss the election at the Campaign Managers Conference at the Harvard Institute of Politics was like watching The Jerry Springer Show without the chair-throwing (or paternity disputes)."

Just a small sample of the amount of coverage this has been getting is shown in the screen shot of headlines shown in just one thread over at Memeorandum, which is a website that highlights what political stories are receiving the most attention throughout the day.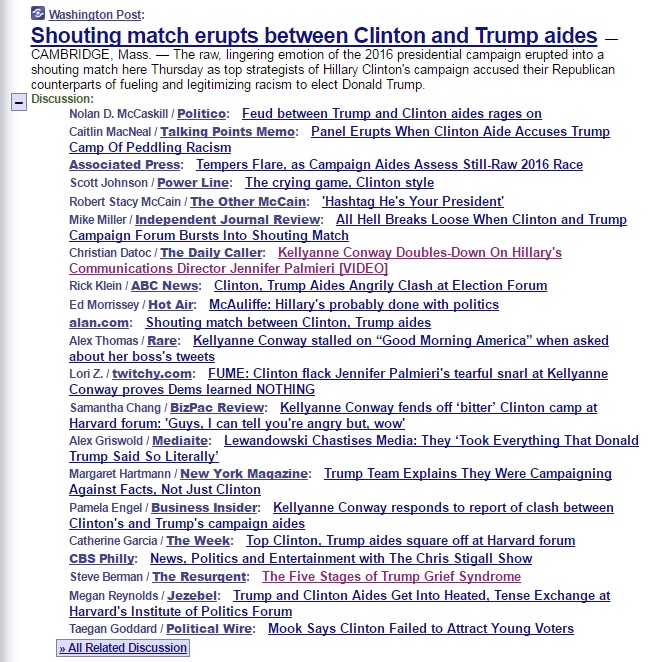 The headlines generated, along with amount of coverage on the event, offer quotes but do not provide the full flavor of the bitterness and refusal of Clinton campaign aides to move past the brutal campaign season and help Clinton supporters accept the outcome, as listening to it does. The vitriol, the accusations of "white nationalism," the attacks against Trump and his campaign staff, that can be heard in the audio below of part of the event, highlight how Clinton campaign aides are attempting to divide the country as if they are still in campaign mode, three weeks after the election ended.

Below the video we will discuss why their rhetoric, along with Clinton's actions are setting up Clinton supporters for another major loss.

The relevant part of the forum can be heard below, the entire two and a half hour audio is embedded at the bottom of this article for those interested.




HILLARY TO SUPPORTERS: IT'S NOT OVER!

A message of false hope is being sent to Clinton supporters by Hillary's own actions in actively participating in recount efforts, which recent polling underscores that the message being taken from Hillary's actions is "It's not over!"

According to a recent YourGov poll, 42 percent of Clinton voters believe that the recounts initiated by Green Party candidate Jill Stein and joined by Hillary Clinton, "will show Clinton won," with just 23 percent of Americans saying that and 3 percent of Trump supporters.

All three states where Stein and Clinton are asking for recounts would have to flip entirely to Hillary Clinton in order to change the results of Donald Trump's win on election night. 

That means Wisconsin, Pennsylvania and Michigan would have to flip... no combination of any of those two states can change the results. There is no guarantee that Pennsylvania will even allow a recount after a judge dismissed the petitions for a recount in 78 precincts, and in the first day of recounts in Wisconsin, Hillary Clinton only netted one single vote in a state that Trump won by approximately 22,000. Whether or not Michigan will conduct a recount is still in the air, because Michigan's attorney general on Friday sued to stop a recount from happening in his state.

As heard in the audio above, Clinton aides are still bitterly attacking the Trump campaign as if they are still campaigning themselves for Clinton, but it is Hillary's actions right now, completely contrary to when she stated in her concession speech "we must accept this result and then look to the future. Donald Trump is going to be our president," that is encouraging over 40 percent of her supporters to not accept the results, telling them the election is not over and setting them up to be crushed all over again, as well as preventing them from moving on and coming to grips with the fact that their candidate lost.

That is not just an attempt to further divide a nation, that is outright cruelty on the part of Hillary Clinton against her own supporters.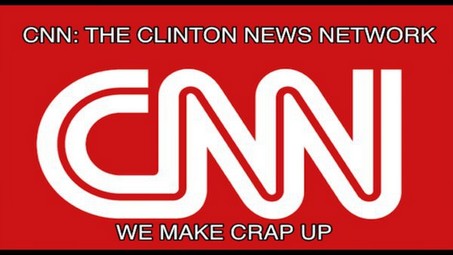 HARVARD EVENT SHOW BITTERNESS ALL AROUND - CNN'S JEFF ZUCKER TAKES HEAT AT 

Clinton operatives weren't the only ones sounding a bit bitter at the Harvard event, as we see that campaign staffers of Trump's Republican primary opponents, expressed quite a bit of unhappiness with how much coverage Donald Trump received on CNN.

Another aspect of the Harvard Kennedy School Institute of Politics event is making headlines, as  CNN President Jeff Zucker was "jeered and heckled by Republican presidential campaign operatives," as reported by Politico, for CNN's coverage of Donald Trump.


After a calm beginning, it didn't take long for the evening to erupt when the conversation turned to CNN's coverage.

GOP campaign managers who worked for President-elect Donald Trump's primary opponents shouted Zucker down with increasing anger as he defended how much airtime the network gave Trump, and claimed it allowed other candidates to dial in to shows by phone.

Zucker defended CNN's coverage, though he admitted it perhaps aired too many of Trump's early rallies "unedited" -- an admission he has made before.

But the room grew more and more animated as Zucker went on to say that many campaign managers thought it was "unfair" how much coverage and attention Trump was getting.

"I have to respectfully push back on the campaign managers who spoke here today, because frankly, respectfully, I think that's bullshit. Donald Trump was on CNN a lot," Zucker said, refusing to back down. "That's because we asked him to do interviews and he agreed to do them. We continuously asked the other candidates to come on and do interviews."

Below are audio clips of the two relevant portions of the Republican operatives complaints against CNN and Zucker's response.





BOTTOM LINE

While the 2016 election is over, there is still much bitterness on a variety of fronts, with team Clinton refusing to match actions with words on "accepting" the outcome" of the election and moving forward. As we have seen from the multiple protests across the nation and in our country's colleges where students require play-doh, coloring books, puppies and safe spaces, the snowflakes are now being offered false hope by Hillary Clinton herself with her actions in the recount attempts, being set up for another major letdown.

Full Roundtable Discussion: The General Election, below:








comments powered by

Disqus