"The Best Mix Of Hard-Hitting REAL News & Cutting-Edge Alternative News On The Web"
September 17, 2017
Tearing Down St. Louis - BLM Rioting And Violence Continues As Activists Protest Acquittal Of Police Officer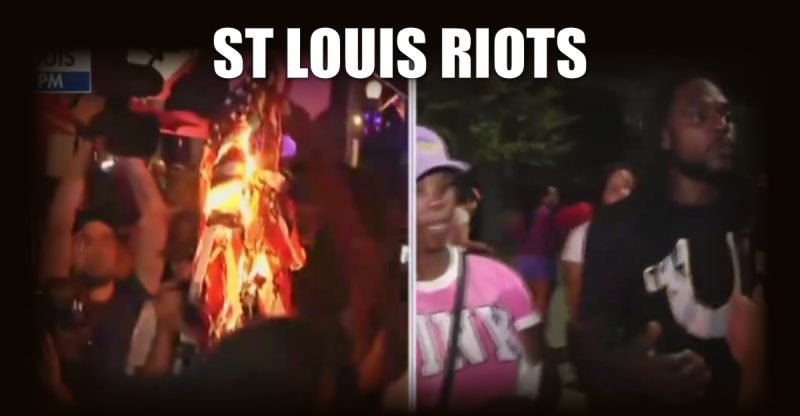 By Susan Duclos - All News PipeLine

Violent BLM activists and protesters have been rioting since Friday when ex-officer Jason Stockley was acquitted of first degree murder in a police related shooting resulting in the death of Anthony Lamar Smith back in 2011.

On Saturday rioters once again started throwing bricks and rocks at cops, breaking windows at dozens of local businesses while hundreds of officers in riot gear moved in and started arresting people in order to try to regain some semblance of control over the city, which has already caused the cancellation of events such as a U2 concert due to the inability of police to provide "standard protection" for their audience. Popular singer and songwriter Ed Sheeran was also forced to cancel an event, citing safety concerns.

According to multiple reports over three dozen people have been arrested and 11 officers have been injured.

BLM activists plan for more events on Sunday, which live streaming video coverage shows has already begun and while the pattern over the last two days has shown the daytime protests which have largely remained peaceful have devolved when the sun goes down, into chaos and lawlessness as protesters do their best to burn down the town, figuratively speaking. 



Via St. Louis-Post Dispatch:


Shortly before 11 p.m. at Leland and Delmar, a small group of protesters threw chunks of concrete at police and broke windows at numerous Delmar Loop businesses. A chair was thrown through the window of a Starbucks. One protester was seen hitting a police SUV with a hammer. Police made more than a half-dozen arrests witnessed by reporters, including a protester who was carried away by officers by his arms and legs.

As the chaos escalated, scores of police officers in riot gear pushed forward against the demonstrators just after 11 p.m. — about two hours after daytime protest organizers had congratulated their followers on keeping their demonstrations peaceful.

By 11:30, about 200 police officers had pushed most of the protesters out of the area and the violence and vandalism appeared to be dissipating. The sidewalks along the vibrant area of restaurants and shops were strewn with glass from broken windows.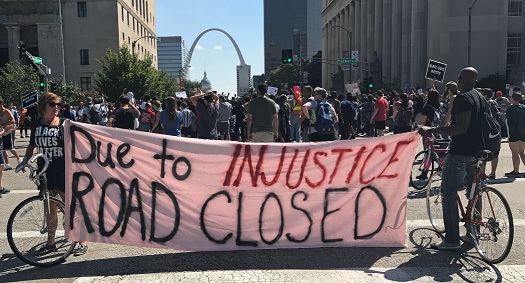 The MSM continues to describe the rioters as small groups of violent agitators, but the number of professionally printed Black Lives Matter signs being held up in viral images, as well as marching through malls saying "no justice, no profits," blocking roadways, and other illegal actions, indicate this is an organizational event, planned violence and disruption from people waiting until the sun goes down to start destroying local businesses, who in no way had anything to do with the original shooting, the trial, nor the verdict.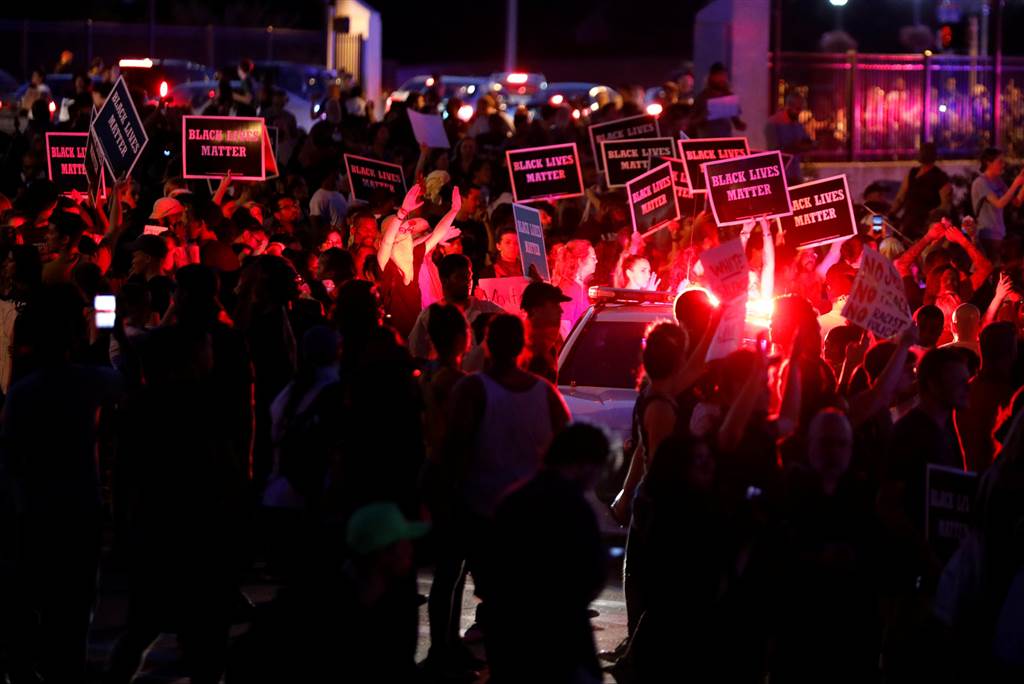 Who is suffering from BLM's violent rioting, other than those injured from the riots? Local businesses owners, left to clean up their broken storefront window glass, then having to pay for their replacements. Hard working people that have done nothing but live and work in St. Louis as BLM does its best to tear down the town.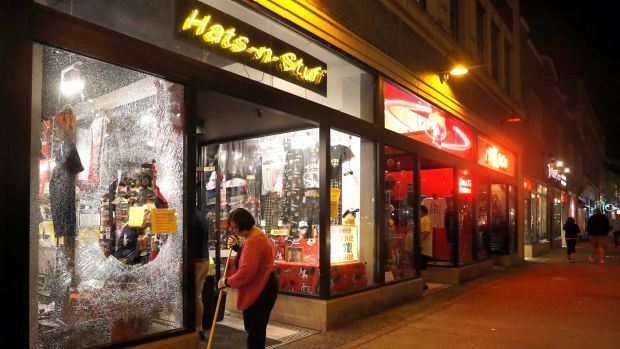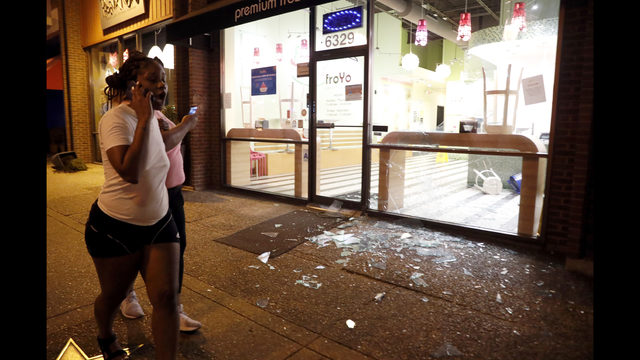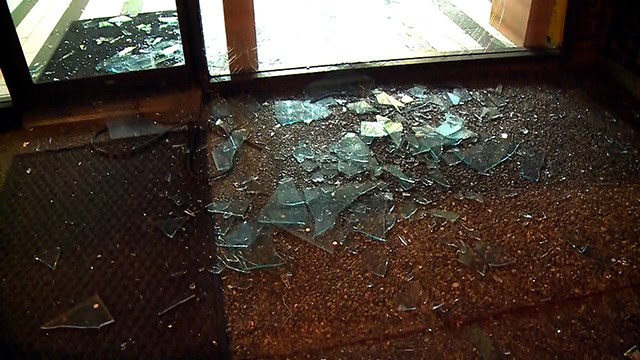 A slideshow of more images can be seen at Fox 5.

Take a look at the video below, not only are these BLM rioters being allowed to stomp around on top of a police car, but note at the beginning of the compilation clip how one of them has a child up there,  teaching their children to riot as well. Putting children in a position where they can be injured or even killed.



BOTTOM LINE

While peacefully protesting is a guaranteed right of Americans, violence, shutting down the roads, tearing up and destroying businesses and outright attacks up police, is not. What these simple-minded people do not seem to understand is that any sympathy garnered throughout the "peaceful" protests during the days, has been completely negated by images of destruction and rioting from the BLM activists at night.

As day turns to night, it is likely these protests will once again turn violent, so we will be updating with more live streams as they start coming out.

Readers, as always, can post links, images and videos of what is happening in St. Louis, in the comment section below.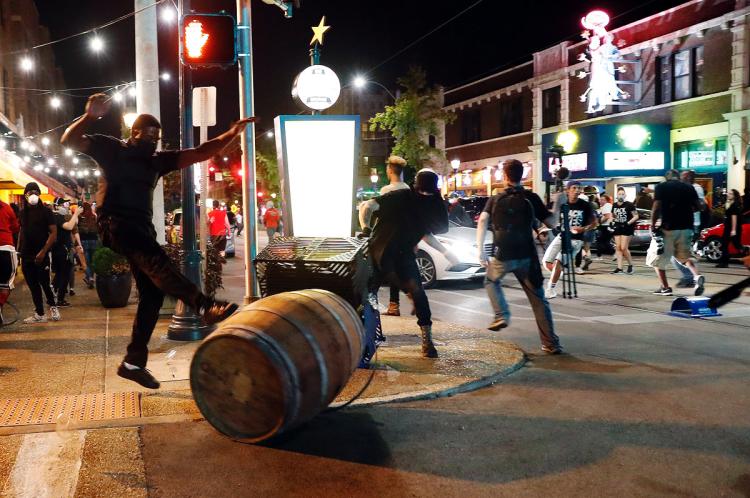 Help Keep Independent Media Alive, Become A Patron for All News PipeLine at 

https://www.patreon.com/AllNewsPipeLine



comments powered by

Disqus