"The Best Mix Of Hard-Hitting REAL News & Cutting-Edge Alternative News On The Web"
October 30, 2016
Buyer's Remorse Hits Early Clinton Voters And Allies- Can They Change Their Early Votes?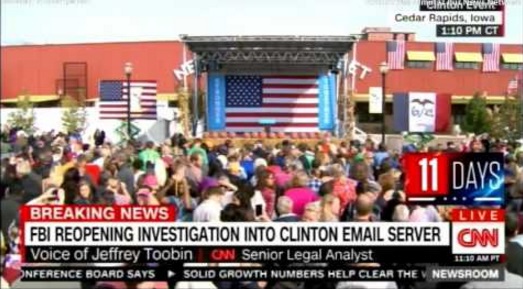 By Susan Duclos - All News PipeLine

Between the Wikileaks hacked email dumps, Project Veritas showing hidden camera evidence of election rigging on the part of the DNC and the Clinton campaign, and Friday's bombshell letter from FBI Director to Congress informing them that new evidence has turned up in relation to the Hillary Clinton private server/email scandal, it seems Clinton supporters and allies are having second thoughts just 10 days before the presidential election.

FBI Director James Comey's letter to Congress, shown below: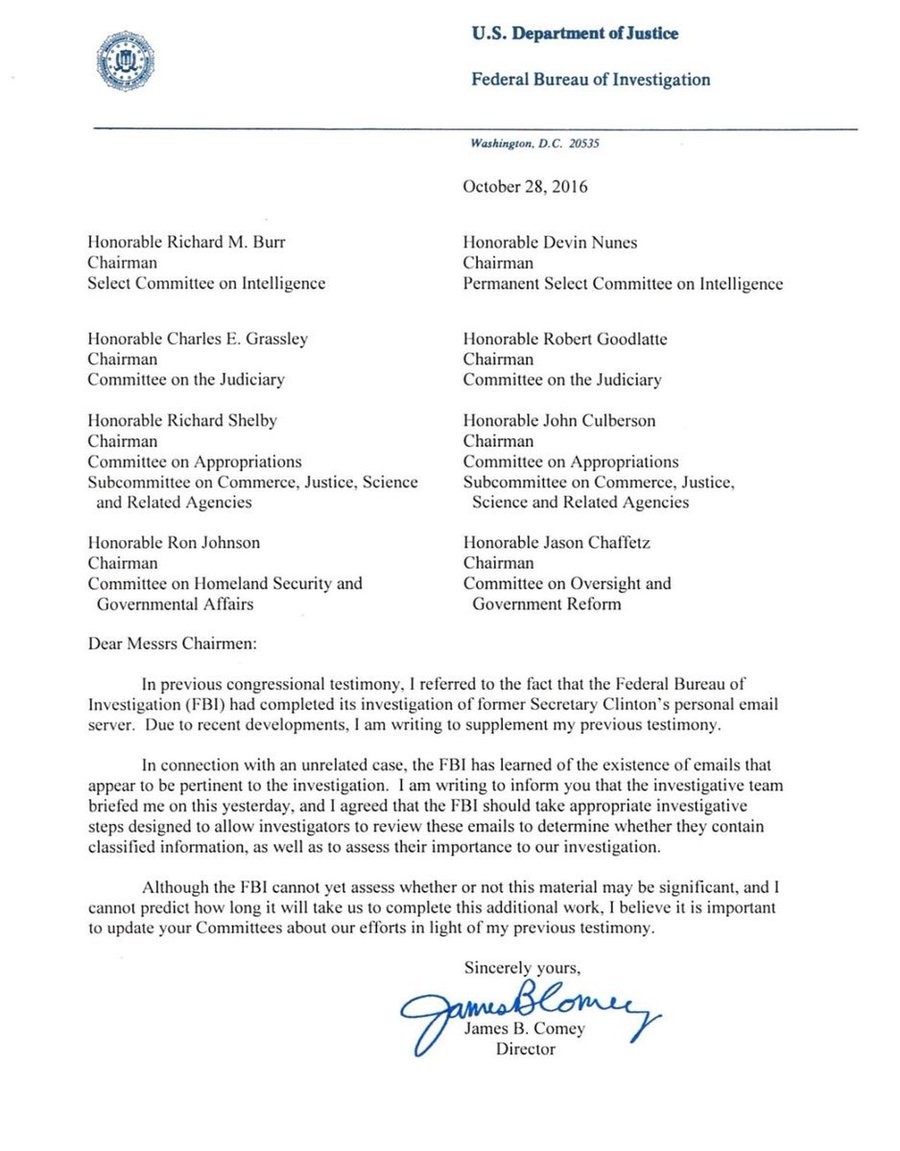 ALLIES 'DUMBFOUNDED' AND 'LIVID' AT CLINTON

While some Clinton allies are insisting Friday's bombshell news of tens of thousands new emails being found during an investigation into Anthony Weiner, who is married to top Clinton aide Huma Abedin, will have no impact, others are saying they are "dumbfounded" and "livid," at Clinton.

Via The Hill:

They said they were "dumbfounded" by the revelation that the new FBI review may have been spurred by a separate investigation into Anthony Weiner sending lewd texts to a minor. Weiner is separated from wife Huma Abedin, one of Clinton's closest aides.

And they worried that Clinton's unconventional email arrangement had finally caught up to her and might imperil her presidential bid less than two weeks before Election Day.

"I'm livid, actually," one Clinton surrogate told The Hill. "This has turned into malpractice. It's an unforced error at this point. I have no idea what Comey is up to but the idea this email issue is popping back up again is outrageous. It never should have occurred in the first place. Someone somewhere should have told her no. And they didn't and now we're all paying the price."

Another ally called the campaign's mood something akin to "paralysis," and blamed Weiner's behavior for railroading the campaign.

One strategist said the developments would further cement the notion that Clinton has something to hide.

"It's made people think there's always going to be something around the Clintons, some investigation, some inquiry," the strategist said. "It never goes away."

BUYERS REMORSE FROM EARLY VOTERS - CAN YOU CHANGE YOUR VOTE?

Clinton allies are not the only ones freaking out by this latest turn of events as voters who cast early votes for Hillary Clinton in states that allow early voting are suddenly suffering a case of buyers remorse and have suddenly started searching the Internet asking if they can "change their vote,"  as shown below in the screen shot from Google Trends.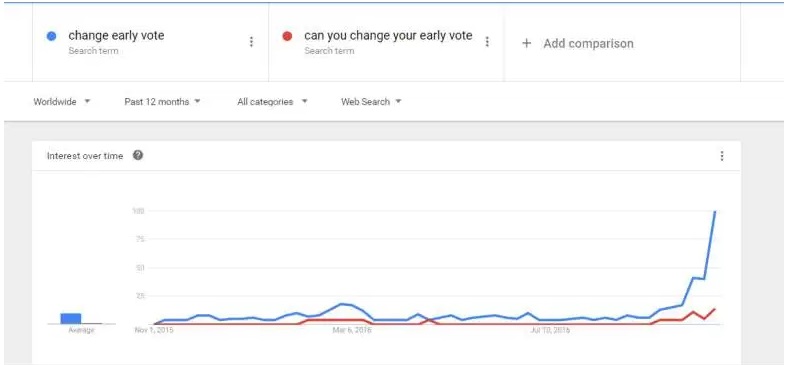 The answer to whether or not a vote cast early by mail can be changed is dependent on what state you live in and there is a alot of confusion about what states do allow a person to change their vote and what states do not.

For example, in the video below, Fox News lists a number of states, MN, WI, MI, PA, NY, LA, yet the LA Secretary of State has already issued clarification saying "@FoxNews @tracegallagher reports  of voters in LA being able to change vote during early voting are FALSE. Correct pls."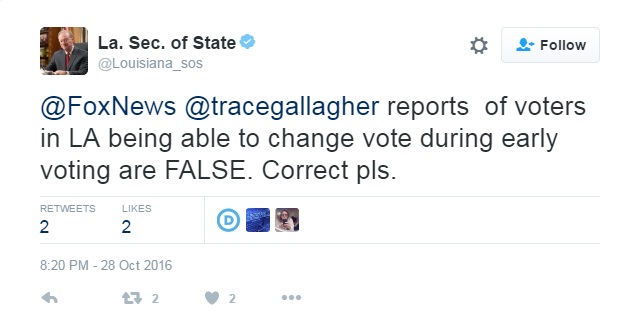 For the states that do allow early voters to change their vote, the rules are different, as shown by a report showing that officials in Minnesota and Wisconsin are already confirming voters are already cancelling their absentee or early voting ballots because they have changed their minds.

In PA voters can only change their vote by physically showing up at the polls to do so. In Wisconsin voters have until November 4, 2016 to change their ballot. In Minnesota voters have until the close of business one week before Election Day. (Read more at Heavy.com)

With all the confusion of whether one can change their vote or not, and in what states it can be done, as well as the cut off for ech states that does allow voters with buyers remorse to change their vote, the best suggestion is to find your state or local election office website, call them and get the information directly from them.. that can be done at the following two links.

Find My State or Local Election Office Website

Election Official Directory & State Voting Requirements & Information

Time is short because if a particular state is like Minnesota, the cut off is one week from election day, which gives voters until Tuesday, November 1, 2016.

BOTTOM LINE

This has been the most explosive campaign season I have ever witnessed in my 50+ years, and while everyone is always talking about the big "October Surprise," this month has seen one after another after another.

We have to wonder what is coming next? There are still 10 days to go...........

RELATED: Democrats should ask Clinton to step aside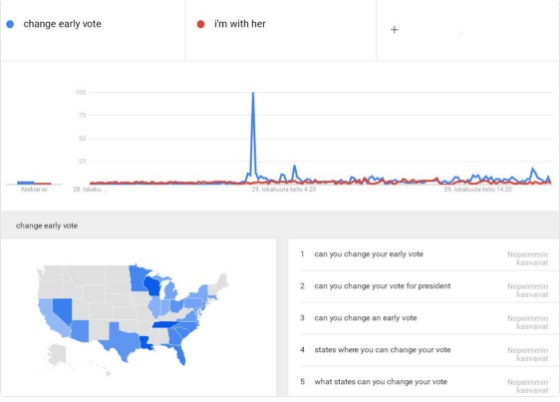 comments powered by

Disqus