Please Visit Whatfinger News - Conservative Frontpage founded by veterans.
"The Best Mix Of Hard-Hitting REAL News & Cutting-Edge Alternative News On The Web"
Media Creep Factor Turns Dangerous As Liberal MSM Outlets Demand Manafort Jurors Names And Home Addresses
- Judge Denies Media Motion, Cites Juror Safety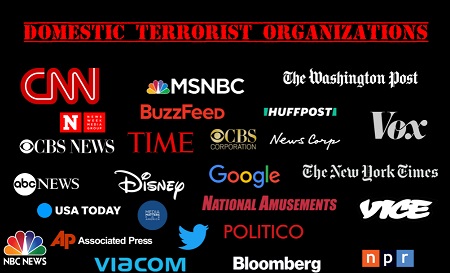 By Susan Duclos - All News PipeLine


The Washington Post, New York Times, AP, CNN, NBC, Politico and BuzzFeed, banded together to get the judge in the Paul Manafort's fraud trial, U.S. District Judge T.S. Ellis III, to release the names and addresses of the jurors.

While Judge Ellis did agree to hear the motion while the jury was deliberating, saying "A thirsty press is essential in a free country," he ultimately rejected the request, after revealing that he has been receiving threats that requires him to travel with U.S. Marshals for protection.

"I can tell you there have been [threats]. ... I don't feel right if I release their names," Ellis said, adding that because of threats against him, "The Marshals go where I go."

The news of the motion filed by the media came via a message sent by CNN crime and justice reporter Simon Prokupecz, who stated "The judge will hold a hearing on a motion by CNN and media organizations to unseal the names and addresses of jurors as well as other parts of the trial that are currently secret."

Being the Manafort case is one of the first of the special counsel Robert Mueller's cases to go to trial, and the most high profile, it apparently didn't occur to the media that revealing the jurors names and addresses to the public could endanger their lives. Or it did occur to them and they simply didn't care. 

The comments to Prokupecz's announcement before news of the judge rejecting the motion shows that everyday internet users on Twitter apparently have much more common sense than the liberal media, because they clearly noted the danger these media outlets would have put the jurors into.

One user named Rhonda states "I think that's terrible - it could potentially put the jurors' lives at risk. You just know there will be some reporters who will show up at their homes."

She isn't just speculating there as we have already documented (with video!) how CNN reporter Drew Griffin hunted down an elderly female Trump supporter, doxxed her (revealed her personal information), and confronted and harassed her in her own yard. That resulted in the woman being viciously harassed by liberals online and off.

Another user responded to Prokupecz with "That could easily endanger these people's lives. Not cool."

The comments overwhelming criticized the medias attempt to expose the jurors personal information, highlighting different, but very valid concerns that the MSM outlets that joined in the filing of the motion, obviously didn't care about.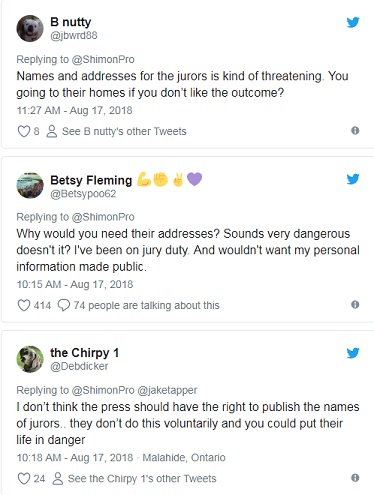 Those are representative of the majority of reactions to the media proudly boasting they were attempting to get the names and home addresses of the jurors unsealed to be released publicly.

Others accused the media of filing the motion for the release of the jurors personal information in an attempt to intimidate the jury into voting guilty as it takes a unanmious vote of all 12 jurors to find a defendant guilty.

On Thursday Ellis also read aloud four questions that were sent from the jury, including their request for the "definition of reasonable doubt," which just highlights the need to keep these jury members names and home addresses under seal, because if they do not find Manafort guilty, or they come back with a hung jury, liberals and the media (I know, one and the same) would undoubtedly harass them.

The liberal establishment media is truly becoming creepy.

SPEAKING OF CREEPY, CNN TARGETS DRUDGE REPORT WITH FAKE NEWS

ANP recently reported on CNN's creepy and seemingly psychotic obsession with Alex Jones, where CNN senior reporter Oliver Darcy led the charge in harassing big tech companies until they terminated their services from InfoWars and banned, blocked and removed Jones' presence from their platforms. That obsession continues, but now Mr. Darcy is apparently beginning a new obsession, by acting as the hall monitor for what websites Matt Drudge of the Drudge Report links to.

Now CNN's obsession with attempting to stifle Alex Jones' free speech, while participating in Thursday's coordinated "freedom of press" effort, where over 300 newspapers publicly colluded to write editorials on the same day, about the exact same subject to attack President Trump for his criticisms against the "Fake News" press, is quite hypocritical to say the least, but Darcy's "report" on Drudge also shows a couple of things.

First, what he finds "sort of interesting," (obviously interesting enough for him to tweet about it a couple of times) is "@DRUDGE_REPORT linking WRAL and CNBC in banner headlines for a syndicated version of NYT's story on Musk." He added a screen shot of the top of Drudge's page. Then he followed that up with "another @nytimes story that @DRUDGE_REPORT is linking WRAL's syndicated copy instead of just NYT," with another screen shot of the story image and Drudge link.

Why is Darcy interested at all in what websites Drudge links to? What concern is it of his at all, in fact, what business is it of his what another site owner does?

The more I read through that man's Twitter feed, the creepier he seems to get as he has three major obsessions: Trump hate, Alex Jones and his newer one appears to be Drudge, we will see if that lasts because if Drudge stops linking to any CNN story, they will sink like a rock.

Had Darcy simply left it at the two tweets about Drudge and NYT, that would have just been more evidence of his creep-factor, but being he is with CNN, he simply had to offer some "fake news," into the mix. In a response to Daily Caller's Media/Breaking News editor Amber Athey, who told Darcy "Not really interesting at all. Drudge links to blurbed and syndicated stories all the time," he not only acted like a "condescending d*ck," (her words, not mine, although I agree), but he claimed Drudge was "refusing to link to NYT."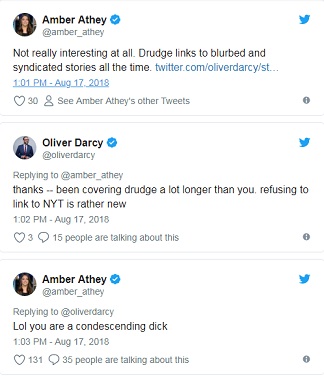 Which brings me to my second point. That is Fake News, because at the time he wrote that, Drudge had a NYT story linked on his front page, showing that Darcy didn't even do a minimal amount of research, like mousing over other links to see the NYT link.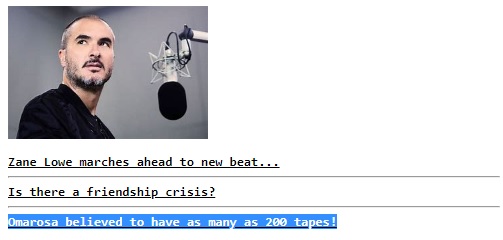 The link highlighted in blue on the screen shot above, is directly to the NYT website, to which Darcy falsely claimed Drudge was refusing to link to.

BOTTOM LINE

The creepiness of CNN in constantly thinking they are the "news" and social media/big tech police, where they act like Democratic activists by trying to silence Independent Media on the internet is bad enough, but when the liberal media, collectively, attempts to intimidate a sitting jury during by trying to get their names and home addresses, they have moved from simply creepy, to downright dangerous.

We have all seen how a random internet user gets viciously attacked after being doxxed by CNN at her home, as we have seen the media incite liberals into violence with their constant and unrelenting hostile coverage of Trump supporters and administration officials, so can anyone really blame the Manafort jurors for being "scared" and "afraid" to have their personal information released to the media vultures?

The bottom line here is the media screams "freedom of the press" while attempting to silence other outlets, then abuses that First Amendment right to attack Americans, dox them, incite violence, and lie on a regular basis.

If they want to stop being called the Fake News 'enemy of the people,' then perhaps they should stop acting like domestic terrorists.







NOTE TO READERS
:
ANP Needs Your Help

. With digital media revenue spiraling downward, especially hitting those in Independent Media, it has become apparent that traditional advertising simply isn't going to fully cover the costs and expenses for many smaller independent websites.


SECOND HALF OF OUR ANNUAL PAYMENT FOR ANP DOMAIN, HOSTING AND DEDICATED IP IS DUE THIS MONTH (AUG.), soo..


Any extra readers may be able to spare for donations is greatly appreciated.
One time donations or monthly, via Paypal or Credit Card:

Or  https://www.paypal.me/AllNewsPipeLine
Donate monthly from $1 up by becoming an ANP Patron.




comments powered by

Disqus