"The Best Mix Of Hard-Hitting REAL News & Cutting-Edge Alternative News On The Web"
January 20, 2015
China To Strike US From Within If Finances Collapse And War Erupts? Tweets Deleted Warning Of US Customs Interception Of Heavy Weaponry From China At Several US Ports!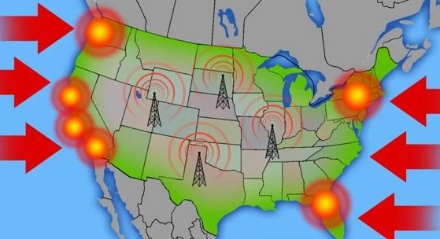 By Live Free Or Die - All News Pipeline
The Twitter postings from Turner Radio Network have since been removed but captured via the screenshot below videos as well as republished across several internet forums: "
U.S. Customs intercepted shipping containers with

Chinese

military guns, ammunition, rocket launchers, anti-aircraft MANPADS at Ports of Los Angeles, Seattle, New York, Charleston, Houston, Port Everglades, Florida. Uncovered plot by

China to strike U.S. from within if finances collapse and war erupts."

 
The Tree Of Liberty has run with these Tweets on their 'World War 3 Warning thread for the weeks of 1-12-15 to 1-26-15' while CJ at My Free Forum has run the same tweets along with this startling and all too real story: "U.S.-Russia nuclear security alliance ends January 20, 2015." In it we learn that Russia has brought to an end its' nuclear security alliance with the US back in the middle of December of 2014.

The 1st video below from DAHBOO77 tells us all about what it means for our nuclear security alliance with Russia to have come to an end while the 2nd video below, a MUST SEE from David Vose

,

tells us all about what the MSM doesn't want us to know, the Pentagon preparing for mass civil breakdown while Russia pushes to bring the dollar to its' final demise.

It must be stated that information coming from the Turner Radio Network has sometimes been called disinformation and at this time, we have been unable to verify the warnings given in their deleted tweets. Nonetheless, by not publishing this information we would be doing our readers a disservice. At All News Pipeline, we are not here to tell our readers WHAT to think but instead strive to present all information we find and hope for a lively debate.










comments powered by

Disqus