"The Best Mix Of Hard-Hitting REAL News & Cutting-Edge Alternative News On The Web"
August 4, 2015
Danger Danger: The System Is Breaking! Dr Jim Willie - Why Were 3 Men Arrested Prepping For Martial Law & Jade Helm 15 Military Takeover Of America?


By Stefan Stanford - All News Pipeline - Live Free Or Die

"Hate begets hate; violence begets violence; toughness begets a greater toughness.
We must meet the forces of hate with the power of love."

Dr. Jim Willie of the Hat Trick Newsletter joins Paul Sandhu in the brand new video below and shares with us all of the signs that we're seeing now that the system is now breaking. Dr. Willie tells us that what we're watching in US bond markets is just the latest sign that we don't have much time left before we witness major change.

Telling us why what we're watching is so crucial, the interview in the 3rd video below covers the BRICS challenge to the US dollar, the raping of Greece by the predatory banks with likely repeats in Spain, Italy and Portugal and the long delayed global currency reset that will happen 'by hell or high water'.

We also take a look at a breaking story from the Associated Press that three North Carolina men have been arrested after being investigated for over a month after stockpiling massive amounts of weapons, ammunition and rigging home-made explosives in preparation for martial law and a government takeover.

The arrested men spoke openly about their opposition to Jade Helm 15 and were allegedly preparing for armed resistance against a military takeover of America.

While ANP is staunchly opposed to martial law and any kind of a 'militarized' takeover of America that would lead to a 'boot stamping upon a human face forever', we are equally opposed to any kind of threats or violence that puts the lives the of the brave men and women serving America in uniform in danger.

With violent crime now increasing in big cities across the country after 22 were recently shot in New York we have to implore to America to stop ALL the violence, we are much better than this!!!!!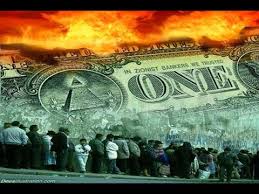 As is laid out in the AP story, these men apparently went way beyond the 2nd Amendment and the rights of Americans guaranteed by the US Constitution to protect ones homes and families by building illegal weapons and homemade explosives.

As Martin Luther King Jr. loudly warned us, violence only begets violence and God forbid that Americans ever get to the point when violence against our own public servants is taken....at that point, it is already far too late. The future deserves much better from us America. Infowars and Professor Doom1 break down the reasons why these men were arrested in the 1st and 2nd videos below. From the AP.:

Three North Carolina men fearing a government takeover and martial law stockpiled weapons, ammunition and tactical gear while attempting to rig home-made explosives, according to charges announced by the Justice Department on Monday.

Walter Eugene Litteral, 50, Christopher James Barker, 41, and Christopher Todd Campbell, 30, are accused of stockpiling guns and ammunition, as well as attempting to manufacture pipe bombs and live grenades from military surplus "dummy" grenades, according unsealed criminal complaints released Monday.
According to the documents, both Litteral and Campbell spoke openly about their opposition to Jade Helm 15, a series of ongoing special forces training missions in several Southwestern states that has drawn suspicion from residents who fear it is part of a planned military takeover.
In addition to ammunition for a long-range .338 caliber rifle, the authorities said Litteral purchased hand-held radios, Kevlar helmets, body armor and face masks in preparation for an armed resistance to the feared military occupation.
Litteral was also planning to purchase an assault rifle along with ammunition for Barker, whose past convictions for possession of stolen goods and cocaine barred him from possessing a gun, according to the documents.








comments powered by

Disqus