"The Best Mix Of Hard-Hitting REAL News & Cutting-Edge Alternative News On The Web"
October 9, 2015
Ebola Back In The News - Ebola Nurse Back In The Hospital With 'Unusual Late Complications' Months After Being 'Cured' Of Ebola And Discharged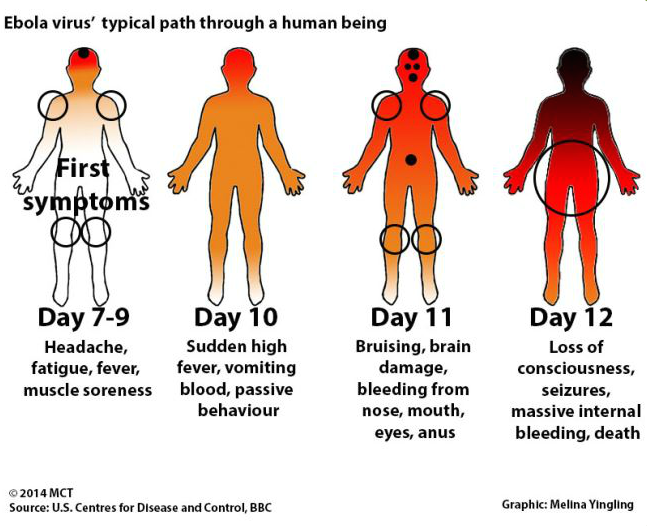 By Susan Duclos - All News PipeLine

A concerning situation was brought to our attention by an ANP reader, highlighting a RT article about an Ebola nurse that had been disagnosed, treated and discharged earlier in the year, but has now been readmitted to the hospital with an ""unusual late complication" linked to the Ebola virus, and she is now in "serious condition."

Pauline Cafferkey was transported from Glasgow to the Royal Free Hospital in Hampstead, London, in a military plane under strict supervision. She will be kept in isolation and closely monitored, but Public Health England say there is very little risk to the general public.

Doctors at the hospital have said she is in a "very serious condition". 

People who have been in close proximity with the nurse are also being monitored by Scottish health authorities.

While the RT article was short on details of exactly what the unusual late complication was, further research shows a report from BBC that expands on that explanation, stating " NHS Greater Glasgow and Clyde confirmed that the virus is still present in Pauline Cafferkey's body after being left over from the original infection.

According to CNN "In December, the Glasgow resident became the first person to be diagnosed with the virus on UK soil shortly after returning from Sierra Leone."

A more technical explanation on how "cured" Ebola patients can fall sick again months after recovery can be found at The Conversation, who details past occurrences and the dangers very well.

This brings Ebola back into the news, but the question is, did it ever really leave the news or did it just leave the majority of  U.S. news outlets after reports that the Obama administration "pressured" media outlets to not report on Ebola news?

WHAT ABOUT THE PATIENTS THAT WERE BROUGHT TO THE U.S.?

As many may remember American doctors that had contracted the Ebola virus in West Africa were brought back into the U.S. for treatment then were discharged. There were also reports from October 2014 saying the U.S. had "quietly made plans" to bring foreign Ebola patients to the U.S. for treatment. 

This brings about the very real concern and question about whether the virus is still present in the patients diagnosed, treated and discharged here in the states? What are the chances this type of "complication" can occur in those patients? Has it already happened to any and the government has kept it quiet? Would the media have reported it after agreeing to not report suspected cases?

According to USA Today on September 22, 2015, The U.S. "hasn't learned key lessons from Ebola experience,"  with experts questioning "whether the country is prepared to deal with the next outbreak of a serious infectious disease."

The concern is real as we are reminded of an article Stefan Stanford wrote at ANP just days ago, where he stated "A Google search for mystery illnesses during the past month alone brings up more than 220 entries and looking through them we find Hollywood 'stars', athletes, animals and ordinary day-to-day people like you and I, suffering from illnesses and diseases that doctors are unable to put a label on."

Make no mistake, we are not saying these mystery illnesses are in any way related to Ebola, we are reminding people they are out there and due to the MSM's downplaying and in some cases refusing to report on Ebola news in U.S., pointing out that there are questions that need to be asked.... as shown below.

I, for one, would like to know where the patients treated and discharged here in America are, if they are still being monitored, if they are exhibiting any symptoms of sickness? Do any of the people suffering from these "mystery" illnesses showing any Ebola-like symptoms?

Lat but not least..... would the MSM even tell us if the did?

READER REMINDER

A couple of days ago, before the news of this Ebola nurse becoming seriously ill again from complications of her previous Ebola infection, we were reminded via email of an InfoWars segment from October 2014, titled "MO. Dr.: Ebola Like Cases Being Covered Up, Patients Being Disappeared," shown below.









comments powered by

Disqus