"The Best Mix Of Hard-Hitting REAL News & Cutting-Edge Alternative News On The Web"
April 18, 2018
Pentagon Warns Of 'Blatantly False' MSM Report As Fake News Warnings Comes From Strange Source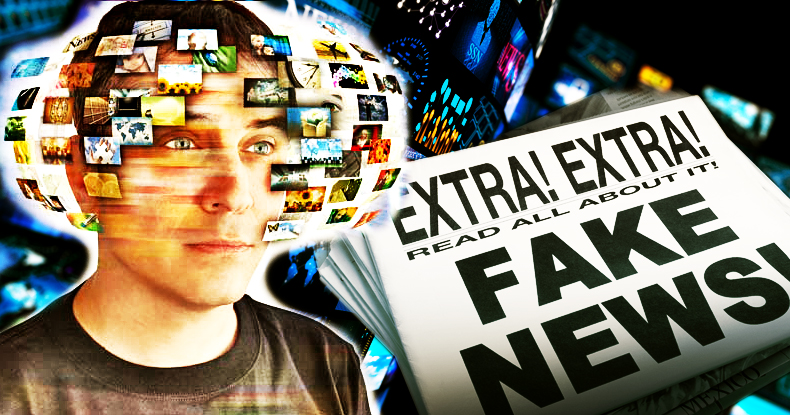 By Susan Duclos - All News PipeLine

2017 was a brutal year for the mainstream media, with multiple outlets busted publishing outright fake news, from ABC News tanking the stock market resulting in the suspension of Brian Ross, to CNN forcing the resignation of three employees, all for "reporting" inaccurate stories that had to be retracted.

Then there were other fake MSM stories which didn't result in suspensions or firings, such as the now-infamous CNN claim that Donald Trump Jr. recieved access to Wikileaks documents, which other news outlets gleefully jumped on, just to find out that the date their "sources" gave them was 10 days off and the documents had already been public when Don Jr. received an email about it from some small donor.

Another CNN example was when they reported an "exclusive" claiming former FBI Director James Comey was going to "refute" President Trump's claim that he was told personally by Comey, three times, he was not under investigation. They had to re-title that piece and change the entire story after Comey's prepared statement was released where he confirmed President Trump's assertions.

Washington Post, NYT,  and a variety of other outlets have continuosly been busted over the past year pushing completely false information to the public.

Note - Each aforementioned example is sourced and linked for those that still do not understand how badly the press have behaved over the last year.

NEW FAKE NEWS WARNING COMES FROM A STRANGE SOURCE

Each of the examples above included unnamed or anonymous "sources," which turned out to be completely wrong, and the latest warning about "inaccurate" aka fake news, comes directly after news outlet McClatchy claimed, using two unnamed sources of course, that Robert Mueller had "evidence Michael Cohen, President Donald Trump's personal lawyer, visited Prague in the summer of 2016."

That was a claim originally made in the unverified, Kremlin sourced, Steele dossier that was funded by the Hillary Clinton Campaign and the DNC. The claim that Cohen visited Prague in the summer of 2016, was determined to have referenced another Michael Cohen, as multiple different outlets confirmed back in January 2017.

BuzzFeed obtained  the passport images of the Michael Cohen associated with president Trump, MediaIte at the time highlighted that even CNN's anti-Trump Jake Tapper had confirmed "People tried to run that down and concluded it was a different Michael Cohen. It was a Michael Cohen with a passport from another country, same birth year, different birth date."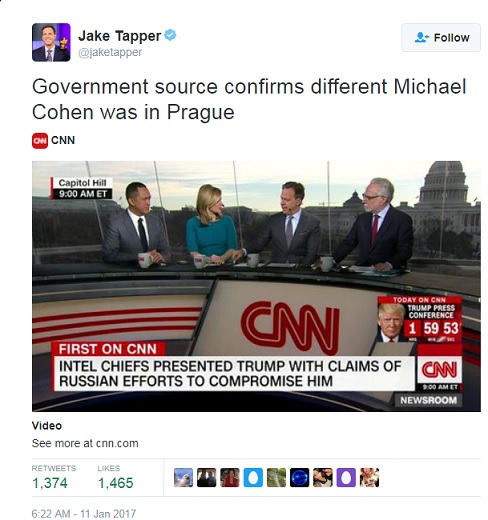 Elaina Plott, writer for The Atlantic and Washtonian, reported "Two USC baseball sources confirm for me that @MichaelCohen212 + son visited campus on August 29th, time report places him in Prague." That was confirmed by The Atlantic's WH correspondent, Rosie Gray. 

One intrepid Twitter user even hunted through Cohen's Twitter feed because he geotags many of his tweets, and found that the Cohen associated with Trump was indeed in New York, and Los Angeles, throughout August 2016, according to those geotags. (Geotag: an electronic tag that assigns a geographical location to a photograph or video, a posting on a social media website)

Now more than a year after those claims were made, then debunked, even by liberal media Trump-hating outlets, Mcclatchy claims they have "two sources familiar with the matter," unnamed, that Mueller's team has "has evidence that Donald Trump's personal lawyer and confidant, Michael Cohen, secretly made a late-summer trip to Prague during the 2016 presidential campaign."

Three days later, no outlet could confirm the report, but many repeated McClatchy's report. The Daily Caller obtained a statement from a spokesperson for the special counsel's office, who did not address the specific report, but did offer a warning:


"What I have been telling all reporters is that many stories about our investigation have been inaccurate. Be very cautious about any source that claims to have knowledge about our investigation and dig deep into what they claim before reporting on it," the spokesperson said. "If another outlet reports something, don't run with it unless you have your own sourcing to back it up."

The Washington Times has confirmed the statement from the spokesperson.

The Daily Caller goes on to provide three other examples of the same McClatchy writers reporting "inaccurate" information that could not be confirmed, which also used the same terminology of  "two sources familiar" with the individual topic matters.

According to Raw Story, a far left liberal website who quotes the Daily Caller statement from the Mueller spokesperson, that man is Peter Carr, which makes the fake news warning strange on a number of levels.

First, the timing of the warning so soon after the McClatchy story, from Mueller's team which is known for being closed-mouthed with the press, and has not to date refuted or confirmed any rumor, chatter, or reports regarding the Russia probe.

When ABC News' Brian Ross incorrectly reported that Michael Flynn was prepared to testify that Trump "directed him to make contact with the Russians," which is the story that tanked the stock market, caused ABC to issue multiple clarifications, then corrections, and to suspend Brian Ross, Mueller's team did not offer a statement one way or another, simply allowed the chips to fall.

Second, the spokesperson named by Raw Story, is quite literally known as "Mr. No Comment," as detailed in a piece on Carr by the Salt Lake Tribune last Sunday. SLT describes Carr as "The most quoted person saying absolutely nothing. And that's by design."


"In recent weeks," the story explained, "Carr has declined to comment on everything from the scope and progress of Mueller's investigation to the reason why his office — relocated this summer from a publicly disclosed site near FBI headquarters — is now secret."

For team Mueller to publicly make a statement, some type of truly egregious reporting had to have caught their attention, and the only high profile report in the last few days about the Russia probe has been the McClatchy report, which even Benjamin Wittes from Lawfare urges people to be "cautious" of unless it can be independently confirmed.


NYT ACCUSED BY THE PENTAGON OF 'BLATANTLY FALSE' REPORT

Since we are highlighting "fake news," we also note that while the Pentagon did not use the term "fake news," according to the AFP and other outlets, they are calling a New York Times claim, using unnamed sources yet again, "blatantly false."

Confirmation of the AFP report via Washington Examiner:


The Pentagon Wednesday strongly denied a New York Times story that said Defense Secretary Jim Mattis urged President Trump to get congressional approval before launching cruise missiles toward Syria last week, but was overruled by the president.

The story is "blatantly false," said Dana White, the Pentagon's chief spokesperson, in an email to the Washington Examiner.

BOTTOM LINE

Independent Media has consistently warned readers to always take news using anonymous or unnamed sources with a grain of salt, to always question the official narrative, and to research every item of news independently. It is why we link heavily to a variety of sources, both liberal and conservative, so readers can have a starting point for their research, and come to their own conclusions.

With the examples above, and the horrendously bad reporting, much of which ended up being literal "fake news," from the MSM in 2017, is it any wonder that 77 percent of Americans believe the mainstream media reports "fake news," as found by the most recent Monmouth University poll? 31 percent believe the media does so regularly, and 46 percent say it occurs occasionally.

Below Hannity discusses the most recent attacks against him as he points out the hypocrisy and failures of the MSM.



NOTE TO READERS

: 

With digital media revenue spiraling downward, especially hitting those in  Independent Media, where attacksfrom every direction continue to come unabated, it has become apparent that traditional advertising simply isn't going to fully cover the costs and expenses for many smaller independent websites. 

Any extra readers may be able to spare for donations is greatly appreciated.






comments powered by

Disqus