Please Visit Whatfinger News - Conservative Frontpage founded by veterans.
"The Best Mix Of Hard-Hitting REAL News & Cutting-Edge Alternative News On The Web"
New Form Of 'Stealth Censorship' Found As Google Leak Shows Plot To Destroy Conservative Website Using 'Hate Speech' In Comment Section
- Silicon Valley Continues Their War On Truth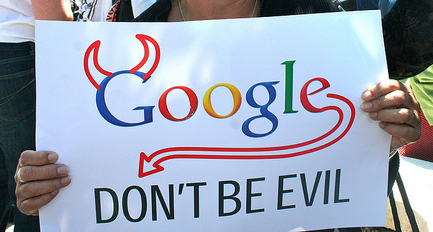 By Susan Duclos - All News PipeLine

Breitbart has an "in" at Google, someone with access to information that they have been leaking to Breitbart News, which in turn has roiled the search engine giant to the point where internal meetings have employees screaming "F*ck you leakers."

According to former Google employee who recently resigned from Google in protest over the Google's plans for a censored search engine for China, dubbed Dragonfly, preventing leaks has become Google's top priority  following a leaked video sent to Breitbart of Google's first weekly TGIF (Thank God It's Friday) meeting after the 2016 presidential election.

In that hour-long video of the meeting Google's most high profile figures such as Co-founders Larry Page and Sergey Brin, VPs Kent Walker and Eileen Naughton, CFO Ruth Porat, and CEO Sundar Pichai, all speak to employees, where the dismay over the election results is clear, as is their opinion of Trump supporters.

Via Breitbart:


These individuals, who preside over a company with unrivaled influence over the flow of information, can be seen disparaging the motivations of Trump voters and plotting ways to use their vast resources to thwart the Trump agenda.

Co-founder Sergey Brin can be heard comparing Trump supporters to fascists and extremists. Brin argues that like other extremists, Trump voters were motivated by "boredom," which he says in the past led to fascism and communism.

The Google co-founder then asks his company to consider what it can do to ensure a "better quality of governance and decision-making."

VP for Global Affairs Kent Walker argues that supporters of populist causes like the Trump campaign are motivated by "fear, xenophobia, hatred, and a desire for answers that may or may not be there."

Later, Walker says that Google should fight to ensure the populist movement – not just in the U.S. but around the world – is merely a "blip" and a "hiccup" in a historical arc that "bends toward progress."

CEO Sundar Pichai states that the company will develop machine learning and A.I. to combat what an employee described as "misinformation" shared by "low-information voters."



While that leaked video of Google's confidential TGIF meeting wasn't the first leak to Breitbart from someone within Google, it was by far the one that stunned the media, as journalists reacted on social media with shock at what a huge scoop it was.

Since then Breitbart has received other internal Google communications, including another huge scoop when they revealed Google's "The Good Censor," an 85-page briefing which argued that due to a variety of factors, including the election of President Trump, the "American tradition" of free speech is an "Utopian narrative."

Read that entire piece, along with the 85-page briefing over at Breitbart in a piece titled "'THE GOOD CENSOR': Leaked Google Briefing Admits Abandonment of Free Speech for 'Safety And Civility'."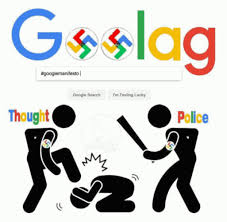 GOOGLE EMPLOYEES PLOT TO DESTROY BREITBART USING USERS COMMENTS, NOT CONTENT

On Monday, December 10, 2018, Breitbart just dropped another bombshell leak from Google, which included internal communications in early 2017 where employees from a variety of departments actively plotted to demonetize Breitbart for "hate speech." They colluded to "hold their nose and look through Breitbart.com for hate-speech," with many members in the group discussion volunteering to help.

Further down in the discussion, one employee, Pierre Fite-georgel asks "One question, should we focus on the article themselves or are the comments good material too?" In response Jeff Lakusta, head of technical support for Google's ad buying software, said "If someone knows the AdSense policy (or someone to ask on the team), we could see if comments are material enough to warrant action. Since I don't know anyone to ask, I'd suggest we just scrape the comments too and create a place in the trix to distinguish between content and comments."

Later Jim Gray, who is listed as Director of Trust and Safety at Google, was added to the group, and responded to the question as to whether they can use comments as a way to demonetize Breitbart. Gray stated "To answer a question on the thread -- user comments are on the page as content and any page we monetize they would be included in our policy reviews.

Later in the discussion thread someone named David Motsonashvili joined in and informed the group that almost 90 percent of the information highlighted by the group on the spreadsheet they created was from the comment section, not the content of the articles. He prefaced that by saying "So, I've been kinda out on this conversation for a little bit. And I looked at the spreadsheet just now. I've noticed that almost all the stuff there is based on comments,while, as a tactic for getting google to dump Breitbart this may be somewhat successful, I think its relevant to note that it may have a seriously detrimental side effect,which can be seen on other communities like r/the_donald."

The discussion name is "Breitbart and Google Ads," and above the title, in a blue box it says "Resist."

In response to this latest Google leak to Breitbart, a Google spokeswoman sent Breitbart the following statement:


We have extensive and very well publicized policies for publishers who choose to monetize with Google ads. We enforce these policies vigorously, consistently and without any political bias. We regularly and routinely review sites in our ad network to ensure compliance with our policies. These emails from early 2017 simply show the AdSense team explaining that such a periodic review was underway.

Breitbart uploaded the PDF to Dropbox and to Scribd.

Breitbart is not the only Independent Media site Google is actively harassing either as the small sample of  "violation" reports sent to ANP shows, they continuously claim some type of violation of their policies are found on random pages, stating those pages will have ads limited or disabled until the violation has been fixed. By the next "violation report," the pages listed the time before magically disappear off their list (because they didn't violate any policies!), and another page will be listed as in violation.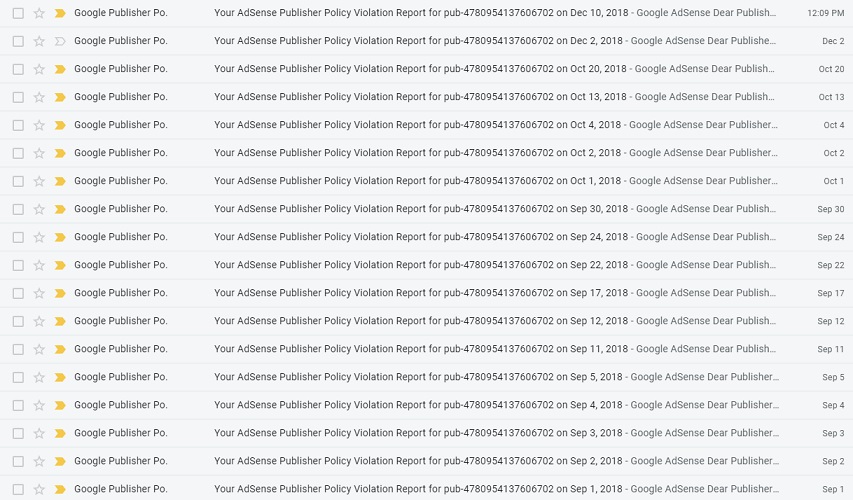 Note- The notice from this morning, shown at the top of the screenshot above, was a "violation" they supposedly found for "shocking content" on a piece from 2007 over on my old political blog.

[Update Dec. 11-] Livestream Below: Google CEO, Sundar Pichai, testifies before the House Judiciary Committee.


SCRIBD'S STEALTH CENSORSHIP

Readers can see the entire discussion embedded by Breitbart on their article, but due to the newly discovered form of stealth censorship by yet another company, Scribd, it appears they are "hiding" Breitbart's embedded document on the Scribd site by claiming the document had been removed, yet it is still embedded from the Scribd site over at Breitbart, meaning it wasn't removed, it was simply being hidden by Scribd so it cannot be embedded elsewhere, nor found on the Scribd website by their own users.

Easier to show readers than to explain, so the screen shots below highlight where on an embedded document readers can click to bring them to the document on Scribd in order to either embed it, or just for easier reading. First the option at the bottom of the embedded document, "view on Scribd.com."




The other way to access the document is to click the link at the top of the embedded document, which in the case of the Breitbart upload and embed, states "Google's Anti-Breitbart… by on Scribd." When clicked it brings you to the URL - https://www.scribd.com/document/395358233/Google-s-Anti-Breitbart-Plot#from_embed.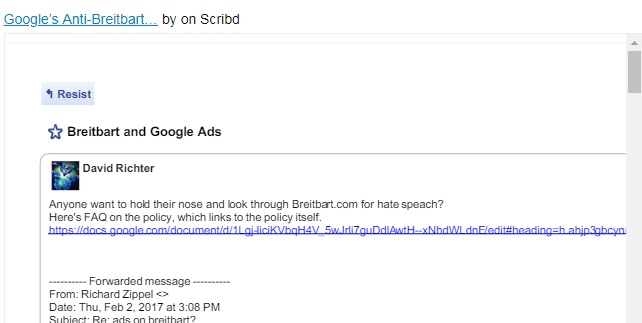 When you click the links, this is what shows:




The fact that the document is embedded in the Breitbart article proves the document has not been "removed," it is on the Scribd website or it could not be embedded from their website.

The reason I am calling it "stealth censorship," is that the person or group that uploaded the document to Scribd, in this case Breitbart, can still see the document, as if it is easily accessible to anyone..... no one else can see it on the Scribd site, or search for it.

How do I know this? Because the last document I personally uploaded to Scribd and embedded in an article, "Naughty or Nice list 2018," is there when I look at it, but a reader emailed telling us that Scribd removed it. I checked, and it is listed under my uploads, and it opens just fine for me, when I am signed in.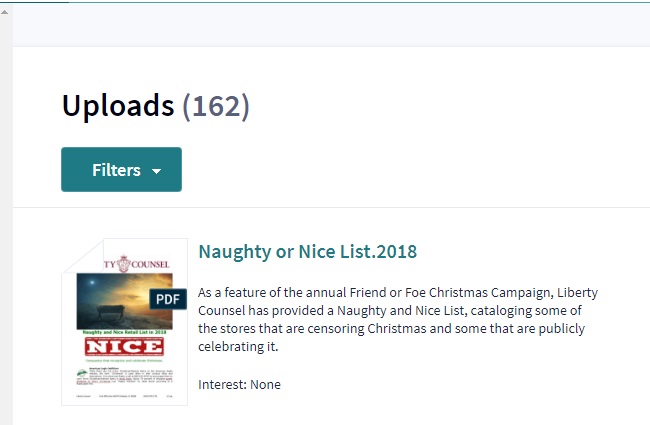 When I click it, I see the entire document, note the URL: https://www.scribd.com/document/393457780/Naughty-or-Nice-List-2018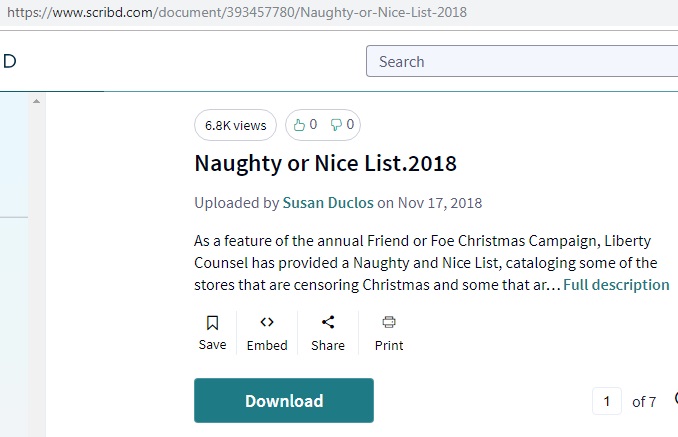 When I open that same URL in a new private incognito window where Scribd doesn't know it is me, the uploader, looking for the document, it tells me "This document has been removed from Scribd."




So not only is Scribd limiting the ability of their own users to find documents that are on their website, and the ability of others to embed or share those documents, but they are hiding the fact from the uploaders themselves that certain documents are being censored, by making those uploaders think their documents are still there and can be seen and used by anyone looking for it.

We at ANP wouldn't have known this if a reader hadn't emailed, then I checked and saw the document, but when Stefan clicked over to it, he said it was telling him to that it had been removed.

Talk about sneaky and underhanded.

BOTTOM LINE

From the "resist" group at Google actively targeting Breitbart, and other conservative websites as the long list of "policy violation" notices sent to ANP shows, where Google decides to disable or limit advertisements on random pages, just to have those same pages removed from the violation list subsequently, because they never violated any policies, to the "stealth censorship" now being conducted by Scribd, it is clear that Silicon Valley continues to find more ways to try to destroy Independent Media in their war against truth.





ANP NEEDS YOUR HELP. With digital media revenue spiraling downward, especially hitting those in Independent Media, it has become apparent that traditional advertising simply isn't going to fully cover the costs and expenses for many smaller independent websites.

Any extra readers may be able to spare for donations is greatly appreciated.

One time donations or monthly, via Paypal or Credit Card:



Or  https://www.paypal.me/AllNewsPipeLine
Donate monthly from $1 up by becoming an ANP Patron.





comments powered by

Disqus