"The Best Mix Of Hard-Hitting REAL News & Cutting-Edge Alternative News On The Web"
August 19, 2017
Livestream - Heads Up Boston, Antifa Is On Its Way To Crash Free Speech Rally On Saturday! Charlottesville 2.0 Coming?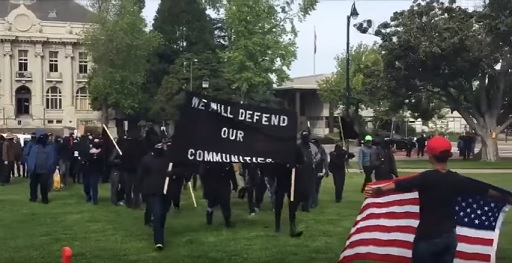 By Susan Duclos- All News PipeLine

(Note- Livestreams at the bottom of the article, scheduled to begin at 11:00am ET)

Multiple Antifa groups are heading to Boston to counter protest a scheduled and legally permitted Free Speech Rally, with the Boston Mayor Marty Walsh publicly urging people to stay away.

Deja vu anyone?

The media and the Mayor himself is attempting to stoke racial tensions by with outright lies about who the rally organizers are, bringing about the very same type of opposition to the planned free speech rally that we all say happen in Charlottesville, Virginia last weekend, which resulted in three deaths and dozens injured, by lying about who the organizers of the free speech rally are.

Via Boston local:


The mayor said he has spoken with the Southern Poverty Law Center for guidance on how to handle events involving white supremacists.

"They say that interacting with these groups just gives them a platform to spread their message of hate," said Walsh. "They recommend that people should not confront these rallies. So we're urging everyone to stay away from the Common."

"There have been questions about why we granted a permit for the rally tomorrow," said Walsh. "The courts have made it abundantly clear. They have the right to gather, no matter how repugnant their views are. But they don't have the right to create unsafe conditions. They have the right to free speech. In return, they have to respect our city."

"At the same time, we can't look away. The children of our city are watching, and I want everyone who goes to the Common tomorrow to understand that. The young people of our city are watching TV, are following this. We have to make it clear what we stand for in the City of Boston."


The city of Boston plans to erect barriers between the rally participants who will be there with the legal permit obtained from the city, and the counter-protesters who didn't bother to obtain a permit.

There is a large list of prohibited items listed on the Boston Police Department website, they claim will not be allowed into Boston Common, which includes: Firearms, knives, weapons, sharp objects, shields or fireworks, Pop up tents or canopies, Cans, glass containers, pre-mixed beverages or alcoholic beverages, Wagons or pull carts, Grills, propane tanks or open flames, Flag poles, bats, clubs, sticks (including signs attached to sticks) , Any athletic equipment or other item which could be used as a weapon.

FREE SPEECH ORGANIZERS BEING LABELED AS WHITE 'SUPREMACY' GROUP

The free speech rally was actually organized by the Boston Free Speech Coalition which began online in response to the "outrage over violent protests at political rallies and riots on a California campus," according to Boston Globe.


John Medlar, the 23-year-old spokesman, said he and other young men began communicating on the Internet to express alarm over what they viewed as support for protesters who set fires, damaged property, and started fights following the University of California Berkeley's decision to invite controversial conservative figures to speak.

"We were alarmed that people were OK with fringe anarchists burning down a campus and driving [out] speakers,'' Medlar said.

The group consists of volunteers, no professional activists, and are "mostly young white men in their 20s from places like Newton, Cambridge, and Charlestown who like to think of themselves as 'free speech absolutionists'."


Medlar acknowledged that at least one white nationalist group has been trying to use the rally to insert itself. But he distanced the coalition from that group or any group that espouses violence.

"We denounce the politics of supremacy and violence. We denounce the actions, activities, and tactics of the so-called Antifa (militant leftists) movement. We denounce the normalization of political violence,'' the group's Facebook posting said.

On their Facebook event page they set out the rules for those attending in their name, which include, "Do NOT antagonize counter protesters", Do NOT antagonize the police", No violence. No fighting". "Dress normal (The better we look, the worse Antifa looks)", "Livestream, film and photograph everything," just to name a few, full graphic of their rules below: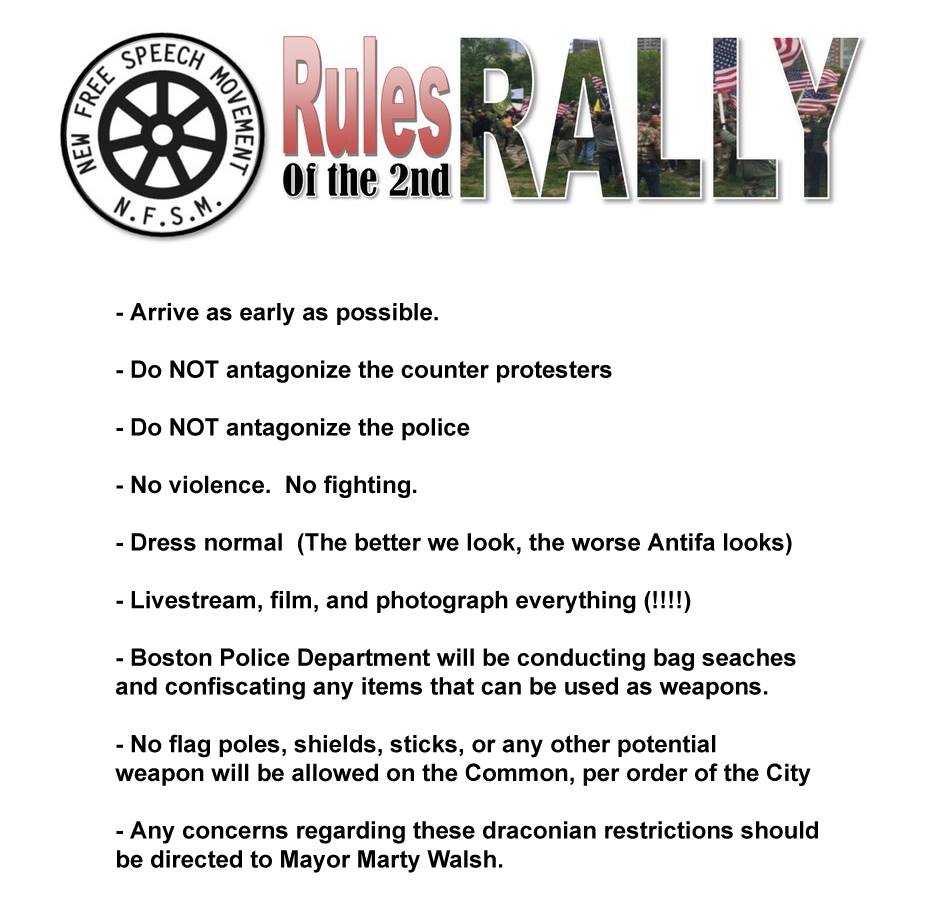 The message associated with that graphic on their Facebook page says:"Despite the fact that our rally was peaceful in May, we are going to be facing a police state and surrounded by a mob. Be smart. Be Safe."

These are the men and women that the SPLC are advising the Mayor about? This is a group, that stands for free speech that the media is labeling as "white supremacists?"  

ANTIFA GROUPS READYING FOR WAR, ISSUING 'DEMANDS'

The terrorists within the media that want to see the U.S. overthrown by anarchy now want people to think that "free speech" is synonymous with  "supremacy"..... and it has worked as we see multiple groups already staging their counter-protests, in the name of "Fight Supremacy," with the "Stand For Solidarity" group actually drawng up a "list of demands."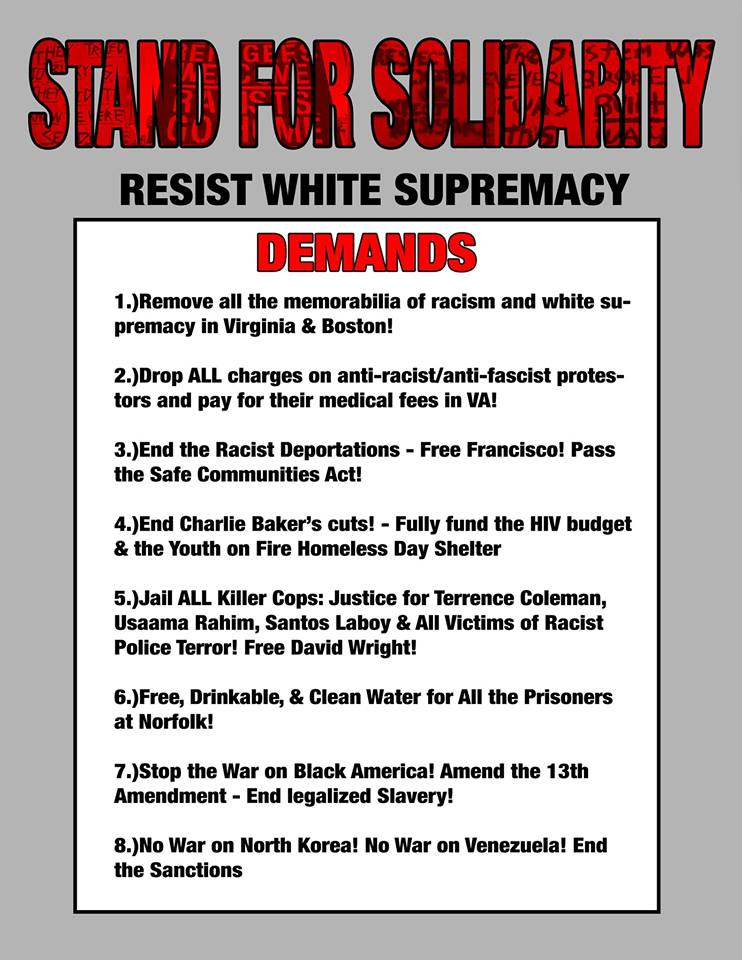 In order to stoke their members to taking violent action, part of the message attached to the list of demands, after detailing their version of what happened in Charlottesville, states the following:


It is a dangerous escalation that the fascists would feel the confidence to march with torches and weapons, and without hoods, through a city where they know the vast majority of residents oppose them. Electrified by the Trump campaign and presidency, they are now starting to form more disciplined and armed units. They must be fought every step of the way, through mass mobilization and direct action, and sent back to the shadows from which they came.

The fascist conference and rally was billed as one to "Unite the Right." While they have considerable ideological and tactical differences, they are coming together in the streets to oppose those who they see as their common enemy. Those on the Left, progressives, anti-racists, and anti-fascists must do the same, forging steadfast unity in the streets — as the heroes and martyrs of Charlottesville did today.

We call on all defenders of the rights of the working class and the oppressed - Black, Latinx, LGBTQiA, Muslim, Indigenous, and more - to confront racism and fascism. We cannot rely on the politicians or the state, they have not only refused to wipe out white supremacy but they actively collude in fostering it through their bigoted policies.

We see the vital need for unity of all who can be united to stop this fascist insurgency and put forward a real solution to the cancer that is white supremacy in the U.S. We will defend our communities of the oppressed and exploited from all who seek to do harm to it - whether they be fascists or state politicians from Charlie Baker to Donald Trump.

Does that sound like they are heading to Boston to "peacefully" counter-protest?

According to a Craigslist ad, counter-protesting, without a permit, is being hailed as a  "Rally to Unite Against Hate and Oppression", and they have been "endorsed" by a number of other groups, aside from the "Stand for Solidarity" group quoted above. Those groups include: 

Coalition to Organize and Mobilize
Boston Against Trump
Answer Coalition Boston
Boston Democratic Socialists of America
We Unite Organization, Inc.
PSL Boston - Party for Socialism and Liberation
Youth Action March ACT UP Boston
Boston May Day Coalition
Massachusetts Interfaith Worker Justice
Our Revolution Cambridge PHENOM (Public Higher Education Network of Massachusetts) Boston Socialist Party

After looking at the Facebook pages for the groups that have them, we note that each of these groups are "informing" their members that this Free Speech rally is actually a white supremacy rally and has been "called by a coalition of white nationalists." The Boston Democratic Socialists of America are telling their people the counter protest is  "to show the altright that Boston stands against their hate and for a future free from bigotry and oppression!" The PSL Boston - Party for Socialism and Liberation is highlighting those same list of "demands" shown in the graphic above.

BOTTOM LINE

All eyes should be on Boston today and we encourage anyone attending to document everything they see and hear so the truth is out there to bypass the media spin.Videos, pictures, recordings and livestreams. 

Readers are encouraged to share every picture, video and link throughout the day that details what is happening in Boston.

Make no mistake, some supremacy groups may attempt to hi-jack the free speech rally for their own purposes, but the originating group has denounced their rhetoric, and have spoken against any violence, so do not allow the media to pretend that the group that scheduled this rally is anything other than Free Speech proponents.

Remember these Antifa groups are the people that claim "violence" against the far right is "not a crime."

Exit question: When did free speech become an "alt-right" or "supremacist" ideal rather than a constitutionally guaranteed protection?

Heads up Boston, trouble is coming your way and their name is ANTIFA.











Help Keep Independent Media Alive, Become A Patron for All News PipeLine at https://www.patreon.com/AllNewsPipeLine






comments powered by

Disqus