"The Best Mix Of Hard-Hitting REAL News & Cutting-Edge Alternative News On The Web"
April 5, 2017
Heads Up Folks, Something Wrong With Official Story On F-16 Military Jet Crash In Maryland
By Susan Duclos - All News PipeLine

A F-16 military Jet "crashed" into a wooded area in Clinton, Maryland, near Andrews Airforce Base at 9:15 am on Wednesday, April 5, 2017. According to official reports, it was on a "routine training mission," when the pilot was forced to eject and parachute to safety. The pilot is reportedly alive and has been transported to the hospital. Also according to official reports, the local fire department ásaid the plane was not carrying any ammunition at all. Homes were evacuated and locals were warned to stay away from the wreckage.

That is the official version of events, but according to an eye witness Patrick Dotson, who was at the scene and ran to offer assistance to the pilot. Dawson reports that he heard "rounds" of ammunition exploding and that the pilot admitted there was live ammunition on board and expressed concern for the safety of civilians after the crash.

According to an interview, the witness also said the plane was on fire before the pilot ejected to safety, and he ran over to help the pilot, and more importantly he said "After the explosion, live rounds started coming past me, so I ducked down in front of this house, I waited for the bullets to stop flying. They eventually stopped and I ran towards the pilot, probably a mile and a half into the woods, into the field, and I found the pilot, he was on his two feet and aware of everything. He was worried about the neighborhood." The reported asked what the pilot said to him and he responded "He said is the neighborhood ok, I am carrying live rounds."



While it is quite possible the claim that the jet was not carrying any ammunition, when the witness account clearly contradicts that, could simply be part of the chaos of reporting a breaking story, it is also strange that the link to that witness account on Fox News on the article detailing this "crash" (http://www.foxnews.com/video/2017/04/05/witness-recounts-f-16-crash-near-joint-base-andrews.html) , comes back to an error page.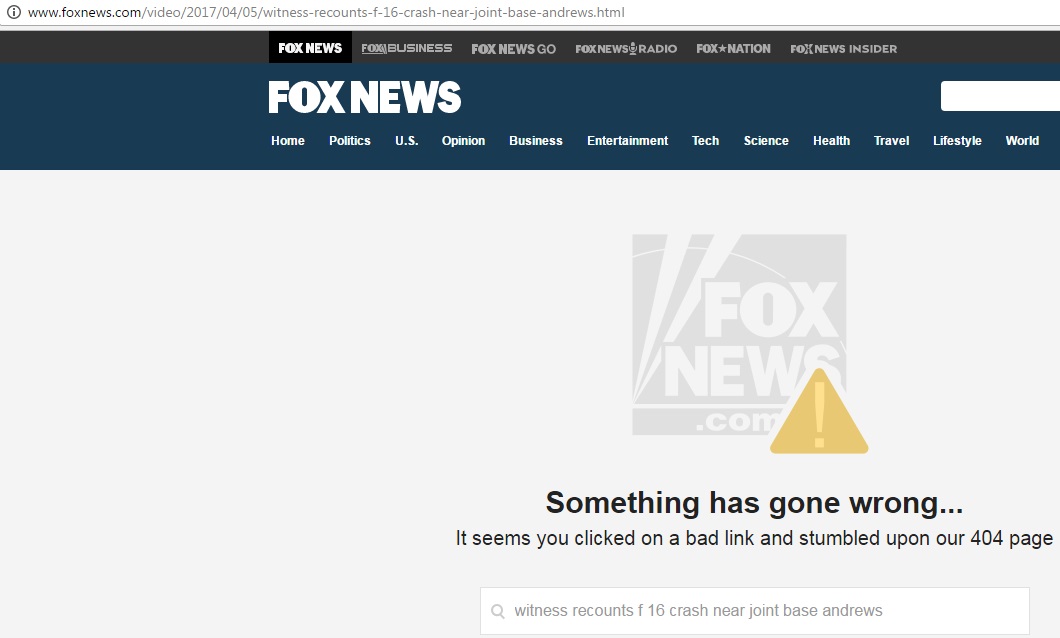 While the local fire department said there was no ammunition on board, it is noteworthy that Andrews has offered no statement on that topic.

With that said, when a Twitter user, in response to the video of the eye witness account, highlighted "routine training exercise.....WITH LIVE ROUNDS!!!!!!!!," Fox 5áJournalist and Anchor,áMelanie Alnwick, responded by saying "noon UPDATE said no live rounds..."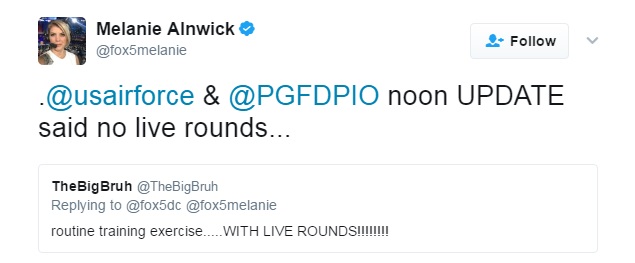 Another item that has some chattering online, is the fact that a helicopter was filmed already at the scene while the pilot was still in the sky with his parachute, as the screen shot below shows from footage captured and shared on Twitter while it was happening.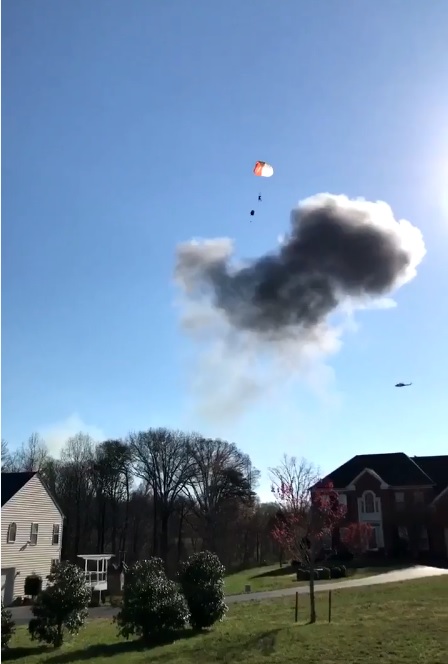 Via Fox News:


Wednesday's incident marked the sixth U.S. military non-combat aviation crashes since January 2017. The most recent was on Mar. 14 when three service members assigned to a special operations unit were killed after a single-engine reconnaissance and surveillance plane crashed in eastern New Mexico during a training flight, the Air Force said.


Joint Base Andrews released a statement on Twitter about the crash.

"A D.C. Air National Guard F-16C fighter jet, assigned to the 113th Wing, at Joint Base Andrews, Md., crashed about 9:15 a.m. today, approximately six miles Southwest from JBA. The aircraft was flying along with other DCANG aircraft in a routine training mission in the greater Washington area. The aircraft carried only one pilot. The pilot ejected and sustained non-life threatening injuries."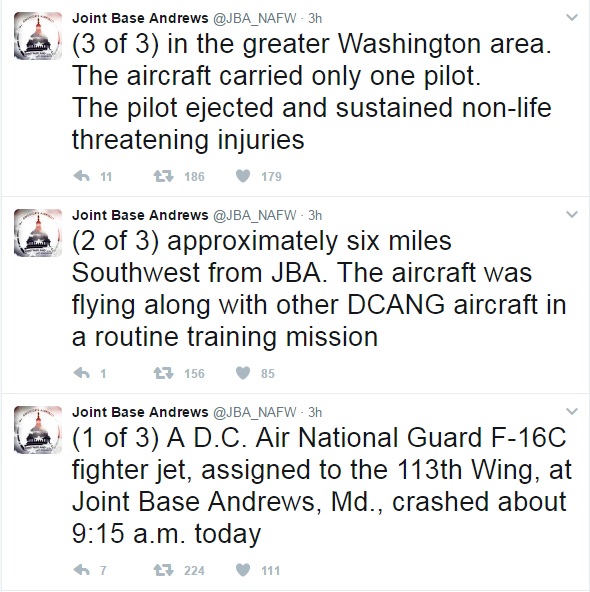 While this story is still developing, the initial reports do open up some questions, specifically as to why so much focus has gone into claiming this was a "routine training mission," without ammunition on board, while witness accounts clearly contradict that story. Also the fact reported by Fox News that this is the sixth non-combat military crash since January 2017.

Previous reports from September 2016, highlight thatámilitary non combat aviation crashes have increased significantly, with lawmakers citing the condition of these military jets, the lack of proper maintenance, lack of training hours being provided, as critics point out that the military was "decimated" under the Obama presidency.


But such accidents are becoming more frequent ľ amid concerns that insufficient training and an aging fleet hobbled by a shortage of spare parts are contributing factors. A Fox News investigation reveals that, overall, the entire U.S. military saw a 48 percent increase in non-combat aviation crashes in 2014 and 2015 compared with the two prior years, based on press reports.

"They are going up partly because they are not getting the training they should get. They're going up because maintenance is harder and harder to accomplish. They are going up because the airplanes are getting older and older," said House Armed Services Committee Chairman Mac Thornberry, R-Texas, in an interview with Fox News.

President Trump has proposed a $54 billion increase to defense spending, calling it a "historic increase in defense spending to rebuild the depleted military."

This article will be updated if more information becomes available.




Help Keep Independent Media Alive, Become A Patron for All News PipeLine At https://www.patreon.com/AllNewsPipeLine





comments powered by

Disqus