"The Best Mix Of Hard-Hitting REAL News & Cutting-Edge Alternative News On The Web"
January 11, 2017
Hoax Report Destroys MSM, U.S. Intelligence Community As Media Outlets Turn Against Each Other Over #GoldenShowerGate
- Remember Senate Minority Leader Chuck Schumer said the Intelligence community has "six ways to Sunday' to get back at Trump.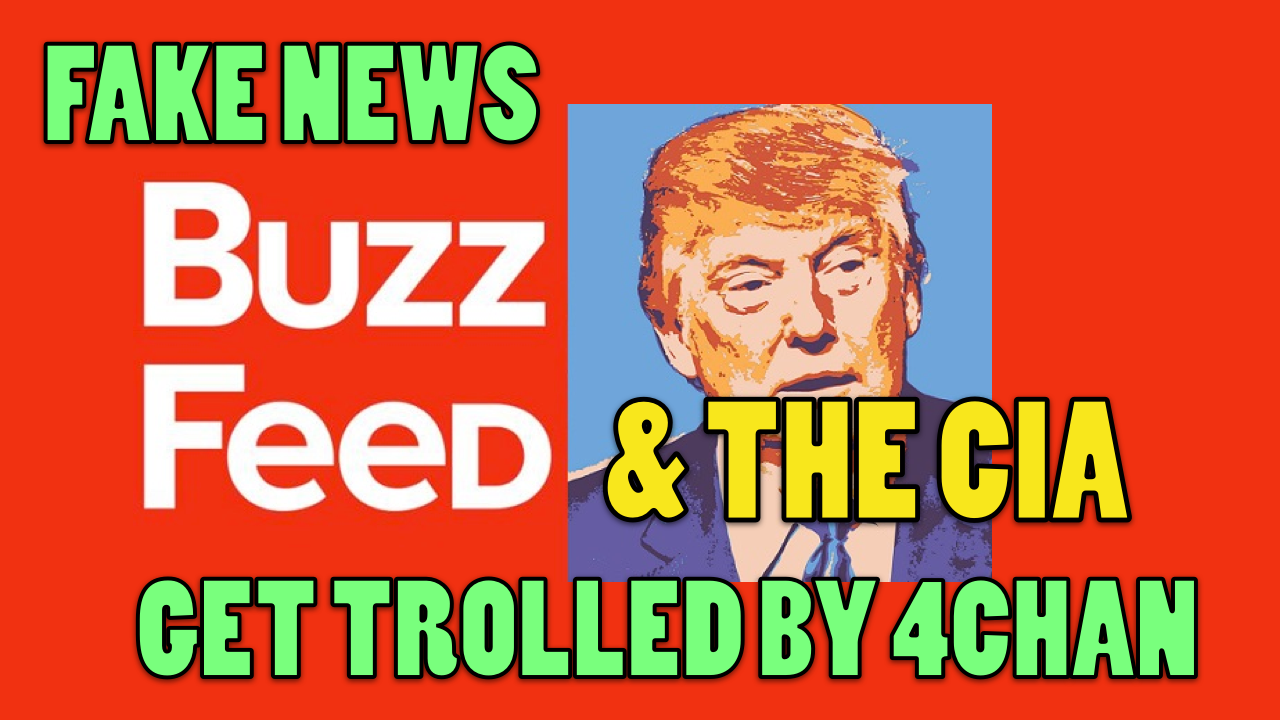 By Susan Duclos - All News PipeLine

We knew the mainstream media (MSM) was on its deathbed when they created the "fake news" meme, then had it backfire on them when the label stuck to them with each outright fake and inaccurate story they published, before they begged other website owners to stop using it altogether, but last night, the virtual last nail in the coffin was hammered in when BuzzFeed decided to publish a report that every other news outlet had refused to publish because it  couldn't be verified (even though they had it for months), which pushed all other MSM to address an issue they avoided due to no evidence.

Long story short because the "report" isn't the real story here,  is how anti-Trump news outlets have not only fallen for a hoax allegedly created by 4Chan, but how this one hoax has destroyed the MSM, conned the U.S. intelligence community, and turned MSM outlets against each other, all in one fell swoop.

BuzzFeed published an "unverified"  report in full, stating that "there is serious reason to doubt" the report, claiming that Russia had gained compromising information about President-Elect Donald Trump, which included that he paid prostitutes to urinate on a bed in Russia that Michelle and Barack Obama had slept in. The hashtag #GoldenShowerGate was born.

BuzzFeed's editor-in-chief, Ben Smith, after suffering massive criticism from not only Trump supporters but even left-leaning personalities over publishing a report that every other news outlet had passed up over the past couple of months, sent a memo to his staff in an attempt to justify publishing the "fake news," report.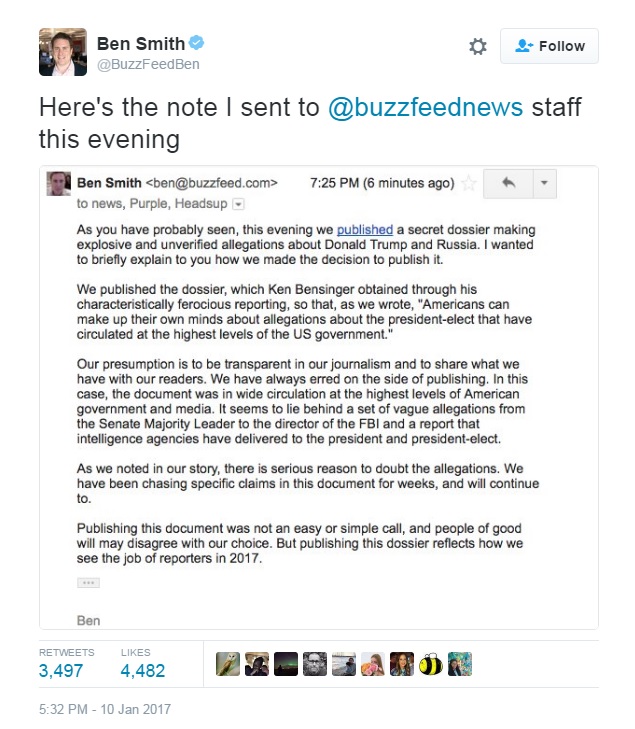 Via BuzzFeed's original report:


The document was prepared for political opponents of Trump by a person who is understood to be a former British intelligence agent. It is not just unconfirmed: It includes some clear errors. The report misspells the name of one company, "Alpha Group," throughout. It is Alfa Group. The report says the settlement of Barvikha, outside Moscow, is "reserved for the residences of the top leadership and their close associates." It is not reserved for anyone, and it is also populated by the very wealthy.


4CHAN CLAIMS THEY CREATED THE ENTIRE HOAX

How did the CIA manage to refer to a report that has so many large holes in it a truck can be driven through it? Zero Hedge offers the screen shots from the website 4chan, that claims it "was a hoax and fabricated by a member of the chatboard as 'fanfiction', then sent to Rick Wilson, who proceeded to send it to the CIA, which then put it in their official classified intelligence report on the election."


/pol/acks mailed fanfiction to anti-trump pundit Rick Wilson about trump making people piss on a bed obama slept in
he thought it was real and gave it to the CIA
the central intelligence agency of the united states of america put this in their official classified intelligence report on russian involvement in the election
donald trump and obama have both read this pol/acks fanfiction
the cia has concluded that the russian plans to blackmail trump with this story we made up just let that sink in what we have become.

Flashback to a  tweet from Rick Wilson, in March 2016, when this story was being pushed at the media outlets in an attempt to get someone to publish it.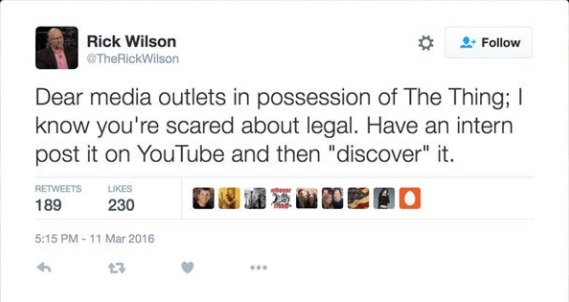 That  tweet was made by the same pro-Rubio, anti-Trump, Rick Wilson that the 4chan members are claiming they created this "fanfiction," for and fed it to him, and that tweet was deleted right after Rubio dropped out of the primaries. Make of that what you will, but it does offer a little credence to the 4chan claims.

THE FALLOUT

The entire "report", which Russia is now mocking and calling a "complete fabrication," will be embedded at the bottom of the article, since it is already out there, so readers can see the errors and the obvious signs that it is fake, from the mistaken header "CONFIDENTIAL/SENSITIVE SOURCE" (which isn't the header British intelligence uses, as shown at Gateway Pundit with actual examples of their format), to the misspellings and all the other things that caused other media outlets to refuse to report on it.

The New York Times says BuzzFeed has become the topic of a "swirling debate over journalistic ethics," over its decision to publish the report that CNN alluded to, carrying "explosive, but unverified" allegations, as they admit the report had been circulating for months.

NYT states "Of particular interest was the use of unsubstantiated information from anonymous sources, a practice that fueled some of the so-called fake news - false rumors passed off as legitimate journalism - that proliferated during the presidential election."

Not only are they turning on each other, but the NYT also manages to reveal something about how the MSM operates, to which is very telling when they state "The reports by CNN and Buzzfeed sent other news organizations, including The New York Times and The Washington Post, scrambling to publish their own articles, some of which included generalized descriptions of the unverified allegations about Mr. Trump."

Let that sink in for a second.......

A report that had been sent to all other news agencies, to which they all refused to report on because the claims were "totally unsubstantiated," to use  NYT's wording, was all of a sudden something they were 'scrambling" to report on because Buzzfeed had the lack of journalistic integrity to publish the "unverified" and "unsubstantiated" report.

That ladies and gentlemen should tell us all what we need to know about the condition of the mainstream media in this day and age.


Immediately after BuzzFeed's publication, some reporters volunteered that they, too, had received copies of the report. "Raise your hand if you too were approached with this story," Julia Ioffe, a journalist who has written extensively on Russia, wrote on Twitter, adding that she had not reported on the information in the document "because it was impossible to verify."

Writers at the blog Lawfare, which covers national security issues, said they had been in possession of the document "for a couple of weeks" but opted not to publish because the allegations were unproven.

"Yes, they are explosive; they are also entirely unsubstantiated, at least to our knowledge, at this stage," the site wrote on Tuesday night. "For this reason, even now, we are not going to discuss the specific allegations within the document."

NOTE - As an Independent Media writer, I would like to point out that not once does the NYT call out Buzzfeed or directly call their report "fake news," yet when Independent Media provided images and videos as to Hillary Clinton's strange behavior during the campaign cycle, asking legitimate questions about her health when images showed her needing help up a short flight of stairs by two Secret Service agents, we were all accused outright of reporting "fake news," and highlighted by the MSM as spreading Russian propaganda.

Double standard? The turn on each other but they still offer Buzzfeed the protection of not labeling their unverified, totally unsubstantiated claims, as "fake news."

John Podhoretz, via the New York Post, states in an article titled "Buzzfeed's Trump report takes 'fake news' to a new level,"  that while he is not a Trump supporter, states "The scurrilousness of what BuzzFeed has done here is so beyond the bounds of what is even remotely acceptable it should compel even those most outraged by Trump's political excesses to come to his defense and to the defense of a few other people mentioned in these papers whose names are also dragged through the mud."


There is literally no evidence on offer in these memos or from BuzzFeed that any single sentence in these documents is factual or true. What's more, we know most major news organizations in America had seen them and despite their well-known institutional antipathy toward Trump, had chosen not to publish them or even make reference to them after efforts to substantiate their charges had failed.


Michael Wolff, Columnist-for USA Today, Vanity Fair, Hollywood Reporter, British GQ, New York Magazine, the Guardian; founder, Newser; author of five books, takes Buzzfeed to task on Twitter, stating "Ethics are simple: you shouldn't publish what you don't know to be true. The most uncomplicated principle of the business. No?"

Wolff also reponded to Smith, Buzzfeed's editor-in-chief's, memo (shown above) to his staff trying justify the publishing of the report, where he tells Smith, "This seems preposterous, appalling, opportunistic, and lacking in basic ethics at every level."

Readers can see other journalists taking Smith to task in the comments to his memo to his staff, here.


BOTTOM LINE

The intelligence community "leaks" a report to CNN, who reports generally about it, followed up by Buzzfeed publishing an unverified, unsubstantiated report that has been in the MSM's possession for months, that was referenced by the Intel agencies in their supposedly "confidential" briefing to Trump and Obama,  and all of this occurs just days after Senate Minority Leader Chuck Schumer says the Intel agencies have "six ways from Sunday at getting back at you [Trump,} for his calling them out on their sloppy work.



Schumer also said they were "very upset with how he has treated them and talked about them."

Trump called them out on it this morning, stating "Intelligence agencies should never have allowed this fake news to "leak" into the public. One last shot at me.Are we living in Nazi Germany?"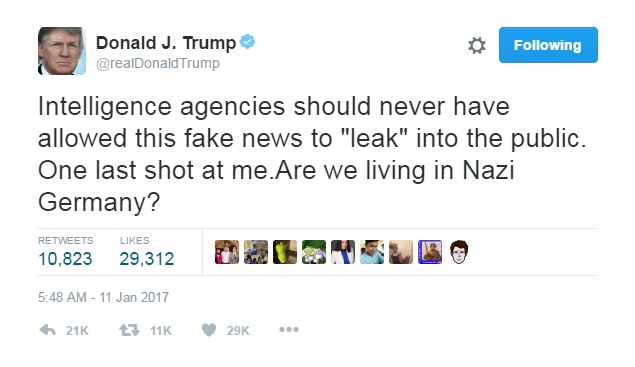 Exit Question: Why would John McCain have handed the FBI copy of this unsubstantiated and unverified report?

FAKE 'REPORT' THAT JUST TOOK DOWN THE MSM AND U.S INTELLIGENCE COMMUNITY BELOW. - Via Zero Hedge




Trump Intelligence Allegations by zerohedge on Scribd










comments powered by

Disqus