"The Best Mix Of Hard-Hitting REAL News & Cutting-Edge Alternative News On The Web"
September 9- 10, 2017
IRMA Live Streams:  Scam Alerts, Shelters Overflowing & Over A Million Without Electricity So Far - The Latest Hurricane Coverage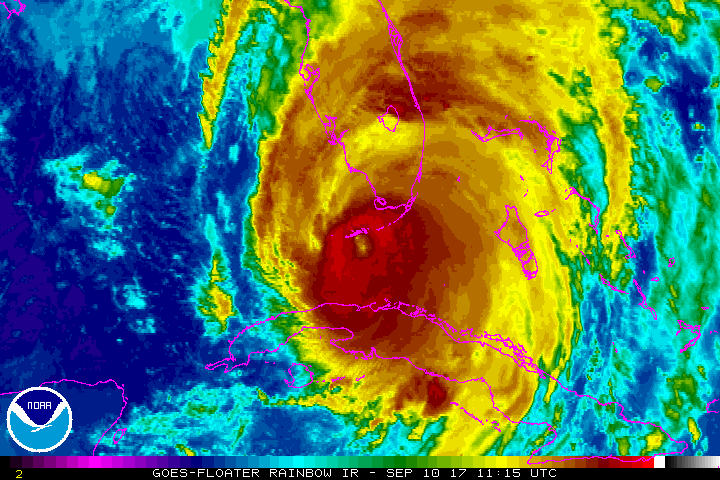 By Susan Duclos - All News PipeLine

After destroying a string of Caribbean Islands, then hugging the coast of Cuba, live streams shown below are tracking  Hurricane Irma, which has been called everything from a "Beast, " to a "Monster," to a "nuclear hurricane," and even the creative "Lawnmower from the sky,"  she heads into Florida.

In preparation for what some believe will be catastrophic damage, the President has station approximately 1,000 Marines on two U.S. Navy warships for immediate relief operations, which will include delivering water purification systems, distribution capabilities as medical technicians. Via Breitbart: "We train for this kind of mission. It's in the DNA of the Marine Expeditionary Unit to rapidly respond to crisis when called upon," 26th MEU Executive Officer Lt. Colonel Christopher Timothy said in a statement obtained by Breitbart Texas. "Alongside our Navy partners, we stand strong and ready to help those affected by this storm in whatever way we can."

While the track continues to shift, the latest forecast models from Wunderground, updated on 9/10/2017, 12:00:00 PM (Eastern Daylight Time), shown below, indicates the Tampa area is looking at a direct hit.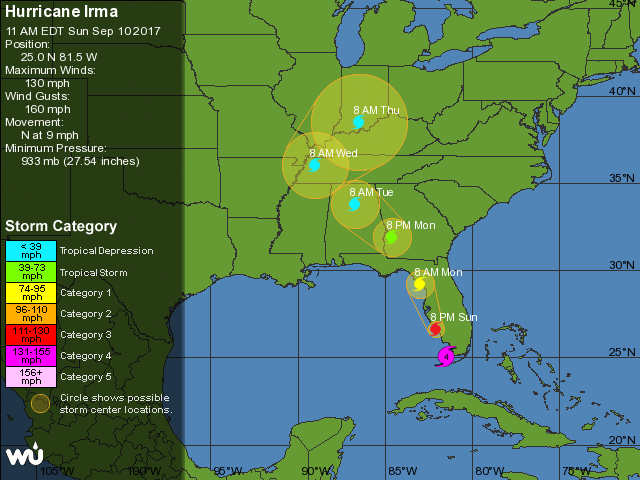 Reports from the Miami Herald show that evacuation shelters are overflowing, and filling up faster than they can get them open, with organizers admitting "This is an unprecedented event. We are now rewriting the book as we go." 

That is no exaggeration, for even with Hurricane Andrew back in 1992, the evacuation numbers never hit what we are seeing now, with reports indicating that 5.6 million people have been ordered to evacuate, which is more than one-quarter of the state's population. As of this morning Florida's Governor Rick Scott has informed those still in the path "If you are planning to leave and do not leave tonight, you will have to ride out this extremely dangerous storm at your own risk."

As with any disaster or chaotic event, we see the good and bad in people and this is no different as we have been alerted to a major scam being run on people either hunkering down to ride out the storm or those leaving in areas that are expected to get a direct hit.

SCAM ALERT: There are reports of people claiming to be FEMA officials asking for personal information or charging for services such as damage inspections or contractor repairs. Do not respond to texts, phone calls or personal requests seeking your personal information.

According to FEMA's rumor control page, there are also false reports claiming that disaster survivors should not remove flood-damaged sheetrock, flooring, carpet, etc. until the house is assessed by FEMA or insurance adjustors. They are recommending homeowners document the damage with either images or video, then proceed to start the cleanup and saying it will not disqualify you from federal disaster assistance.

According to Miami local news, Florida Power & Light is expecting 4.1 million homes to suffer power outages from Irma, calling it "unprecedented for us and probably any utility."


"We currently have an army, frankly, of 13,500 restoration workers, both FPL crews and outside crews ready to respond as soon as it's safe to do so. Many of the linemen are coming from across the country including from as far away as California. We have prepositioned equipment and people getting ready to fight the aftermath of Irma."

But he added, they won't put any workers in jeopardy.

"Unfortunately, there will be a period of time where we will have to hunker down and wait. We have to wait until the winds subside to 40mph to get on the road, 35mph to get buckets in the air."

They are expecting the restoration process to be a multi-week project as they explain that it isn't just about restoration, but in many cases actually rebuilding. According to FPL CEO Eric Silagy on Friday, thousands of miles of power lines will be impacted.

While Irma is the main focus right now, the short satellite animation below shows Hurricanes Katia, Irma and Jose, the latter of which seen at the end of the animation, is now a catergory 4, and while it has weakened slightly, it is also being called a "dangerous hurricane,' but forecast models as of now are showing Jose staying in the Atlantic and not aimed for the U.S. 



On Friday, the International Space Station passed over both Irma and Jose. Via the video description: First, the station flew approximately 250 miles over Hurricane Jose at approximately 10:10 a.m. EDT while the Category 3 storm was in the Atlantic just east of the Caribbean. One orbit of the Earth later, the station flew over Hurricane Irma at approximately 11:40 a.m. EDT. The powerful Category 4 storm had already brought destructive wind and rain to islands across the Caribbean and is forecast to impact the Florida peninsula.



Related: NASA satellites are tracking Katia, Irma and Jose and the images are staggering

In a very unusual article found at Drudge, we see that one cruise ship, with approximately 4,000 people on board and "unlimited booze," had to flee Florida and is now taking their passengers on a "cruise to nowhere," after having had to leave Miami. The ships name is "The Escape" and he has told passengers he can "outrun" the storm.

For those in Florida that have hunkered down to ride out the storm, our prayers are with you. For those with family there, we are thinking and praying for them as well. We all understand the concern when family members are in the path of a monster storm, I myself have three sisters and a brother in Florida right now.

LIVE COVERAGE OF IRMA

Wonderground - updated

Updated Tornado Warnings

LIVE COVERAGE - US News: IRMA 

Stupefying Ocean Phenomenon And Bizarre Anomalies Tied To 'Irmageddon' Show Unbelievable Force

FLA UTILITY OFFICIALS SAY MORE THAN 1 MILLION CUSTOMERS LOSE POWER 

Live  Hurricane Irma: Florida evacuates as damaging 130mph winds arrive - latest news

Hurricane Irma: Miami braces as superstorm winds hit Florida coast – latest updates

Hurricane Irma becomes Category 3, but will likely strengthen -- live updates

LIVE STREAMS

For those watching IRMA, we have multiple live streams below. More will be added as the storm gets closer to landfall and any that stop or are removed will be replaced throughout the day.












Help Keep Independent Media Alive, Become A Patron for All News PipeLine at 

https://www.patreon.com/AllNewsPipeLin






comments powered by

Disqus