"The Best Mix Of Hard-Hitting REAL News & Cutting-Edge Alternative News On The Web"
September 5, 2017
As IRMA 'The Beast' Barrels Across The Atlantic, Panic Shopping Empties Shelves,  Lines Of Shoppers Surround Buildings - This Ladies And Gentlemen Is Why We Tell You To Prep!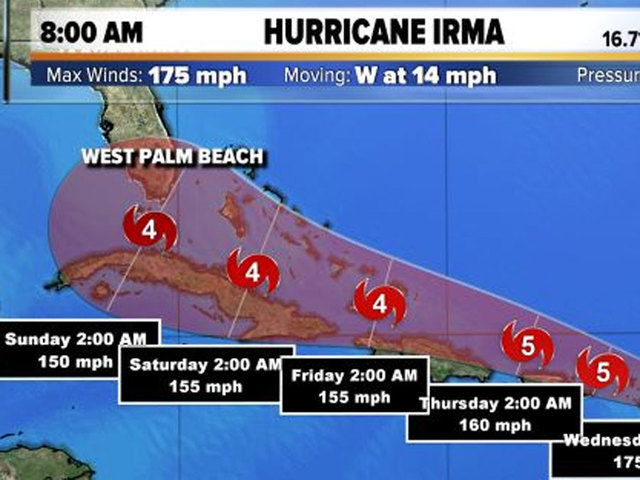 By Susan Duclos - All News PipeLine

I just got off the phone with my brother in Florida, who has his water, his generator, his food and extra gas, batteries and all the typical preparation that many in coastal states take care of ahead of hurricane season, knowing that if they get a direct hit, they are ready for it, and if they don't get hit by a hurricane, the food will get eaten, the water and supplies will be used during the year, until it is time to prepare for the next hurricane season.

That is prepping, so it boggles the mind to already see the images and stories of people unable to purchase generators as Hurricane Irma, which is being dubbed a "Beast,"  barrels across the Atlantic, shelves emptied already by people panic shopping now rather than using common sense to prepare ahead of the hurricane season.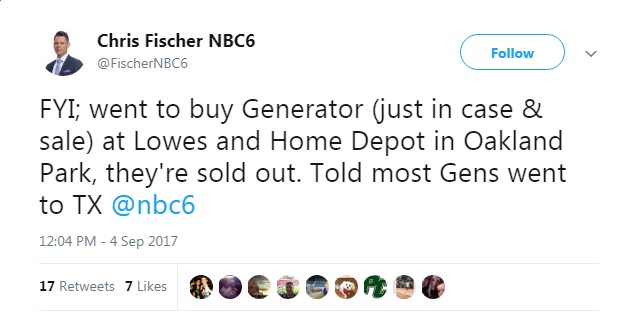 According to the National Hurricane Center in their latest advosory, (1100 AM AST Tue Sep 05 2017) Hurricane Irma is now a category 5 Hurricane, as they call it "the strongest hurricane in the Atlantic basin outside of the Caribbean Sea and Gulf of Mexico in the NHC records."


KEY MESSAGES:

1. Irma is a potentially catastrophic category 5 hurricane and will bring life-threatening wind, storm surge, and rainfall hazards to portions of the northeastern Leeward Islands beginning later today and the Virgin Islands and Puerto Rico beginning tomorrow. Preparations should be rushed to completion before the arrival of tropical-storm force winds later today in the Leeward Islands and tomorrow morning in Virgin Islands and Puerto Rico.

2. Hurricane watches have been issued for portions of the Dominican Republic and Haiti, the southeastern Bahamas and Turks and Caicos, and Irma could bring dangerous wind, storm surge, and rainfall to those areas on Thursday and Friday.

3. Irma could directly affect the remainder of the Bahamas and Cuba as an extremely dangerous major hurricane later this week. Residents in these areas should monitor the progress of Irma and listen to advice given by officials.

4. The chance of direct impacts from Irma later this week and this weekend is increasing in the Florida Keys and portions of the Florida Peninsula. However, it is too soon to specify the timing and magnitude of the impacts. Elsewhere, it is too early to determine what direct impacts Irma might have on the continental United States. Everyone in hurricane-prone areas should ensure that they have their hurricane plan in place.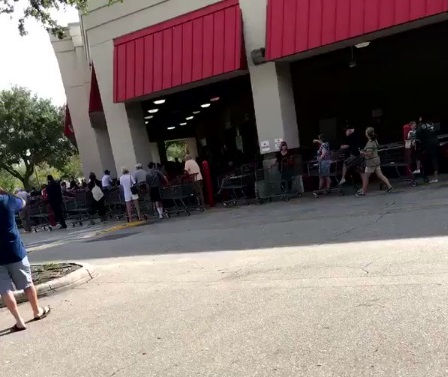 Tracks can change and at this point there is no way to say exactly where Irma will make landfall, which is no excuse to not prepare for the worst and pray for the best, but we are seeing reports that those that did not prepare ahead of the hurricane season, are finding empty shelves as "panic shoppers," (those that wait until a hurricane is already formed and headed towards them), are lining up outside of stores with lines surrounding the building as reported by ClickOrlando.com, headlining with "Shoppers line up around store for supplies ahead of Hurricane Irma."


On Tuesday, shoppers lined up outside several stores, including Costco in Altamonte Springs, for a chance to get supplies, including water, batteries, food and more.

"(It was) a little bit of a pandemonium," shopper Diane Williams said. "Getting here was worse than being inside. It's just that everybody is panicked, so they are preparing, which is wise, but it's just, like, crazy."

On Monday night, shoppers said Publix in College Park was out of bottled water. A viewer also gave News 6 a picture showing empty water shelves at the Walmart on Alafaya Trail near the University of Central Florida.

Here are some early images from a Walmart on Pensacola Boulevard in Ensley Sunday night in Escambia County: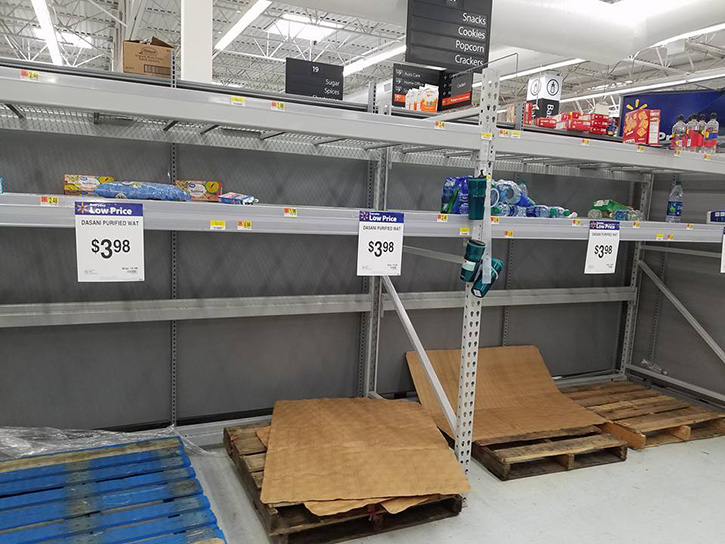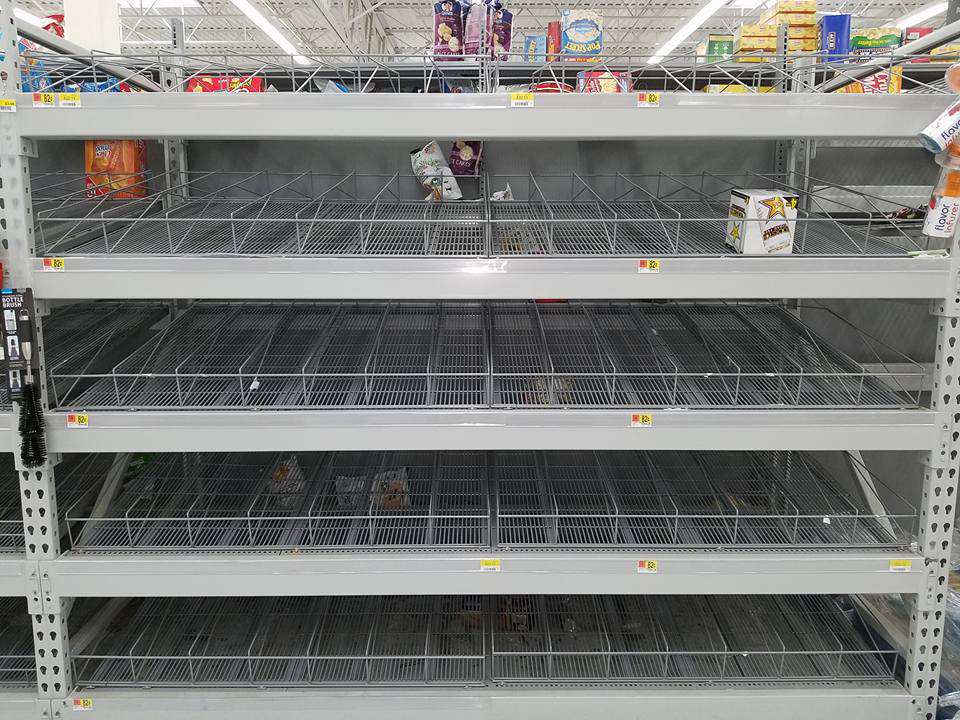 ABC Action News describes the scene in Palm Beach, where people are just now trying to get things like ply-wood with a manager of a Home Deport saying they were out of stock, but would be getting more, but they don't have a time line for the arrival yet, 5-gallon containers for gasoline and 5-gallon jugs of water, with one Palm Beach resident saying "There was nothing at Walmart. Not even like one thing of water."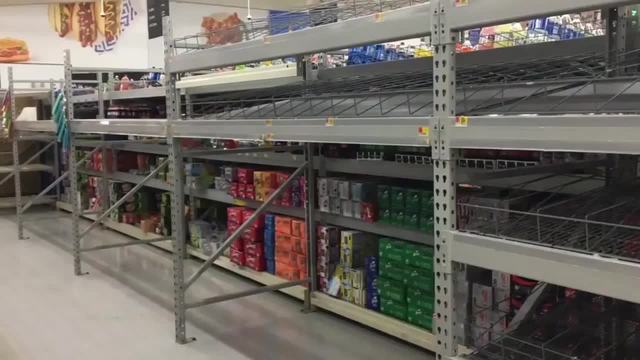 Social media users are already providing images, with messages like "Water already out at publix don't wait. #HurricaneIrma"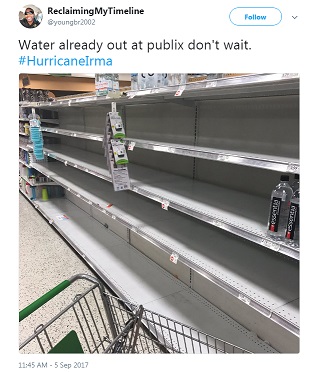 Another user warns people in Miami, with yet another photo of empty store shelves, which appear to have come from a Puerto Rico grocery store, saying "It's not a joke! Be prepared! The beast is coming! #Miami Cat. 5 #IrmaHurricane @CNNweather #HurricaneIrma #Irma2017 @FoxNews @cnnbrk @ABC: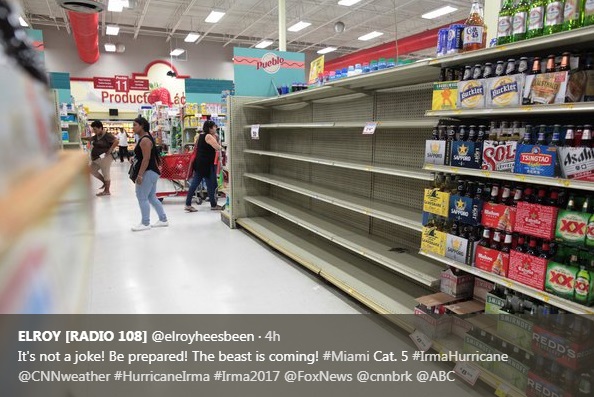 It is vitally important to remember that we are seeing these images, and many more, and these reports already, yet if Hurricane Irma hits the U.S. it will not make landfall until late Sunday, early Monday morning, around September 11, 2017. As the track becomes a little more predictive the closer it gets, these types of "panic" buying sprees are likely to become much worse as people that wait until the last minute, then decide, "Oh I better have some storm supplies,"  just to find the shelves empty.

Ladies and gentlemen, this is why we always tell you to be prepared for the worst and hope for the best. This is just a storm, one that many were prepared for before the hurricane season even began but too many did not, and this should serve as an example of why everyone should always be prepared for disaster, extra food, batteries, water, a generator, a go-bag in case one has to leave home fast, a bug-out plan, etc... these are standard, normal preparations for those dubbed "preppers," to prepare for any eventuality, yet we see this type of "panic shopping"  and images like the ones above, every single time a major storm hits or an event happens which would require people to either be without lights, or without access to food and water.

This article will serve as an IRMA OPEN THREAD for news of the storm. Feel free to leave links to these types of empty shelves articles, videos that always come out showing these panic shopping sprees and long lines at stores and even outside while people wait to get in to see if there are any supplies left, in the comment section below.







Help Keep Independent Media Alive, Become A Patron for All News PipeLine at https://www.patreon.com/AllNewsPipeLine







comments powered by

Disqus