"The Best Mix Of Hard-Hitting REAL News & Cutting-Edge Alternative News On The Web"
January 29, 2017
Amid Protests, Media & Hollywood Meltdown As Border Patrol And ICE 'Applaud' Trump's 'Swift And Decisive Action To Keep The American People Safe'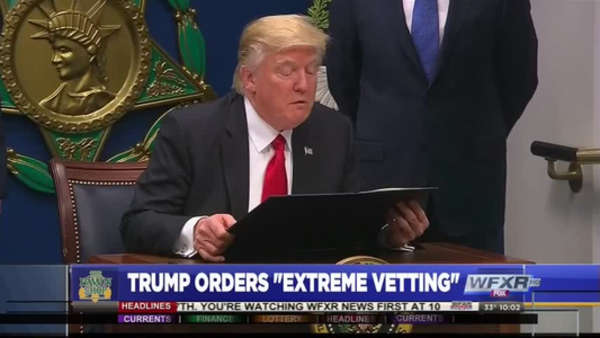 By Susan Duclos - All News PipeLine

We awoke this morning to many misleading headlines regarding a judge supposedly "blocking" President Trump's Executive Order which  bans refugees from  Syria, although the media claims that Iraq, Iran, Libya, Somalia, Sudan and Yemen are listed (they are not specifically mentioned in the order itself), all hotbeds of terrorist activity, for 120 days, while the Secretary of Homeland Security, in consultation with the Secretary of State and the Director of National Intelligence conduct reviews into what information is needed from host nations in order to properly vet incoming refugees  to "determine that the individual seeking the benefit is who the individual claims to be and is not a security or public-safety threat," as stated in the Executive Order.

Before getting into the chaos that has ensued since Trump signed the Executive order, with protesters are now taking to the streets, a quick reminder of why Trump issued the EO, from an ABC News clip from 2013, showing that terrorists posing as refugees have been infiltrating America due to the Obama administration's  lax vetting process for years.

The point: Trump is doing what Obama wouldn't despite the documented evidence.




MSM MISLEADS AGAIN

The headlines seen most predominantly claim "A Federal Judge Just Issued a Stay Against Donald Trump's 'Muslim Ban'," and "Federal court halts Trump's immigration ban," yet when reading the actual reports of what happened we see the ruling they speak of does not affect the overall implementation of the White House order, it simply allows those already "approved by U.S. Citizenship and Immigration Services as part of the U.S. Refugee Admissions Program" and "holders of valid immigrant and non-immigrant visas," to stay in the United States.

In fact the headline at The Hill, which originally stated "Federal judge blocks Trump immigration order" report," was changed to "Judge blocks deportation of detainees over Trump refugee order," which is a far more accurate description than the misleading Mother Jones and Verge headlines quoted above.

Via the AP:


WASHINGTON (AP) -- A federal judge's emergency order has temporarily barred the U.S. from deporting people from nations subject to President Donald Trump's travel ban. The judge said travelers who had been detained had a strong argument that their legal rights had been violated.

The Department of Homeland Security issued a statement early Sunday that said the court ruling would not affect the overall implementation of the White House order and it affected a relatively small number of travelers who were inconvenienced by security procedures upon their return.

The Department of Homeland Security statement in regards to the litigation, in full, below:


WASHINGTON – The Department of Homeland Security will continue to enforce all of President Trump's Executive Orders in a manner that ensures the safety and security of the American people. President Trump's Executive Orders remain in place—prohibited travel will remain prohibited, and the U.S. government retains its right to revoke visas at any time if required for national security or public safety. President Trump's Executive Order affects a minor portion of international travelers, and is a first step towards reestablishing control over America's borders and national security.

Approximately 80 million international travelers enter the United States every year. Yesterday, less than one percent of the more than 325,000 international air travelers who arrive every day were inconvenienced while enhanced security measures were implemented. These individuals went through enhanced security screenings and are being processed for entry to the United States, consistent with our immigration laws and judicial orders.

The Department of Homeland Security will faithfully execute the immigration laws, and we will treat all of those we encounter humanely and with professionalism. No foreign national in a foreign land, without ties to the United States, has any unfettered right to demand entry into the United States or to demand immigration benefits in the United States.

The Department of Homeland Security will comply with judicial orders; faithfully enforce our immigration laws, and implement President Trump's Executive Orders to ensure that those entering the United States do not pose a threat to our country or the American people.

Must-Read: Obama's administration made the "Muslim ban" possible and the media won't tell you

HOLLYWOOD MELTDOWNS & JOURNALIST FREAKFESTS

Ironically, the Hollywhore so-called celebrities seem to think that protecting the nation from attacks like those in San Bernardino, Orlando, Chattanooga, Ohio State, the Boston Marathon bombing, by temporarily suspending entrance into the U.S. of refugees from countries that are overrun by terrorism until the U.S. can properly vet them to prevent more attacks like those named above, is "disgusting and disturbing."

Think about that for a minute, these are same group of people thought nothing of supporting the Vulgar Vagina March, where "nasty women" were busy threatening to "blow up the White House" and running around topless, with pink "p*ssyhats," while screaming about their menstrual cycles.

Weigh in folks, what is more "disturbing and disgusting" to you? President Trump trying to protect America or Ashley Judd talking about her period, while Madonna says she has thought about blowing up the White House?

Joining them in their hysteria over protecting America, are journalists, with the same mentality of those writing the misleading headlines referenced above, who are having a complete freakfest on social media, the very same people that had nothing to say about it when Barack Obama blocked Iraqi refugees for six months in 2011.

You can see their social media diatribes at The Daily Caller, but I want to highlight perhaps the most disconnected, misleading and outright dishonest question that came from New York Times White House correspondent Maggie Haberman, who tweeted "Other than San Bernardino shootings, has there been a terrorist attack involving a non-US-born attacker since 9/11?"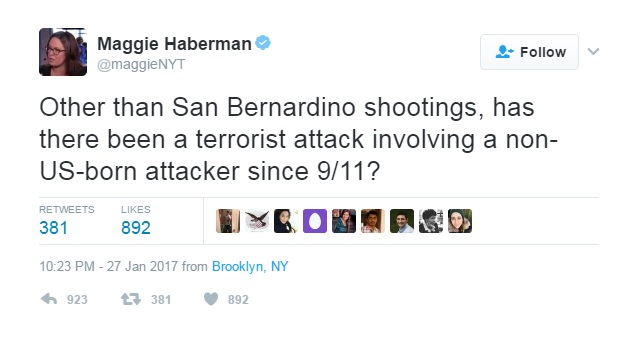 Frankly it is hard to determine what is the most disturbing part of that. The implication on her part that there has not been any terror attacks in the U.S. by a non-US-born attacker other than San Bernardino, since 9/11? Or the fact that she is the freaking White House correspondent for the NYT and she doesn't know the answer to that question? 

I am happy to say that other Twitter users were more than happy to educate her.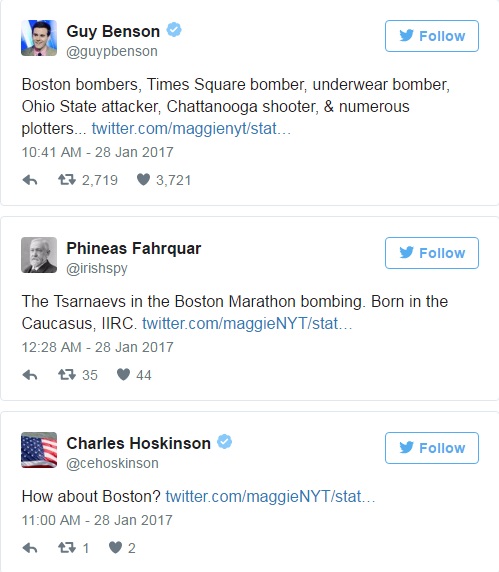 Others answered with snark, like "Twitter: where journalists come to get others to do their homework for them," and "FACE MEET PALM: Try being a reporter and find out," and "You'd think the NY Times would give their reporters access to Google so they wouldn't have to use Twitter to find basic information," is representative of some of the most entertaining answers.

The best answers though came from people that highlighted reports from the NYT, which had she bothered to read the paper she works for, would have answered her question before making herself look foolish.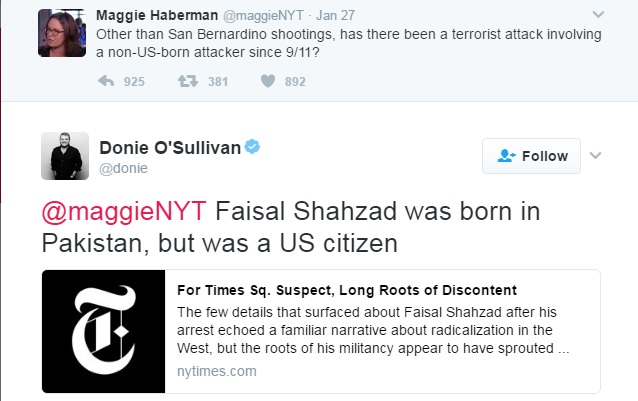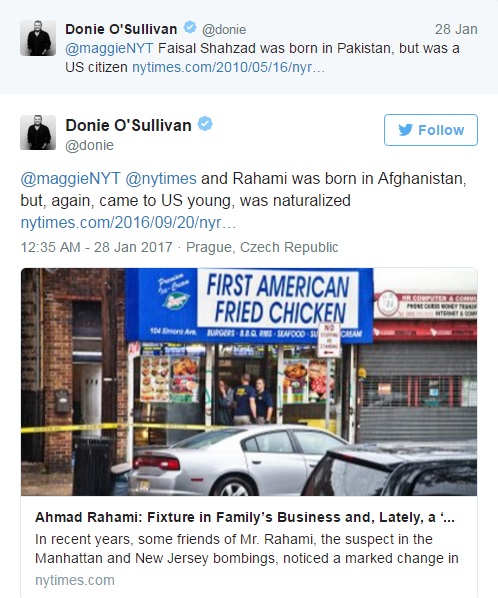 See more awesome responses to what has to arguably be the stupidest question ever asked by a MSM reporter, at Twitchy.

BORDER PATROL AND ICE CHEER TRUMP'S ACTIONS

While the Hollywhores and the MSM are busy howling in anger over the fact that Trump is trying to stop the "trojan traitors," (Thanks to SQ for that awesome term) meaning terrorists that are infiltrating the refugee programs in the countries Trump has temporarily suspended importation from,  law enforcement, who have been prohibited from doing their jobs over the last eight years under Obama, are cheering and issuing statements in support of Trump's actions.

The National Border Patrol Council and National ICE Council issued a joint statement, saying "As representatives of the nation's Frontline immigration officers and agents responsible for enforcing our laws and protecting our borders, we fully support and appreciate President Trump's swift and decisive action to keep the American people safe and allow law enforcement to do its job. We applaud the three executive orders he has issued to date, and are confident they will make America safer and more prosperous. Morale amongst our agents and officers has increased exponentially since the signing of the orders. The men and women of ICE and Border Patrol will work tirelessly to keep criminals, terrorists, and public safety threats out of this country, which remains the number one target in the world – and President Trump's actions now empower us to fulfill this life saving mission, and it will indeed save thousands of lives and billions of dollars."


BOTTOM LINE

On one hand we have Hollywhores, so vocal about equality and so called feminism, whining inconsolably because Trump is trying to prevent terrorists from coming into America after infiltrating the refugee program, people that would gladly stone them, kill them, rape them and take away the rights women enjoy in America, along with journalists that are still misrepresenting events and providing "fake news" to their readers while freaking out over Trump's EOs.

On the other hand we have law enforcement responsible for preventing criminals and terrorists into America, responsible for protecting America and Americans within our borders, all thanking Trump for allowing them to do their jobs, explaining why Trump's Executive Orders will make America safer.

Who would you listen to?

Below General Jack Keane on explains why this temporary suspension is "right on the mark," in his opinion.



Also very interesting is the Judge Jeanine discussion with Rudy Giuliani below, where we hear how the countries chosen for the temporary ban were picked and why, as well as why other countries were not listed.  Below that clip, is the entire Judge Jeanine segment where she covers President Trump's first week in office and discusses his other Executive Orders, highlighting his planned actions against sanctuary cities, in her opening statement.

Noteworthy is the question of why Pakistan was not added to the list, with both Judge Jeanine and Giuliani saying they would like to know more about that decision, as would we here at ANP.









comments powered by

Disqus