"The Best Mix Of Hard-Hitting REAL News & Cutting-Edge Alternative News On The Web"
June 13, 2017
Judge: 'Biggest Bombshell Of The Day' Dropped As Comey And Loretta Lynch Now In The Legal Crosshairs
- Live Streams Of Sessions Senate Testimony At The End Of The Article

By Susan Duclos - All News PipeLine

Hell-bent on sabotaging President Donald Trump, Democrats in Congress just proved the old adage of "Be careful what you ask for because you just might get it," true, as the long and eagerly awaited (by Democrats) testimony to the Senate Intelligence Committee by former FBI director James Comey opened a huge can of worms to which Judge Andrew Napolitano calls "the biggest bombshell of the day."

That was Comey's testimony about Loretta Lynch and how she intimidated Comey into lying to the American public in regards to what he said was a "criminal investigation" into Hillary Clinton, by ordering him to publicly refer to it as a "matter," which mimicked the talking point being used by the Clinton campaign.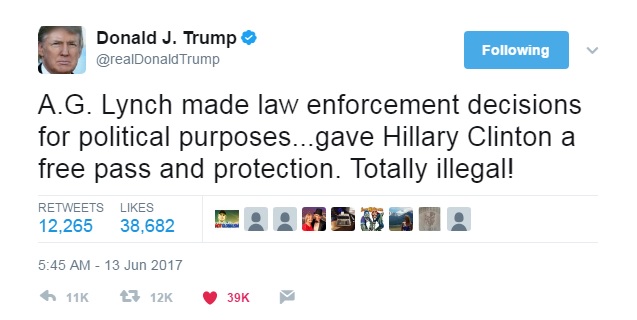 At about the 40 second mark in the interview clip below, the judge is asked about a statement made by President Trump on Tuesday, June 13, 2017, which said "A.G. Lynch made law enforcement decisions for political purposes...gave Hillary Clinton a free pass and protection. Totally illegal!,"  to which the judge responds saying "There is enough to support that tweet, in my view, to justify the commencement of a criminal investigation of former Attorney General Loretta Lynch."

The judge explains "The crime would be 'misconduct in office,' the use of law enforcement resources for political purposes." He bases his assertion on the public testimony of James Comey, as well as leaked reports of Comey's classified session with the Senate members after his public testimony, which reports describe a second meeting between Comey and Lynch, discussed after the interview clip below, where Judge Napolitano expresses his belief that "This thing with Loretta Lynch is the biggest bombshell of the day."



The new report, via Circa News, is that during the classified meeting between Comey and lawmakers after his public testimony, Comey described a second "confrontation" with Loretta Lynch, which is even more damning that his public statements in regards to her interference, quoted below:


Comey told lawmakers in the close door session that he raised his concern with the attorney general that she had created a conflict of interest by meeting with Clinton's husband, the former President Bill Clinton, on an airport tarmac while the investigation was ongoing.

During the conversation, Comey told lawmakers he confronted Lynch with a highly sensitive piece of evidence, a communication between two political figures that suggested Lynch had agreed to put the kibosh on any prosecution of Clinton.

Comey said "the attorney general looked at the document then looked up with a steely silence that lasted for some time, then asked him if he had any other business with her and if not that he should leave her office," said one source who was briefed.

Comey "took that interaction and the fact she had met with Bill Clinton as enough reason to decide he would not allow the Justice Department to decide the fate of the case and instead would go public" with his own assessment that the FBI could not prove Mrs. Clinton intended to violate the law when she transmitted classified information through her private email and therefore should not be criminally charged. Another source said the "tarmac meeting was the public excuse for not going to Lynch when all along there was other evidence that was more concerning to Comey."

Related: NSA Blocks Release Of Loretta Lynch-Bill Clinton Airplane Tape For 'National Security'

Following that classified briefing with Senate members after Comey's public testimony, Democratic Senator Dianne Feinstein called for the Senate Judiciary Committee to investigate former AG Loretta Lynch instructing James Comey to mislead the public about the Clinton email investigation.

"I would have a queasy feeling, too," Feinstein admitted in a Sunday morning interview on CNN. "I think we need to know more about that and there's only way to know about it, and that's to have the judiciary committee take a look at that." (Source with video - DC)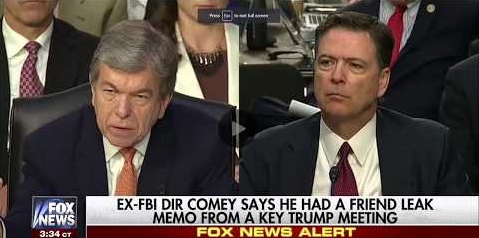 COMPLAINTS TO BE FILED AGAINST JAMES COMEY

Another way the Comey testimony backfired on Democrats and liberals that were convinced Comey would prove once and for all that President Trump was personally under investigation for collusion with Russia in regards to the 2016 presidential investigation, Instead Comey verified the President's assertion that he was never under investigation.

The bigger shock was that Comey openly admitted to orchestrating a "leak" of memos he allegedly wrote after meetings and phone calls with President Trump. (Memos it is important to note were never physically seen by the MSM that first reported them, and have not been turned over to any Congressional committee for verification, as Judge Napolitano highlights in the interview above.)

It is also significant to remind reads that a liberal legal scholar, lawyer and law professor Jonathan Turley says Comey admitted to committing a crime by saying he orchestrated that "leak," considering he used an FBI lap top, said he was sitting in a government vehicle to create one of those memos of a private conversation between him and the President of the United States.

Before detailing more suspected leaks by Comey to the press and the reports of complaints to be filed against Comey over a trail of leaks, we would like to remind readers that back in January, before Trump was even inaugurated, Senate Minority leader Chuck Schumer stated in reference to Trump tweeting about the intelligence community, "Let me tell you, you take on the intelligence community, they have six ways from Sunday to get back at you. So, even for a practical, supposedly hard-nosed businessman, he is being really dumb to do this........ I am told, they are very upset with how he has treated them and talked about them."



That statement by Schumer was made on January 3, 2017..... keep that date in mind as we proceed.

Since then, there have been dozens of "leaks" to the press, many of which have proven to be complete "fake news" with others holding small truths, but it clearly shows Schumer's threat against Trump was not hot air, and that the deep state members of the Intel community were planning to sabotage the Trump presidency, as Comey publicly admitted to doing when he testified last Thursday.

Which brings us to the newest bombshell with multiple reports stating that President Trump's lawyers are set to file complaints against James Comey with the Justice Department inspector general and Senate Judiciary Committee, and are "prepared to show a trail of leaks to The New York Times by former FBI Director James Comey – dating back to at least March," according to Fox News.

This goes a long way toward explaining President Trump's use of the word "leaks" in the plural in regards to Comey, rather than the single orchestrated leaks Comey admitted to, when on the Sunday after Comey's testimony, Trump tweeted "I believe the James Comey leaks will be far more prevalent than anyone ever thought possible. Totally illegal? Very 'cowardly!'"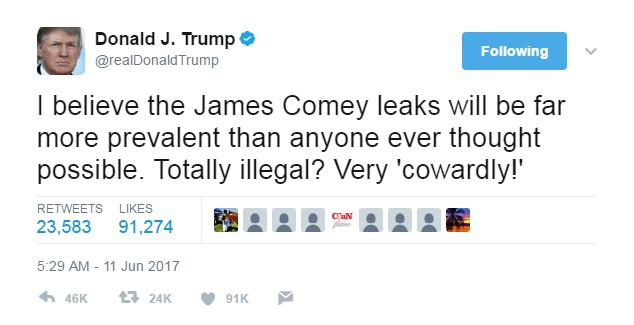 Fox News did an independent review of The New York Times' reporting dating back to January which "reveals a host of stories sourced from top FBI and DOJ officials – or those privy to their conversations – that either paint Comey in a positive light or push a message he was unable to personally disclose."

They begin with one on January 6, 2017, just three days after Schumer said the intel community could get back at Trump "six ways to Sunday." Perhaps someone needs to ask Schumer who "leaked" that information to him about the upcoming "revenge" of the deep state.


Jan. 6 – Comey, in written testimony, said he briefed then-President-elect Trump while the two men were alone in Trump Tower on this date. The briefing dealt with the salacious and unverified dossier alleging that Russia had compromising information about Trump. According to Comey's account, both he and ex-Director of National Intelligence James Clapper decided Comey should be the only one to brief Trump. One of the reasons for this arrangement, Comey wrote, was because he was staying on as FBI director – though no official announcement had been made about this and subsequent reports indicate Trump didn't ask Comey about remaining in his capacity until this meeting took place.

Jan. 10 – The Times reports on the Comey/Trump dossier meeting, citing "2 officials with knowledge of the briefing." More inside-the-FBI information also exists in the article, including when the FBI first became aware of the dossier and the troubles agents had confirming the document's details.




We find these two particularly significant because at the time, after that meeting between Comey and Trump regarding the now-debunked "dossier," it was reported that Trump ran his own "sting" operation to try to uncover where leaks were coming from, where he decided to tell no one about that dossier secret briefing, "shielding even his longtime scheduling aide, Rhona Graff, to rule out the possibility leaks were coming from his staff,"  when "word got out anyway, Trump concluded it was the intelligence community who was putting out information."

According to Comey, the two men were alone during that meeting, and the Daily Mail report dated January 11, 2017, quoted above, Trump did not even tell his own staff about the meeting, something Comey did not know at the time, so Trump has been documenting leaks that had to have originated with Comey, since January! No matter who actually leaked it to the press, Comey had to have given information on that private meeting to others, making him the originating source.  

The leak Comey admitted to, using Columbia University Prof. Daniel Richman to provide the leak to  Michael S. Schmidt at the New York Times, led Fox News to search for Richman, where they found 11 articles  featuring Comey and "six of them being authored by Michael S. Schmidt – who later wrote the 'Comey memos' story which Comey told Congress he directed Richman to leak."


Jan. 24 – Though Trump hadn't made an official announcement, The Times reports Comey would be staying on as FBI director. Comey had reportedly told a large group about the news, in this case special agents in charge from across the nation. Trump's request that Comey remain on allegedly occurred during the Jan. 6 Trump Tower meeting. Schmidt wrote the story.

Feb. 24 – Following a CNN report about contacts between Trump associates and Russia, The Times reports (the same day) that both Comey and Deputy FBI Director Andrew McCabe allegedly called White House Chief of Staff Reince Priebus to assure him the CNN report was false. Priebus asked the FBI leaders if they could refute the report in public, though they both declined. When the reported calls between the FBI officials and Priebus surfaces, Trump is infuriated and tweets that the FBI needs to work aggressively to stop the leaks.

March 1 – A DOJ official confirms to The Times that Attorney General Jeff Sessions had a pair of conversations with Russian official Sergey Kislyak despite Sessions' Jan. 10 testimony that he hadn't had contact with Russians in a campaign capacity. This news, and the ensuing firestorm, leads to Sessions recusing himself from the Russia investigation. Comey said in his June written statement that he knew as far back as mid February that Sessions would likely be recusing himself. This was one of the reasons he gave for not telling Sessions about his interactions with Trump. Schmidt contributed to this article.

March 4 – Trump infamously tweets that his phones had been "tapped" at Trump Tower by the Obama administration during the transition. A "senior law enforcement official from the Obama Administration" tells The Times that Trump's claim is "100 percent untrue." Schmidt contributed to this article.

March 5 – Several "senior American officials and senior FBI officials" tell The Times that Comey argued that Trump's surveillance claim was false and had to be publicly corrected, even going so far as to ask DOJ to push back on the allegation. The Justice Department does not do so, though Comey's concerns are voiced in the article without him ever giving an on-the-record quote. Schmidt contributed to this article.

March 6 – The Trump administration pushes back on the reported Comey concerns publicized in the previous day's Times story. Comey "was said to be disturbed" by the claims because the Trump allegations insinuated the FBI had broken the law. Schmidt wrote this article.

April 22 – The Times publishes a very lengthy profile of Comey featuring several in-depth, inside-the-room details and on-the-record quotes from Richman. The piece portrays Comey as a man attempting to "shield the FBI" from politics while struggling to do the right thing. Schmidt contributed to the article.

May 9 – Comey is fired by Trump.

May 10 – Richman is quoted in a Times story about Comey and foreshadows the alleged request for loyalty Trump made of Comey: "With a president who seems to prize personal loyalty above all else and a director with absolute commitment to the Constitution and pursuing investigations wherever the evidence led, a collision was bound to happen."

May 11 – In the afternoon, Trump gives an interview to Lester Holt in which Trump calls Comey a "showboat." Later that night, The New York Times publishes details of an alleged dinner meeting between Trump and Comey in which Trump "demanded loyalty" and Comey demurred. The article, written by Schmidt, cites "associates" of Comey.

May 12 – A tweet from Trump, ostensibly sent in response to the latest Times story, suggests Comey is the source of the leak and tells him he should hope Trump doesn't have "tapes" of their conversations.

May 16 – Comey testified in June he woke up in the middle of the night and decided he needed to get his side of the story out (though most of the details were already reported in the May 11 article). That day, the story about Comey's alleged memos of the Trump meetings is reported in a New York Times story. Schmidt wrote the article. This is the only leak Comey has acknowledged some role in.

That is just Fox News' research into New York Times articles, leaving an obvious questions about how many of the leaks to CNN and Washington Post, can be traced back to Comey, which could explain why the "intel leaks" have decreased considerably since Comey was fired from his position as director of the FBI.

BOTTOM LINE

Democrats and liberals could have spent four years undermining President Trump in the eyes of the public, constantly insinuating that he was under investigation, consistently using the "Trump/Russia collusion" meme they have spent the last five months pushing, but instead they over-played their hand, insisted on Congressional investigations and a special counsel, holding up the Comey testimony like he was their golden boy to cast more doubt on the president.

Instead they saw him publicly admit, for the first time in five months of constant headlines claiming Trump was under investigation, that he wasn't and had never been.

Instead, the media was highlighted as reporting "inaccurate" and false stories on a mass scale, where Comey said much of the reporting on Russia was "dead wrong."

Instead, they saw Comey point to possible crimes and "misconduct" on the part of the Obama administration, via his AG Loretta Lynch.

Instead, Comey admitted to possible committing his own crimes in orchestrating leaks to the press.

I said at the beginning of the article, I will repeat it for the liberals: "Be careful what you ask for, you just might get it."

Now today, Attorney General Jeff Session is set to testify before the Senate Select Committee on Intelligence, slated to begin at at 2:30 p.m. ET. Live streams below.

We can only wonder how much more damage to the MSM, Liberal narrative we will see as they get yet another thing they asked for. 

(Multiple Live Streams added for a variety of choice for viewers.)









Help Keep Independent Media Alive, Become A Patron for All News PipeLine at https://www.patreon.com/AllNewsPipeLine






comments powered by

Disqus