"The Best Mix Of Hard-Hitting REAL News & Cutting-Edge Alternative News On The Web"
March 1, 2016
Disgraceful Mainstream Media Fail! MSM Totally Destroying Itself Over Donald Trump - This Hilarious Video Will Put A Smile On Your Face And Should Help Put A Dagger In The MSM's Despicable Agenda


By Stefan Stanford - All News Pipeline - Live Free Or Die



While the mainstream media is incredibly busy following their marching orders from the Council on Foreign Relations, the same group that Hillary Clinton has fully admitted she takes her marching orders from, in their feeble attempt to destroy Donald Trump, the MSM is also completely destroying themselves as seen in the 1st video below which is helping to rip their false racial agenda completely apart.

Before you watch this video we have to warn you...expect to get a good laugh and a smile on your face as the MSNBC talking head is left totally dumbfounded while her left-wing guest is left looking flabbergasted after a hit piece on Trump completely backfires in their faces. As Information Liberation tells us, the mainstream media has been caught in the act of attempting to divide America along racial lines; they should be absolutely ashamed of playing these despicable games. 

MSNBC host Tamron Hall's attempt to smear Donald Trump supporters as a bunch of racists just backfired hilariously.

While discussing white nationalist David Duke's support for Donald Trump with leftist Mother Jones bureau chief David Corn, Hall was told she had a clip of "the new people" Donald Trump is "bringing into the fold," strongly implying they'd be racists.

"One of our reporters, Dave Gutierrez, actually Jacob, I don't want to quote the wrong reporter here, was just out of the Trump campaign," she said.

"I think we have the sound, my team will have to tell me, where they spoke to some Trump supporters, let's play what they said."

Rather than cut to some racist KKK supporter, the control room cut to a clip featuring a black Trump supporter named Frank Vick who praised Trump and attacked the media for trying to divide Americans based on race, describing exactly what Hall and her guest Corn were just doing.     



Much more below video including news from New York that 3 alleged victims of racial crimes were actually the perpetrators and have been arrested. These same 3 were recently Tweeted support by, of all people, Hillary Clinton showing once again what kind of 'grasp on reality' Clinton really has...practically none. The fun starts just after the 50 second mark.






As Paul Joseph Watson over at Infowars tells us, MSNBC was left with mouths wide open, not knowing what to say. Whether or not this clip was 'slipped in' by someone who worked at MSNBC who sees the handwriting on the wall or not, we thank whoever it is who was responsible for inserting it into this interview. From Infowars.:

After the feed returns to the studio, Hall looks completely flustered and doesn't know what to say.





"Um, clearly, let me just be clear here," she stammers.





"Obviously, the majority of Donald Trump supporters are not African-American, I don't know how many African-Americans were in that building, but that is one person, that uh, we have chosen to cut that sound from….Uh, David?"



Why are the left and the mainstream media SO afraid of Donald Trump supporters who don't fit their stated agenda for what a Trump supporter is supposed to look like? As we see in the next Infowars video below, one Hispanic Trump supporter is being attacked by 'liberal trendies' while in the 2nd video, we learn why the 'New World Order' race baiters are imploding as Americans awaken to the political games being played out upon us.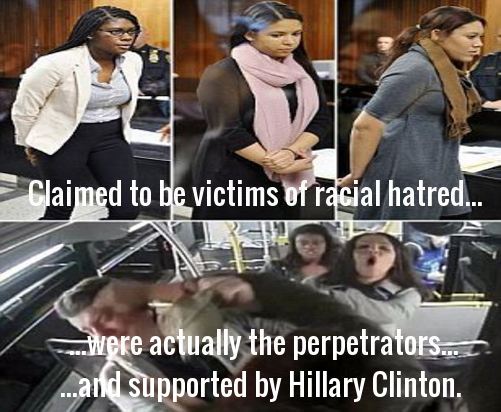 We also see false racial divide coming straight to us from the presidential campaign of Hillary Clinton who recently tweeted support for 3 women who claimed to have been racially targeted only to have the truth come out via 12 video cameras, 4 cell phone videos and interviews with 35 witnesses...the alleged 'victims' were actually the perpetrators. Is this what America is coming to, clueless politicians giving support to criminals before investigating all of the facts?

We thank the authorities in New York for getting all of the information before rushing to decisions. You can see several video reports on this latest false racial incident, including the actual footage used to get to the truth in the final video, below this report from the Daily Mail.:

Three University at Albany students who claimed they were victims of a racial attack on a bus last month have been charged with assault as prosecutors said they were actually the aggressors.
Alexis Briggs, Ariel Agudio and Asha Burwell, all 20 years old, appeared at Albany City Criminal Court today for their arraignment.
All three have pleaded non-guilty to charges of assault in the third degree, CNN reported. Burwell and Agudio have also pleaded not guilty to falsely reporting the incident.
They claimed they were attacked on a Capital District Transportation Authority bus on January 30, but prosecutors say they actually assaulted a 19-year-old woman early that Saturday.

'The evidence indicates they were actually the aggressors in the physical altercation, and that they continued to assault the victim despite the efforts of several passengers to stop them,' police said in a statement.

The women's initial report of the incident led to national outrage, a massive campus rally and even Democratic presidential nominee Hillary Clinton tweeted about it, hitting out against violence on a college campus.








comments powered by

Disqus