"The Best Mix Of Hard-Hitting REAL News & Cutting-Edge Alternative News On The Web"
March 3, 2017
Meet The 'White Supremacist,' Trump Supporter (Who Was Neither) That Phoned In 8 Bomb Threats Against Jewish Centers

By Susan Duclos - All News PipeLine


Anyone remember the constant flow of attacks from the liberal media against Trump for not disavowing "white supremacist" Trump supporters that the MSM assumed just had to be responsible for the attacks on cemeteries and threats to Jewish Community Centers? Do you also remember how the media howled when President Trump suggested that "sometimes it's the reverse, to make people — or to make others — look bad," in his defense of not rushing to judgement until the perpetrators were identified and caught?

Trump was also attacked by liberals for stating "Some of it—can I be honest with you? And this has to do with racism and horrible things that are put up. Some of it written by our opponents…You don't think anybody would do a thing like that? Some of the signs you'll see are not put up by the people that love or like Donald Trump. They're put up by the other side. And you think it's, like, playing it straight? No. But you have some of those signs and some of that anger is caused by the other side."

Mother Jones called Trump's assertions, "bizarre," and said these were the "latest in a series of strange statements that Trump has made in response to questions about an apparent wave of anti-Semitic and racist incidents."

Last but not least, does anyone remember the original headline over at the liberal site Intercept (which has since been changed) that read "Trump Can't Accept That His Allies Are Targeting Jews – So He Blames His Opponents?"

In that article the Intercept claimed that Trump was embracing a "conspiracy theory" that has been pushed by "white supremacists, including David Duke, the former Klan leader whose support Trump was slow to disavow during his campaign."

Well folks, lets meet the man who was arrested, the "white supremacist" that the media and liberals kept referring to: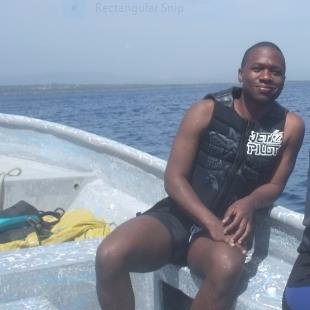 Juan Thompson, 31 (some say 36), was arrested in St. Louis by the FBI for making at least eight bomb threats and the cyberstalking of an ex-girlfriend. (Source)

Oooops... guess he wasn't a "white supremacist" after all. But, but, but, he must be a Trump supporter, right??? I mean the 8 bomb threats against Jewish Centers just had to be committed by those "racist" Trump supporters, according to the MSM and liberal websites.

Uhhhhhhh... nope, seems Mr. Thompson was an "anti-Trump leftist who recently converted to Islam," who has previously called Trump "Hitler," for his proposed travel restrictions. Thompson was also a former Bernie Sanders and Hillary Clinton supporter.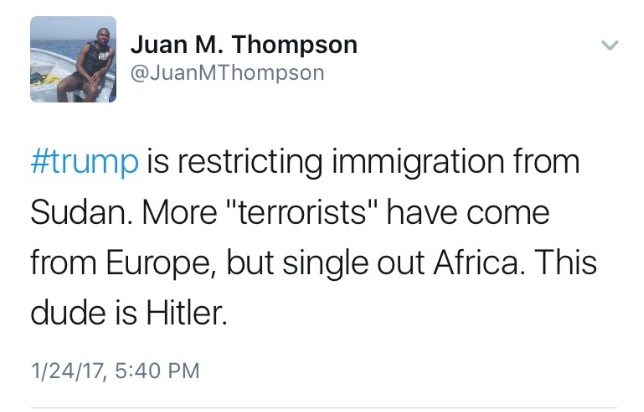 Another couple of anti-Trump tweets below: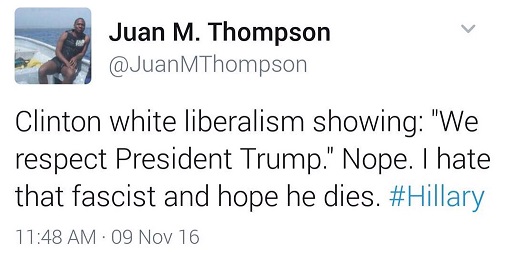 Perhaps the most ironic part of this rush to judgement on the part of liberals and the MSM, as well as the highly critical "fake news" against President Trump for refusing to rush to judgement before the facts were revealed, especially by the Intercept, is Mr. Thompson is a former Intercept reporter that was terminated for..... get this...... making up fake stories and quotes.






The headline shown above has since been changed to "Updated: Trump Suggests Anti-Semitic Acts Might Be Faked to Make His Movement 'Look Bad'."

They also added and Editors note at the top which states the following:


We have changed the headline of this news story to better reflect its content. Since its publication, former Intercept reporter Juan Thompson was arrested and charged with making bomb threats against Jewish Community Centers and the Anti-Defamation League.

It wasn't just the Intercept that mocked Trump for suggesting that it wasn't one of his supporters, or that perhaps some of the attacks against the Jewish centers were possibly false flags, meant to give the impression that one of his supporters might have been responsible, as can be seen by the Washington Post headline below: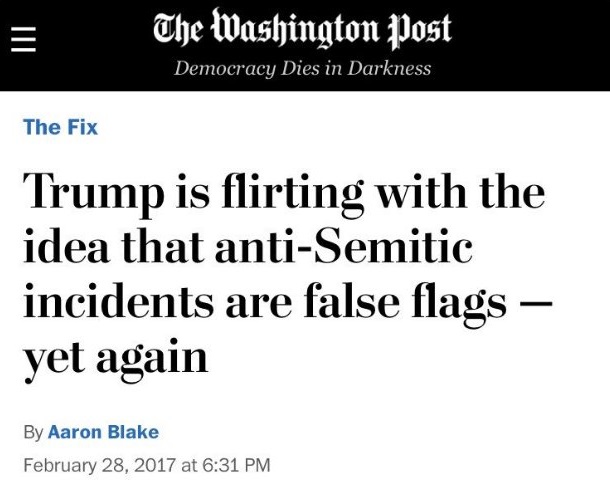 What MSM outlets do not mention in their mocking stories criticizing Trump for asserting that sometimes these crimes are outright hoaxes, or committed by opponents in order to make Trump supporters look bad, are the many examples of exactly that having happened since he announced his candidacy, such as the Muslim woman that once claimed "Trump America is real and I witnessed it first hand last night!" She went on to claim that men chanting "Trump! Trump!" ripped a strap from a handbag and attempted to pull the hijab from her head, while screaming "Look, it's a f—ing terrorist" and "Get the hell out of the country!" That was a hoax, a completely fabricated story she made up and was later charged with two misdemeanors, obstructing governmental administration and filing a false report.

Also see: "At Least 17 Faked Trump Hate Crimes Reported Since November Election" and "There Is No Violent Hate-Crimewave in 'Trump's America'."


BOTTOM LINE

I am assuming that Mother Jones, Washington Post, the Intercept and all the other liberal media outlets that criticized Trump for not jumping on their false narrative and presumptive "reporting" before any of the facts were in, will now be issuing follow-up apologies. Okay, yeah, that one made me laugh too!

The bottom line here is that whole incident should teach all of us a very important lesson, never jump to conclusions, never assume that because an incident "appears" to be one thing, that it is, and not some type of hoax or misleading event, and last, but not least, never encourage Trump or anyone to rush to judgement, to take any action without having the evidence to back it up.

While the attacks not blamed on Thompson could very well be from others who are part of some type of white supremacist group, until the facts are in and investigations are concluded and arrests are made, do not let the MSM or anyone "assume" they can point the finger at any one group without forcing them to provide some proof to back up their assertion.






The full complaint against Thompson can be read below:



u.s. v. Juan Thompson Complaint 0 by Jessica McBride on Scribd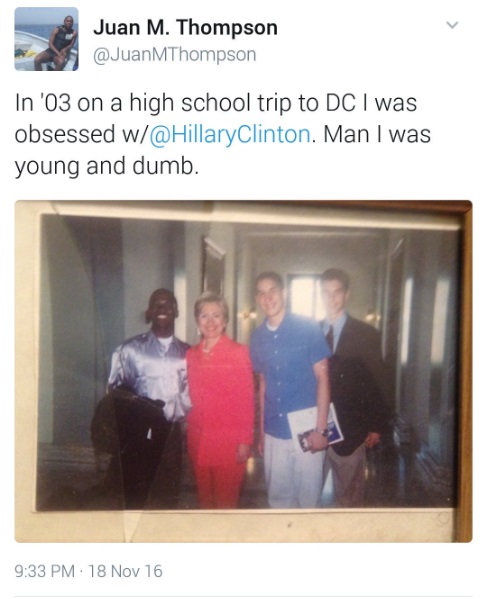 comments powered by

Disqus