"The Best Mix Of Hard-Hitting REAL News & Cutting-Edge Alternative News On The Web"
April 30, 2016
The New ISIS Hit List - Media Downplays The Danger To Thousands Of New York Residents Despite NY Leading Arrests Of ISIS Supporters

(Image Credit- Charged by place of residence - WAPO - Updated March 2016)


By Susan Duclos - All News PipeLine

According to the Hell Stream Media aka MSM, the release of a new ISIS hit list, as many as 3,600 residents of New York, "could be just another scare campaign," and "there are no immediate threats,"  ABC News reports, but a study released in December 2015 tells us just the opposite, the threat is real and it is immediate because ISIS is already right there in New York.

 

The FBI said in a statement that, "The FBI routinely notifies individuals and organizations of information collected during the course of an investigation that may be perceived as potentially threatening in nature."


Recently the ISIS hacker group known as the Caliphate Cyber Army released a hit list of up to 3,600 names, home addresses and email address of ordinary citizens of New York. The demand that was sent along with the released list was "we want them #Dead."

 According to reports some of the information was outdated, but no mention of how many of those names on the ISIS hit list are not outdated, no mention of how many of those targeted individuals still reside at the same address that was released by ISIS.

Specifically, no mention of what type, if any, of protection they are offering these targeted individuals and their families.

NBC New York has created a map showing basic locations of New Yorkers targeted in the ISIS-linked hit list, shown below: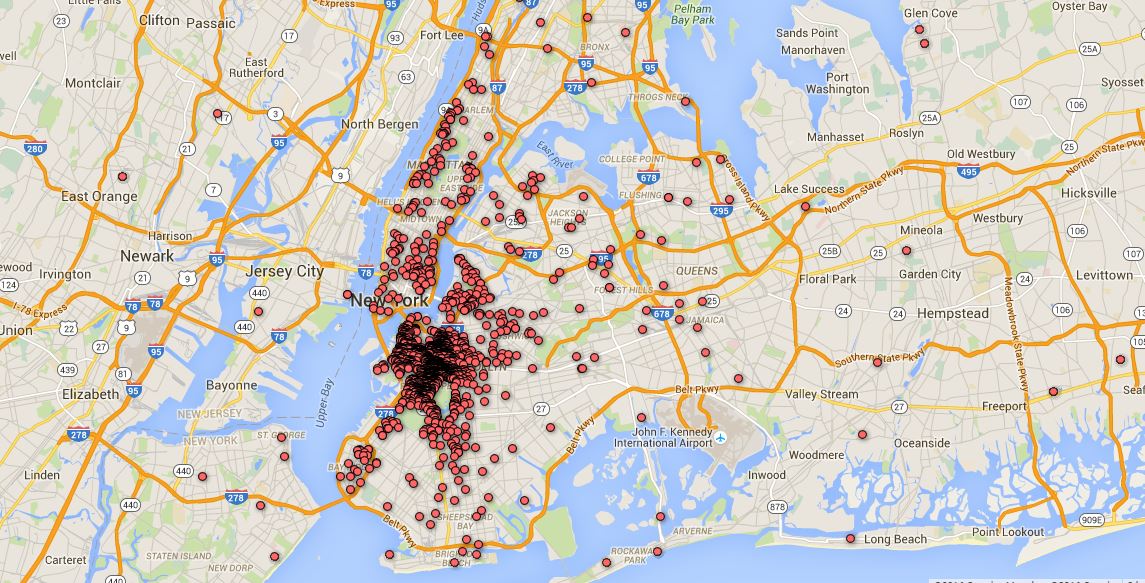 We already know ISIS members and/or supporters are here in the U.S., we have seen screen shots of pictures they have taken right outside the White House and landmark buildings in Chicago. We have seen ISIS supporters kill 14 people and injure 22 others in San Bernardino, California back in December 2015. We have seen a Rochester man arrested for plotting a terror attack at a restaurant/bar on New Year's Eve. In July 2015 a man from western New York was charged with attempting to provide material support and personnel to ISIS.

Those are just a few examples that we believe provide conclusive evidence that they are here, but there is more. 

In early December 2015 a study was released by George Washington University that showed there were approximately 900 open FBI investigations of people in the U.S. with ties to the Islamic State. The study also revealed that out of 71 ISIS-related arrests since March 2014, 56 of them occurred in 2015, which was the largest number of terror-related arrests since 2001.

Of the arrests tied to the bloodthirsty Islamic State, 13 occurred in New York — the most of any state, followed by Minnesota with 11.

The New York Daily News reported at the time the study was released that the study found New York was a "key recruiting site for the jihadi army."

The dangerous wave of ISIS supporters in America includes college students, teenage girls, militants and surpassing all other state residents — New Yorkers.




The UK Mirror states "Federal agents and New York City police officers do not believe there is any credible threat."

I beg to disagree.... vehemently. The ISIS hit list being released, in and of itself, is an immediate and credible threat when we know ISIS supporters are right there, planning attacks and have just been given a list of names and home addresses as targets.

What makes matters worse is residents of New York that do not already own weapons for protection could have to wait anywhere from 3-8 months in order to obtain a handgun license in New York City after they begin the stringent process. While criminals and ISIS supporters generally do not bother with the process and obtain their weapons illegally, that makes unarmed New Yorkers on the new hit list... sitting ducks.

Related: New York Gun Laws








comments powered by

Disqus