"The Best Mix Of Hard-Hitting REAL News & Cutting-Edge Alternative News On The Web"
April 19, 2016
Live Coverage New York Primary - OPEN THREAD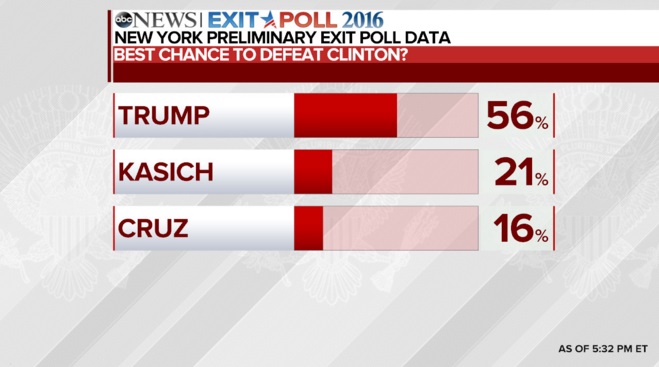 By  All News PipeLine

New York presidential primaries are being held for both the Democrats and Republicans tonight, Tuesday,  April 19, 2016. We are embedding some livestream coverage videos from a variety of sources, Newsmax, Fox Phoenix and from the Alex Jones Channel, so readers can choose which they favor to watch.

Polls close at 9pm ET and results are expected to start coming in at 9:30 and can be seen at the New York Times NY Primary Results page.

On the Republican side, according to Real Clear Politics averages, Donald Trump is holding an average 30 point lead to win New York with 53.1% of the vote, John Kasich at 22.8% and Ted Cruz trailing with 18.1% with New Yorkers.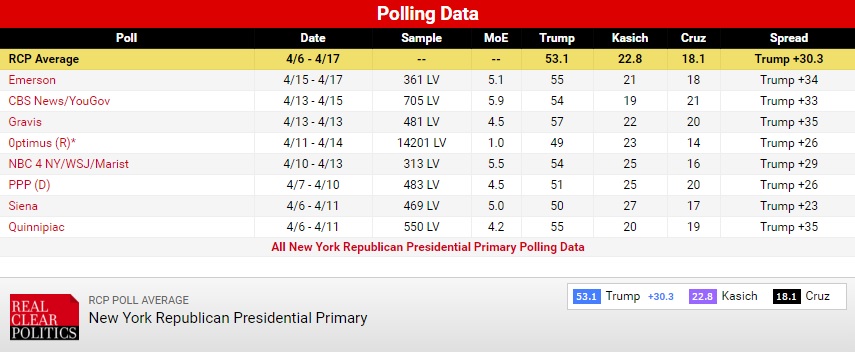 On the Democratic side, Hillary Clinton is leading Bernie Sanders by an average 11.7 points. She polls at 53.1% with Sanders coming in second with 41.4 percent.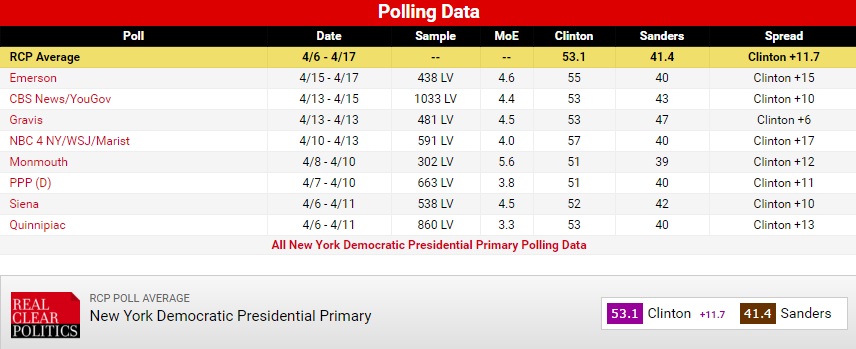 Some interesting results have come out of the exit polls, such as 56% of those surveyed believe Donald Trump has the best chance of beating hillary Clinton in the general election, if she is the Democratic nominee, with Kasich coming in second with a 21% chance and Cruz coming in last place with just 16% chance.

Other exit poll findings include the following:

Vote in November: Trump also prevails among New York GOP primary voters in terms of their own potential support in November, according to preliminary exit poll results. Should he be the party's nominee, about half in these preliminary results say they'd definitely vote for him; a quarter flatly rule him out. "Definitely support" numbers are lower for Cruz (about a quarter) and Kasich (three in 10). And more Republican primary voters flatly rule out Cruz in November than do so for Trump.



Outsider: Trump may reach a new high on his signature issue: Nearly two-thirds of GOP primary voters in these preliminary exit poll results are looking for an outsider rather than someone with political experience. Outsider voters, a group Trump's won overwhelmingly in past contests, peaked previously at 61 percent in Nevada.

Muslims/Immigrants/Anger: Six in 10 New York GOP primary voters in these preliminary results also favor banning non-U.S. Muslims from entering the country – a substantial majority, albeit but down from its average elsewhere. Another signature Trump issue again does less well; just a third of GOP primary voters support deporting undocumented immigrants. It's been higher on average – but not a majority – in previous GOP contests to date. Also, more than a third are "angry" with the federal government, roughly on par with previous primaries.


More exit poll results can be seen at ABC News.

[Update] Via AFF -  MASSIVE Voter FRAUD Exposed In New York Primary













comments powered by

Disqus