"The Best Mix Of Hard-Hitting REAL News & Cutting-Edge Alternative News On The Web"
July 8, 2015
Amazing Speech! Nigel Farage Tells Greece PM Tsipras to 'Leave the Euro, Reclaim Your Democracy' In Front of EU Parliament

Republished on ANP with permission of Star Fox EyesOpenReport.com  



UKIP leading Nigel Farage directed a feverous speech towards Greece Prime Minister Alexis Tsipras in front of the EU parliament urging the Greece head to leave the Eurozone and reclaim the country's democracy.

"When the bailouts began, they weren't for the Greek people, those bailouts were to bailout French, German and Italian banks – they haven't helped you at all," said Farage as a applause followed.

"There were threats and bullying, but the Greeks stood firm….they will give you no more these people – they can't afford to – if they give you more they'll have to give other Eurozone members more – so your moment has come and frankly if you've got the courage you should lead the Greek people out of the Eurozone with your head held high, get back your democracy, get back control of your country, give your people the leadership and the hope that they crave," Farage continued.




Farage, directly speaking to Tsipras, explained that the next few months will be a struggle for the Greek leadship and the country's citizens but "with a devalued currency and with friends of Greece all over the world, you will recover."

During his speech Farage also went on to address the wider implications of the Greek referendum, saying that the Eurozone project was dying.

"The countries of Europe are different – if you try and force together different people or different economies without first seeking the consent of those people it is unlikely to work and the plan has failed," Farage stated.

On Wednesday Greece submitted a request for a three-year loan from the European Stability Mechanism — an EU agency that provides loans.

Greece must provide details of economic reform by Thursday to justify the lending by international creditors.

"Greece is committed to honor its financial obligations to all of its creditors in a full and timely manner," Greece Finance Minister Euclid Tsakalotos said in a letter to the European Stability Mechanism.

With these revelations it seems as if Tsipras has ignored Farages advice and is set on staying glued to the Eurozone.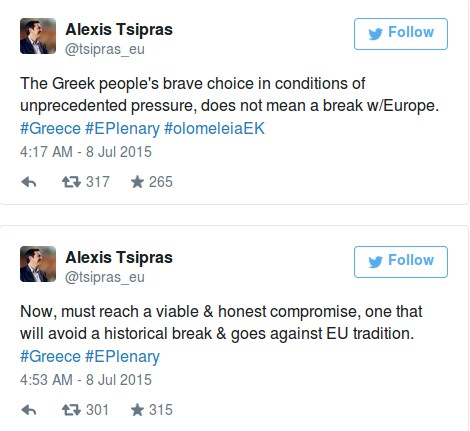 comments powered by

Disqus