"The Best Mix Of Hard-Hitting REAL News & Cutting-Edge Alternative News On The Web"

December 4, 2016
Experts Warn Of 'Global Unrest On A Scale We've Never Seen' And An 'Unprecedented Epidemic Of Food Riots' As The World Goes Beyond The Tipping Point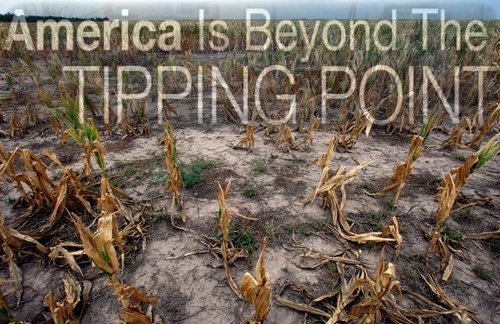 By Stefan Stanford - All News Pipeline - Live Free Or Die
The November 28th story from the Daily Star tells us that according to a report published by the Center for Naval Analyses (CNA), our country is quietly preparing for food prices here to possibly spike by as much as 400% in the next 8 years. Warning us of a global crisis brought on by "food price and supply swings amidst burgeoning population growth, rapid urbanization, severe weather events, and social unrest", one expert stressed we could soon see an "unprecedented epidemic of food riots."

Also reporting that the world's population of more than 7 billion could be doomed as riots are sparked in city streets over what could soon be considered a luxury item – something to eat, they also warn many believe the US government has long been preparing for what actions it might take in the face of global famine. In a worse case scenario?



"The global food supply system could face catastrophic losses, and an unprecedented epidemic of food riots."



"In this scenario, global society essentially collapses as food production falls permanently short of consumption."

We take a look below at several new stories from across the internet that prove to us the warnings given to us by the CNA are already playing out in many locations around the world, even here in the US, as well as several new videos including one with Brandon Smith from AltMarket.com being interviewed by the X22Report.

In that video we're warned 'Operation Shift Blame' is a go and the globalists are still planning on bringing down the economy. We also take a look below at a statement given to ANP by Steve Quayle in which he shares with us the globalists plan, leaked by those in high positions within intelligence agencies and the US military, to complete their takedown of America.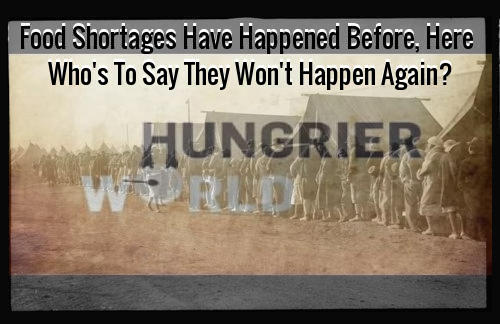 While 8 years might seem far off, tens of millions of Americans are already going through food shortages and hunger as this recent story from the Metro tells us, nearly 42% of the food pantries in New York ran out of food in September of this year and 29% of the facilities actually had to turn away those seeking food. Those who run the facilities are predicting it's only going to continue to get worse judging by what they're seeing on the front lines of hunger now.

The recent story from Zero Hedge tells us that according to the deep discount retailer Dollar General, at least half of US consumers are now feeling 'more dire than ever'. With 65% of their company's core consumer base made up by lower-income shoppers, many of them had been hurt by the reduction or complete elimination of food stamps, leaving even more Americans living either 'on the edge' or having completely fallen over 'the tipping point'.


Reporting in their story that the majority of the consumers that Dollar General has interviewed recently felt they were worse off today than they were at the beginning of the year, we're told in the 1st video below by Brandon Smith of AltMarket.com in his interview with Dave from the X22Report that the globalists will continue to bring down the economy and 'Operation Shift Blame' to Donald Trump and conservatives and nationalists is a go with the elite.

Smith also predicts that things will continue to deteriorate here in America with the left, unable to accept the election of Trump, being intentionally pushed towards militant communism which in turn will see the right turn towards totalitarianism to control the havoc in US streets. He also warns us he believes 'shenanigans' going on will continue as the globalists continue to attempt to divide America, pushing Americans further apart as they bring down the economy on Trump's watch. As he warns, the globalists need a scapegoat for what they have planned for America.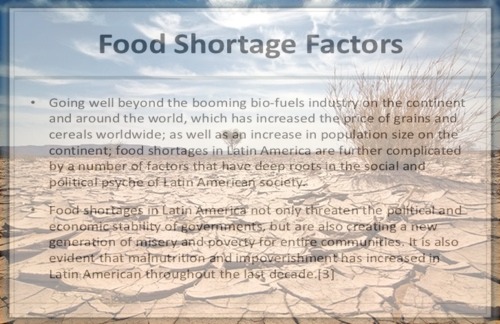 Food shortages are already widespread and now happening around the world as documented by these recent stories:

In Venezuela it was reported that Venezuelans are having to wait in 6 different ATM lines lines just to get enough money out to buy rice while government handouts there are offering the people no relief. As the SHTFPlan story asks: Is this how the economic crisis will play out in America? A cash strapped population, forced to the brink and stripped of their dignity? We hear in the 2nd video below why things keep getting worse for Venezuela with no end to the misery in site.

A little bit closer to home in Cuba, the death of Fidel Castro may bring some relief though poverty is very widespread (a typical salary for a doctor is little more than $65 a month - teachers $8 to $10 a month) as the people are stuck in a broken 57-year old system where food shortages and power outages are a regular thing. 

In Japan, more than 300,000 chickens and ducks were recently culled after officials found a highly contagious form of bird flu among them as also heard in the 3rd video below while the slaughter of poultry continues in Europe with avian flu spreading and hundreds of thousands of birds having to be destroyed.

In Syria it was recently reported that food prices are going through the roof as production levels hit record lows in that war-torn country while supermarket bosses and farmers unions in the UK have warned the government that a 'hard Brexit' would put food supplies in the UK at risk. 

Egypt where it was reported the food crisis there was strangling the economy and had become a bitter blow to all classes of society after rice, sugar and medicines are running out in the country and the nation has announced a 48% devaluation of their currency. Approximately 68 million of Egypt's 92 million receive food subsidized by the state with 75% of the country completely relying upon state run stores for their basic needs.

In Zimbabwe it was recently reported that 5.2 million will face food shortages in the first quarter of next year as the United Nations describes the country's worst drought in 25 years.

In Somalia more than 5 million people face food shortages after severe droughts as well while in South Sudan, another 3.6 million face severe food shortages, the highest amount ever at harvest time we're told. In Malawi it's been reported that many will die of hunger with massive shortages of food and resources while

In Mosul Iraq it was recently reported that 650,000 residents face severe food and water shortages largely due to fighting there and winter setting in, leaving many families unable to feed themselves.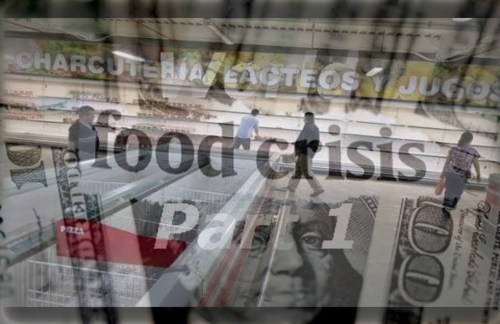 As ANP and several other alternative news websites have reported over the last several years, Barack Obama has also signed all of the executive orders necessary to turn America into a totalitarian nation with the US government taking complete control of all food and resources, including farms and livestock. Executive Order 13603 alone allows Obama to seize control of our economy and our lives according to this Forbes story. And as Bizpac Review told us about EO13603, it throws all notions of personal responsibility out the window, and it does so in a way that sets the principles of property ownership and all rights attributed to ownership on its head.



In what circumstances, one might ask, would a president try to carry out this audacious plan?





Executive order 13603 says with ominous ambiguity: during "the full spectrum of emergencies."



With America still not 'out of the woods', might that 'full spectrum of emergencies' come to pass in the last 6+ weeks of Obama's presidency with the globalists still pushing civil unrest in American streets as warned by Smith in the first video?

It's clear our nations farms are already in dire straits and as this new story from Natural Blaze shares, it's a  stacked deck that our nation's food producers are up against. Almost as if the globalists want America's food supply to topple, we're told our nation's food system is like an overload Jenga game with the farmers bearing the weight that's about to come crashing down. What might America look like then?

In closing, Steve Quayle gives us this dire warning of that possible future America we pray never comes to pass.:
"WHEN UNDERSTANDING THE DAYS WHEN FOOD IS UNDER TOTAL UN CONTROL, CONSIDER THIS: THAT EVERY FARM, RANCH, PROCESSING FACILITY, AND FOOD WAREHOUSE AND GROCERY STORE IS TAKEN OVER UNDER FOREIGN UN, MILITARY CONTROL. FURTHERMORE, CONSIDER WHEN EVERY RESTAURANT, HOSPITAL AND ALL CAFETERIA'S THAT HAVE ANY MEAL PREP FUNCTIONS ALSO ARE UNDER THEIR CONTROL. FINALLY, WHEN ALL THE ENEMIES OF THE GLOBALISTS ARE EITHER MURDERED OR SHIPPED OFF TO PRISON CAMPS AND ALL THEIR PREPS SIEZED. THIS IS THE PLAN AS DETAILED FROM PEOPLE IN HIGH POSITIONS FROM INTELLIGENCE AGENTS, MILITARY AND OTHERS WHO HAVE BLOWN THE WHISTLE ON THESE PLANS WHO HAVE MADE THEM PUBLIC TO THE ALT-MEDIA CHANNELS - WITH MANY HAVING PAID WITH THEIR LIVES"! SQ





comments powered by

Disqus