"The Best Mix Of Hard-Hitting REAL News & Cutting-Edge Alternative News On The Web"
October 23, 2015
Mexico Braces For 'Catastrophic Weather Bomb' Hurricane Patricia - Strongest Hurricane Ever Recorded With 'Potential To Cause Massive Death And Destruction'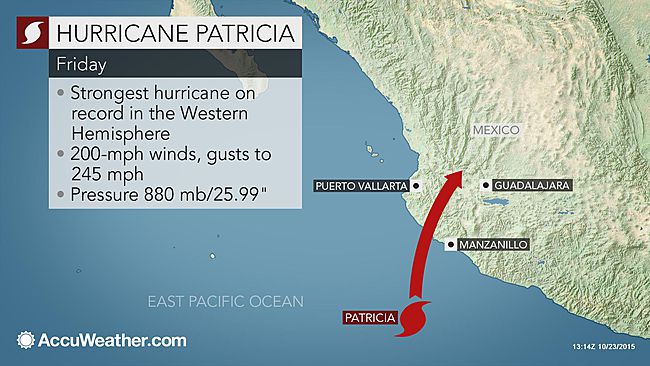 By Susan Duclos - All News PipeLine


Described as the "Strongest Hurricane Ever Recorded" by The Associated Press, CNN, AccuWeather, Weather.com and others, Hurricane Patricia has Mexico bracing for what CNN calls potentially "massive death and destruction to a large swath of the Mexican Pacific coast, including the tourist hot spots of Puerto Vallarta and Acapulco."

According to the latest advisory from The National Hurricane Center, Patricia has maximum sustained winds near 200 MPH.

HAZARDS AFFECTING LAND----------------------WIND:  Hurricane conditions are expected to first reach thehurricane warning area this afternoon.  Tropical storm conditionsare beginning to spread across portions of the warning area.Preparations to protect life and property should be rushed tocompletion.  Hurricane conditions are possible in the hurricanewatch area later today.

RAINFALL:  Patricia is expected to produce total rainfallaccumulations of 8 to 12 inches, with isolated maximum amounts of 20inches, over the Mexican states of Nayarit, Jalisco, Colima,MIchoacan and Guerrero through Saturday.  These rains could producelife-threatening flash floods and mud slides.

STORM SURGE:  An extremely dangerous storm surge is expected toproduce significant coastal flooding near and to the right of wherethe center makes landfall.  Near the coast, the surge will beaccompanied by large and destructive waves.

SURF:  Swells generated by Patricia are already affecting portionsof the southern coast of Mexico, and will spread northwestwardduring the next day or so.  These swells are likely to causelife-threatening surf and rip current conditions. Please consultproducts from your local weather office.




Accuweather states "To put in perspective, a 'weather bomb' in the mid-latitudes is classified as a pressure drop of 24 mb in a 24-hour period." Weather.com calls Patricia "Unprecedented among Pacific Hurricanes," as they call it an exceptionally dangerous situation in Mexico."

Met Office Storms reports, via Twitter, the central pressure is "lowest for any tropical cyclone globally for over 30 years," screen shot below.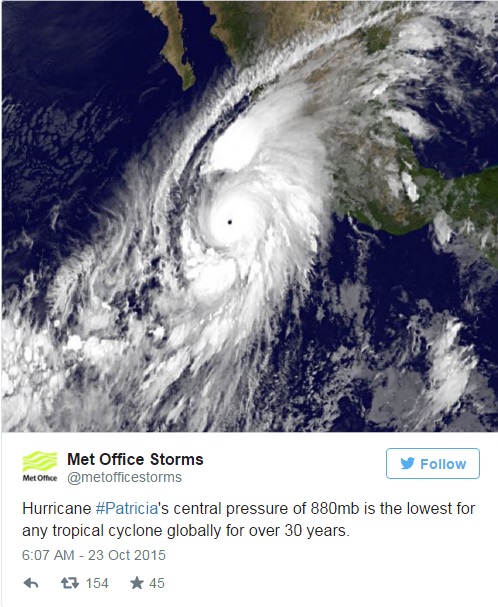 Via CNN:

Patricia's intensity is comparable to Typhoon Haiyan, which hit the Philippines in 2013, the World Meteorological Organization tweeted. More than 6,000 people died in Haiyan, due largely to enormous storm surges that rushed through coastal areas. Haiyan had 195-mph sustained winds when it made landfall, while Typhoon Tip was at 190 mph (and had a slightly lower pressure reading of 870 millibars) in 1979.


Please keep the people in the path of Patricia in your thoughts and prayers.















comments powered by

Disqus