Please Visit Whatfinger News - Conservative Frontpage founded by veterans.
"The Best Mix Of Hard-Hitting REAL News & Cutting-Edge Alternative News On The Web"
November 20, 2017
Revenge Of The Deplorables - Trump Haters Blacklisted, Accused, Fired And Under Investigation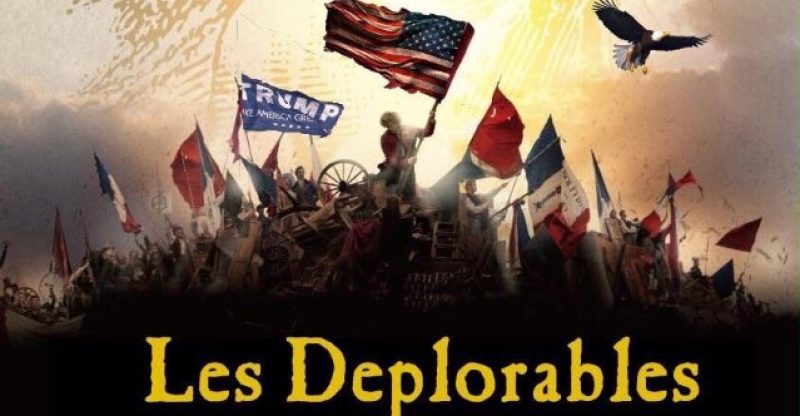 By Susan Duclos - All News PipeLine

Trying to keep up with how many die-hard Trump haters are now so busy defending themselves, trying to save their own careers, infighting among themselves, fighting off bipartisan actions against them, has become a full time job in itself, yet as we see daily reports of yet another hater put into the crosshairs, we can't help but think we are watching the "Revenge of the Deplorables."

Reference: "you could put half of Trump's supporters into what I call the basket of deplorables." - Hillary Clinton, LGBT Gala in New York City on Sept. 9, 2016.

BLACKLISTED IN AMERICA

The latest Trump hater in the spotlight is the has-been comedian Kathy Griffin, who thought it would be "funny" to pose in a video and share an image of her holding a bloody mock head of President Trump back in May 2017, which cost her first her New Years gig with CNN, all around criticism, and all of her U.S.A. tour dates, as cancellation after cancellation hit her schedule, until there was nothing left.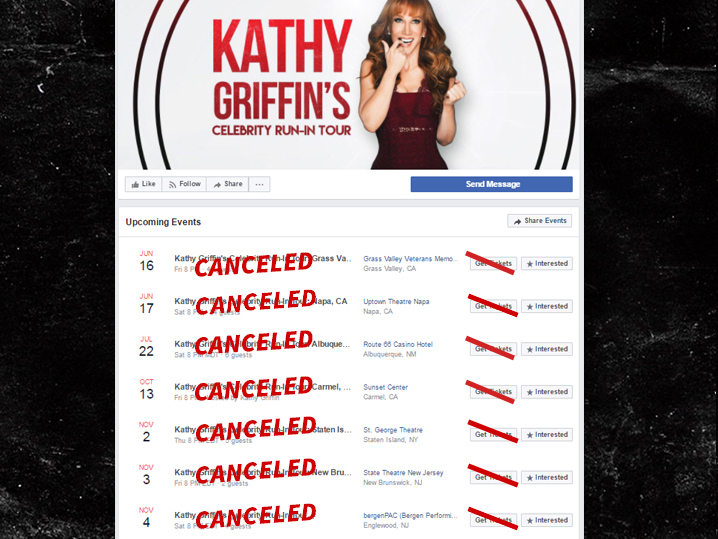 She then hired "Fame Whore" lawyer Lisa Bloom and gave a tearful press conference, which didn't help matters, as soon Griffin and Bloom were in a very public falling out over the disastrous presser.

On Saturday Griffin posted a video to her YouTube channel titled "State of the Union," where she explained she was on a "world tour" but it was getting ready to end and complained that she was in the "middle of a Hollywood blacklist," while whining "when I get home, I do not have one single day of paid work in front of me."


"At 57, I don't have a lot of time to be patient. Don't be too hard on me. I'm fully in the middle of a Hollywood blacklist," she added. "I just want you guys to know, when I get home, I do not have one single day of paid work in front of me."

"And people that want me to go back and start in [comedy] clubs and do ten minutes again, I don't mean to be an a**hole, but no. I'm not going to do that," she continued. "I've worked way too hard to go back and work for free and do the club scene again…this is the bullsh*t, because I've been blacklisted."

"I'm not going to lie. It's going to be hard when I go home and I don't have one show in my future," Griffin explained. "I think I should be able to get my life back. So, I know I took a picture that offended a lot of people, but this wall of crap has never fallen on any woman in the history of America the way it has on me."



HOORAY FOR HOLLYWOOD........

The list of Hollywood celebrities being accused of sexual misconduct continues to grow. Yet another "group" where the majority in the industry, the loudest and most obnoxious subset, continually told Americans that because of their "fame" they needed to gather together and tell Americans who they should vote for and when that didn't work, took to the DC streets to "protest," the inauguration of President Trump.

Well, they aren't quite as busy bashing the president now because they are involved in an industry-wide implosion the likes of which has never been seen before, which started with movie mogul Harvey Weinstein and has now engulfed dozens of so-called celebrities including, but not limited to: Actor Kevin Spacey; Celebrity chef John Besh; Comedian Louis C.K; Cinefamily executives Hadrian Belove and Shadie Elnashai; Actor Richard Dreyfuss; Director-producer Gary Goddard; Casting employee Andy Henry; Actor Dustin Hoffman; Actor Robert Knepper; Showrunner Andrew Kreisberg; Actor Jeremy Piven; Filmmaker Brett Ratner; Comedy festival organizer Gilbert Rozon; Producer Chris Savino; Actor Tom Sizemore; Actor Jeffrey Tambor; Actor George Takei; Writer-director James Toback; Hollywood executive Adam Venit, and; "Mad Men" creator Matthew Weiner; Actor Ed Westwick.

The claims against these celebrities range from the umbrella term "sexual misconduct" to rape, molestation, abuse and even pedophilia.

It is being reported that in Los Angeles the LAPD are investigating nearly two dozen cases of alleged criminal sexual misconduct connected to multiple people within the entertainment industry, where "Allegations span from misdemeanor sexual battery to felony rape, and in many cases, there are multiple complaints lodged against the same individual," according to NBC News.

Today we see that two more names have been added to the list as "Live! With Kelly and Ryan" co-host Ryan Seacrest and hip-hop mogul Russell Simmons are among the latest to be accused of sexual misconduct," as reported by Syracuse.com, celebrity news.



MEDIA IN THE CROSSHAIRS......

Yet another industry that spent the entire presidential campaign season attempting to influence voters, is the mainstream media, from outright fake news, to selectively editing quotes from the then-candidate Donald Trump, to providing over 80 percent negative coverage of his campaign, is now engulfed in a number of their own sexual misconduct scandals, as well as yet more humiliating corrections and retractions over regular political reporting. A poorly worded Wall Street Journal report was widely misinterpreted, then those false reports were spread from  CNN, The Washington Post, Newsweek, The Independent, The Guardian, and Vice News, most of whom eventually offered corrections after the story had already gone viral.


A widely-reported claim that a Polish nationalist march in Warsaw Saturday featured a banner calling for an "Islamic holocaust" can be traced back to an inaccurate Wall Street Journal report, a Daily Caller News Foundation investigation revealed.

Unclear and incorrect language in TheWSJ report led to rampant inaccuracies in reports published by CNN, The Washington Post, Newsweek, The Independent, The Guardian, and Vice News. These reports, most of which were traced back to CNN's report, claimed a banner at a Polish nationalist march in Warsaw over the weekend read "pray for an Islamic holocaust," despite the fact that the last time such a banner was seen in the Polish capital was in 2015.

Without clarifying a specific time but supposedly referring to an incident two years ago, TheWSJ claimed Saturday that the banner "appeared over a bridge in Warsaw," although it actually appeared in the city of Poznan. This mistake, which TheWSJ corrected Wednesday, appeared to cause confusion among numerous reporters, who assumed that the banner appeared at Saturday's rally.

On top of just the latest in "fake news" reporting, the industry is also seeing a massive backlash after the publishing of the "Sh*tty Media Men" list which was shared privately with a number of women in the industry, detailing "bad behavior" of their male colleagues, used as a whisper network to warn newcomers of sexual predators in their midst. While some of the allegations were utterly ridiculous in nature, such as intermingling men that "flirted" with others accused of things like actual rape and abuse, other allegations have proven to be true as resignations and firings in some of the outlets named on the list have hit the news.

Since the existence of the list, some of the more high profile names that have either resigned, been fired, or are subject to internal investigations, or being accused of sexual harassment, include, but are not limited to: NBC News Journalist Mark Halperin; New Republic publisher Hamilton Fish; NPR news chief Michael Oreskes; Amazon executive Roy Price; Rolling Stone publisher Jann Wenner; NBC News booker Matt Zimmerman; Webster Public Relations CEO Kirt Webster; Billboard magazine executive Stephen Blackwell; Penguin Random House art director Giuseppe Castellano; Mother Jones David Corn, Vox Media Editorial Director Lockhart Steele, Sam Kriss whose work has appeared in publications including VICE,  The Guardian, The Atlantic, Slate, The Baffler and the New York Times, GQ (formerly Gentlemen's Quarterly), Rupert Myers, VICE writer Michael Hafford.

The latest reports showing this is an ongoing and growing scandal for the MSM, now includes NPR's board chairman, Roger LaMay "is the subject of a complaint filed with NPR alleging past inappropriate behavior," reported on by NPR.

Related: 'Unsafe and Just Plain Dirty': Women Accuse Vice of 'Toxic' Sexual-Harassment Culture

Just for entertainment purposes, a recent Raw Story video from November 19, shows a CNN reporter in Alabama was interrupted and had to turn the coverage back to their in-house host after a Roy Moore supporter started screaming "fake news, fake news, fake news."

It is short, but amusing, especially when the CNN host comes back on screen and says "Alright, well sometimes that happens."



SOCIAL MEDIA AND TECH GIANTS UNDER THE GUN

Social media and tech giants such as Twitter, Facebook and Google are all suffering different issues other than sexual allegations, as the MSM turns against social media, and Google faces multiple anti-trust issues and concerns, while Twitter is being criticized for purging and de-verifying conservatives, while Google has begun using far left ideologically driven "fact checkers," in yet another bid to destroy Independent Media and we are seeing bipartisan calls to regulate social media giants as a utility.

THE CLINTON ERA IS OVER....

Last but not least we Hillary Clinton, who decided it would be beneficial to alienate half of America by calling them "deplorables." Hillary has had a very bad year, from losing the election to the most recent series of scandals from the recent revelations on Uranium One, to the reports that her campaign and the DNC helped fund the still unverified "Trump dossier" which was used to obtain FISA orders to allow surveillance on Trump campaign team members, to former DNC interim cair Donna Brazile revealing how the Clinton campaign rigged the primaries and basically took control of the DNC before she was even the official nominee, which Charles hurt calls "three Watergate-level scandals."

Not only has the tide turned against Hillary but we are seeing former apologists for Bill Clinton's sexual abuse allegations, now coming out quite vocally against him as we see new allegations coming out against Bill for sexual assault.

Hillary and Bill Clinton have lost most liberal network in the country, MSNBC, and the biggest bag of hot air, Mika Brzezinski, which should tell us all, the Clinton era is over.




BOTTOM LINE

Each person, and industry seeing their entire foundation crumble from under them, scandals knocking them off their high horses, and will no doubt limit their "influence" on the masses, have all, for the most part, been virulently anti-Trump, mocking his supporters as "deplorables," calling them racists, sexist, and any other derogative descriptor they could find, are all now seeing themselves in the spotlight like Emperors with no clothes, and it is getting uglier day by day.

If we step away from each individual accusation and scandal engulfing them and look at it from afar, encompassing the big picture, what we are seeing is the "Revenge of the Deplorables."






comments powered by

Disqus