Please Visit Whatfinger News - Conservative Frontpage founded by veterans.
"The Best Mix Of Hard-Hitting REAL News & Cutting-Edge Alternative News On The Web"
Has The 'Red Line' Been Crossed? Conflicting News Reports Claim Deputy AG Rosenstein Has Resigned, Has Been Fired, And None Of The Above (Yet?) As Left Screams Of Doomsday And End Of The World Predictions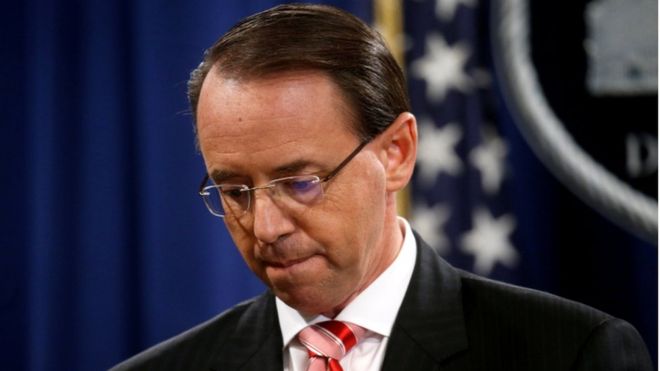 By Susan Duclos - All News PipeLine


Axios reports that Deputy Attorney General Rod Rosenstein has offered his verbal resignation to White House Chief of Staff John Kelly in anticipation of being fired by President Trump, quoting their sources as saying "He's expecting to be fired," so he plans to step down."

Bloomberg and others confirm Axios exclusive report, but conflicting reports from CNN and others claim that Rosenstein is expecting to be fired, but not to resign, so in the chaos of reporting breaking events, it appears that multiple outlets are being given conflicting stories.

Bloomberg Politics on Twitter claims the alleged resignation has been accepted, stating "Rosenstein's offer to resign as deputy attorney general has been accepted by the White House, according to a person familiar with the matter."

Reports over the weekend claimed that President Trump had decided not to fire Rosenstein after a NYT story claimed he suggested wearing a wire to record President Trump in private meeting to "to expose the chaos consuming the administration." The NYT claimed the comment was detailed by memos by a number of memos by FBI agents, including by former FBI Deputy Director Andrew McCabe.

Rosenstein vehemently denied the NYT claims, stating "I will not further comment on a story based on anonymous sources who are obviously biased against the department and are advancing their own personal agenda. But let me be clear about this: Based on my personal dealings with the president, there is no basis to invoke the 25th Amendment."

President Trump on the other hand has stated publicly he has not made a decision of Rosenstein, telling Geraldo Rivera "I don't want to comment on it. I don't want to comment on it until I get all the facts. ... But certainly it's being looked at in terms of what took place, if anything took place, and I'll make a determination sometime later."

That fits more with the Reuters report that Rosenstein did "discuss" resigning with White House Chief of Staff John Kelly over the weekend, but that he has not officially resigned, nor been fired.

So, multiple conflicting reports, some saying Rosenstein resigns, others saying he expects to be fired and President Trump saying he is not prepared to make that decision as of yet.

With liberals screaming that firing Rosenstein would be a "red line," social media reactions have been over the top, with doomsday, end of the world predictions and a unhealthy amount of Trump Derangement Syndrome thrown in.

Considering the amount of attention these latest reports have received it is worth taking a look at who would replace Rosenstein if he has resigned, or was fired, or even if he leaves at a later date.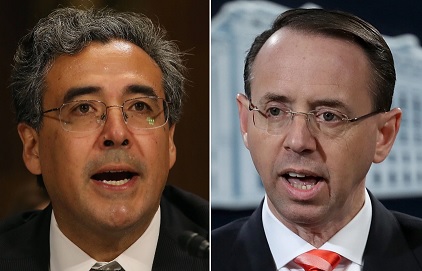 (Noel Francisco and Rod Rosenstein)


THE FATE OF ROBERT MUELLER IF ROSENSTEIN IS REALLY OUT

Should Rosenstein resign President Trump can replace him immediately on an interim basis with someone who has already been Senate confirmed. If the President fires Rosenstein, replacing him quickly could be difficult and would eventually need Senate confirmation.

Either way, the  line of succession includes Solicitor General Noel Francisco, who was nominated by President Trump and confirmed by the Senate back in 2017.

Since Attorney General Jeff Sessions is recused from Russia/2016 election related issues, Rosenstein was left in charge of the Robert Mueller special counsel investigation into issues regaring Russia and the 2016 election, meaning if Francisco is named to the position for the interim, he would be in charge of the Mueller investigation.

Via Bloomberg on Francisco:


However, the Justice Department has a line of succession that could let Solicitor General Noel Francisco assume control of the investigation. One question is whether that would be considered inappropriate given that Francisco is a former partner of the Jones Day law firm, which has represented Trump for years.

As solicitor general, Francisco has staunchly defended Trump administration policies while pursuing long-held conservative legal goals.

He successfully defended Trump's travel ban, drawing criticism for saying at argument that the president had "made crystal clear" he wasn't trying to impose barring Muslims. Francisco later sent the court a letter saying he had misstated the date on which Trump supposedly made those comments.

He reversed what had been the Obama administration's position on a number of high=profile issues in the court's last term.

On September 21, 2018, the liberal website Vox  highlighted a couple interesting stances that Francisco has previously taken in regards to executive power and the presidential powers.


Francisco's early tenure in the Trump administration indicates his positions haven't shifted all that much.

He argued a case before the Supreme Court that could have implications for the Mueller investigation. It involves a narrow issue of how Securities and Exchange Commission (SEC) administrative law judges are hired.

But as the Los Angeles Times reported in April, Francisco has stepped in and asked the Court to decide on a much larger question of the president's constitutional authority to not just hire officials but fire them too:

Francisco points to two provisions of the Constitution as giving the president very broad authority. One says the president shall appoint ambassadors, judges and "all other officers of United States." The other says the president "shall take care that the laws be faithfully executed."

"The president's constitutional responsibility to faithfully execute the laws requires adequate authority to remove subordinate officers," Francisco told the court in February. "The framers understood the close connection between the president's ability to discharge his responsibilities as head of the executive branch and his control over its personnel. … The president's ability to execute the law is thus inextricably linked to his authority to hold his subordinates accountable for their conduct."

Francisco is basically saying the Constitution gives the president the authority to dismiss all officials who have power under the executive branch. That could, most conspicuously, give Trump a legal way to oust Mueller.

The Supreme Court ruled in favor of the administration, but decided the case very narrowly on the question raised about the status of SEC administrative law judges. And as legal writer Cristian Farias pointed out, Justice Elena Kagan chastised Francisco for trying to make a broader argument about presidential power.

But it's telling that the administration took this stance and that Francisco, as the solicitor general, is making these arguments before the court.

Francisco's approach to executive power doesn't mean that if he takes over he'll immediately fire Mueller, or even rein in Mueller's mandate. But it does hint that he might be more sympathetic to the Trump administration's stance, especially if the allegations about Rosenstein intensify the clamor on the right about the Mueller probe being biased against the president.


Even more from Washington Times:


Although Mr. Francisco has remained mum on the Mueller probe he now stands to inherit, he has argued against government overreach in political corruption investigations.

He even blasted frequent Trump sparring partner and ex-FBI Director James Comey for "heavy-handed" tactics in the bureau's probe of former Virginia Gov. Bob McDonnell, a Republican. Mr. McDonnell's conviction was vacated by the U.S. Supreme Court in 2016.

Mr. Francisco has also accused Mr. Comey of using "kid gloves" in the investigation into Hillary Clinton's use of a private email server while secretary of state.

While it is highly doubtful that Francisco would simply fire Mueller and shut down his investigation in totality, it is highly likely he would offer the oversight that Rosenstein did not and has been severely criticized by conservatives of not adequately fulfilling his supervisory role by refusing to keep Mueller on track of his initial mandate.

According to Law and Crime the president could name someone else other than Francisco, but frankly given Francisco's impeccable conservative credentials, the battle would probably not be worth it since he has admirably and successfully argued Trump administration positions.


BOTTOM LINE

One has to wonder how so many different outlets received so many different versions of what happened over the weekend and with Rosenstein's White House meeting on Monday.

A couple possibilities come to mind. 1) Someone just punked the entire MSM. 2) As Trump is slated to meet with Rosenstein on Thursday, the MSM may have just gotten out ahead of actual events by making assumptions they should have waited to report. 3) Perhaps Thursday will be the day that Rosenstein offers his resignation directly to the President or is fired.

Either way, it appears that Rosenstein's position within the Justice Department is something he may not be holding for much longer, which could affect the entire Russia probe by Robert Mueller.




NOTE TO READERS: ANP Needs Your Help. With digital media revenue spiraling downward, especially hitting those in Independent Media, it has become apparent that traditional advertising simply isn't going to fully cover the costs and expenses for many smaller independent websites.

Any extra readers may be able to spare for donations is greatly appreciated.

One time donations or monthly, via Paypal or Credit Card:



Or  https://www.paypal.me/AllNewsPipeLine
Donate monthly from $1 up by becoming an ANP Patron.





comments powered by

Disqus