"The Best Mix Of Hard-Hitting REAL News & Cutting-Edge Alternative News On The Web"
October 3, 2015
Russia Condemned For Bombing Terrorists While US Bombs Hospital Killing Nine Staff, Calls It 'Collateral Damage'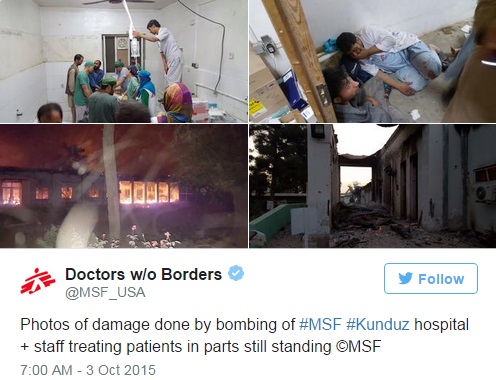 By Susan Duclos - All News PipeLine

While Russia has been in the crosshairs of the U.S. mainstream media and the Obama administration for their all-out attack against ISIS in Syria along with the supposed "moderate" U.S. supported Syrian rebels (who recently handed over U.S assets to al-Qaeda!), we find out  the U.S. just bombed a hospital, killing nine members of the staff of medical aid group Doctors Without Borders in the Afghan city of Kunduz.

Airstrikes killed nine staff workers of medical aid group Doctors Without Borders in the Afghan city of Kunduz, the charity said. U.S. forces said they conducted airstrikes in the area.

At least 37 people were injured in the aerial bombings early Saturday, including 24 of the medical aid organization's staff, said the group known internationally as Medecins Sans Frontieres.

Thirty people are unaccounted for, MSF said, and it expects the number of people killed or injured to go up.

This occured despite the fact that the U.S. and Afgan authorities were aware of the hospitals location and had been warned multiple times. According to the CNN report linked above "Bombing continued for more than 30 minutes after the aid group notified military officials it was under attack, it said."

Reports indicate there were a number of Taliban inside the hispital, which is why the U.S. bombed it, killing them along with the medical staff of the hospital, but it is the direct quote from Colonel Brian Tribus, that really catches the eye where he states the bombing campaign "may have resulted in collateral damage to a nearby medical facility." (Source) 

THE HEIGHT OF HYPOCRISY

Just one day prior to the bombing of the Afghan hospital by the U.S. Military, U.S. Ambassador to the United Nations Samantha Power had just sent out a stern warning publishing a "Joint Declaration on the Recent Military Actions of the Russian Federation in Syria," to her Twitter account and stating "We call on #Russia to immediately cease attacks on Syrian oppo & civilians & to focus on ISIL."

Declaration shown below: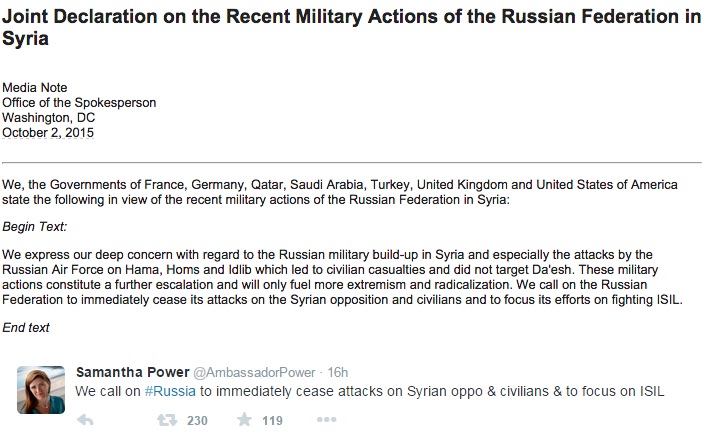 While the UN's official response to the bombing of the hospital by the U.S. military was to "condemn" the air strike on the Médecins sans Frontières hospital in Kunduz, we have seen no "declarations" over the U.S. bombing a hospital like the one above against Russia from  France, Germany, Qatar, Saudi Arabia, Turkey or the United Kingdom.



In the video below, Russian President Vladimir Putin explains clearly to journalists who created, armed and supported the people now fighting for ISIS.

We wonder when Mr. Putin will, in turn, state the casualties in Syria of civilians to be "collateral damage" that he will investigate.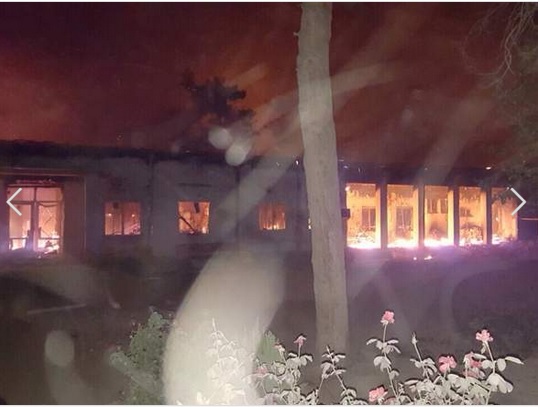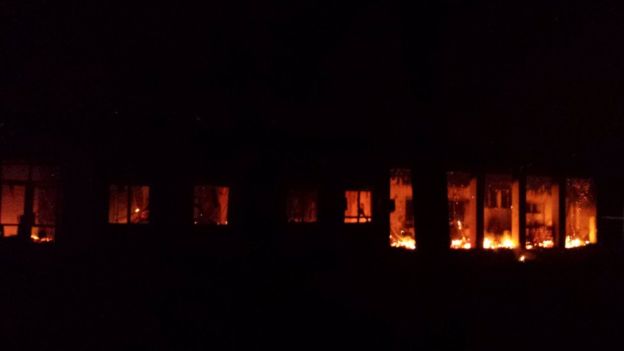 comments powered by

Disqus