Whatfinger: Frontpage For Conservative News Founded By Veterans
"The Best Mix Of Hard-Hitting REAL News & Cutting-Edge Alternative News On The Web"
May 25, 2018
A 'Real And Present Danger' - Trump Campaign & RNC Take On Silicon Valley: Censorship Will Have Legal Ramifications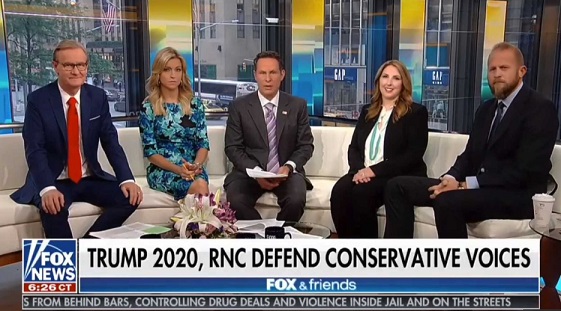 By Susan Duclos - All News PipeLine

Last month Media Research Center (MRC) put out a comprehensive, detailed 50-plus page report highlighting the extreme censorship of conservatives by online media companies being used to suppress free speech and found that the problem is "far more troubling than most conservatives realize."

The study found major issues at Twitter, Facebook, Google and YouTube, categorizing the report with examples of their suppression policies. Their findings include, but are not limited to; Twitter Leads In Censorship; Facebook's Trending Feed Has Been Hiding Conservative Topics; Google Search Aids Democrats; YouTube Is Shutting Down Conservative Videos; Tech Firms Are Relying on Groups That Hate Conservatives; Liberal Twitter Advisors Outnumber Conservatives 12-to-1, and; Tech Companies Rely on Anti-Conservative Fact-Checkers. 

CONSERVATIVE LEADERS JOIN THE BATTLE

Recently Senator Ted Cruz spoke out against Silicon Valley and big tech in America actively censoring conservatives online, calling the practice a "clear and present danger to our democratic system." Cruz highlighted Twitter's practice of "shadow-banning" conservative users, while favoring liberals views that Twitter prefers while hiding conservative views they do not agree with, stating that the level of power social media and big tech, like Google/YouTube, Facebook and Twitter has, is "staggering."

While Cruz has been the most vocal critic of social media and big tech's censoring of conservatives, to the point where he has highlighted to their representatives and to Facebook CEO, Mark Zuckerberg during congressional hearings, that they were at risk of losing their liability immunity they enjoy under Section 230 of the federal Communications Decency Act, if they continued their censoring practices. Cruz has also encouraged Congress to use "all the tools we have to protect free speech, and prevent the internet from becoming a vehicle for censorship."

The liability immunity provided to tech companies is only done so because they are supposed to be "neutral conduit" for third party information and content, which is to say they are not publishers and make no editorial decisions, therefore they are protected from being held accountable for that content. Cruz, and others are arguing that if they are censoring content based on political ideology, then they are making editorial decisions, so they should not longer enjoy the protections offered to "neutral" platforms.

While Cruz may be the most vocal voice, his is not the only congressional voice talking about this issue as House Majority Leader Kevin McCarthy is also highlighting  suppression of speech on social media platforms. 

At a speech given to the Council of National Policy, McCarthy informed them that "no conservative group is safe."


"Increasingly, people like us are belittled and forced out of the public square," declared McCarthy. "Conservative Christians are being silenced in corporate America and the mainstream media — including on social media, where some of the most important conversations of our day are taking place."

"There are troubling reports that Amazon excluded the Alliance Defending Freedom from its charity program after a smear campaign by a left-wing activist group. As you know, ADF is not some fringe group. It is one of the most respected public-interest law firms in the country, with two cases pending before the Supreme Court," he continued, adding, "Those cases — Masterpiece Cakeshop v. Colorado and NIFLA v. Becerra — will determine the very future of religious freedom in America."

"If ADF is not safe from discrimination, no conservative group is safe… And this is not an isolated incident. During the height of the 2016 election, we learned that Facebook employees 'routinely' suppressed conservative stories so they wouldn't show up in Americans' newsfeeds," McCarthy proclaimed. "And Twitter has censored run-of-the-mill pro-life advertisements for being 'inflammatory.' Think how backward that is. To some in the media and Silicon Valley, the pro-life message is 'inflammatory' — but not abortion itself, which tears apart innocent human beings in the womb."

The specific language used consistently by Cruz, during congressional questioning, hammering big tech representatives on whether they consider themselves "neutral" platforms, and McCarthy referencing the term "public square," is deliberate.

While these companies are privately owned, the protections offered under the CDA are only afforded to these companies if they remain neutral, which is Cruz's point. McCarthy's terminology by using "public square" could also be setting up a legal challenge to tech companies right to suppress speech. In an unrelated case, the U.S. Supreme Court has called internet social media a "modern public square" and as such censorsing speech is a violation of the first amendment, as referenced in a Breitbart article about a lawsuit against Twitter's censorship.

In early May, over 60 conservative leaders, members of congress, CEO's, company founders and presidents from across the nation, issued a joint statement saying "Social media censorship and online restriction of conservatives and their organizations have reached a crisis level."

TRUMP 2020 CAMPAIGN MANAGER AND RNC CHAIRWOMAN JUMP INTO THE FRAY

Yesterday, Brad Parscale, who was Donald Trump's digital director in his 2016 presidential campaign, and who has been named as President Trump's 2020 Campaign Manager, along with RNC Chairwoman Ronna McDaniel, sent out a letter that was a shot across the bow warning to both Facebook CEO Zuckerberg, and Twitter CEO Jack Dorsey.

Parscale posted the letter to his Twitter account, with a message prefacing it, saying "We won't tolerate bias toward conservatives or @realDonaldTrump supporters. We're standing up for you and demanding answers. @GOPChairwoman and I have sent the following letter to @facebook's Mark Zuckerberg and @Twitter's @jack Dorsey. #StopTheBias."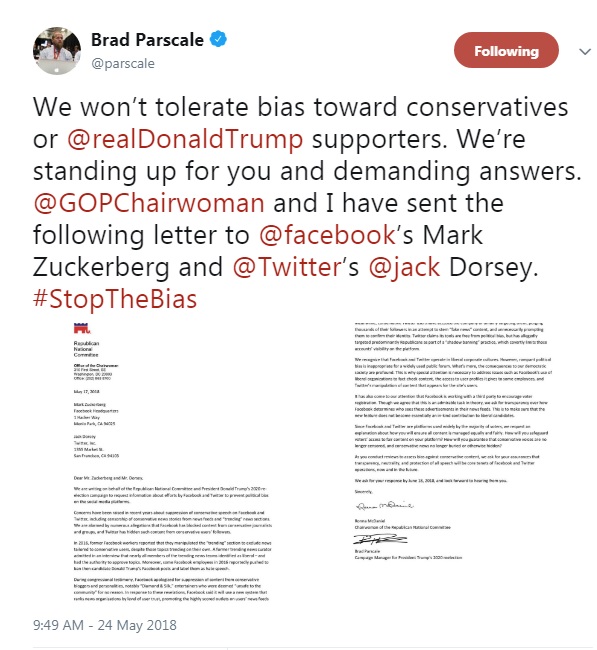 Full text of the letter:


Dear Mr. Zuckerberg and Mr. Dorsey,

We are writing on behalf of the Republican National Committee and President Donald Trump's 2020 re-election campaign to request information about efforts by Facebook and Twitter to prevent political bias on the social media platforms.

Concerns have been raised in recent years about suppression of conservative speech on Facebook and Twitter, including censorship of conservative news stories from news feeds and "trending" news sections. We are alarmed by numerous allegations that Facebook has blocked content from conservative journalists and groups, and Twitter has hidden such content from conservative users' followers.

In 2016, former Facebook workers reported that they manipulated the "trending" section to exclude news tailored to conservative users, despite those topics trending on their own. A former trending news curator admitted in an interview that nearly all members of the trending news teams identified as liberal – and had the authority to approve topics. Moreover, some Facebook employees in 2016 reportedly pushed to ban then-candidate Donald Trump's Facebook posts and label them as hate speech.

During congressional testimony, Facebook apologized for suppression of content from conservative bloggers and personalities, notably "Diamond & Silk," entertainers who were deemed "unsafe to the community" for no reason. In response to these revelations, Facebook said it will use a new system that ranks news organizations by level of user trust, promoting the highly scored outlets on users' news feeds while suppressing those with lower scores. We are concerned about potential misuse of this system.

Meanwhile, conservative Twitter users have accused the company of unfairly targeting them, purging thousands of their followers in an attempt to stem "fake news" content, and unnecessarily prompting them to confirm their identity. Twitter claims its tools are free from political bias, but has allegedly targeted predominantly Republicans as part of a "shadow banning" practice, which covertly limits those accounts' visibility on the platform.

We recognize that Facebook and Twitter operate in liberal corporate cultures. However, rampant political bias is inappropriate for a widely used public forum. What's more, the consequences to our democratic society are profound. This is why special attention is necessary to address issues such as Facebook's use of liberal organizations to fact-check content, the access to user profiles it gives to some employees, and Twitter's manipulation of content that appears for the site's users.

It has also come to our attention that Facebook is working with a third party to encourage voter registration. Though we agree that this is an admirable task in theory, we ask for transparency over how Facebook determines who sees these advertisements in their news feeds. This is to make sure that the new feature does not become essentially an in-kind contribution to liberal candidates.

Since Facebook and Twitter are platforms used widely by the majority of voters, we request an explanation about how you will ensure all content is managed equally and fairly. How will you safeguard voters' access to fair content on your platform? How will you guarantee that conservative voices are no longer censored, and conservative news no longer buried or otherwise hidden?

As you conduct reviews to assess bias against conservative content, we ask for your assurances that transparency, neutrality, and protection of all speech will be core tenets of Facebook and Twitter operations, now and in the future.

We ask for your response by June 18, 2018, and look forward to hearing from you.

Sincerely,
Ronna McDaniel, Chairwoman of the Republican National Committee

Brad Parscale, Campaign Manager for President Trump's 2020 reelection

Note the terminology again, which is a deliberate warning, where the term "political bias," is used multiples times as well as deliberately calling them a "public forum," all setting the stage for the argument Cruz has been making about potentially stripping these platforms of their liability immunity. Also note the reference to "in-kind contribution to liberal candidates."

According to the Federal Election Commission, an in-kind contribution is a "a non-monetary contribution.  Goods or services offered free or at less than the usual charge result in an in-kind contribution." As such they must be reported to the FEC.

At the same time the letter was being released publicly, both McDaniel and Parscale joined Fox & Friends to speak on the issue of censorship and to discuss the letter. They join at the 5:20 minute mark in the video below.



As part of their full court press to inform voters how bad Silicon Valley's censorship practices against conservatives have gotten, the RNC has also sent out emails, highlighting the letter, other interviews with McDaniel, and a short statement.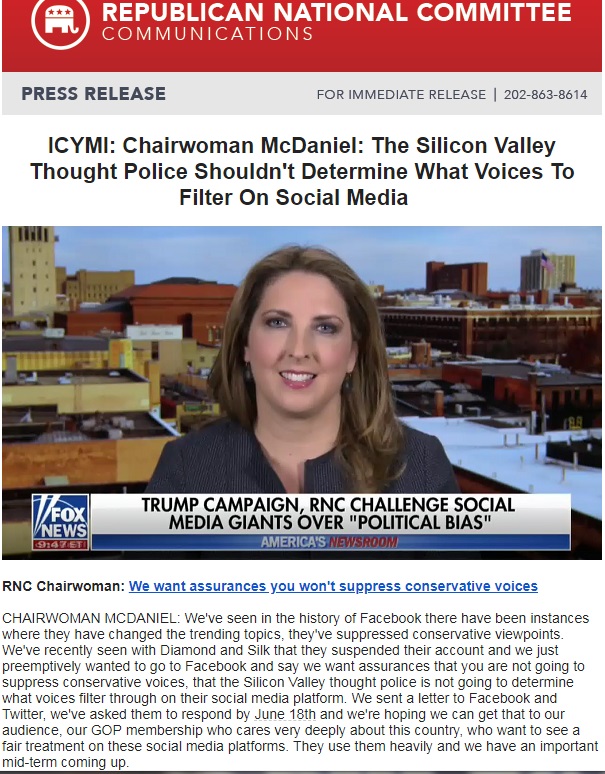 BOTTOM LINE

By taking this public, using the full force of the RNC and their massive email list to inform supporters of how large of an issue this has become, the RNC and Parscale on behalf of president Trump's 2020 campaign are warning big tech, Silicon Valley and social media giants that they will be documenting any ongoing censorship against conservatives, and will no doubt take legal action if they continue their antics.

While Independent Media and conservative social media users have been struggling to get our voices heard due to the censorship, it is great to see Congress members, the RNC, conservative leaders, and the Trump campaign stepping into the fray, standing with us and taking the fight to Silicon Valley and social media giants.

Welcome to the front line.




NOTE TO READERS
: 
With digital media revenue spiraling downward, especially hitting those in Independent Media, where attacks from every direction continue to come unabated, it has become apparent that traditional advertising simply isn't going to fully cover the costs and expenses for many smaller independent websites. 
Any extra readers may be able to spare for donations is greatly appreciated.
One time donations or monthly, via Paypal or Credit Card:

Or  https://www.paypal.me/AllNewsPipeLine
Donate monthly from $1 up by becoming an ANP Patron.




comments powered by

Disqus