"The Best Mix Of Hard-Hitting REAL News & Cutting-Edge Alternative News On The Web"
November 26, 2016
Surprise! It Isn't Over Yet - The Big Steal Or The Big Con? Stein/Clinton Recount Effort For Three Critical States In The Works
-  Jill Stein Fundraises For Recounts In States Trump Won But Not States Clinton Won By A Smaller Margin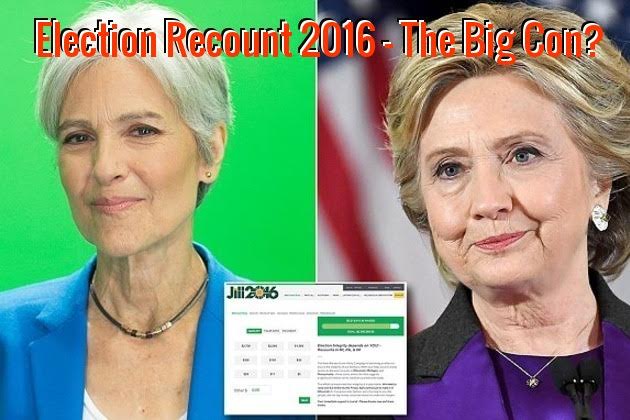 By Susan Duclos - All News PipeLine

For those who thought the seemingly never ending presidential campaign season was over on November 8, 2016 when the polls closed and Donald Trump had topped the 270 electoral needed to win the presidential election, or on November 9, 2016 when Hillary Clinton conceded publicly to Trump..... SURPRISE, it isn't over yet!

We are either watching the biggest steal in a presidential election attempted right before our very eyes, backed by big money donors in order to prevent Donald Trump from becoming the 45th President of the United States of America, or we are watching one of the greatest con jobs ever perpetrated  in the U.S. by Green Party Candidate Jill Stein who continues to line her pockets with millions of dollars.

THE BIG STEAL?

By the end of election night, Donald Trump had 290 electoral votes to Hillary Clinton's 232, but nearly three weeks later, Michigan has finally finished their count and announced Trump as the official winner, which will be certified by the  state's Board of Canvassers on Monday, November 28, 2016. This will add the 16 Michigan electoral votes onto Trump's tally, bringing the final numbers to 306 electoral votes for Trump and 232 for Clinton.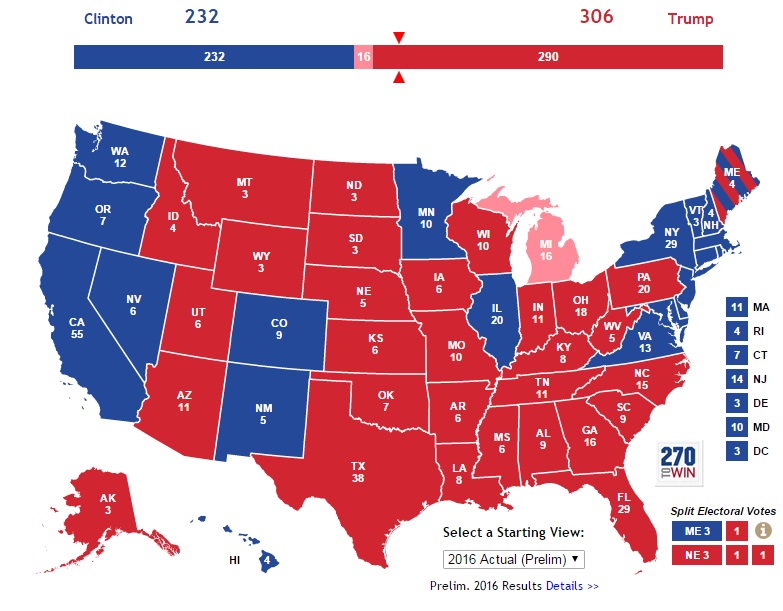 Those numbers are very important to what we are witnessing right now as Green Party candidate, who received approximately one percent of the popular vote and no electoral votes, has filed for a recount in Wisconsin (10 electoral votes) already, and announced plans to file for recounts in both Pennsylvania (20 electoral votes) and Michigan (16 electoral votes). Those three states have a combined total of 46 electoral votes.

The Wisconsin Election Commission has verified that the recount petition has been filed and they are "preparing to move forward with a statewide recount of votes for President of the United States." It is toward the end of the Election Commission release where we see the following paragraph:

"Wisconsin has the most decentralized election system in the United States," Haas said. "The system has strong local control coupled with state oversight, resting on the partnership between the Wisconsin Elections Commission, the 72 county clerks, and the 1,854 municipal clerks. State law clearly gives each county's Board of Canvassers the primary authority to conduct the recount, and to decide which ballots should and should not be counted. Recounting votes is an open, transparent process in which each of the candidates may have representatives present to raise objections, and where the public may be present to observe."

Emphasis mine.




(Wisconsin Votes cast - Chart via Wisconsin Elections commission website)


Stein is attempting to base her justification for recounts in these three critical states on an already debunked claim by supposed "experts" that voting machines could have been hacked, even those these same "experts" state they have absolutely no proof of any hacking, specifically in Michigan where the state uses paper ballots and not voting machines.

Stein has not initiated a recount petition for either PA, which has a deadline of Monday, November 28th to do so, or in Michigan which has a deadline date of Wednesday, November 30, 2016. Michigan is preparing for the possibility of having to conduct a recount if Stein does file for one, despite the Director of Elections Chris Thomas telling Detroit News that there is no evidence of any hack or voting system manipulation and the White House issuing a statement that the election results "accurately reflect the will of the American people," and that hackers did not sway the results of the election.

All three of these states would have to flip to Hillary Clinton in order to change the results, because no two of these states combined would offer her enough electoral votes to reach the 270 required to win a presidential election. 

We note that Stein is only petitioning for a recount in states that Donald Trump won by a narrow margin, but not states like New Hampshire, which Hillary Clinton won by a far smaller margin, less than 3,000 votes, or Nevada which Hillary won by about 2,600 votes.

It is also noteworthy that during the election cycle Stein had called Hillary Clinton the "queen of corruption," as well as stating on her Twitter account "The DNC had already selected Clinton before the primary began. Every vote for Clinton is a rubber stamp for elitist corruption."

Which begs the question of why Stein would be collecting millions upon millions of dollars for recounts in three key critical states, using "voting machine" manipulation as her justification, when 1) Michigan uses paper ballots and 2) it is a complete impossibility that a recount would garner her even one electoral vote.

Many Alternative News sites and Trump supporters have warned the elite, the globalists that have worked so hard against Trump throughout the campaign season and the MSM that has blatantly promoted Hillary Clinton, would not give up without a fight, hence the constant recent attacks against "fake news," accusing Alternative News sites of spreading "Russian propaganda when Clinton's health or corruption was reported on.

Which brings us to our main questions..... was Jill Stein bought off? Or is she running one of the biggest cons against Americans even seen in a presidential election and lining her pockets will millions of dollars being donated to her for the recount efforts? Last but not least, who exactly is donating these billions to Stein?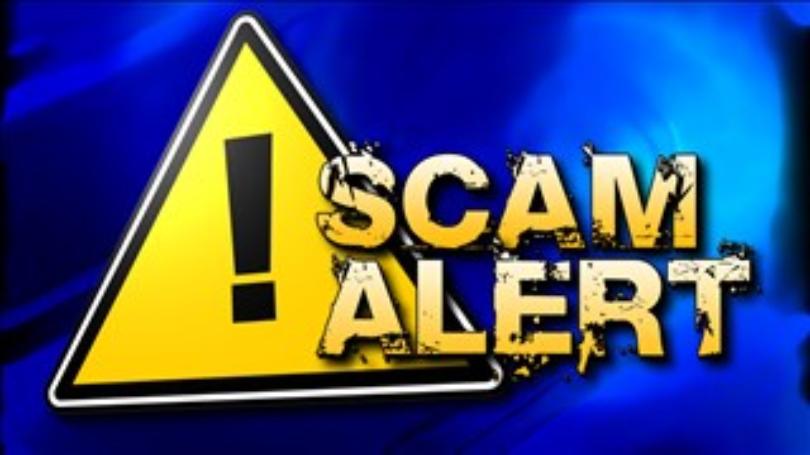 THE BIG CON?

One of the first things noticed about Stein's fundraising efforts was that as goals were met, she kept increasing those goals. Screen shots below are courtesy of Zero Hedge and the Wayback Machine, and they show that on November 24, 2016, Stein claimed she needed $2.5 million.





Later that day on November 24, 2016, that fundraising goal had increased to $4.5 million.





By November 25, 2016, Stein increased the goal again to $7 million.





Another detail that was noted is that her "terms", dubbed the "fine print" was being changed as well, as the website Law Newz provides screen shots showing that on November 23, 2016, Stein's fundraising site stated "If we do not raise enough for any recount (which is highly unlikely) we pledge to use the money for election integrity efforts and to promote systematic voting system reform."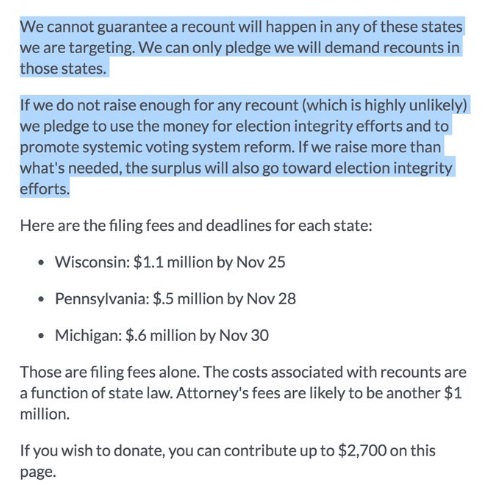 By November 25, 2016, the terminology changed to "If we raise more than what's needed, the surplus will also go toward election integrity efforts and to promote voting system reform."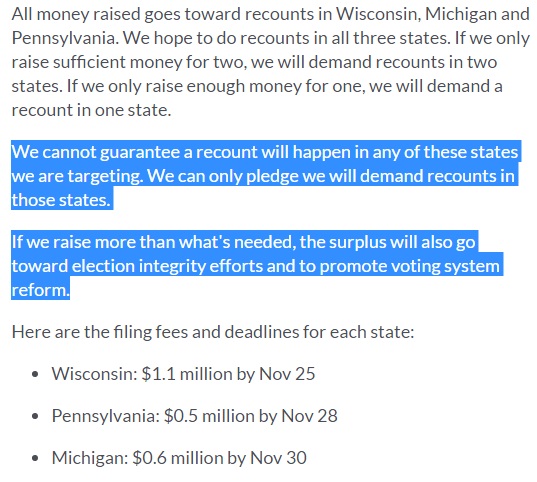 We note there are no specifics on what type of "election integrity" or voting system reform programs the money will go towards, but the bottom line is NO REFUNDS folks! Whatever is not used for the recounts will be used on anything that Stein wants.

Some are calling this a "racket," some dubbing it a "scam" and others, including  liberal Matthew Yglasias are telling people "Folks giving Jill Stein money "for a recount" are gonna be ripped off."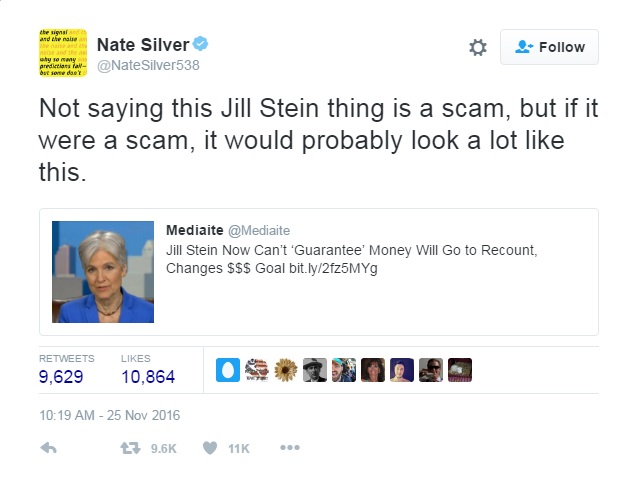 Next up, who is actually donating to Stein's supposed recount efforts? It is clear it is not her own Green Party supporters, since she has raised more for the "recount" than she raised for her entire campaign for president, as Open Secrets has her total campaign fundraising total, as of October 28, 2016, as $3,509,477 and as of the writing of this article, her "recount" fundraising is at $5,763,935.00.

Unfortunately Stein's fundraising website does not provide data on who is donating, but we do see that the Hillary Clinton campaign has decided to participate in the recount efforts, despite all her claims before the election that not accepting the results is "horrifying," ....at least it was horrifying when the shoe was on the other foot and she was talking about Trump not accepting the election results. She doesn't appear to find the idea of not accepting the election results so bad now though.

BOTTOM LINE

There is something very wrong with the whole way this is being handled, from the initial claim that voting machines could have been hacked, specifically using Michigan as an example, when they use paper ballots instead of machines, to the limited number states Stein has chosen, but only states that Trump won narrowly, ignoring states like New Hampshire and Nevada which Clinton won by even smaller margins, as Paul Joseph Watson highlights in his commentary at the end of this article.

Then we have the issue of Stein's increasing fundraising goals along and changing terms, with the fact that she has managed to raise more money in less than a week that she managed during the entirety of her presidential campaign and no one knows where the money is coming from. Plus if any of the states do not allow a recall, the money donated with not be refunded.

Is it  just a coincidence that just days after it was reported that the Clinton campaign was approached and encouraged to demand recounts in WI, PA and MI, that Stein steps forward to ask for recounts in just those states?

Readers are encouraged to weigh in on whether they think this is an attempt at the "big steal" by globalists or whether Jill Stein is in the midst of a "big con" to line her pockets, or if she has been bought off by the Clinton campaign?














comments powered by

Disqus