"The Best Mix Of Hard-Hitting REAL News & Cutting-Edge Alternative News On The Web"
February 16, 2018
Mueller Indictments Finds No 'Collusion' With 'Any American' And Russian Meddling Did Not Affect Outcome Of Election 
- Mueller Spent Millions Of Dollars For "Collusion" Investigation Just To Bust A Russian Troll Farm?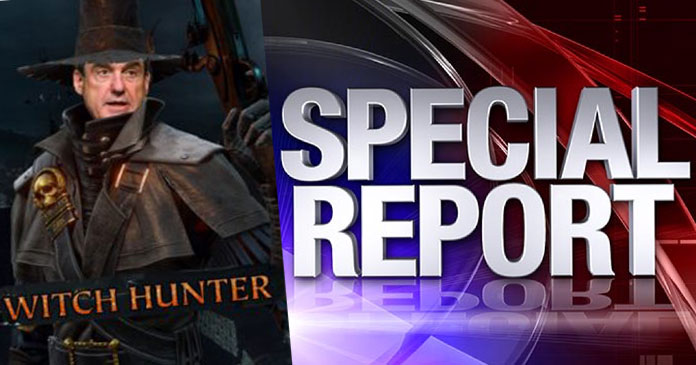 By Susan Duclos - All News PipeLine

While the massacre at a Florida high school which killed 17 people has been dominating the headlines, it has been noted that what we are not seeing in the headlines is the whole "Russian collusion," narrative the media has been rambling on about non-stop for the last year.

Make no mistake, we are in no way asserting the horrendous school shooting shouldn't be covered, we have covered the FBI's extreme incompetence in regards to ignoring reports about the shooter Nikolas Cruz, ourselves, and will follow up with newer details being exposed, but that is no reason to completely ignore other news updating readers on the new Mueller indictments against a Russian troll farm, while determining that "no American," colluded with the Russians, and their social media "interference" did not affect the outcome of the election.

MUELLER INDICTS 13 RUSSIAN, FIND 'NO COLLUSION WITH 'ANY AMERICAN'

Special Counsel Robert Mueller after spending millions of taxpayer dollars, indicted four Americans on charges completely unrelated to Russia meddling in the U.S. presidential election, and the bombshell news that broke on Friday is the Russian collusion investigation headed up by Mueller, has indicted 13 Russians for attempting to "sow discord in the U.S. political system, including the 2016 presidential election," with no collusion on the part of "any American."

While liberals are hailing this as a victory, screaming "Russian interference," here are some key points:


According to the indictment, the Internet Research Agency, a Russian troll farm, started interfering as early as 2014 in U.S. politics, extending to the 2016 presidential election. The defendants, "posing as U.S. persons and creating false U.S. personas," operated social media groups designed to attract U.S. audiences by stealing U.S. identities and falsely claiming to be U.S. activists.

"Over time, these social media accounts became defendants' means to reach significant numbers of Americans for purposes of interfering with the U.S. political system," the indictment reads.

Yes, in six months, all Robert Mueller managed to determine that Russian have a troll farm to share social media and buy ads, to "influence," an election (which everyone already knew), but it is the following statement that pretty much negates his whole investigative mandate of "collusion," where the indictment asserts, "Russians also communicated with 'unwitting individuals' associated with the Trump campaign and other political activists to coordinate activities."

"Unwitting," means no collusion with the Trump campaign as the legal definition of "collusion is: "Where two persons (or business entities through their officers or other employees) enter into a deceitful agreement, usually secret, to defraud and/or gain an unfair advantage over a third party, competitors, consumers or those with whom they are negotiating."

The deliberate phrasing in the indictments has just signaled to the media and Democrats, that have been beating the "collusion" drum for the last year, that he wasn't going to be able to deliver charges for their favored narrative and claim.

The DOJ press release about the indictments also makes that point, stating "The Russians also recruited and paid real Americans to engage in political activities, promote political campaigns, and stage political rallies. The defendants and their co-conspirators pretended to be grassroots activists. According to the indictment, the Americans did not know that they were communicating with Russians."

The charges against these 13 Russians range from conspiring "to obstruct the lawful functions of the United States government through fraud and deceit," traveling to the U.S. "under false pretenses," wire-fraud, and traveling to the U.S. by using false statements to acquire visas.

Also found in the indictment are examples of the type of activities these people engaged in, including setting up rallies and events, and while the indictment claims they did so to help promote Trump, the indictment also offers examples of the Russians setting up pro-Hillary Clinton rallies as well, as part of their general plan to "sow discord." Even more astounding is that this Russia effort, according to the indictment, (Page 3) started in 2014.

Donald Trump didn't announce his candidacy until 2015, yet Mueller's team is claiming they were attempting to help Trump.

Reminder: 2014 was during the whole Ukraine/Russia conflict, where the meddled to support the ouster of the pro-Russia, duly elected President of Ukraine.

Guess they had a crystal ball or something?

Another interesting point made in the indictment, embedded below in full, is that this Russian troll farm also operated accounts that promoted Bernie Sanders and Jill Stein, as highlighted by The Daily Caller.

Key Point and question: Russia does not have an extradition treaty with the U.S., so does anyone think they are going to turn over 13 of their people to the U.S. for trial?

Here is the DOJ Press Realease: https://www.justice.gov/opa/pr/grand-jury-indicts-thirteen-russian-individuals-and-three-russian-companies-scheme-interfere

Via Deputy AG Rod Rosenstein in his statement below, around the 5:00 minute mark, there is "no allegation in this indictment that any American was a knowing participant in this illegal activity. There is no allegation in the indictment, that the charged conduct altered the outcome of the 2016 election."



37-Page Indictment below:


Internet Research Agency Indictment by Gersh Kuntzman on Scribd



The fact that Rosenstein and the indictment makes it clear that there was no collusion by "any American" with Russia influence campaigns, may explain why the media has been so silent on the whole "Russia collusion" narrative they helped create originally and which they had droned on about for almost a solid year before dropping it like a hot potato.

Related: Mueller's 'Pit Bull' Andrew Weissmann Busted for Withholding Evidence in Previous Case

Excellent point and question asked by Nick Short from Security Studies Group and Michelle Malkin Investigates' verified Twitter account: "From #Mueller indictment, 2 of the Russians were able to enter U.S. on travel visas which they received after applying for them through the State Dept in 2014. From June 4, 2014 - June 26, 2014 they traveled around the US. Who was head of the FBI & State Dept at this time again?"

The answer to that would be former Secretary of State John Kerry (2013 to 2017) and former FBI Director James Comey (2013 to 2017).

BOTTOM LINE

One has to wonder why Mueller dropped this indictment on a Friday, and whether it is being used to justify the time and millions spent, or to distract from the utter failure on the part of the FBI in regards to the Florida shooter to prevent the high school massacre. Either way, no matter how the media and Democrats try to spin this, the assertions that "no American" was part of any collusion in regards to the Russian social media campaigns to influence the 2016 presidential election, and the subsequent statement by Rosenstein that it did not affect the outcome of the election, has got to be a bitter pill for them to swallow after investing themselves so heavily into the "Russia/Trump collusion" narrative.


February Note to Readers- If we make it through March when we start seeing the revenue generated by the new ad network, we may just have a chance to turn big techs' bias back against them and come through this stronger, louder and more powerful, together. February 2018 has been the most brutal month yet due to the censorship we have been battling against this past year, so any extra readers may be able to spare for donations is greatly appreciated.








comments powered by

Disqus