"The Best Mix Of Hard-Hitting REAL News & Cutting-Edge Alternative News On The Web"
January 24, 2016


Louisiana Truck Spills Missiles Onto Roadway After Crash - Russia Holds More SNAP Drills As Troops From Russia And Tanks From Turkey Amass Upon Syrian Border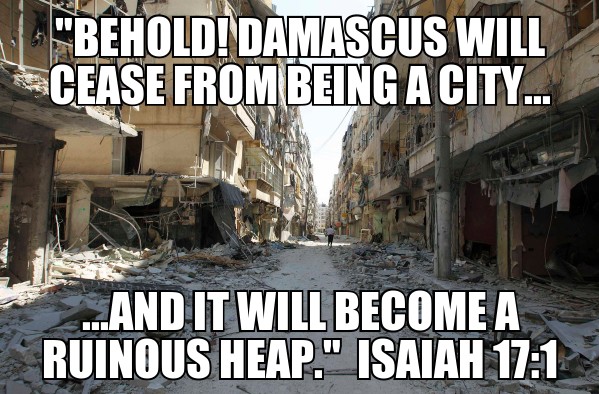 By Stefan Stanford - All News Pipeline - Live Free Or Die
With a possible conflict in Syria that may lead to the official beginning of World War 3 now escalating according to this story from Infowars that tells us both Russia and the US have established air bases along Turkey's border, we see many seemingly unrelated events unfolding across America and the world that may soon have huge implications. As time moves forward and everybody involved on the world stage realizes the full extent of the situation that we are in, Joe Biden claims the US and Turkey are ready for a 'military solution' in Syria while we seemingly watch the prophecy of the complete destruction of the ancient city of Damascus unfolding.

As we learn in the videos below, Russia has once again under taken a round of SNAP military drills to test aviation combat readiness and tanks from Turkey and troops from Russia are now amassing at the Syrian border. With all of these major players making major moves in that 'powder keg' region, how long can it be until something really bad happens?

Here in America, an ANP reader recently contacted us about a truck that had overturned in Louisiana that had him concerned after speaking with his cousin who was involved as a 1st responder at the accident scene. According to KNOE.com, the truck that overturned on Highway 167 was carrying explosives, and not just any kind of explosives but KNOE confirms the truck was carrying missiles for the Department of Defense.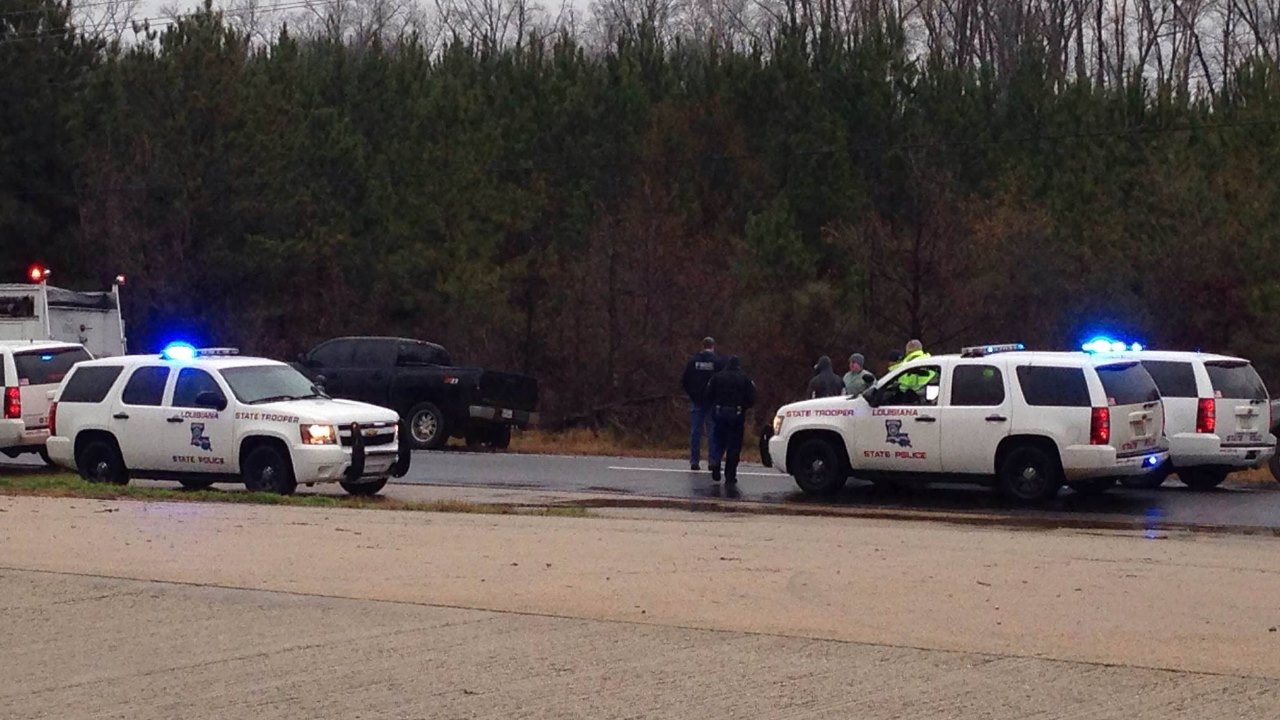 The fact that missiles actually fell off the truck and had to be 'accounted for' before the highway was reopened may have been the least of our problems with this story; according to the person who was on scene, the missiles that fell off the truck were Tomahawk Cruise Missiles. We're also told that everybody on the scene had their cell phones/cameras confiscated until the missiles were covered back up with a tarp.

We're aware that nearby Fort Polk in Louisiana has a nuclear support team and we understand that it's not uncommon for such military items to be transported within the state. Was this just 'normal' military movement or were they moving these missiles from the base to a location to later be used? This is just the latest strange event that may lead up to World War 3 with hostilities heating up around the world. From KNOE in Louisiana.:
Original Story:
A rollover involving an 18 wheeler has closed both lanes of Hwy 167 for several hours, just north of Bernice. State Police are investigating the crash and say no one is hurt.
The 18 wheeler has a hazmat placard on it. Louisiana State Police is trying to figure out what the truck is carrying.
The Farmerville Gazette is reporting the following:
"Early reports indicates a vehicle hauling rockets and other explosive items was involved in the accident. Information from Louisiana State Police indicates the trailer carrying the explosives became separated from its tractor and spilled its contents onto the roadway.
Union Parish Sheriff Dusty Gates said his deputies, troopers from the Louisiana State Police and representatives from the U.S. Department of Defense are either on the scene or en route.'
Gates said a company from Missouri has been dispatched to assist in the cleanup. He indicated the roadway may be closed for a good period of time until all the spilled items are recovered."
Update: January 22, 2016 at 3:15pm:
Fort Polk officials confirms that there were missiles that fell off of the truck.
A screenshot of the Facebook post from The Gazette which broke this story is below.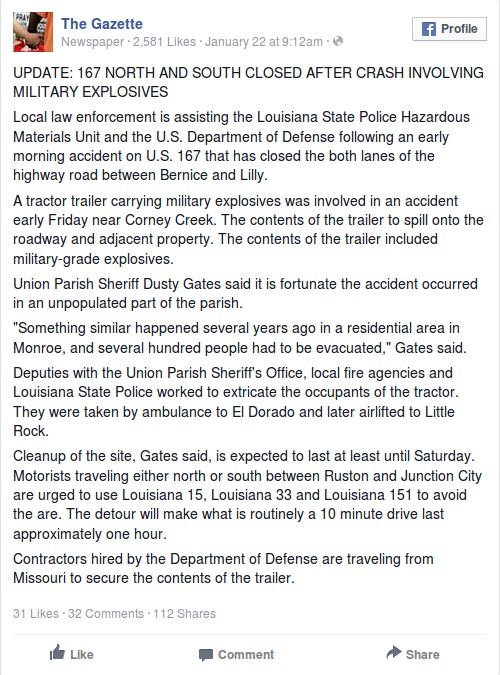 ANP is attempting to get an interview with the person who was at this crash site to confirm his report. 

In the meantime, we're seeing more signs from both sides that something massive is getting ready to happen in the Middle East. As Gary Franchi of the Next News Network tells us in the 1st video below, Russia is now undergoing more SNAP drills, just a week after we last reported they were undergoing nuclear readiness drills. We're also watching closely the possibility of 'war' unfolding on US soil as an ISIS war powers act could land US troops on American soil. 

As Franchi also tells us in the 2nd video below, Turkish tanks and Russian troops are now amassing at the border of Syria. With Joe Biden recently calling for a 'military solution' to the problems in Syria as detailed in the 3rd video, who really believes that such a 'solution' will be kept within the borders of Syria? As most ANP readers know, the entire Middle East is a powder keg just ready to explode, how can a 'military solution' by those who helped to create the problems be a good thing? 









comments powered by

Disqus