"The Best Mix Of Hard-Hitting REAL News & Cutting-Edge Alternative News On The Web"
While MSM Continues Their Ruinous Meltdown, President Trump Throws Out Challenge To 'NFL Kneelers' On Criminal Justice Reform: Don't Just Talk, Walk The Walk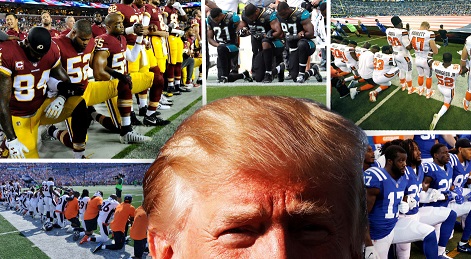 By Susan Duclos - All News PipeLine

Recently President Trump commuted the sentence of a 63 year old African American woman by the name of Alice Johnson. Johnson had been in prison for nearly 22  years after receiving a life sentence for a first-time non-violent drug offence. Despite having no hope for parole, she became an ordained minister and continued her education to earn degrees.

Her story caught the attention of celebrity Kim Kardashian who saw it via social media, investigated it and worked toward helping bring attention to Johnson's plight. Putting aside political differences, Kardashian petitioned President Trump to meet with her and discuss Johnson's case. He did. According to a recent interview with Kardashian, the President contacted the warden and other authorities, and ultimately decided to commute her sentence.

Johnson is now a free woman who vows to "make you so proud," (referring to President Trump) as well as to advocate to help others with similar stories.Her sentence was commuted and not pardoned because she committed the crime after suffering a series of personal tragedies, and it should stay on her record, but the sentencing was extremely over-the-top.

This was the perfect example of putting politics aside and meeting to address an injustice and working together to right a wrong.

Now President Trump is challenging the NFK Kneelers, who "protest" injustice by kneeling during the National Anthem, which has caused considerable controversy and has cost the NFL millions of attendees and viewers during the 2017 season.

His challenge is for them to get up off their knees, walk the walk that Kardashian walked, do the work, the research, then present the case for individuals they feel were unfairly treated, and he is vowing to have those cases investigated and will address those on a case-by-case basis.

Via The Hill:


"They're not proud enough to stand for our national anthem, I don't like that," Trump said to reporters outside the White House on Friday, criticizing the protests as "talk, talk, talk."

However, he said, he plans to ask kneeling athletes to recommend "friends of theirs or people that they know about" who they think should be pardoned. "I am going to ask all of those people to recommend to me — because that's what they're protesting — people that they think were unfairly treated by the justice system," Trump said.


It is easy for NFL Kneelers, making tens of millions of dollars to throw a million to a cause or to disrespect the National Anthem and the flag by refusing to stand for the National Anthem as some type of "protest" against injustice, which did not go over well with the fans, but the President is offering them a solid opportunity to do what Kardashian did, put aside politics and invest themselves in specific cases where they think the crime does not fit the punishment, and work towards helping them.


The No. 1 reason football fans are tuning out NFL telecasts is that some players refused to stand for the national anthem, a study revealed.

Half of the 2,000 US consumers surveyed said they are watching fewer NFL games on TV because some players knelt during the anthem, found the study by UBS, a Wall Street bank.

Last year, 32 percent of fans said they were tuning out because of the anthem protest.

The problem is people like former Pro Bowl wide receiver TJ Houshmandzadeh, who goes on public TV to declare "As a black athlete, you can't go. You can't go. The president has demeaned the African-American players so much — you can't go to the White House. You can't."

Needless to say President Trump never mentioned skin color, his harsh criticisms for the Kneelers were directed toward the lack of respect for the flag and the National Anthem by using that moment to protest.

Another problem is the liberal media, such as CNN's Jim Acosta, who literally melted down over President Trump meeting with Kim Kardashian, so that she could make the case for Alice Johnson. Acosta went on national television to declare "Forget about the fact that Kim Kardashian is here at the White House today, and what planet that is anything resembling normal, because it's not. She shouldn't be here talking prison reform, it's very nice that she is here, but that's not a serious thing to have happen here at the White House."


This from a man who never uttered a harsh word for the "groupie President," Barack Obama who turned the White House into what was dubbed "Hollywood East."

The same man that in 2015 promoted celebrity John Legend's visit to the White House to discuss..... wait for it..... yes, criminal justice reform.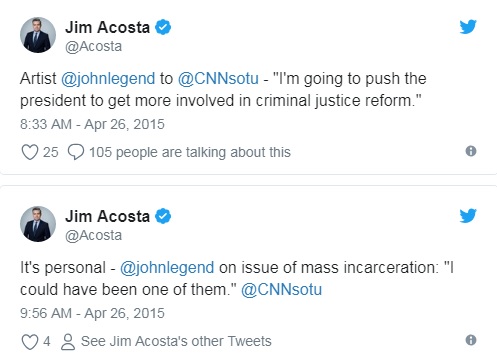 What that type of hypocrisy shown by Acosta indicates to me is that he doesn't care if a celebrity takes on a cause and works toward addressing injustice, nor if they petition a President to help, he only cares because it was President Trump that Kardashian met with.

Then we have the trifecta of problems with getting the kneelers to get up off their knees and do the work, which is the reaction from the #Resistance liberals, not only those like CNN's Acosta, but their social media fans. Kardashian was shredded by many, many of those #Resistance liberals, simply because she dared meet with President Trump, and then again when she publicly thanked him on social media for helping Alice Johnson.

The question now is, will they get up off their knees of off their high horses and meet the President half way, or do they just want to whine about it and throw money at it.

The proverbial football is now in their court.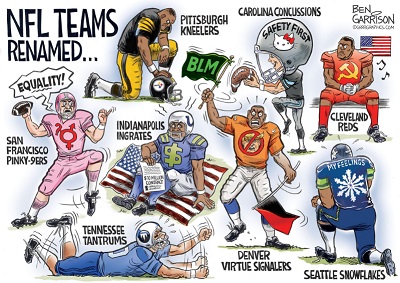 NOTE TO READERS
: 
With digital media revenue spiraling downward, especially hitting those in Independent Media, where attacks from every direction continue to come unabated, it has become apparent that traditional advertising simply isn't going to fully cover the costs and expenses for many smaller independent websites. 

Any extra readers may be able to spare for donations is greatly appreciated.
One time donations or monthly, via Paypal or Credit Card:

Or  https://www.paypal.me/AllNewsPipeLine
Donate monthly from $1 up by becoming an ANP Patron.




comments powered by

Disqus