"The Best Mix Of Hard-Hitting REAL News & Cutting-Edge Alternative News On The Web"
February 27, 2016
Christie Endorsement Of Trump A Three-Pronged Attack Against 'Elites,' Rubio And Cruz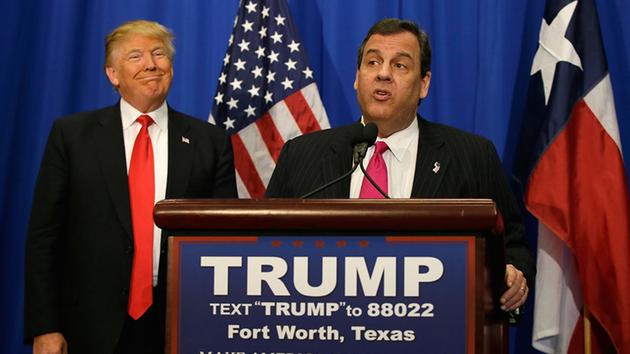 By Susan Duclos -  All News PipeLine

A vice presidential nominees'  traditional job is to lead the attack against the opposition and if NJ Governor Chris Christie's endorsement speech for Donald Trump is any indication, then Christie may just be positioning himself as a potential running mate to Donald Trump.

Christie's endorsement at a news conference in Fort Worth, Texas, not only included his belief that Trump would "do what needs to be done to protect the American people," and "The one person Bill and Hillary Clinton do not want to see on that stage, come next September,  is Donald Trump," but in response to a question from reporters Christie then went on to assail another GOP presidential candidate, Florida Senator Marco Rubio, calling him "desperate," and saying Rubio was "in the last days of a losing campaign."



Following the news conference where Christie first announced his endorsement of Trump, he then went on to introduce him after firing up a rally crowd, where he again highlighted why he is supporting Trump and going straight into an attack against Marco Rubio, stating  "Let me tell something to Marco Rubio, President of the United States is not a no-show job like you treated the United States Senate."

According to Bloomberg Politics, Christie's endorsement was also a major blow to "party elites" that have been resisting Trump. 

The united Republican establishment front against Donald Trump started to crumble in a potentially profound way on Friday when New Jersey Governor Chris Christie backed the New York billionaire for president with an enthusiastic endorsement.

The move, combined with the endorsement of Maine Governor Paul LePage later Friday, adds the establishment bona fides of two sitting U.S. governors to a devoutly outsider campaign. It also comes just days after Trump's first two congressional endorsements in Representatives Chris Collins of New York and Duncan Hunter of California. 

In Christie, Trump also gained a powerful surrogate responsible for the lowest moment in the campaign of one of his last Republican adversaries: Marco Rubio.  

While it was Rubio highlighted in the videos above and below, the location of Texas, which is Ted Cruz's home state, to announce the Christie endorsement as well as Christie introducing Trump at the rally in Fort Worth, was truly a brilliant campaign strategy which managed to strike a three-pronged attack all in one shot.





A recent public opinion poll commissioned by TEGNA for its Texas TV stations, has Texas Senator Ted Cruz and Trump both tied with 32 percent support from likely and actual GOP primary voters, other polls have Cruz ahead anywhere between 1 and 15 percent, so this latest push in Texas by Trump and Christie, could very well tip the scales.

Texas is part of the March 1, 2016, Super Tuesday states where 155 delegates will be assigned proportionally according to the primary votes each candidate receives, meaning that even if Trump takes second place in Texas, if he does so with a close enough vote he will still maintain a significant delegate lead.

Florida polls show Trump is crushing Rubio in his home state with an average lead of 19.5 percent. Florida's primary will be held on March 15, 2016 and it is a winner take all state with 99 delegates at stake. 

Trump is leading in delegates after taking second place in Iowa, then carrying on to three consecutive wins in New Hampshire, South Carolina and Nevada.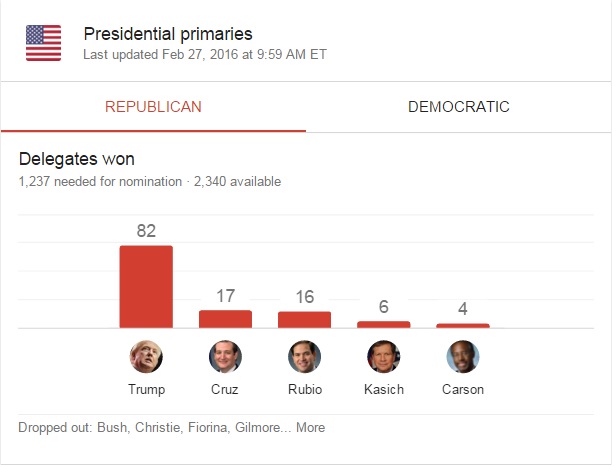 BOTTOM LINE

Unlike many endorsements where the person pledging support generally lists the reasons why they are favoring that particular candidate, Chris Christie's endorsement went much farther and included what could be seen as an "audition" for the traditional role of a VP nominee, the attack dog role. 

The fact that it was done in Texas, just days before Super Tuesday,  included direct attacks against Rubio, and sent a direct message to "party elites" that have refused to accept that Donald Trump is the front-runner, was a definite three-pronged attack.

Keep an eye on the polls over the weekend and on Monday to know if it was successful or not.






comments powered by

Disqus