"The Best Mix Of Hard-Hitting REAL News & Cutting-Edge Alternative News On The Web"
January 13, 2018
Strange Clinton Connections Emerge After Uranium One Indictment Against Co-President Of Transportation Company That Also Managed Transport For Megatons And MegaWatts Program Under Bill Clinton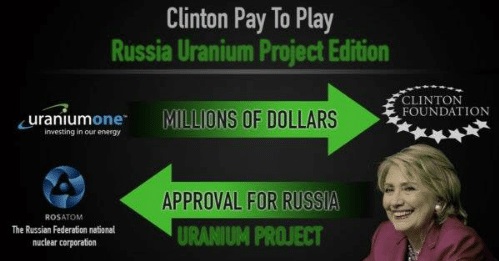 By Susan Duclos - All News PipeLine

On Friday, January 12, 2018, the Department of Justice issued a press release stating "An indictment against a former co-president of a Maryland-based transportation company that provides services for the transportation of nuclear materials to customers in the United States and abroad, was unsealed today for his alleged role in a scheme that involved the bribery of an official at a subsidiary of Russia's State Atomic Energy Corporation."

Via the DOJ release:


Mark Lambert, 54, of Mount Airy, Maryland, was charged in an 11-count indictment with one count of conspiracy to violate the Foreign Corrupt Practices Act (FCPA) and to commit wire fraud, seven counts of violating the FCPA, two counts of wire fraud and one count of international promotion money laundering. The charges stem from an alleged scheme to bribe Vadim Mikerin, a Russian official at JSC Techsnabexport (TENEX), a subsidiary of Russia's State Atomic Energy Corporation and the sole supplier and exporter of Russian Federation uranium and uranium enrichment services to nuclear power companies worldwide, in order to secure contracts with TENEX.

The case against Lambert is assigned to U.S. District Court Judge Theodore D. Chuang of the District of Maryland.

According to the indictment, beginning at least as early as 2009 and continuing until October 2014, Lambert conspired with others at "Transportation Corporation A" to make corrupt and fraudulent bribery and kickback payments to offshore bank accounts associated with shell companies, at the direction of, and for the benefit of, a Russian official, Vadim Mikerin, in order to secure improper business advantages and obtain and retain business with TENEX. In order to effectuate and conceal the corrupt and fraudulent bribe payments, Lambert and others allegedly caused fake invoices to be prepared, purportedly from TENEX to Transportation Corporation A, that described services that were never provided, and then Lambert and others caused Transportation Corporation A to wire the corrupt payments for those purported services to shell companies in Latvia, Cyprus and Switzerland. Lambert and others also allegedly used code words like "lucky figures," "LF," "lucky numbers," and "cake" to describe the payments in emails to the Russian official at his personal email account. The indictment also alleges that Lambert and others caused Transportation Corporation A to overbill TENEX by building the cost of the corrupt payments into their invoices, and TENEX thus overpaid for Transportation Corporation A's services.

In June 2015, Lambert's former co-president, Daren Condrey, pleaded guilty to conspiracy to violate the FCPA and commit wire fraud, and Vadim Mikerin pleaded guilty to conspiracy to commit money laundering involving violations of the FCPA. Mikerin is currently serving a sentence of 48 months in prison and Condrey is awaiting sentencing. The indictment includes allegations against Lambert based on his role in effectuating the criminal scheme with Condrey, Mikerin, and others.


BRIEF BACKGROUND ON URANIUM ONE SCANDAL

In October 2017 The Hill published a bombshell report showing that before the Obama administration approved a very controversial deal giving Russia control of a large portion of U.S. uranium the FBI had evidence of Russia nuclear officials were actively engaged in "bribery, kickbacks, extortion and money laundering designed to grow Vladimir Putin's atomic energy business inside the United States."

Further documents seen by The Hill uncovered evidence that those Russian nuclear officials had "routed millions of dollars to the U.S. designed to benefit former President Bill Clinton's charitable foundation during the time Secretary of State Hillary Clinton served on a government body that provided a favorable decision to Moscow."

The Obama administration went ahead and approved the deal anyway, while the Department of Justice continued investigating the bribery plot for four more years, while keeping Americans and Congress in the dark.

The entire piece at The Hill is a must-read for those that have not read it already, to understand the connections between this latest unsealed indictment against Lambert and the Uranium One scandal. A small portion below:


The Obama administration and the Clintons defended their actions at the time, insisting there was no evidence that any Russians or donors engaged in wrongdoing and there was no national security reason for any member of the committee to oppose the Uranium One deal.

But FBI, Energy Department and court documents reviewed by The Hill show the FBI in fact had gathered substantial evidence well before the committee's decision that Vadim Mikerin — the main Russian overseeing Putin's nuclear expansion inside the United States — was engaged in wrongdoing starting in 2009.

Russia finally took 100 percent control of Uranium One after three transactions made from 2009 to 2013, and no arrests were made until 2014, when Mikerin, a Russian financier and multiple trucking executives were arrested and charged.

Related: Donations to the Clinton Foundation, and a Russian Uranium Takeover

In December 2017, Attorney General Jeff Sessions ordered prosecutors to interview FBI agents in regards to what NBC News termed the "now dormant criminal investigation into a controversial uranium deal that critics have linked to Bill and Hillary Clinton."

With Lambert's indictment it appears that criminal investigation is no longer dormant.

In November 2017, Sessions was reportedly looking into the possibility of opening up an investigation into Hillary Clinton's involvement with Uranium One.

That report followed a statement, via Twitter, by President Trump, saying "Uranium deal to Russia, with Clinton help and Obama Administration knowledge, is the biggest story that Fake Media doesn't want to follow!"


FOR THE CLINTONS IT IS A VERY SMALL WORLD INDEED

Back to Lambert. While the DOJ release simply referred to "Transportation Corporation A" a simple search for Lambert at LinkedIn, shows Lambert as Co-President & Managing Partner of Daher - TLI from 1998 until present (20 years).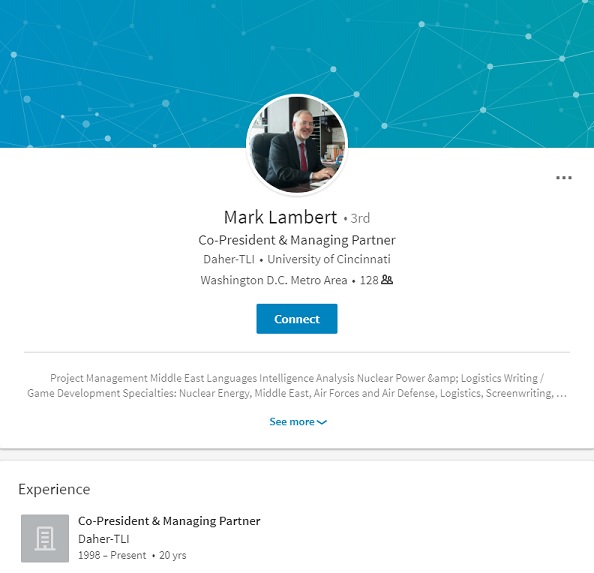 According to Daher - TLI's about page, it was created in 1998 and Part of DAHER Group since 2009, calling itself "the leading front end freight forwarding company dedicated to Nuclear Cargo," and they proudly proclaim they "managed the transportation of Megatons to Megawatts program since 1999, and continued to manage the program through its completion in 2013."

Megatons for Megawatts was an agreement between the United States and Russia where Russia supplied the U.S. with low-enriched uranium obtained from high-enriched uranium. That deal was called "Russian-U.S. agreement concerning the disposition of highly enriched uranium extracted from nuclear weapons," also called "United States-Russia Highly Enriched Uranium Purchase Agreement," signed in 1993 during the Bill Clinton presidency. 

Another Clinton connection, or perhaps we should say strange coincidence, involves the location of DAHER's listed headquarters, at 8161 Maple Lawn Blvd, Fulton, MD, 20759.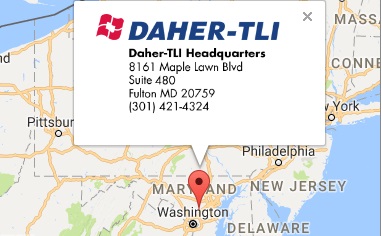 Another company, Teneo Capital is also listed as having an office in that building according to Findthecompany.com, the White Pages, and Super Pages, and BuzzFile, but their main headquarters is listed as being in New York. Teneo Capital is a division of Teneo Holdings. The president of Teneo Holdings, according to their website is Doug Band.

The same Doug Band that worked in the White House Counsel's office starting in 1995, made Special Assistant to President Bill Clinton in 1999. Band then served as Clinton's chief advisor from 2002 until 2012. Band also is credited with creating and building Clinton Global Initiative, and later worked for the William J. Clinton Foundation.

BOTTOM LINE

For those that have been frustrated that we have seen no indictments in regards to the bribery, kickbacks, money laundering in relation to Uranium One, we have finally seen the first. Low hanging fruit maybe, but that is often how the bigger players get toppled, start at the bottom, then start narrowing the focus to the ultimate goal.... Hillary and Bill Clinton.










comments powered by

Disqus