"The Best Mix Of Hard-Hitting REAL News & Cutting-Edge Alternative News On The Web"
August 27, 2015
VA Reporter Murdered Live On Air - Psychopathic Shooter Leaves Manifesto (Video) Killer Planned Social Media Roll-Out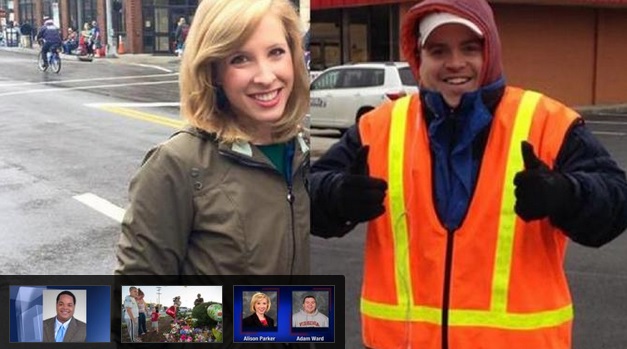 By Susan Duclos - All News PipeLine 

WDBJ-TV's  Alison Parker and cameraman Adam Ward were murdered live on air on Wednesday, shocking a nation. Their colleagues spent two hours on an emotional broadcast on Thursday as more reports came out showing the psychopathic shooter had faxed a 23 page manifesto/suicide letter to ABC News.

 A man claiming to be Bryce Williams called ABC News over the last few weeks, saying he wanted to pitch a story and wanted to fax information. He never told ABC News what the story was.

This morning, a fax was in the machine (time stamped 8:26 a.m.) almost two hours after the shooting. A little after 10 a.m., he called again, and introduced himself as Bryce, but also said his legal name was Vester Lee Flanagan, and that he shot two people this morning. While on the phone, he said authorities are "after me," and "all over the place." He hung up. ABC News contacted the authorities immediately and provided them with the fax.

In the 23-page document faxed to ABC News, the writer says "MY NAME IS BRYCE WILLIAMS" and his legal name is Vester Lee Flanagan II. He writes what triggered today's carnage was his reaction to the racism of the Charleston church shooting:

The shooter also apparently planned the "social media roll-out" of the coverage by publishing a video of the murders himself, as seen in the first two links below about the media coverage.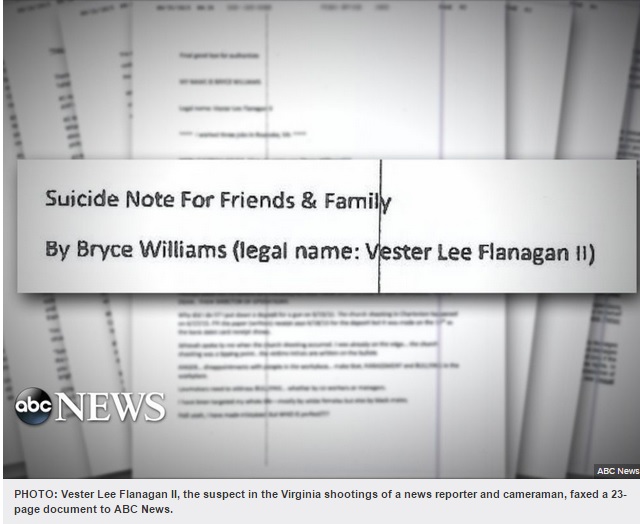 The shooter killed himself before he could be apprehended by authorities.

The amount of ink dedicated to these brutal and senseless deaths brings a trove of information about the shooters, showing clearly how the signs were all there but nothing was done to address them other than a "recommendation" from the TV station that Williams aka Flanagan seek mental help.

Vester Flanagan, the gunman who killed two journalists in Virginia, was told by his bosses to seek medical help after colleagues at the television station where he worked with his victims repeatedly complained about him, according to memos obtained by the Guardian.

Below are a list of headlines, all providing more details into what occurred, and why, on Wednesday.

Virginia Shooting Gone Viral, in a Well-Planned Rollout on Social Media

Suspect Apparently Posted Video of TV Shooting Online

Vester Flanagan Threatened Colleagues, Played the Race Card for Years

SEE IT: Video shows Virginia gunman Vester Lee Flanagan in July road rage incident

On-air killings gripped millions in social media storm

EXCLUSIVE: 'He was the human tape recorder': How TV murderer was criticized by bosses for appalling journalistic standards and reprimanded for wearing an Obama badge to report on elections

Revenge race murder: Bitter black reporter who gunned down white ex-colleagues live on air and posted the video online blames Charleston shootings and anti-gay harassment in manifesto

Gunman who killed 2 on live TV is dead after shooting himself

US shooting video shocks Internet in 'new frontier'

On Wednesday, America met a deeply evil human being: Vester Lee Flanagan II, also known as reporter Bryce Williams

The Virginia shooting and the dark side of the social media age

Twitter, Facebook Users Unwittingly Shown Video of Virginia Shooting

 'You want a race war?' News crew killer's 'manifesto' describes how he went 'BOOM!'

Much more by way of coverage can be found at Memeorandum.

Video below. (Note- Distressing portion of the video where the reporter runs away screaming before being shot down has been removed by videographer Times Of World, who published the video before the suspect killed himself. ANP made a conscious choice to show this version rather than the entire footage out of respect for the families of the deceased reporter and cameraman.)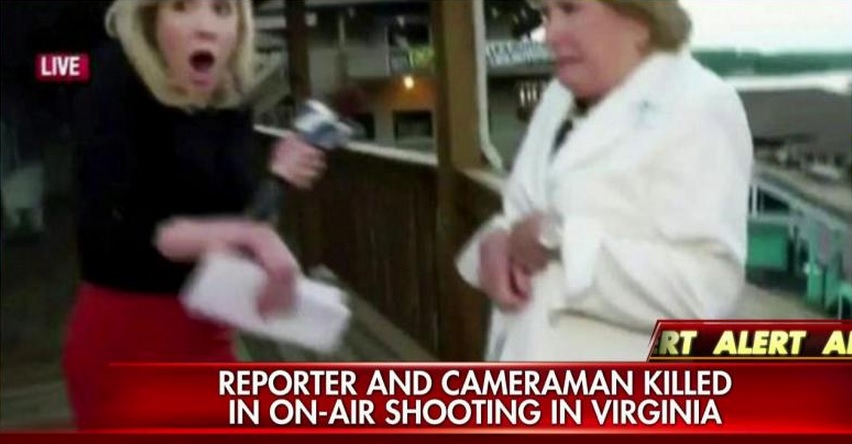 comments powered by

Disqus