Whatfinger: Frontpage For Conservative News Founded By Veterans
"The Best Mix Of Hard-Hitting REAL News & Cutting-Edge Alternative News On The Web"
September 14, 2017
Berkeley Braces For Antifa Riots On Thursday As Students Complain Of 'Militarized Campus' For Ben Shapiro Speech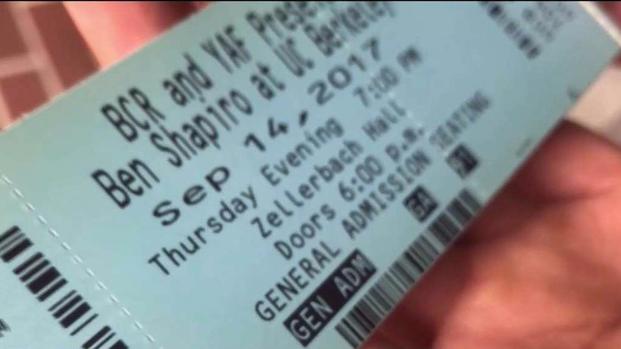 By Susan Duclos - All News PipeLine

University of California, Berkeley is being described as a "Militarized Campus" by  a professor because students claim they do not feel "safe" due to the organizational and operational safety measures being put into place to protect a conservative speaker, Ben Shapiro, from the type of violent attacks from Antifa groups in the past against speakers they do not agree with ideologically. 

The complaints resulted in the professor actually cancelling a class because of the expected protests and the preparations being made by law enforcement. A look at the notice sent to students about the classes cancellation, tell us the so-called educators are just as responsible for the "victimhood" mentality of those that claim another persons free speech is somehow a threat to them.


Dear all --

I've heard from some of your classmates that they do not feel safe coming to a militarized campus on Thursday. Given the reality of what's going on, I don't feel like it's ethical to hold class when some are not in a position to attend.

So we will not hold a regular class on Thursday. However, Kel and I will be in our usual classroom on Thursday 3:10-4:30 holding voluntary office hours. If you cannot be on campus on Thursday, email me and I guarantee I will find a time for us to meet early the following week. Kel is similarly available, you should email them for specifics.

Sorry we've had to do this, but in the context of the current attack on campus, I don't feel like we have a choice.

What "attack" is the professor speaking of? A conservative speakers being invited to speak is now an "attack on campus?" How did an institution that became the home of the free speech movement in the 60s, come to the point where they have had to modify a 1997 ban on the use of pepper spray by law enforcement to be used against violent protesters in an emergency planning meetings, forced to close down whole areas of the campus which surround the building Shapiro will be speaking at,  in order to protect that same type of free speech?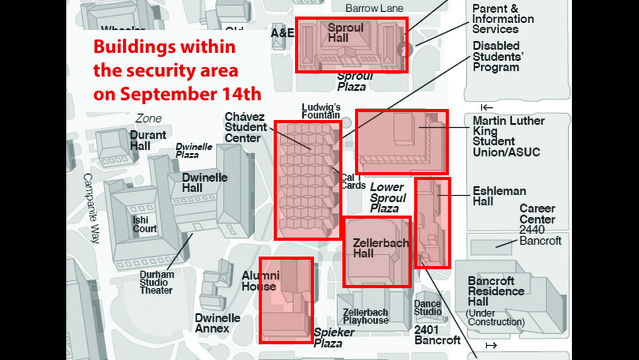 The preparations, which include "shutting down six buildings on campus, including the César E. Chávez Student Center, Alumni House, MLK Jr. Student Union, Sproul Hall and Eshleman Hall," were made in order to prevent attacks like the one in February by Antifa groups, which turned into a riot with fires, destruction of property, which reportedly caused over $100,000 in damages from the rioters.

In the meantime an Antifa Group, Refuse Fascism, the same people that show up to events dressed in black, wearing masks and carrying clubs and sticks, and largely responsible for previous violent attacks against free speech proponents, has organized a so-called "rally" to protest against Shapiro, setting the stage for yet another public spectacle of chaos and violence, as seen by the signs they have been posting throughout Berkeley campus.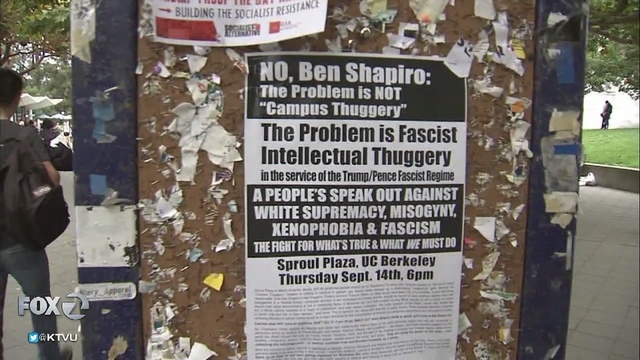 The Berkeley police are claiming that this time they will be prepared to make "very strong, rapid arrests" of protesters wielding weapons and wearing masks.

The Antifa rally begins at 6 pm local time, giving them a full hour to incite their crowd before Shapiro's scheduled lecture at 7 pm.

Antifa groups are already going on record today as claiming that "violence is justified" against anything they deem to be "Nazi ideology," calling it "self-defense," via The Hill in an article titled "Antifa activists say violence is necessary."

As seen in the Fox News clip below, it appears that Berkeley officials are offering free counseling sessions to those that feel "threatened" by Shapiro's visit, underscoring how coddled these little college snowflakes are, and how utterly unprepared for the reality of life outside the campus where differing opinions are something people deal with every single day and no one outside of college is going to offer "free counseling"  in the real world just because someone says something they don't like.

Shapiro himself speaks about that, offering a message to those little snowflakes, saying "If you feel like you need counseling for my speech, you probably need psychiatric help."



Thursday is a test for Berkeley because if they cannot protect Shapiro, their own property and other students on campus for this one event, then there is going to be a huge problem later in the month when conservative speakers like Milo Yiannopoulos, Ann Coulter and Stephen Bannon, Trump's ex-chief strategist and head of Breitbart News, show up for "Free Speech Week" at Berkely. As a reminder, Milo has already announced that for his appearance, he plans to bring a 16-man Navy SEAL team to provide security.

In a longer interview shown below, Shapiro absolutely destroys the snowflake mentality and Antifa "terror" groups, stating clearly he doesn't think it is all the students at Berkeley, just the Antifa groups that come in to cause violence. It is interesting as this is a HLN interview, meaning it is conducted in a CNN studio, yet the host appears to be absolutely flabbergasted at the nonsense being seen by these Antifa groups and how the campus is having to cordon off whole sections just to protect one man, giving a speech that he was invited to give.



If Berkeley authorities actually do their jobs and "rapidly arrest" thugs in black and wearing masks, and/or those carrying weapons, rather than standing down as they did so many times previously, as other police were forced to do in liberal cities across America, they can prevent the violence and chaos that have become the normal spectacle every time Antifa groups show up at an event.

If they do not do their jobs, we could be looking at a bloodbath at worst, and hundreds of thousands in property damage at best, yet again with viral images showing exactly how dysfunctional Berekely truly has become.

Take a look at the map and planned events marked by their corresponding numbers below, showing the Antifa/Refuse Fascism "rally" is being allowed to occur in the middle of the portions of the campus that are supposedly part of a "closed perimeter" cordoned off for Shapiro and attendees safety from the Antifa members.

That does not seem like really good planning to me.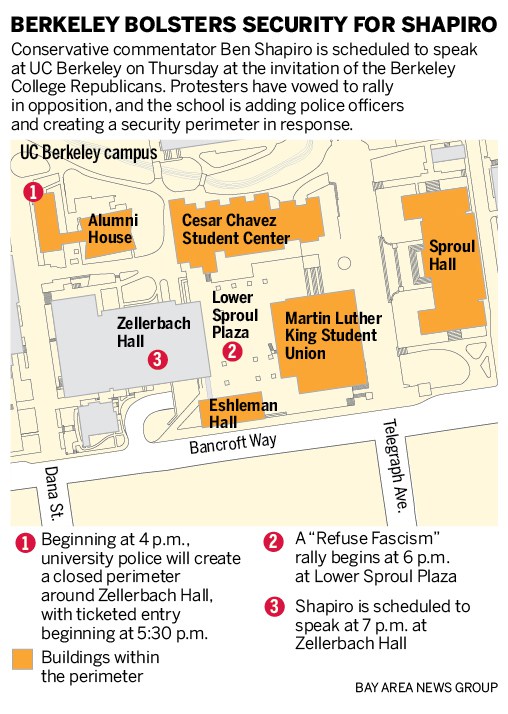 Help Keep Independent Media Alive, Become A Patron for All News PipeLine at 

https://www.patreon.com/AllNewsPipeLine



comments powered by

Disqus